How US Corporate-Tax Reform Will Boost Growth
Now that the Republican-led US House of Representatives and Senate have each passed bills to overhaul the tax system, we can start to see what effect the coming changes will have on the US economy. By reducing the costs of investments and cutting the tax rate on corporate profits, the final plan that emerges will likely boost growth substantially.
In The Great US Tax Debate, Robert Barro makes the case for the GOP Tax Plan. Jason Furman & Lawrence H. Summers take issue in a seperate PS On Point, linked below.
CAMBRIDGE – With the US Senate and House of Representatives now reconciling their respective tax-reform bills, many in the United States and around the world are wondering what impact the legislation will have on the US economy. Most important, how will the legislation change the country's long-term growth prospects? To address this question, I focus on three likely changes to the taxation of businesses.
The first change is the reduction of the main tax rate on profits of C-corporations from 35% to 20%. (A C‑corporation, unlike an S-corporation, is taxed separately from its owners.) The second change is the replacement of the current system of depreciation allowances for new equipment with immediate 100% expensing. Third, the recovery period for most non-residential business structures, such as office buildings, is to be shortened from 39 to 25 years.
In the final bill, the full expensing of equipment may expire after five years, although a future Congress can extend this provision. My analysis treats the three key changes in business taxation as permanent. If businesses instead regard the expensing provision as temporary, the effects on equipment investment would likely be accelerated in order to take advantage of the more favorable treatment offered over a five-year window.
A Two-Pronged Approach
I use two complementary approaches to estimate impacts on investment and economic growth. The first method starts by gauging the effects of the tax-law changes on the costs (referred to as user costs) that businesses attach to investment in equipment and structures. Then I estimate long-run responses of the capital-labor ratio to the changes in user costs. This approach was pioneered by Mervyn King, before his stint as Governor of the Bank of England, and Don Fullerton in their 1984 book The Taxation of Income from Capital: A Comparative Study of the United States, the United Kingdom, Sweden, and West Germany.
Once we know the change in the capital-labor ratio, it is straightforward to estimate the long-run change in real (inflation-adjusted) per capita GDP. The short-run effects can then be inferred by using previous estimates of convergence rates associated with economic growth. The results can be expressed as increases in average rates of real per capita GDP growth over the ten-year period emphasized in the legislation.
The second approach uses the framework developed in empirical analyses of the determinants of economic growth for a large number of countries observed since 1960. (A summary of this approach is in my June 2015 paper "Convergence and Modernization.") The underlying data were extended to encompass information on tax rates on corporate profits dating back to 1980 (these data come from a project at the American Enterprise Institute). The empirical results provide estimates of effects of changes in corporate-tax rates on real per capita GDP growth over five-year intervals. These results turn out to accord with those obtained from the first method.
User Costs
For the user-cost approach, I assume that corporations discount all expected future cash flows in accordance with the net expected real rate of return on capital. To accord with the observed high average equity premium (the gap in returns between stocks and safe assets), this rate has to be well above the average risk-free real interest rate, now around 1% per year. My main analysis uses an expected real rate of return on capital of 8% per year (the average long-term real rate of return on stocks in the US and other rich countries), but allows for a rate of 6% as an alternative.
I assume that the expected real rate of return on capital is fixed in the long run, even when there is a change in business taxation. This condition obtains in economists' most popular model of economic growth (the neoclassical growth model for a closed economy with an infinite planning horizon), owing to household saving behavior. And the result serves as an approximation even in modified versions of this model. For a small open economy (not the US), the condition holds even in the short run, given the availability of foreign borrowing and lending.

The key condition for business investment is the marginal product of capital – the amount of additional output per additional unit of capital input. This marginal product is equated to the user cost, which involves the expected rate of return on capital and features of the tax system. A key element in the user cost is the effective expensing rate for equipment and structures implied by the existing and proposed systems of business taxation. (See the technical note at the end of this article for details.)
The table shows my characterization of the old and new corporate tax systems with regard to effective expensing rates for equipment and structures. These calculations assume that the existing tax law entails double-declining balance depreciation for five- or seven-year equipment (ignoring the temporary bonus depreciation currently in effect).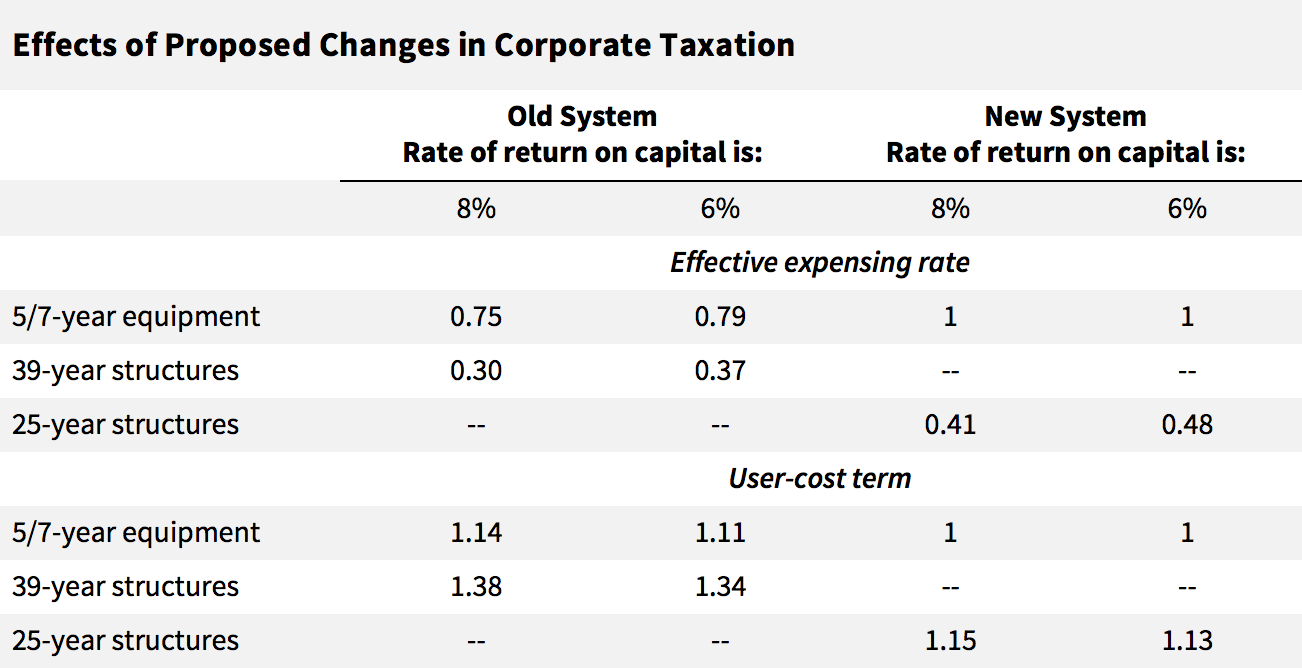 The calculations assume straight-line depreciation for non-residential structures over 39 years in the current law and over 25 years in the new law. I assume that one-third of structures are financed by corporate bonds, that the nominal interest rate on corporate bonds is 4% per year, and that the inflation rate is 2% per year (relevant for capitalizing deductions for depreciation and interest payments). Finally, I focus on the case where the real rate of return on capital is 8% per year.
For equipment, the tax reform lowers user cost by 12%. For structures, the decrease is 16%. Surprisingly, although full expensing applies to equipment in the new law, the proportionate decrease in user cost is larger for structures, owing to the reduction in the recovery period from 39 to 25 years. My results accord with an open letter that eight other economists (Michael Boskin, John Cogan, Douglas Holtz-Eakin, Glenn Hubbard, Lawrence Lindsey, Harvey Rosen, George Shultz, and John Taylor) and I addressed to Treasury Secretary Steven Mnuchin in late November. That letter estimated that the corporate tax changes "would reduce the user cost by an average of 15%."
From User-Cost Reductions to Growth
Converting the changes in user costs into long-run changes in capital-labor ratios requires an estimate of the relevant elasticity (the proportionate sensitivity of the capital-labor ratio to the user cost). Empirical estimates of these elasticities, summarized in a recent report from the US Council of Economic Advisers, are not far from unity. I focus on an elasticity of 1.25, which corresponds to a Cobb-Douglas production function (commonly used by economists) in which equipment and structures each have an income share of 20%. In this case, the tax changes raise long-run capital-labor ratios by 25% for non-residential corporate structures and 17% for corporate equipment.
If we thought of C-corporations as corresponding to the whole economy, the changes in capital-labor ratios would imply a rise in long-run real per capita GDP by about 8.4%. Given that the overall corporate sector (which includes S-corporations) accounted for only 56% of national income in 2016, the effects on long-run GDP would be smaller than 8.4%. But not by much, because the changes related to depreciation apply generally to businesses, and the legislation also includes reductions in tax rates on pass-through businesses, such as S-corporations and partnerships. Moreover, the reduced tax burden on C-corporations will induce an efficient flow of resources toward this sector, including movements out of residential housing and conversions of pass-through enterprises to C-corporations.

To get estimates for GDP growth rates, I made a rough downward adjustment of the long-run level effect from 8.4% to 7%. Then I estimated the dynamics of real per capita GDP based on estimates of convergence rates – the rate at which a country adjusts toward its long-run position. In previous research, I estimated this rate of convergence to be 2-3% per year. Former US Secretary of the Treasury Lawrence H. Summers dubbed my estimate of 2% per year as the "iron law of convergence," but more recent estimates are closer to 3%.
However, convergence rates in the range of 2-3% per year accord with the underlying neoclassical growth model only if one takes a broad view of capital, particularly to include human capital, so that the capital share of income is 75-80%. In that case, diminishing productivity of capital sets in slowly, and convergence rates are correspondingly low. This setting does not apply to the proposed changes in corporate taxation, because they affect physical capital but not human capital. In this context, a narrower concept of capital applies, and the convergence rate would be correspondingly higher. For example, if one assumes a capital share of income of 40%, the convergence rate in the neoclassical growth model would be around 5% per year.
If I apply a convergence rate of 5% per year to the long-run 7% change in real per capita GDP, the growth rate rises in the short run by 0.34% per year. After ten years, the level of real per capita GDP is higher by 2.8%, implying that the average growth rate is higher by around 0.28% per year over a ten-year span.
Cross-Country Growth Analysis
As I noted above, my second approach consists of entering the tax rate for corporate profits into a cross-country growth analysis. The available data refer to the top marginal tax rate on corporations and provide no information about effective expensing in the tax structure.
As usual in this type of analysis, there are issues concerning holding constant other determinants of economic growth and dealing with reverse causation from economic outcomes to the tax structure. (The latter consideration suggests that the estimated effect would understate the magnitude of the true impact of the tax rate on economic growth.) But this procedure also has important advantages – for example, there are 500 data points on five-year average growth rates of real per capita GDP, and one does not have to make a lot of modeling assumptions, as required by the user-cost framework.
The result from a cross-country regression for explaining five-year-average per capita GDP growth rates is a negative estimated coefficient on the corporate-tax rate. In other words, a higher tax rate means lower economic growth. However, the estimated value has a high standard error and is statistically significant only at a 15% critical value. The point estimate implies that a cut in the corporate-tax rate by 15 percentage points (as in the pending US legislation) would raise the growth rate of real per capita GDP over a five-year interval by about 0.4% per year. The interesting point is that this result accords with the results from the user-cost approach. Hence, the cross-country analysis supports the reasonableness of the user-cost findings.
The bottom line is that the pending corporate tax changes would produce a large long-run increase in real per capita GDP – by around 7%. The associated rise in growth rates over a ten-year horizon would be about 0.3% per year.
Technical note
The analysis of user costs is based on a formula derived from the 1984 book by King and Fullerton:

where τ is the proportionate tax rate on corporate earnings, computed by allowing for expensing at the effective rate λ on investment outlays, and δ is the true depreciation rate on capital. In calculating λ for the existing and proposed corporate tax systems, I estimate present values (using the real discount rate, rk) associated with depreciation allowances and deductibility of corporate interest payments. (I assume that bond financing applies fractionally to structures and not at all to equipment, and that proposed limitations on deductibility of bond interest would not be an effective constraint with regard to investment in structures.)
Note that user cost on the right side of the equation falls with the expensing rate, λ, if τ<1: more expensing encourages investment. If λ<1 (as in the current system), user cost rises with τ, so that a higher corporate-tax rate discourages investment. However, the effect of τ on user cost is nil if λ=1 (as with full expensing of equipment) and is negative if λ>1 (for example, if full expensing were combined with deductibility of interest payments). If λ=0, the equation gives the familiar result that the after-tax marginal product of capital, (1-τ)∙MPK, equals rk+δ. For given features of the tax system, user cost rises with rk+δ. However, because I treat rk+δ as fixed, all of the estimated effects on investment come directly from the tax term, (1‑τλ)/(1-τ), shown in the equation.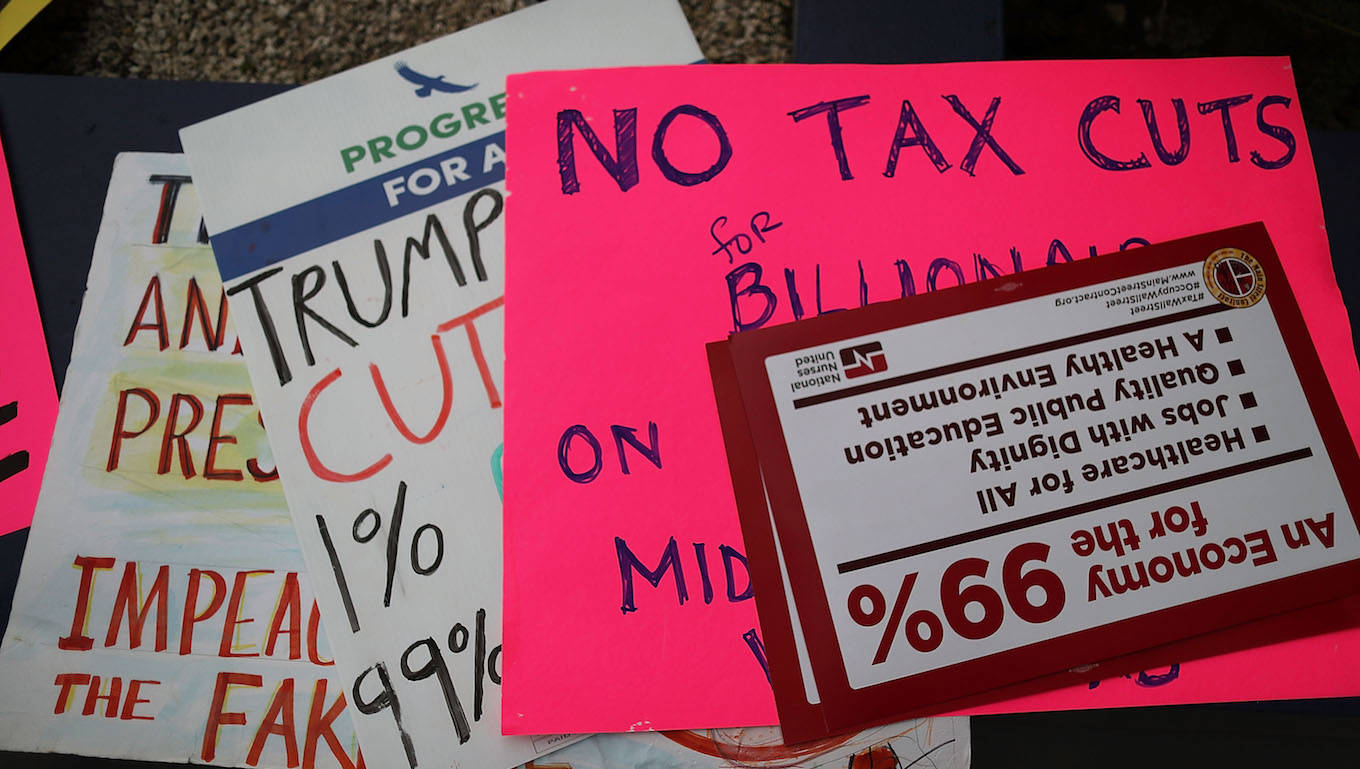 Robert Barro's Tax-Reform Advocacy: A Response
Robert Barro is a serious and careful economist, but he makes errors in modeling the actual provisions of the Republican tax plan, and he chooses parameters that distort his conclusions substantially upward. Instead of using his insights to defend and promote the GOP tax legislation, Barro should have helped to shape a much better bill.
In The Great Tax Debate, Jason Furman & Lawrence H. Summers take on Robert Barro, who makes his case in a separate PS On Point, linked below.
CAMBRIDGE – The United States House of Representatives and Senate have each passed tax cuts that would reduce the corporate rate from 35% to 20%, allow businesses to write off equipment and structures more quickly, and make numerous other changes to business and personal taxation. The official estimates of the bills, carried out by the Republican-appointed Joint Committee on Taxation (JCT), conclude that the bills would raise the long-run level of output by less than 1% – resulting in a growth boost of about 0.1 percentage point annually in the first decade. Several other analyses using established models have found similarly modest growth effects.
Our Harvard colleague and friend Robert Barro disagrees. He recently co-signed a letter with eight other conservative economists finding that the tax cuts would raise the long-run level of output by 3%. The letter also asserted that "the gain in the long-run level of GDP would be just over 3%, or 0.3% per year for a decade," an estimate that the US Treasury Department has been pointing to justify its claim that dynamic feedback covers much of the cost of the tax cuts.
In response to our listing of numerous flaws in this letter, including its serious misuse of the academic literature, the authors backed off the claim that the annual growth rate would rise by 0.3 percentage point and failed to defend many of the other assumptions as well. Notably, the then-chief economist of the Organization for Economic Cooperation and Development weighed in to support our view that the authors had misused an OECD study, one of only three studies they cited to reach their conclusions.
Now Barro has provided Project Syndicate with an analysis that uses his own estimates to conclude that the long-run level of output would increase by 7%. He maintains that, assuming the economy converges to its long-run steady state at 5% per year, this would mean an additional 0.3-percentage-point increase in the annual growth rate.
But even at Barro's growth rate, the dynamic feedback would not pay for the tax cut. (Under his convergence assumptions, the 3% increase in output in his previous group letter would translate into a 0.1-percentage-point increase in the annual growth rate over the next decade. As we argued in our response to that letter, this is also consistent with the annual growth rates implied by the papers Barro and his co-signers cited.)
Flawed Implementation of a Sensible Model
We welcome Barro's explicit calculation and believe in the utility of the type of framework he uses. Unfortunately, he makes errors in modeling the actual tax provisions and in choosing parameters that distort his conclusions substantially upward. Based on our adjustments to his calculations, we believe that Barro's method, correctly applied, would yield an increase in the level of long-run GDP of about 1%. This works out to a 0.05-percentage-point increase in the annual growth rate, following Barro's convergence assumption. The fact that this conclusion is similar to the JCT estimate should not be a surprise, because the JCT already incorporates most of the economic relationships that Barro is modeling, but correctly models the actual tax provisions and appropriate economic parameters.
The table below summarizes the adjustments we made to Barro's numbers, recognizing that a number of them are – like his own estimates – based on plausible guesses, not hard data. A number of other adjustments could be made, most of which would likely lower his estimate still further.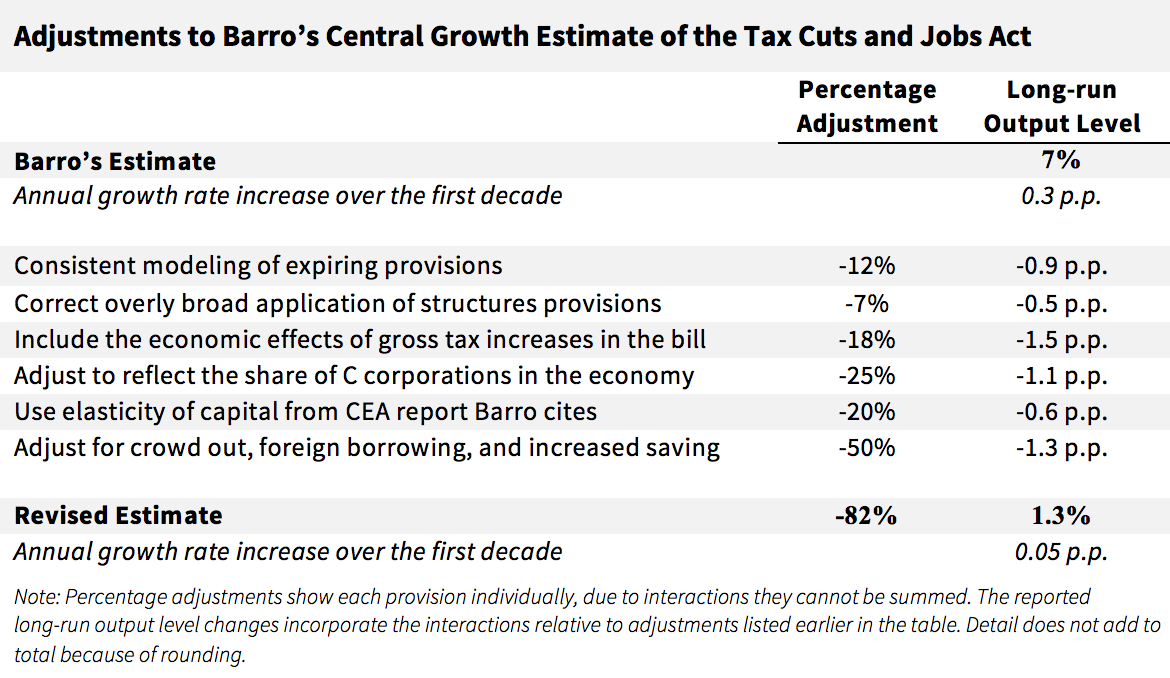 Modeling the Tax Plan
The first key problem with Barro's analysis is that it makes the least favorable assumptions about current law and the most favorable assumptions about future policy. Since 2007, businesses have been able to write off at least 50% of the cost of their investment in equipment immediately, although this benefit is scheduled to expire. Under the House and Senate bills, businesses would be able to write off 100% of their spending on fixed investment immediately for the next five years.
Strangely, Barro assumes not only that, absent the legislation, the 50% bonus depreciation would expire, but also that the proposed 100% bonus depreciation, which is temporary in the tax bills, would be maintained indefinitely. But one should assume either that both are permanent, or that neither is. In either case, the user cost of capital for equipment would fall by 6%, not the 12% estimated by Barro. Using the share of equipment in total capital, this would reduce Barro's user-cost reduction and corresponding growth estimates by 12%.
The second problem with Barro's analysis is that it mistakenly models the accelerated depreciation of structures, including by assuming that it applies to all structures. The Senate bill included a provision that would accelerate the depreciation of some structures from 39 years to 25 years. Barro estimates that this provision alone, which costs 0.01% of GDP in the tenth year, would boost output by 1.3% – an extraordinary multiplier of more than 100.

This astonishing figure partly reflects Barro's failure to account for the fact that, while the accelerated-depreciation provision applies to many types of structures (for example, office buildings and hospitals), many other types of structures already benefit from substantially more accelerated depreciation. As a result, restaurants, most energy facilities, mining facilities, farms, water supplies, and amusement parks, for example, would not qualify for this provision. In addition, much of such investment in structures is heavily leveraged, implying that it already has a very low effective tax rate. A conservative application of all of these adjustments would reduce the portion of Barro's structures estimate due to accelerated cost recovery by three-quarters, reducing his overall growth estimate by 7%, after taking into account interactions with the rate reduction.
We would also argue – but do not incorporate in these adjustments – that future depreciation allowances are like a bond and should be discounted at a lower rate. Making this adjustment would lower the marginal tax rate under current law and thus attenuate much of the marginal rate reduction attributed to the legislation. This adjustment would apply to both equipment and especially to structures.
Third, Barro assumes a growth boost from the gross tax cuts in the bill, but disregards the gross tax increases. As noted above, one provision alone, costing 0.01% of GDP, is assumed to boost the level of output by 1%. But Barro's analysis ignores provisions such as one that reduces Net Operating Loss Carrybacks, another that eliminates businesses' ability to expense research and development costs, and yet another that rescinds a tax deduction for manufacturing. Together with other provisions, these changes, according to the JCT, amount to 0.5% of GDP.
In economic terms, Barro is treating these as lump-sum taxes that do not affect behavior. In fact, they would raise marginal tax rates on R&D, risk taking, and manufacturing (relative to the estimates Barro is using). Very conservatively assuming that these provisions are modeled as being half as impactful, dollar for dollar, as the statutory rate reduction, this would offset 18% of Barro's growth estimate.
Fourth, with respect to the capital stock, Barro assumes that C-corporations account for the large majority, especially the long-lived capital stock. Although we lack our own estimates, we believe that his figure is too high for three reasons. First, C-corporations account for only about 40% of total business income. Second, C-corporations tend to have shorter-lived assets than pass-through corporations, meaning that they would benefit less from these tax changes. And, third, because smaller businesses already benefit from expensing provisions, they would not benefit from accelerated depreciation. All told, we would guess that the corporate sector is half as large as Barro's estimate, but, erring once again on the side of conservatism, we reduce his estimate by only 25%.
A fifth problem with Barro's assessment is that, unlike other analyses of the impact of the proposed tax changes, it uses parameters that are higher than the literature it cites. He assumes that the elasticity of capital with respect to the user cost is 1.25 – that is to say, a reduction of the user cost of capital translates into a percentage increase in the capital stock that is 1.25 times larger.
Barro justifies this estimate by pointing to a recent literature survey by the Council of Economic Advisers. But the CEA cited nine estimates, eight of which were below 1.25 (the ninth was for a small open economy). According to the CEA, "The emerging consensus in the academic literature places the user-cost elasticity of investment at -1.0." Using what the CEA describes as the "emerging consensus" would lower Barro's estimates by 20%.
The final key problem is that Barro assumes that the stock of equipment and structures increases by 15%, or about $3 trillion, but ignores the fact that the additional capital has to come from somewhere – from other sectors, from abroad, or from consumption. If it comes from foreigners, as would follow from the assumption that the United States is a small open economy, then we would need to repay those foreigners a return on their investment. This return would be subtracted from gross national product (GNP), or national income. If the funding comes from domestic sources, it could be diverted from other sectors that do not experience the same reduction in capital taxation, like housing. The economy might still benefit from more corporate investment and less residential investment, but estimates that include the former but ignore the later greatly overstate the total impact.
Taking all of these adjustments into account, we believe a reasonable analysis would reduce Barro's estimate of the tax bill's impact on US growth by half. His growth estimates would be unchanged if the additional financing for capital accumulation came from reduced consumption; but that would mean that people's wellbeing increased more slowly than the size of the economy.
Other Objections
These adjustments do not encompass all of the doubts we have about Barro's analysis. In particular, we accept his translation of the capital stock into additional growth, even though it appears to be implausibly high (perhaps by a factor of two or more). For perspective, Barro estimates that the long-run stock of equipment and structures increases by 18.75%. In 2016, the total stock of equipment and structures was $20 trillion, or 107% of GDP. He thus is assuming that an increase in equipment and structures totaling 20 percentage points of GDP (18.75% multiplied by 1.07) could produce 7% more output per year. That is a remarkable 35% return, even before adjusting for the limited size of the C-corporation sector or many of the other issues we discuss above.
Another, broader shortcoming of Barro's analysis is that it focuses entirely on the business side of the congressional tax bill. The JCT estimated a modest increase in the level of output over the next decade associated with the individual provisions. This estimate could be added to Barro's total for a complete assessment of the impact of the proposed tax changes on growth.
On the other hand, Barro's analysis does not reflect the negative economic effects implied by higher budget deficits, increased sheltering, marginal tax rates for some pass-through businesses in excess of 100%, and new sources of complexity. All told, our own judgment is that when all of these effects are factored in, long-run GNP would more plausibly decline, not grow, if the tax bill is enacted and its major provisions are made permanent.
We agree with Barro's suggestion that the ten-year impact of a corporate tax change is between one-third and one-half of its long-run impact. So, even if our estimates are too low by a factor of 2-3, the impact of the legislation is in the range of what the JCT estimated.
A Better Approach
Barro is a serious and careful economist. The fact that his estimates are nearly an order of magnitude off is a reflection of how difficult it is for any single economist, no matter how smart, to use the back of an envelope to estimate the effects of extremely complicated legislation. We do not recommend that anyone use our amendments of Barro's numbers. After all, our estimates contain many guesses and simplifications that are no substitute for a complete analysis. We offer them in support of our larger point: We should generally rely on the estimates of the official scorekeepers, who already take into account all of the user-cost effects that Barro incorporates in his analysis, but who also correctly apply those effects to the relevant economic sectors and carefully model their interactions with other parts of the tax bill.
Instead of being used to justify this tax bill, Barro's insights could have helped to shape a much better tax bill. Such a bill would include permanent instead of temporary expensing, apply expensing to structures as well as equipment, and reduce the statutory tax rate by a smaller margin.