International Mediation is Not the Answer in Catalonia
Since Catalonia's referendum on independence on October 1, regional leaders and their sympathizers have called repeatedly for international mediation between the Catalan and Spanish governments. But external mediation would pose a severe threat to democracy and the rule of law – and not only in Spain.
MADRID – On the evening of October 10, Catalonia's separatist president, Carles Puigdemont, stood before the regional parliament to deliver what was widely expected to be a unilateral declaration of independence. But he ended up offering a fudge. Despite asserting "the mandate that Catalonia become an independent state in the form of a republic," he proposed "suspending the effects of the declaration of independence to undertake talks in the coming weeks."
The performance left more questions than answers, but that was precisely the point. Puigdemont was not addressing anti-independence protesters on the streets of Barcelona, or Spanish citizens more broadly. He was speaking to the international community. Like his fellow Catalan separatists, Puigdemont knows that the movement's only chance of moving forward lies in internationalization.
Since the Catalan regional government held an illegal referendum on independence on October 1, its separatist leaders and their sympathizers have called repeatedly for international mediation in their standoff with the Spanish government. The goal, exemplified by Puigdemont in his speech, is to make Catalonia appear magnanimous, in order to get the international community on its side.
The call for dialogue – such a sleek and simple request, fitting neatly into a 140-character tweet – resonates with much of the international media and the broader nebula known as the "international community." International doyens, including former United Nations Secretary-General Kofi Annan and his fellow Nobel Peace Prize laureate Desmond Tutu, have also called for dialogue. In the face of chaos and confusion, what could be wrong with talking?
The answer, of course, is nothing. Democracy relies fundamentally on dialogue. At its core, a democratic system is simply a legal framework – underpinned by a constitution – that facilitates discussion and dispute resolution. It is not a static model. If there is a problem with the framework, the constitution can be changed, though this cannot be done frivolously. Democracy is hard work. It requires persuasion, alliances, and compromise. But, so long as society believes in it, it works.
It is when dialogue is pushed beyond the system's constitutional bounds that the problem arises. There is no need to engage in the give and take of democracy if one can simply circumvent its ground rules. And, with all due respect for Annan and Tutu, this is what external mediation would amount to – and it would threaten to cripple Spanish democracy.
That is why the world – and especially Europe – must resist Catalan separatists' calls for international mediation. Nothing less than the future of the rule of law and constitutional democracy in Spain – and elsewhere – depends on it.
What is happening in Catalonia is a problem for the Spanish nation and, in particular, for a divided Catalan society. And, while Spain is a relatively young democracy, it is also a mature one, having endured many challenges in the 42 years since the death of the dictator Francisco Franco. We should let its robust and vibrant system work.
The good news is that, so far, the European Union and its member states have taken precisely this stance. French President Emmanuel Macron rejected European intervention, declaring that it would "give reason to those who do not respect the rule of law."
At the European level, European Council President Donald Tusk, despite some ambiguous statements on the topic, urged Puigdemont to "respect the constitutional order." European Commission Vice President Frans Timmermans declared that the Catalan regional authorities had "chosen to ignore the law," and that if one of the three pillars of European societies – "democracy, respect for the rule of law, and human rights" – is removed, "the others will fall. too."
But the pressure to internationalize – or, specifically, to "Europeanize" – the crisis will continue. The Catalan separatist leaders are smart and media-savvy. They know that scenes of violence, or even a prolonged stalemate, would weaken European leaders' resolve not to get involved. They also know that in an increasingly intergovernmental EU, some member states would not necessarily consider the prospect of a weakened Spain to be a negative outcome.
European leaders must not succumb to this temptation. The EU is, at its core, a construction of law. Facilitating the erosion of the rule of law and democracy should be anathema to its leaders. It should also be abhorrent to member states, which continue to guard their sovereignty and prerogatives.
More broadly, if democracy in Spain, in the heart of Western Europe, can be weakened so fundamentally, so can democracy everywhere. If, however, Spain is given the space to work through the challenge it faces, the rule of law will be reinvigorated. For those who proclaim themselves to be champions of liberal democracy, short-circuiting that possibility is as irresponsible as it is hypocritical.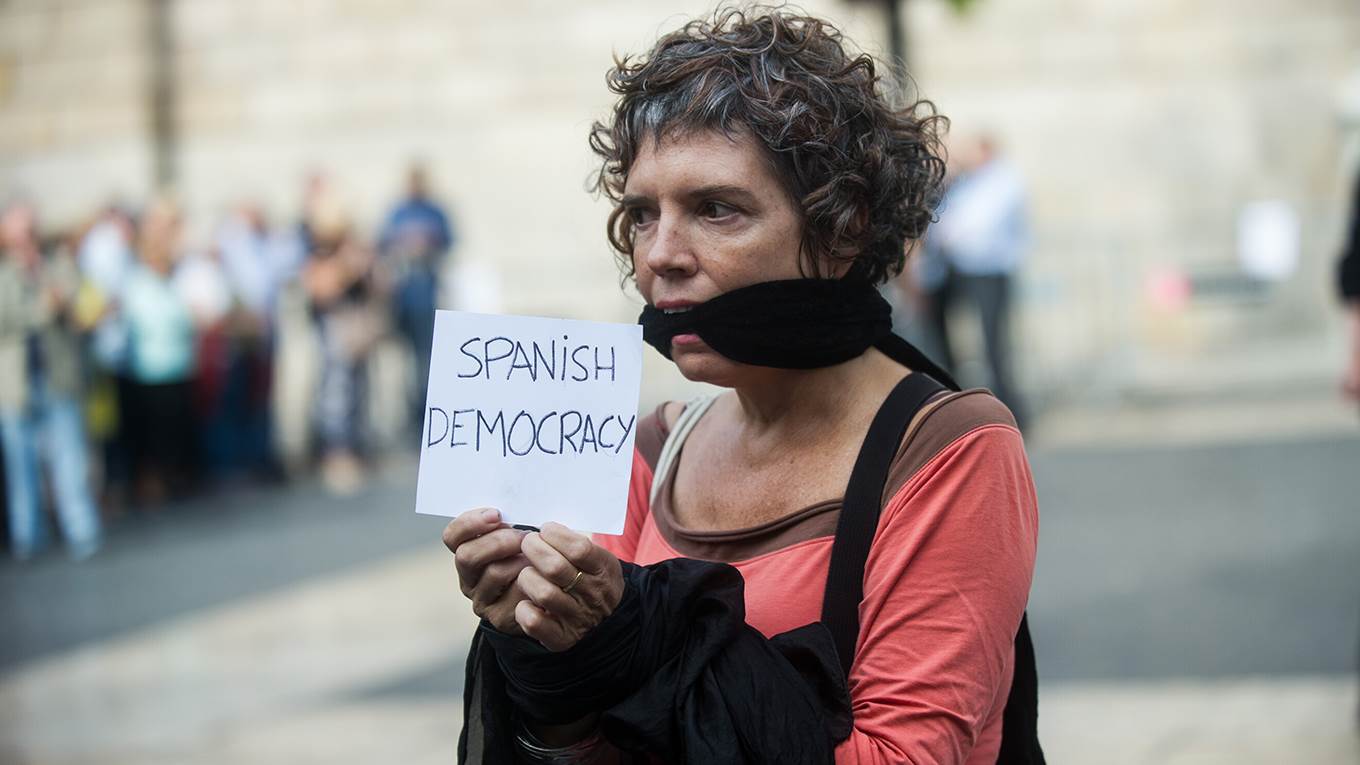 Europe's Attackers From Within
Catalonia's illegal bid for independence, like the United Kingdom's ill-fated Brexit referendum, amounts to a historical absurdity. After decades of bloodletting in the twentieth century, and in view of competition with economies like the US, China, and India, the need for deeper European integration in the twenty-first century should be obvious.
BERLIN – Europe finally appears to have moved past its multi-year economic crisis, but it remains unsettled. For every reason for optimism, there always seems to be a new cause for concern.
In June 2016, a slim majority of British voters chose nostalgia for the nineteenth-century past over whatever promise the twenty-first century might have held. So they decided to jump off a cliff in the name of "sovereignty." There is much evidence to suggest that a hard landing awaits the United Kingdom. A cynic might point out that it will take a properly functioning "sovereignty" to cushion the impact.
In Spain, the government of the autonomous region of Catalonia is now demanding sovereignty, too. But the current Spanish government is not prosecuting, imprisoning, torturing, and executing the people of Catalonia, as Generalissimo Francisco Franco's dictatorship once did. Spain is a stable democracy and a member of the European Union, the eurozone, and NATO. For decades now, it has maintained the rule of law in accordance with a democratic constitution that was negotiated by all parties and regions, including Catalonia.
On October 1, the Catalan government held an independence referendum in which less than half – some estimates say a third – of the region's population participated. By the standards of the EU and the Organization for Security and Cooperation in Europe, the vote could never be accepted as "free and fair." In addition to being illegal under the Spanish constitution, the referendum did not even have a voting register to determine who was entitled to participate.
Catalonia's "alternative" referendum invited a clampdown from Spanish Prime Minister Mariano Rajoy's government, which intervened to shut down polling stations and prevent people from casting ballots. This proved to be a political folly of the highest order, because images of the police swinging truncheons at unarmed Catalan protesters conferred a spurious legitimacy on the secessionists. No democracy can win in this kind of conflict. And in the case of Spain, the crackdown conjured up images of the country's 1936-1939 civil war – its deepest historical trauma to this day.
Were Catalonia actually to achieve independence, it would have to find a way forward without Spain or the EU. Spain, with the support of many other member states that worry about their own secessionist movements, would block any Catalan bid for EU or eurozone membership. And without membership in the European single market, Catalonia would face the grim prospect of rapid transformation from an economic powerhouse into an isolated and poor country.
But independence for Catalonia would pose a fundamental problem for Europe, too. For starters, no one wants a repeat of the breakup of Yugoslavia, for obvious reasons. But, more to the point, the EU cannot countenance the disintegration of member states, because these states comprise the very foundation upon which it rests.
The EU is an association of nation-states, not regions. Although regions can play an important role within the EU, they cannot stand in as an alternative to member states. If Catalonia were to set a precedent of secession, encouraging other regions to follow suit, the EU would be thrown into a deep, existential crisis. In fact, one could argue that nothing less than the EU's future is at stake in Catalonia today.
Moreover, the original purpose of the EU was to overcome nation-states' deficiencies by means of integration – the opposite of secession. It was meant to transcend the state system that had proved so disastrous in the first half of the twentieth century.
Consider Northern Ireland, which has turned out to be a perfect example of how integration within the EU can overcome national borders, bridge historical divides, and ensure peace and stability. Incidentally, the same could be said for Catalonia, which after all owes most of its economic success to Spain's accession to the EU in 1986.
It would be historically absurd for the EU's member states to enter a phase of secession and disintegration in the twenty-first century. The sheer size of other global players – not least China, India, and the United States – has only made strong intercommunity relations and deeper European integration even more necessary.
One can only hope that reason will prevail, particularly in Barcelona, but also in Madrid. A democratic, intact Spain is too important to be jeopardized by disputes over the allocation of tax revenues among the country's regions. There is no alternative but for both sides to abandon the trenches they have dug for themselves, come out to negotiate, and find a mutually satisfactory solution that accords with the Spanish constitution, democratic principles, and the rule of law.
The experiences of Spain's friends and allies could be helpful here. Germany, unlike Spain, is organized as a federation. Yet even in Germany, nothing is as cumbersome and difficult as the never-ending negotiations over fiscal transfers between the federal government and individual states – which is to say, between richer and poorer regions. But an agreement is always eventually reached, and it holds until another dispute arises, at which points negotiations begin anew.
To be sure, money is important. But it is not as important as Europeans' shared commitment to liberty, democracy, and the rule of law. Europe's prosperity depends on peace and stability, and peace and stability in Europe depend, first and foremost, on whether Europeans will fight for these values.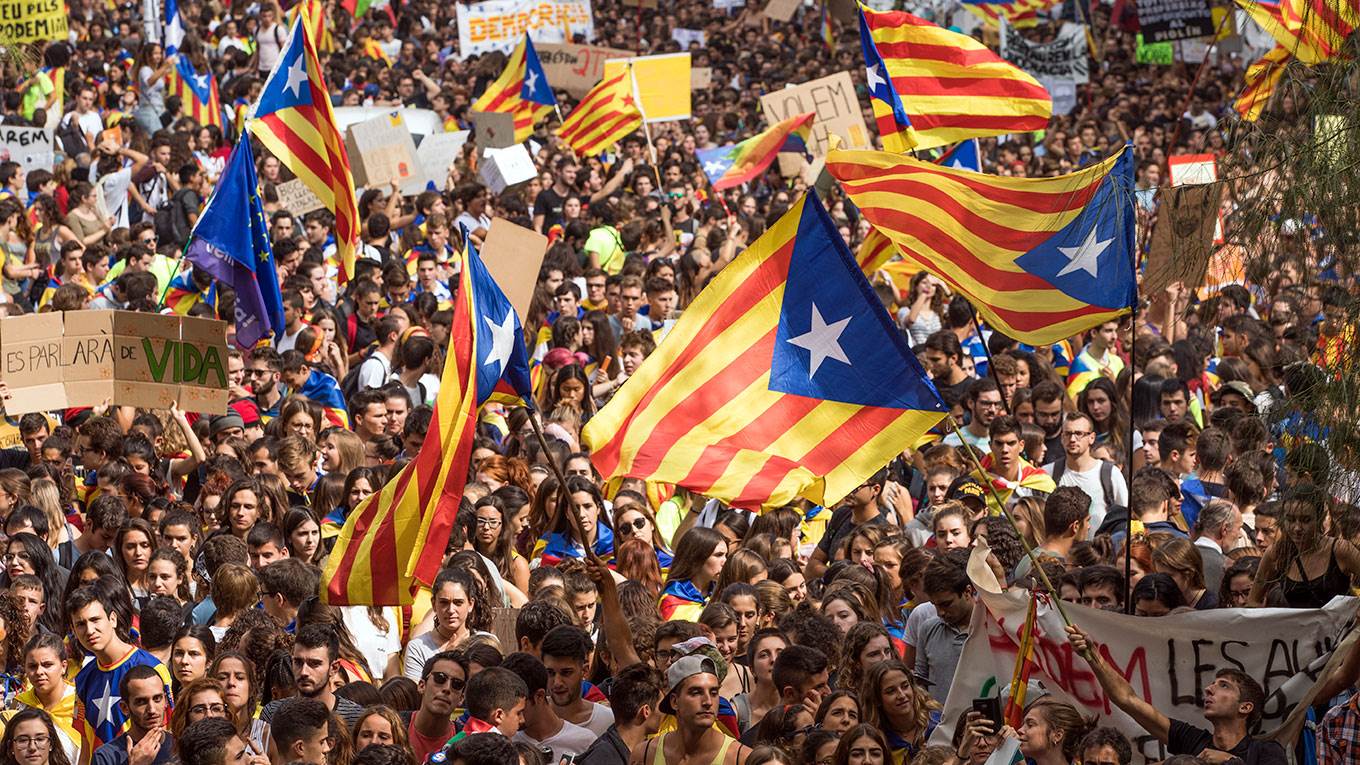 The Who, Where, and When of Secession
National self-determination, the principle that US President Woodrow Wilson put on the international agenda in 1918, is generally defined as the right of a people to form its own state. The independence referendums in Iraqi Kurdistan and Catalonia are the latest examples showing why that principle is so often difficult to apply.
CAMBRIDGE – This week, Kurds in northern Iraq voted overwhelmingly in favor of independence for the country's Kurdistan Region. With some 30 million Kurds divided among four states (Iraq, Turkey, Syria, Iran), nationalists argue that they deserve the world's recognition. In Spain, some 7.5 million Catalans have raised the same question.
Does it matter that polls show Catalans, unlike Kurds, to be closely divided on the issue? Does it matter that the states bordering Iraqi Kurdistan might use force to resist secession?
National self-determination, the principle that US President Woodrow Wilson put on the international agenda in 1918, is generally defined as the right of a people to form its own state. But who is the "self" that makes this determination?
Consider Somalia, whose people, unlike those of most other newly independent African states, had roughly the same linguistic and ethnic background. Neighboring Kenya was formed by colonial rule from dozens of peoples or tribes. Somalia claimed that the self-determination principle should allow Somalis in northeastern Kenya and southern Ethiopia to secede. Kenya and Ethiopia refused, resulting in a number of regional wars over the Somali national question.
The ironic sequel was that Somalia itself later fragmented in a civil war among its clans and warlord leaders. Today, its northern region, Somaliland, exists as a de facto independent state, though it lacks international recognition or United Nations membership.
Voting does not always solve problems of self-determination. First, there is the question of where one votes. In Ireland, for example, Catholics objected for many years that if a vote were held within the political area of Northern Ireland, the two-thirds Protestant majority would rule. Protestants replied that if a vote were held within the geographical area of the entire island, the Catholic majority would rule. Eventually, after decades of strife, outside mediation helped bring peace to Northern Ireland.
There is also the question of when one votes? In the 1960s, the Somalis wanted to vote immediately; Kenya wanted to wait 40 or 50 years while it reshaped tribal allegiances and forged a Kenyan identity.
Another problem is how one weighs the interests of those left behind. Does secession harm them, by taking resources away or causing other disruption? Iraqi Kurdistan holds significant oil reserves, and Catalonia is estimated to account for a fifth of Spain's GDP. Spain's government argues that the upcoming independence vote in Catalonia is illegal under the Spanish constitution.
History is not encouraging. After the Habsburg Empire was dismantled in 1918, the Sudetenland was incorporated into Czechoslovakia, even though most people there spoke German. After the agreement reached in Munich with Adolf Hitler in 1938, the Sudeten Germans seceded from Czechoslovakia and joined Germany. But the loss of the mountainous frontier where they lived was a terrible setback for Czech defenses. Was it right to allow self-determination for the Sudeten Germans, even if it meant stripping Czechoslovakia (which Germany dismembered six months later) of its military defenses?
To take another African example, when the people of eastern Nigeria decided to secede and form the state of Biafra in the 1960s, other Nigerians resisted, in part because Biafra included most of Nigeria's oil. They argued that the oil belonged to all the people of Nigeria, not just the eastern area.
After the Cold War ended, self-determination became an acute issue in Eastern Europe and the former Soviet Union. In the Caucasus, Azeris, Armenians, Georgians, Abkhazians, and Chechens all demanded states of their own.
In Yugoslavia, Slovenes, Serbs, and Croats managed to carve out independent republics, but the Muslims in Bosnia-Herzegovina were less successful, and were subjected to a campaign of "ethnic cleansing" by both Croatian and Serb forces.
In 1995, a NATO peacekeeping force was sent to the troubled area, but when NATO intervened militarily in Kosovo in 1999, Russia backed Serbia's objections to secession, and Kosovo has still not been admitted to the UN. In turn, Russia invoked self-determination to support Abkhazia's secession from Georgia in 2008, and its invasion and annexation of Crimea in 2014.
Self-determination turns out to be an ambiguous moral principle. Wilson thought it would bring stability to Central Europe; instead, Hitler used the principle to undermine the region's fragile new states in the 1930s.
The lesson remains valid today. Given that less than 10% of the world's states are homogeneous, treating self-determination as a primary rather than secondary moral principle could have disastrous consequences in many parts of the world. Indeed, hostile ethnic groups are often mixed like a marble cake, rather than neatly separable like a layer cake. That makes partition difficult, as India discovered in 1947. Perhaps that is why only a few new states have been admitted to the UN in this century. After it seceded from Sudan, ethnic turmoil inside South Sudan continued, practically unabated.
The best hope for the future is to ask what is being determined as well as who determines it. In cases where groups cohabit a state uneasily, it may be possible to allow a degree of autonomy in the determination of internal affairs. Countries like Switzerland or Belgium provide considerable cultural, economic, and political autonomy to their constitutive groups.
Where autonomy is not enough, it may be possible to arrange an amicable divorce, as when Czechoslovakia peacefully divided into two sovereign countries. But absolute demands for self-determination are more likely to become a source of violence, which is why they must be handled extremely carefully. Before invoking self-determination as a moral principle, one must heed the diplomatic version of the Hippocratic Oath: Primum non nocere (first, do no harm).