Profiles in Cowardice
As President Donald Trump and a majority of Congressional Republicans attempt to pass a tax bill that benefits America's wealthiest households at the expense of everyone else, political courage on the part of those who disagree could not be more necessary. Yet such backbone is nowhere to be found.
NEW YORK – The fate of nations often comes down to the choices made by a handful of individuals at a particular moment in history. Today, the United States is facing just such a moment. What a handful of individual Republicans decide will shape the future not just of the country, but of democracy itself.
Modern history is littered with similarly pivotal choices, for better or worse. A century ago, the Russian Revolution came down to a showdown between the iron will of Vladimir Lenin and the indecisiveness of Alexander Kerensky, who ended up sneaking out of Saint Petersburg to escape the Bolsheviks.
Another Russian revolution – on New Year's Eve 1999, when President Vladimir Putin gained the government foothold that ultimately enabled him to rule the country to this day – also came down to a solitary selfish decision by the country's then-leader. Choosing to prioritize his own safety and that of his family over the wellbeing of Russia, President Boris Yeltsin named Putin, a former KGB colonel, as his successor.
On a more positive note, where would France be today, if, in June 1940, the then-relatively unknown General Charles de Gaulle had not gone into exile and delivered his passionate call for his country to resist the Nazi invaders? Where would the West be had anyone other than Winston Churchill become British prime minister that year?
The US has also had its share of such pivotal moments, several of which were described by John F. Kennedy in his book Profiles in Courage, which he wrote before becoming president. For example, Secretary of State Daniel Webster supported the Compromise of 1850, despite his hatred of slavery, in order to save the union.
Similarly, Robert Taft denounced the Nuremberg Trials, despite his hatred of the Nazis, to defend the fundamental US legal principle that a person could not be criminally charged on the basis of a retroactive statute. Webster and Taft, like the six others that Kennedy examined, risked political and reputational ruin to take difficult decisions, because they believed themselves to be defending the best interests of their country.
Such political courage is not a thing of the past. Last week, 11 Conservative members of the British parliament balked at giving Prime Minister Theresa May's government "Henry VIII powers" – the authority to create new laws or eliminate old ones, without parliamentary approval. Led by former Attorney General Dominic Grieve, the rebel Tory MPs refused to countenance such a step, regardless of the cost. And that cost turned out to be high: Grieve received death threats, and others were sacked by the Tory leadership.
The US today is one place where such bravery and selflessness cannot be glimpsed. Yet, as President Donald Trump and a majority of Congressional Republicans attempt to pass a tax bill that would benefit America's wealthiest households at the expense of saddling the country with more than $1 trillion in additional debt, such courage could not be more necessary.
US Republicans have long decried any measure that increases the US budget deficit. Rob Portman of Ohio even served as Director of the White House Office of Management and Budget under President George W Bush. Yet now they support tax cuts that will cause the deficit to grow as much, if not more, than it did under President Barack Obama. (And Obama, it should be noted, was attempting to stave off another Great Depression, not to deliver big tax savings to wealthy donors.)
To be sure, seven Republican senators – Susan Collins of Maine, Robert Corker of Tennessee, Jeff Flake and John McCain of Arizona, Ron Johnson of Wisconsin, Lisa Murkowski of Alaska, and Marco Rubio of Florida – have voiced concerns about the bill. These concerns echo more fundamental fears, voiced by the same senators to varying degrees, that the Trump administration is doing serious harm to US institutions.
But even these senators now appear to have fallen into line, effectively promising to deliver Trump an important legislative victory that will help to buttress his floundering presidency, while deepening inequality in the longer term. In doing so, they are putting tribal partisan loyalty above concern for their country.
Of course, it is hard to ask for more heroism from McCain. His courage as a prisoner of war for five years in Vietnam seems to be doubted only by Trump, and the dignified way he is battling brain cancer today has only heightened the esteem in which most Americans hold him. But the fact is that McCain is now backing away from his call, made on his return to the Senate after brain surgery, for a return to the "old way of legislating in the Senate," including thorough public committee hearings on bills.
McCain's fellow senator from Arizona is similarly failing to back word with deed. Flake, whose memoir is called The Conscience of a Conservative, recently delivered a searing speech on the Senate floor denouncing Trump, whom Flake sees as threatening American "principles, freedoms, and institutions," disregarding "truth and decency," and engaging in petty and "reckless provocations." Yet Flake will support Trump's tax bill without so much as a grimace.
Murkowski and Collins played a vital role in preventing the Trump-supported repeal of the 2010 Affordable Care Act and its replacement with a much crueler health-care bill. Corker, too, has presented himself as somehow apart from the Trumpian mire. Yet, when it comes to tax cuts for the rich, these figures are as willing as any firm Trump acolyte to trade their honor for the approval of their tribe.
Years from now, some young and ambitious politician will survey the Trump presidency and, in an effort to explain the events that are unfolding before us, pen a Kennedyesque Profiles in Cowardice focused on Republicans' lack of personal integrity. The question is what will have become of American democracy by then.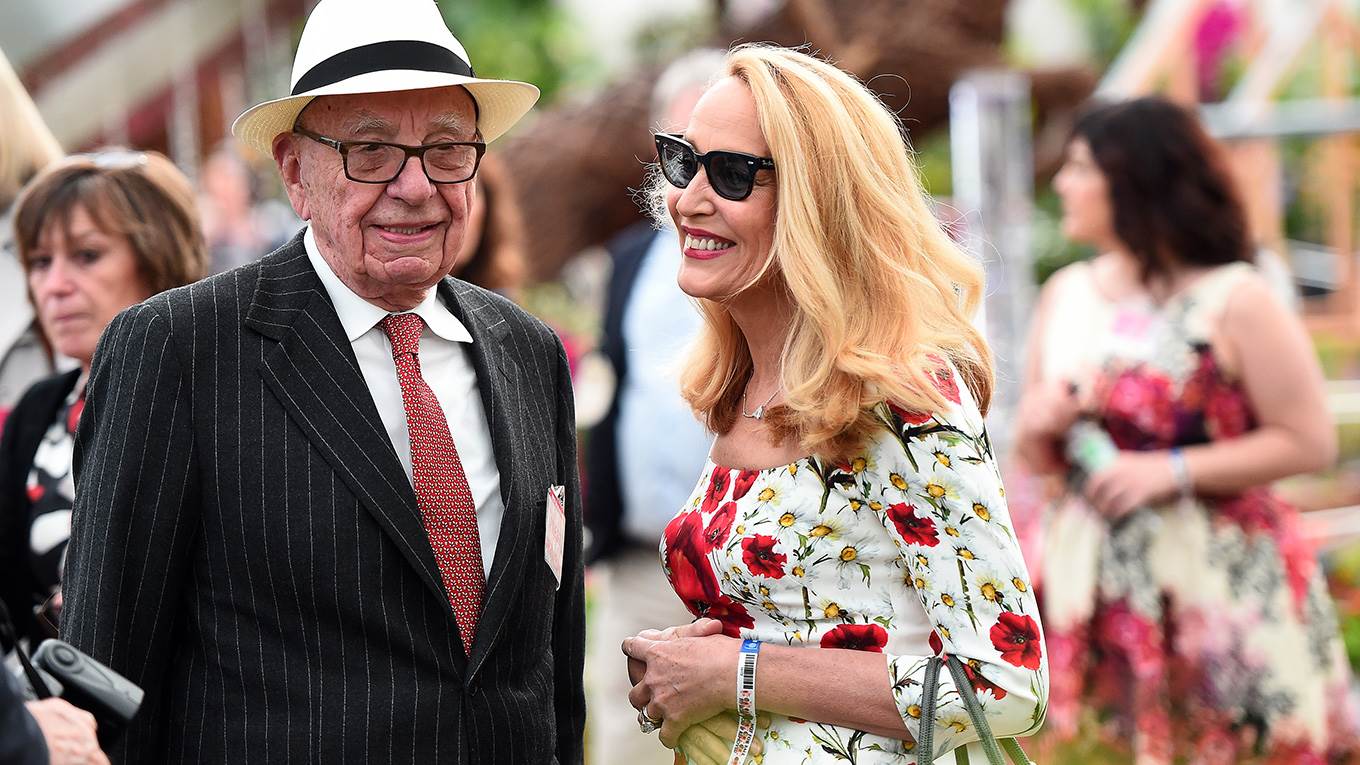 Guilty Man
By weaponizing "news," Rupert Murdoch set the stage for Brexit, Donald Trump's election, and the eruption of neo-Nazi violence in Charlottesville. Murdoch is one of the truly guilty men of our times, and he must be stopped.
NEW YORK – In 1940, with Britain standing alone against Nazi Germany, a short book called Guilty Men was published under the pseudonym of "Cato." Its authors were the future Labour Party leader Michael Foot, the Liberal journalist Frank Owen, and the Conservative journalist Peter Howard. Guilty Men was a jeremiad that called to account the men – including Neville Chamberlain and Lord Halifax, then still members of Winston Churchill's cabinet – whose appeasement of Adolf Hitler had helped to bring the United Kingdom to the brink of annihilation.
Today, it is again time to name names, and not only in the UK, where democracy is writhing with Brexit fever. In the United States, a fetid paranoia has taken hold, with the white supremacist aggression in Charlottesville, Virginia over the August 12 weekend – where a peaceful counter-protester was killed and many were injured – just the latest manifestation.
President Donald Trump, no surprise, doesn't want to name names. It took him two days to condemn the racist groups that wreaked havoc in Charlottesville. And then he quickly backtracked, equating the Klansmen and "alt-right" extremists brandishing swastikas and chanting Nazi slogans with those who turned out to oppose them. In fact, Trump owes his presidency to the forces of rage and resentment on display in Charlottesville.

But while Trump has gleefully fanned the flames of hatred in the US, he did not kindle them, just as the Brexiteers did not do so in the UK. We need to look beyond these figures to determine who really is responsible for fomenting a political climate where blatant lies and explicit racism and bigotry have entered the mainstream of public discourse. Only when we identify the sources of the odious virus now afflicting our democracies can we take practical steps to quarantine them.
Let's start with "patient zero" in this political plague: Rupert Murdoch.
For decades, this impresario of the right-wing political-entertainment complex has coarsened politics in the UK and the US – not to mention his native Australia – for the sake of profit and political influence. Murdoch's newspapers and television networks might as well have patented the recipe for the deceitful, dog-whistle politics that powered Trump's rise and the Brexit vote.
Of what, precisely, is Murdoch guilty? Let us put aside the ever-expanding roster of sexual harassment and assault complaints brought against his flagship Fox News Channel. These have been so numerous and egregious that even the network's founder, the late Roger Ailes, and its leading money-maker, the on-air blowhard Bill O'Reilly, finally (and reluctantly) had to be sacked. Let us also put aside the scandalous hacking of private telephones in the UK, which culminated in the closure of Murdoch's beloved tabloid The News of the World in 2011.
To establish Murdoch's culpability, it is enough to focus solely on the recent record of lies and deception from Murdoch-owned media outlets. There were, for example, the repeated attempts by Fox News to insinuate that the murder of Seth Rich, a young Democratic National Committee staffer, was orchestrated by Hillary Clinton's presidential campaign team to hide Rich's alleged role in leaking internal DNC emails. In fact, a recent lawsuit alleges that Fox News actually worked with the White House to promote this bogus story.
This was hardly the network's only anti-Clinton invention. Fox News host Sean Hannity and regular Fox commentator Newt Gingrich eagerly propagated one of the most bizarre conspiracy theories of our time: the claim that Clinton and her cohort were running a pedophilia ring out of a Washington, DC, pizzeria. This truly nutty story led an armed man to enter the pizzeria and fire a rifle.
But that incident apparently gave neither Fox News nor its owner pause. Instead, the network went on to perpetuate the outright lie that Britain's intelligence-gathering agency, the Government Communications Headquarters (better known as GCHQ), had been tasked by President Barack Obama to spy on Trump during the campaign. And it promoted the baseless story that former FBI Director James Comey, who Trump fired amid an intensifying investigation into his campaign's potential collusion with Russia, had leaked classified memos.
Of course, the sins of Murdoch's media outlets are not limited to the US. To name one British example, the Murdoch-owned Sunday Times recently published a column by an Irish Holocaust denier repeating the old racist calumny that Jews love only money, while belittling women who work at the BBC for receiving lower pay – supposedly a result of their failure to assert themselves.
In any responsible press organization, the publication or broadcast of even one of these genuine examples of fake news would be grounds for dismissal of the editors responsible – not least because of investors' outrage. Yet Murdoch has continued to produce large enough profits to silence institutional shareholders such as the Vanguard Group, Fidelity Investments, and Franklin Templeton Investments.
Individual investors are equally complacent. Consider Saudi Prince Al-Waleed Bin Talal, the second-largest shareholder of Fox News's parent company. He is apparently more interested in making money than pushing back against, say, the network's propagation of incendiary claims about Muslims, including that they are trying to impose Sharia law on the US.
If markets cannot induce better behavior from Murdoch, it may be up to governments to step in. With Murdoch seeking to acquire full control of Sky Television, British regulators have a critical opportunity to prevent a Fox News clone from appearing on British television screens – if they have the courage, which UK regulators have not shown up to now.
Previously, Murdoch and his sons were somehow deemed "fit and proper" owners for a UK television license. But as the catalogue of lies that Fox has promoted in the first six months of the Trump presidency has demonstrated, there is no man more unfit for ownership of a media outlet in a democracy than Rupert Murdoch.
As a former citizen of a country – the Soviet Union – that was morally and politically corrupted by propaganda, I am well aware of the damage that can be done by weaponized "news." Murdoch is one of the truly guilty men of our times, and he must be stopped.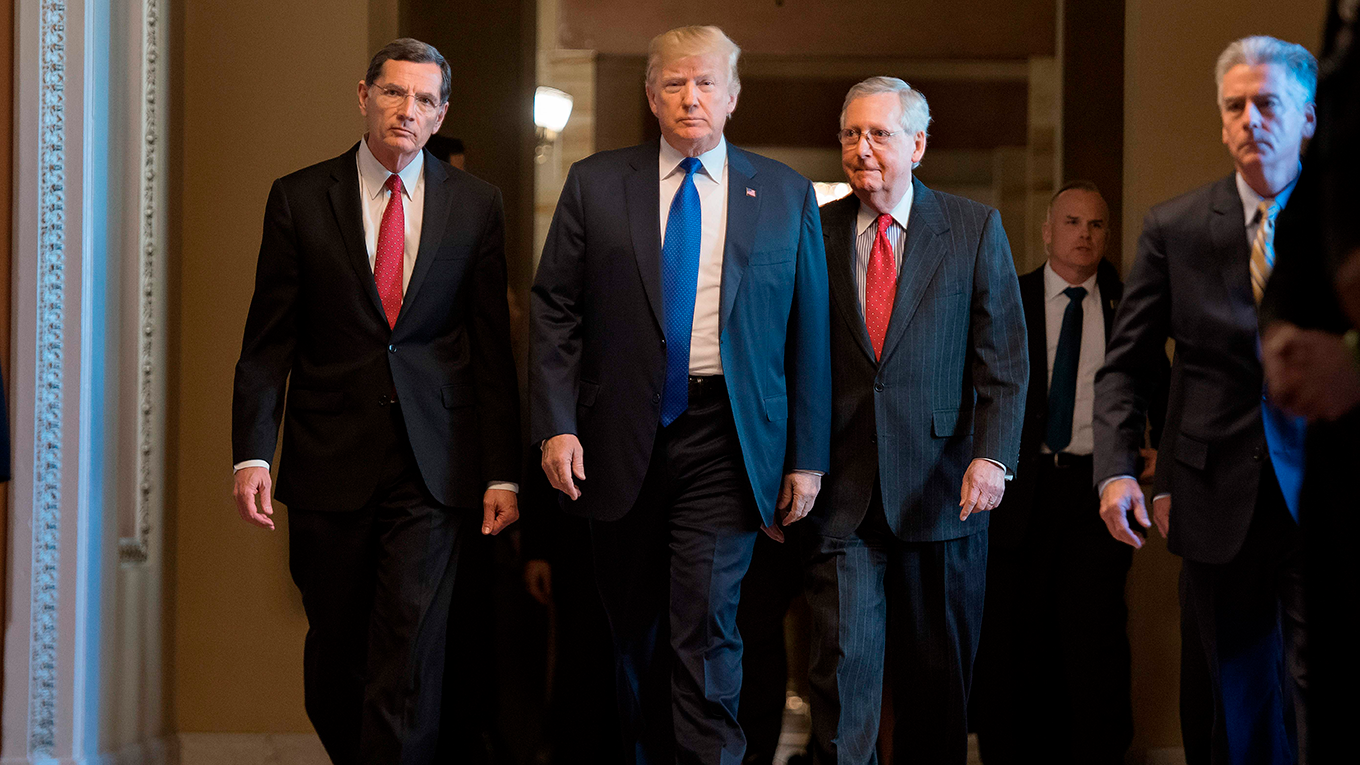 Trump's Willing Accomplices
Many leading Republican politicians who stand by Donald Trump, and even the multi-billionaires who fund their campaigns, may have private misgivings about the US president, just as the industrialists of Germany's Herrenklub probably once despised Hitler. But with only a few exceptions, they continue to support him – and for similar reasons.
NEW YORK – On February 20, 1933, a secret meeting took place in Hermann Göring's palatial residence in Berlin. More than 20 of Germany's top industrialists, including Gustav Krupp, Friedrich Flick, and Fritz von Opel, listened to a speech by Hitler, who promised them that their assets would be safe under his rule. So they agreed to support the Nazi Party with over two million Reichsmark, an enormous sum that was almost enough to pay for the upcoming election campaign.
Few of these men, if any, were convinced Nazis. They were members of the German Herrenklub (Gentlemen's Club), which was very conservative but not National Socialist. But, acting from narrow self-interest, they became Hitler's enablers.
By doing so, they were accomplices in a criminal regime that was guilty of mass murder, and in the end the destruction of their country. Their own companies benefited greatly from slave labor. Thomas Mann called the Herrenklub the "trendsetter of misery." This didn't prevent Flick and others from enjoying flourishing careers after the war, following light prison sentences.
US President Donald Trump is not a Nazi dictator (though some of his closest advisers admire some of the ideas that inspired fascism and Nazism in the past). Yet he is a menace to the democracy he is supposed to protect. He continues to attack the free press and judicial independence, and encourages mob violence, including by neo-Nazis. Retweeting anti-Muslim videos posted by a British extremist is just the latest of his outrages.
Many leading Republican politicians who stand by Trump, and even the multi-billionaires who fund their campaigns, may have private misgivings about the dangerously erratic narcissist in the White House, just as the gentlemen of the Herrenklub probably once despised the vulgar upstart in his preposterous brown uniforms. But with only a few exceptions, the politicians continue to support him – and for a similar reason: their narrow self-interest in staying in power and making more money for their backers.
A prime example is the tax legislation recently rammed through the Senate. Once the bill is reconciled with the House version and Trump signs it into law, big business and the very rich will benefit at the expense of the poor and vulnerable. And, according to the non-partisan Congressional Budget Office, America's financial health will suffer as well, with an estimated $1.214 trillion added to the deficit by 2027.
This should be seen as a betrayal of many Trump voters in the rural areas of relatively poor states and the Rust Belt cities of the Midwest, where people most need the federal government's help to remain solvent and healthy. They are most likely to pay the price for enriching the very rich even further.
There are, of course, many differences between the US today and Germany in the 1930s. Leftist thinkers have often claimed that fascism was the last stage of capitalism. In fact, National Socialism and fascism were not especially friendly to liberal capitalism.
Nor were Nazism and fascism designed to benefit only an oligarchy. Big business thrived under both systems, to be sure, especially corporations that profited from mining and military spending. But, apart from persecuted minorities and dissidents, many ordinary people gained from government programs (not to mention the looting of conquered countries).
The industrialists who gathered around Hitler and Göring in 1933 were bought off by a murderous gangster regime. The same was true of the German officer corps. This was not the last stage of capitalism; Hitler used the capitalists for his nefarious ends.
The situation in the US under Donald Trump looks rather different. Trump used populist language in his campaign, stoking up popular resentment against the educated urban elites, including capitalists on Wall Street. And he continues to pander to the emotions of ill-educated white racists and others who feel left behind in the modern world, and blame their problems on liberals and unpopular ethnic and religious minorities.
But it is not yet clear who is using whom in Trump's world. In their obsession with low corporate and personal taxes, and their loathing of organized labor and the federal government, rich donors, such as the brothers Charles and David Koch, or the casino magnate Sheldon Adelson, appear to be manipulating Trump, rather than the other way around. In a sense, they, as much as Krupp or Opel (if not more so), represent a type of capitalism that is being untethered from all necessary restraints. This began long before Trump appeared on the scene. The process goes back at least as far as Ronald Reagan's era of "supply-side" tax cuts and deregulation.
In the short term, the wealthy and corporate America will probably do nicely. Stock markets may well continue their bull run for a while longer. But in the longer term, with deficits looming, international trade agreements torn up, and totally inadequate spending on vital infrastructure, education, and health care, things could turn out very badly. Enabling a president who is clearly a danger to democracy for the sake of immediate financial gain is unpatriotic and morally reprehensible. But it makes no economic sense, either.
Henry Ford was an anti-Semite who was happy to cooperate with Nazi Germany until 1942. He was also a leader of the America First Committee, which opposed going to war against Hitler. But he had one insight, which Trump's business-first accomplices would do well to heed. "Fordism" meant that workers had to be rich enough to buy a car from his factories. Trump's tax bill will leave millions of potential consumers far worse off. And that cannot be good for business.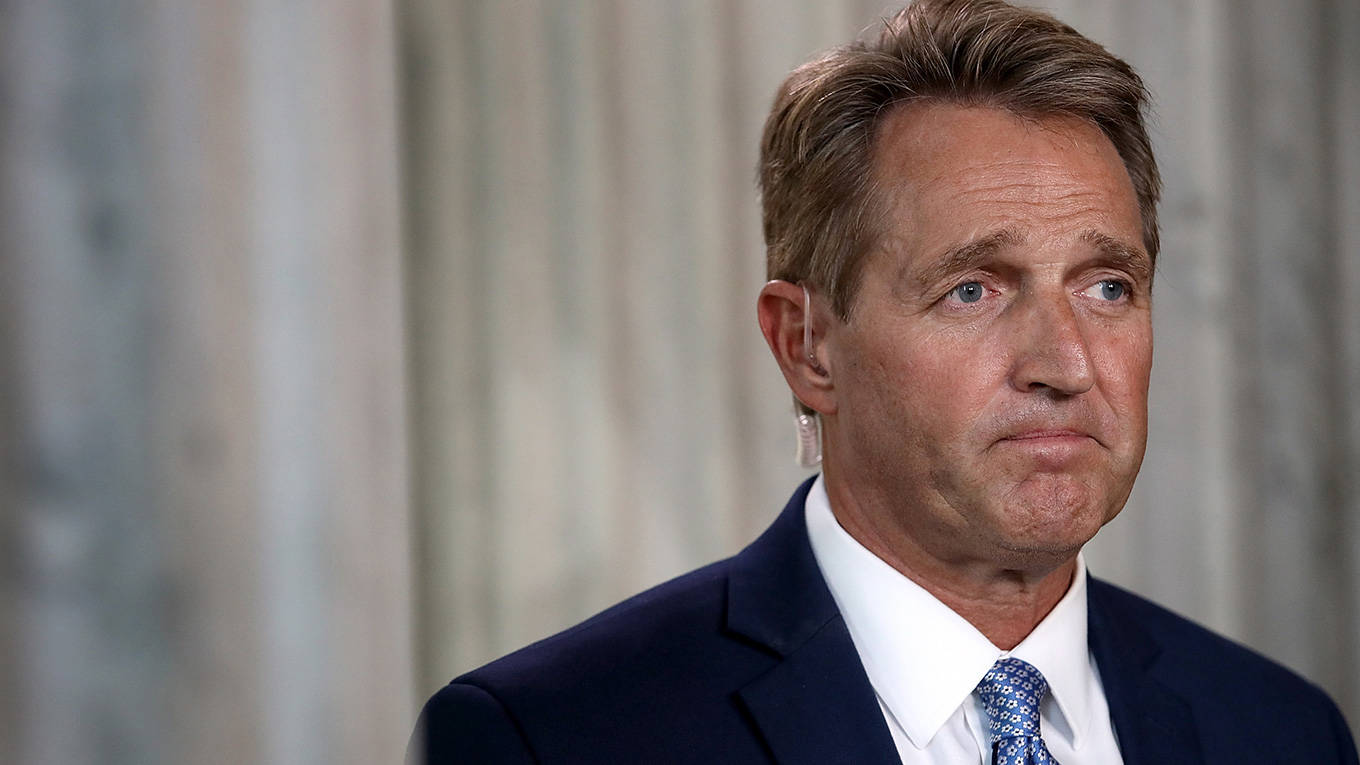 The Conscience of a Conservative?
Jeff Flake, the Republican junior US Senator from Arizona, recently issued a loud condemnation of US President Donald Trump's conduct in office – and then announced that he would not seek reelection next year. But while Flake was right to speak out against threats to American democracy, citizens – and especially senators – should never run away from them.
CAMBRIDGE – In a recent speech that received much attention in the United States and abroad, US Senator Jeff Flake, a Republican from Arizona, announced that he would not seek reelection. To agree with the reasoning Flake offered in defense of his decision, one must believe that a US senator's highest duty is to speak truth to power, repudiate the president for "reckless, outrageous, and undignified behavior" that is "undermining our democracy," and then quit.
Many mainstream media outlets apparently believe just that, lavishing praise on Flake's impassioned jeremiad. According to a CNN political analyst, it was "the most important political speech of 2017 – and one of the most powerful political speeches in the modern era of the Senate." Both The New York Times and The Washington Post featured the speech prominently in front-page stories.
But if we take Flake at his word that he is acting on principle, we must ask: what principle? If Flake is right that democracy itself is in peril unless we all "stand up and speak out," then what good does it do to throw in the towel?
In his speech, Flake began by pointing out that President Donald Trump's words and actions are consistently beyond the pale, bringing disgrace to the office of the presidency. But Trump's coarse behavior isn't news to anyone who has been paying attention. Flake then announced that he would "no longer be complicit or silent." We can certainly applaud him for that, but then we should ask what took him so long. All Americans have a right – indeed, a duty – to speak out against threats to their country.
But a senator is more than just another citizen. Flake is one of 100 members of America's highest legislative body. He shares with his fellow senators the power to vote yes or no on proposals made by the president. He can draft and help shape legislation that he believes to be in the public interest. And if at some point the US House of Representatives brings impeachment charges against Trump, he would be one of 100 judges presiding over that fateful case.
It is understandable that a senator who regards a sitting president as a serious threat to the Republic would sound the alarm. But for that senator simultaneously to announce that he is quitting makes no sense at all, especially given a senator's unique power to act as well as to talk. Flake's dire warning suggests that he should stay, not run away.
Of course, Flake's unstated reason for choosing flight over fight is hiding in plain view. Polls showed that he would have had a tough time getting reelected in 2018. Having been targeted first by Trump, and then by former White House Chief Strategist and current Breitbart News Executive Chairman Steve Bannon, Flake might not even have defeated a Republican primary challenger.
Granted, no one is obliged to submit himself to the slings and arrows of electoral politics. And no one can be blamed for not wanting to participate in the poisonous politics of Washington today. As a citizen, I thank Flake for his service in Congress. But if he wants us to believe that his speech and decision to resign are in the service of the country, and based on principle, then he needs to explain what that principle is.
According to Immanuel Kant's categorical imperative, principled action is that action which, if emulated by all others, would create a world in which we all want to live. Does Flake want to live in a world in which all lawmakers who disagree with Trump have already stood up, spoken out vigorously, and left office?
It isn't clear whether Flake is calling for a boycott of electoral politics, or merely warning others not to run in races they might not win. Either way, somebody will replace Flake in the Senate. So, it is worth asking if he thinks his successor will be better suited than he is to carry out the critically important duties of public service.
In his 2017 book, Conscience of a Conservative, Flake boldly asserts that "we have become so estranged from our principles that we no longer know what principle is." Should this now be read as an unwitting confession that he has lost his own moral bearings?
In his speech, Flake cited the Republican president Theodore Roosevelt as the model of "conscience and principle" to which he aspires. But those who have read Roosevelt know that he would not have walked away from today's fight. "It is not the critic who counts," Roosevelt said in the speech "Citizenship in a Republic," which he delivered at the Sorbonne in Paris in April 1910. "The credit belongs to the man in the arena," Roosevelt continued, "who spends himself in a worthy cause, and who at the worst, if he fails, at least fails while daring greatly, so that his place shall never be with those cold and timid souls who neither know victory nor defeat."
Now, that is a principle upon which the United States, and any republic, should stand.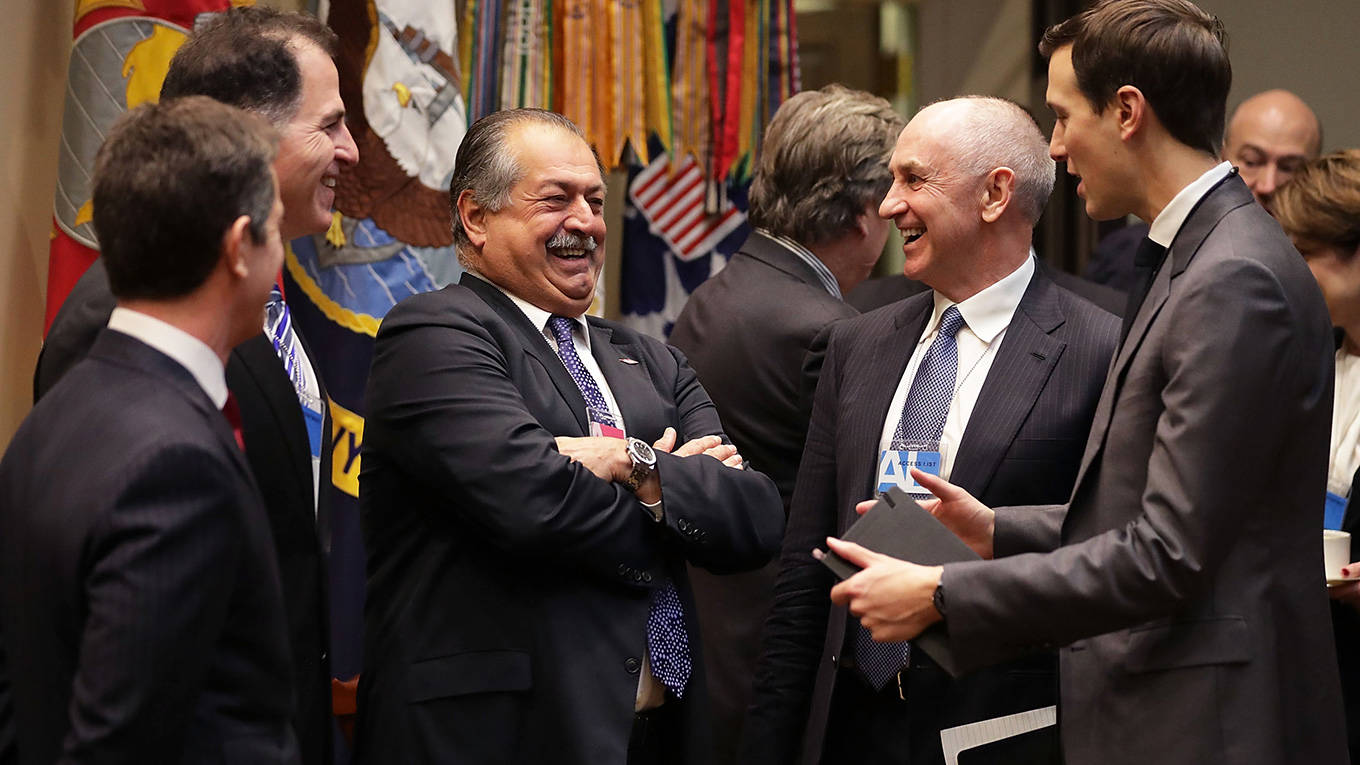 Trump's Corporate Lackeys
For many members of US President Donald Trump's economic councils, his weak response to this month's white supremacist violence in Charlottesville, Virginia, was the last straw. But the camel's back broke a long time ago.
LONDON – In mid-August, alt-right, neo-Nazi, and white supremacist groups, including the Ku Klux Klan, gathered in Charlottesville, Virginia, for a demonstration that ended with a white supremacist driving a car into a crowd of counter-protesters, killing one and injuring 19. President Donald Trump responded not by condemning the racist terror, but rather by blaming "many sides" for the violence. For many members of his manufacturing council and the Strategy and Policy Forum, it was the last straw. But the camel's back actually broke a long time ago.
The first few council members who resigned were labeled "grandstanders" by Trump. But then a trickle of resignations became a wave, and Trump, apparently fearful of a full-scale revolt by the business leaders who were supposed to advise him, quickly dissolved the two economic councils, tweeting that he didn't want to put pressure on their members.
Perhaps he need not have worried. Yes, some members of Trump's business advisory bodies took a stand. But it was too little, too late. After all, as appalling as Trump's response to the events in Charlottesville was, no one could credibly claim to have been shocked by it. On the contrary, from day one, there were clear signs that this administration was toxic. Even the councils themselves were little more than a tool for boosting Trump's ego, by stoking his self-image as a businessman's businessman.
Yet, while a few council members resigned after Trump withdrew the United States from the Paris climate agreement, the majority remained, owing to an overriding desire for prestige and access. They participated in photo opportunities wearing painted-on smiles, nodding and shaking one another's hands. They surely relished sharing anecdotes with their investors and boards that began with, "When I was at the White House last week …"
Blatant ethics violations? Check. Repeated lies regarding ties with Russia? Check. Tweeted threats of nuclear war? Check. Only when Trump implicitly validated literal Nazism did they feel compelled to weigh their options.
These business leaders cannot credibly claim that they believed, until last week, that they could be a moderating influence on Trump. If that were the case, there would have been some indication of it over the last seven months. But there was none. On the contrary, Trump repeatedly went off script, revealing beliefs and feelings that showed him in the worst possible light.
In fact, by choosing to remain on Trump's councils for so long, these business leaders implicitly endorsed his authority, which, as he showed time and again, he was unfit to wield. For members of Trump's economic councils, no less than for members of his administration, standing beside the president amounted to standing with him. In effect, these leaders validated Trump's outrageous positions on a broad range of issues, from his plan to build a wall with Mexico to his repeated attempts to bar citizens of several Muslim-majority countries from entering the US.
No one should underestimate the impact of this stance. Trump's economic councils comprised the heads of some of the world's largest companies. Their actions matter. Their decision to associate themselves with an administration launching repeated assaults on democratic principles is highly significant – and not just for the US. In fact, the firms that were represented – such as Walmart, PepsiCo, JPMorgan Chase, and General Motors – together affect the lives of most people on the planet.
Within their firms, these leaders espouse the importance of diversity and action to combat climate change. They claim to value their role as global stakeholders. They tout their standing in America's "best employers" rankings. But, by choosing to remain silent about Trump's behavior and policies, such assertions became worthless.
In a global context, continued collaboration with Trump's White House should be viewed as akin to doing business with – and thereby propping up – corrupt governments. With the exception of the Soviet bloc, no modern dictatorship has been established and sustained without the supporting role of business, be it diamond and coltan mining in conflict zones in Africa or oil companies in the Niger Delta. Companies like Bayer and BASF (then part of chemical giant IG Farben), Siemens, and the Volkswagen Group are still remembered for having profited from their close collaboration with the Nazis.
CEOs worldwide must recognize not just their influence and authority – of which most are probably quite proud – but also their responsibility to advance humane values and goals. They must stand for something greater than their own self-interest or the returns they are delivering to investors. If the moral imperative of standing up to oppression is not enough to drive a company to act, perhaps the need to protect the company's reputation will be.
One might argue that, now that Trump's economic councils have been disbanded, the issue is moot. But companies' responsibility extends beyond participation in those councils. Now is not a time for politicking or parsing words. Business leaders must stand up and show genuine leadership, integrity, and respect for ethics. They must make clear that they do not stand with Trump, as he drives his country toward destruction.
This does not apply just to Trump or the US. Business leaders everywhere should use their influence to stand up to authoritarian governments wherever they are in the world. They and their companies have never been more powerful. They should be using their might to fight for a better future, not for a seat at the tyrant's table.