The Iran Nuclear Deal Is Bad – and Necessary
North Korea is the proverbial horse that has broken the stable door, but, thanks to the Iran nuclear agreement, the Iranian horse remains in the barn. The US should be attempting to corral the defiant North Korea, not giving Iran a reason to break out, too.
TEL AVIV – US President Donald Trump has refused to certify the nuclear agreement with Iran, launching a process by which the US Congress could re-impose sanctions on the country. Fortunately, it seems likely that Congress, rather than pulling the plug on the deal, will seek some alternative that allows Trump to save face with his supporters, to whom he has long promised US withdrawal from the Iran deal. Nonetheless, decertification is a serious mistake.
Like many Israelis, I agree with Trump that the international agreement reached with Iran in 2015 is fundamentally a bad deal. But it is also a done deal. Even if the United States does decide to withdraw from it completely, none of the other parties – not China or Russia or even the Europeans (France, Germany, and the United Kingdom) – will follow suit. Iran would continue to reap the agreement's benefits.
At the same time, however, Iran could view the US decision to renege on the deal as justification for reviving its halted nuclear program. After all, the Iran Nuclear Agreement Review Act authorizes the US president to decertify the deal if Iran violates its terms. And, at least technically, Iran has done no such thing.
Of course, Iran's behavior – developing powerful ballistic missiles, helping to spread terror across the Middle East, and running intensive cyber warfare campaigns – is deeply troubling, and measures should be taken to apply pressure on Iran to address these issues. But none of them was part of the nuclear deal.
In this context, if Trump does decertify the Iran deal right now, it will undermine America's credibility when it comes to reining in another nuclear threat: North Korea. If the US can default on its international commitments for no reason, why would Kim Jong-un bother to engage in negotiations?
Kim might be an extremist of the first order, but his motivations are easy to discern. He views nuclear weapons as the ultimate insurance against a steep and ignominious fall, like those of Libya's Muammar Qaddafi and Iraq's Saddam Hussein. Moreover, however mighty the US military is, it cannot destroy North Korea's nuclear arsenal without provoking a counterattack inflicting untold destruction on South Korea and perhaps also Japan – both close US allies. That gives Kim substantial leverage.
The only possible way to deter Kim is through coercive diplomacy that compels him to freeze his nuclear program at something like its current level. And it was just this sort of coercive diplomacy, backed by sanctions and a united position among major international actors, that compelled Iran to sign its own deal.
If such diplomacy loses its credibility, Kim will inevitably continue to expand his nuclear-weapons program, and global risks will rise exponentially – not least because neighbors like South Korea and Japan will be increasingly eager to develop their own nuclear weapons. With that, the cause of nuclear non-proliferation and disarmament – a goal that the US has pursued for almost 70 years – will be all but dead.
The most immediate threat would be a decision by Iran to relaunch its own nuclear-weapon program. Should that happen, Egypt, Saudi Arabia, and Turkey would be virtually certain to pursue nuclear breakout. In fact, any third-rate dictator in the world watching these developments might decide to pursue nuclear weapons. The entire global order would be fundamentally changed.
North Korea is the proverbial horse that has broken the stable door and bolted. But, thanks to the current agreement, the Iranian horse remains in the barn. The US should be attempting to corral North Korea, not giving Iran reason to bolt, too.
This does not mean that the US needs to be passive. In fact, the US should be preparing for a potential future Iranian nuclear breakout – a distinct possibility, even if the current deal is upheld. Iran would be unlikely to pursue nuclear breakout immediately, because the deal still affords it substantial benefits. A few years from now, however, those benefits would be largely secured, giving Iran less reason to stick to its promises.
Given this, rather than parting ways with the other parties that helped to negotiate the agreement, the US should be seeking a consensus on what would constitute an Iranian breakout, in order to help guide the inspections conducted by the International Atomic Energy Agency. The US should also coordinate with the agreement's other signatories regarding the sanctions and other punishments that would be meted out if Iran actually did breach the deal.
For any of this to work, however, the "big American stick" must be present. The US must be prepared, in terms of intelligence, weapons, and political will, to intervene – unilaterally, if needed – to stop Iran, should it try to follow in North Korea's footsteps.
Deal or no deal, Iran represents a serious threat – to Israel, of course, but also to the stability of the Middle East and, in a sense, of the whole world. But, as of now, that threat is not existential. Preventing it from becoming so should be a top priority today. We in Israel who have been thinking seriously about this challenge for some time – not to mention working hard to prepare ourselves for various contingencies – recognize that, for now, our security is best served by maintaining the current deal.
Over the last 25 years, six countries have tried to turn themselves into nuclear states. Two of them – Libya and South Africa – gave up. Another two – Syria and Iraq – were stopped. And two – Pakistan and North Korea – succeeded, in defiance of the international community. We must ensure that Iran is not allowed to join their ranks. And, so long as Iran remains compliant, the nuclear deal, however bad it is, remains our best chance to do just that.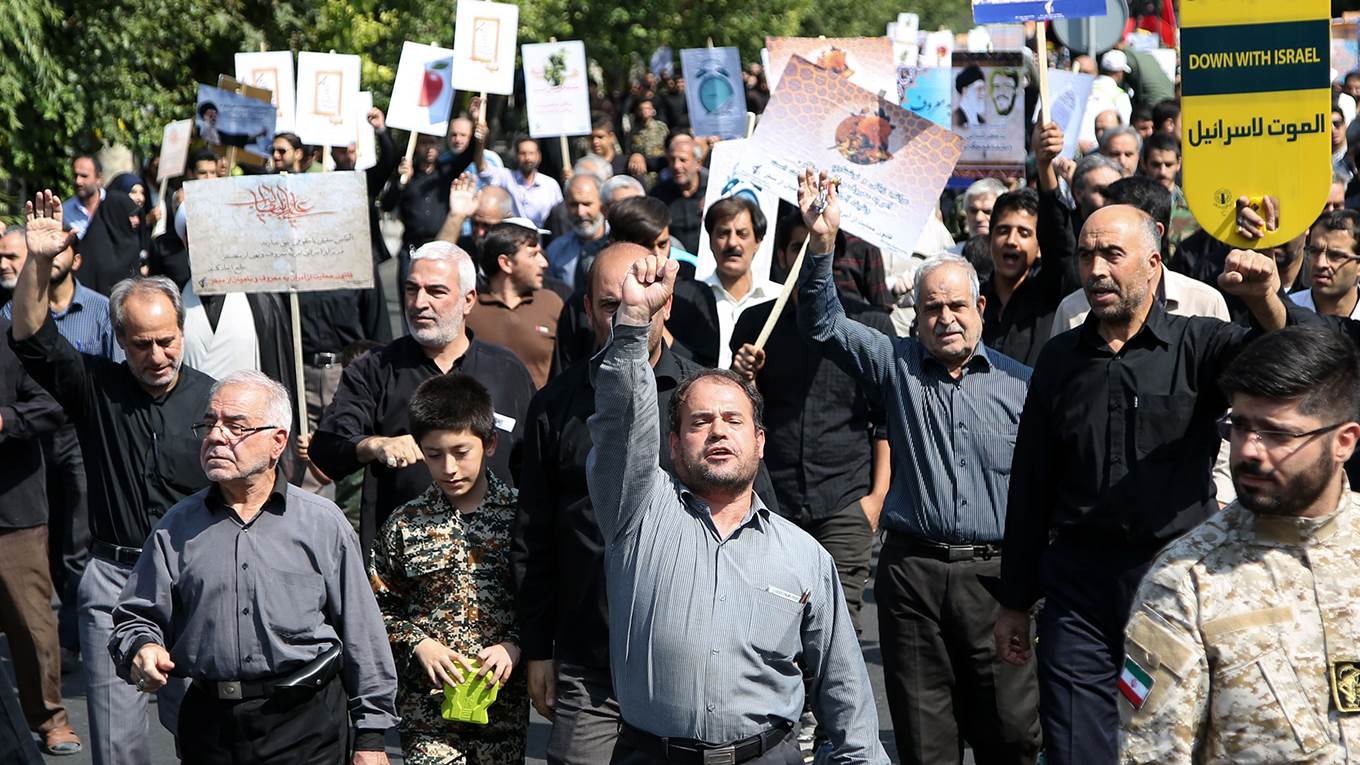 Trump Is Strengthening Iran's Radicals
US President Donald Trump's decision to pursue a more aggressive Iran policy underscores his administration's misunderstanding of the Iranian regime. Shelving the 2015 nuclear deal would not only heighten regional tensions; it would also embolden the very hardliners that the US has been seeking to contain.
STANFORD – The United States and Iran have rarely agreed on how to proceed with nuclear talks or other elements of their bilateral relations. But synergies and similarities between two factions – Iranian hardliners and the hawks of the current US administration – are as counterintuitive as they are profound. Indeed, Donald Trump's new Iran strategy has given radicals in Tehran reason to celebrate, as they have found in the US president an unwitting ally in their quest for political dominance.
For years, Iran's "conservative radicals" – a concept that combines extreme conservatism in matters of faith and philosophy with radical views on violence – have argued that negotiation and rapprochement with the US are foolish and futile. The US, these hardliners believe, is interested only in regime change, and to fight Islam in the region.
This view has led Iran to align more closely with Russia and China. But as crippling nuclear-related sanctions in recent years brought the Iranian economy to the verge of collapse, Iran's conservatives were forced to negotiate in good faith with the international community.
Even without sanctions, the Iranian economy would have been under severe strain. Corruption and mismanagement, along with structural and external challenges – such as falling oil prices, water shortages, and an aging unemployed population – had already weakened economic growth. The fact that China and Russia joined the most recent round of sanctions had made the radicals' position less tenable.
But if Iran's hardliners were frustrated by previous negotiations, their disappointment vanished yesterday. Trump's move to challenge the 2015 nuclear deal – formally known as the Joint Comprehensive Plan of Action, or JCPOA – has given them an unanticipated victory. While the most effective sanctions had already been lifted, and are unlikely to be re-imposed, Iran's conservatives have gained political points that they can use against their opponents at home.
Within Iran, a powerful coalition of moderate forces – ranging from reformists and dissidents to civil-society actors – has long advocated for a more engaged foreign policy. Wary of Russia's influence and uncertain of China's intentions, these forces have supported a continued Western orientation in economic and political ties. Moderates advocated for more responsible foreign policy and caution on the country's nuclear program. And they sought to deepen ties to the Iranian diaspora, in the hope that closer relationships could help solve some of Iran's most daunting economic challenges.
Iranian moderates understood that the nuclear deal reached with the international community was flawed. But they supported it nonetheless, hoping to leverage it for more freedom at home. President Hassan Rouhani famously promised a domestic version of the deal to heal Iran's political wounds, and to further address its economic woes. That pledge reflected Rouhani's broader effort to challenge and curtail the power of the Islamic Revolutionary Guard Corps, which is rooted in the IRGC's control of large swaths of the Iranian economy. Now, with Trump's move, Rouhani's agenda, and that of the entire moderate coalition, is in jeopardy.
Most of those in the US who supported the nuclear deal were also aware of its flaws. But they saw the deal as an opportunity to engage Iranians who oppose the conservative radicals. American supporters believed that the vibrancy of Iranian civil society and social media boded well for the country, and hoped an Iran that was open to global markets would become more liberal politically.
Critics of the deal object that Iran's testing of ballistic missiles has continued unabated after the JCPOA was enacted. But it is folly to think that the US can curb Iran's nuclear and regional activities by unilaterally walking away. In fact, the deal's ultimate goal – to slow enrichment of uranium and halt nuclear testing – appears to have worked. Whatever problem Trump has with the agreement, it is worth remembering that no country can fix what it has rejected. And rejecting the JCPOA would only encourage the Iranian regime to resume the very activities that the deal was meant to contain or curtail.
Trump's challenge to the JCPOA will most likely encourage other egregious behavior as well. One reason for the radicals' regional shenanigans – such as supporting militias in Yemen, Palestine, and Lebanon – is the belief that confrontation with the US or Israel is inevitable. Proxy forces like Hezbollah are, from this perspective, a tool either for deterring aggression or for deployment when fighting begins.
It is true that Iran's proxies have not holstered their guns as a result of the nuclear agreement. But tensions with the US did diminish. Now, following Trump's about-face, the possibility of confrontation between Iran and the US has returned, which will only embolden the resolve of Iran's proxy forces.
Unilateral US abrogation of the JCPOA is, in short, the worst of all policy options. No matter what Trump says, there are plenty of people in Iran, and the US, who share this view.