Putin's Pyrrhic Victory
Russian President Vladimir Putin's foreign incursions and public displays of militant nationalism have proved effective in winning over large swathes of the Russian electorate. But they have also turned Russia into an economic lightweight, and left it increasingly isolated on the world stage.
STOCKHOLM – Vladimir Putin's reelection to a fourth term as Russia's president was a foregone conclusion. The Kremlin undoubtedly orchestrated ballot-box stuffing and other measures to ensure that Putin received at least 70% of the vote across all regions. Yet, even without such shenanigans, Putin probably still would have cruised to victory on the nationalist wave created by his 2014 annexation of Crimea.
Less predictable than the election outcome is Putin's policy agenda for the next six years. The Russian economy is showing some signs of improvement, but growth remains far weaker than in the boom years of Putin's first years in power. At the same time, the diplomatic divide between Russia and the West continues to widen.
Putin has assembled competing teams of economists to draft policy proposals for the coming years, but few observers expect genuine reforms to follow. The economy's long-term prospects will remain dim as long as the security state maintains its hold on Russian businesses and society.
Moreover, it is hard to see how Russia can improve its economy without first improving its relations with the West. The investments needed to boost growth are being held back by Russia's limited access to key technologies and global financial markets, and by sanctions on Russian companies and oligarchs close to Putin.
Putin apparently believed that the West's reaction to his aggression in Ukraine would be short-lived, as it was after Russia's military intervention in Georgia in 2008. When that turned out not to be the case, and Western sanctions became increasingly painful, the Kremlin began seeking investment and trade opportunities with China.
But the Kremlin's hope of a deeper partnership with China was dashed when Chinese President Xi Jinping invited US President Donald Trump to a state dinner in Beijing's Forbidden City – an honor never extended to a Soviet or Russian leader. Likewise, the prospect of warmer ties with the US has gone up in smoke, owing to revelations of Russian meddling in the US 2016 election.
The Kremlin also failed to predict events in Ukraine. Despite Russian incursions into Eastern Ukraine, the Ukrainian government did not collapse. Rather, it pursued reforms and concluded an association agreement with the European Union.
Finally, in Syria, Putin has proclaimed "Mission accomplished" time and again, yet Russian mercenaries on the ground there keep dying. To be sure, Russia has been able to test new military hardware while shoring up Syrian President Bashar al-Assad's regime. But peace and stability are still nowhere in sight.
Trying to exude confidence in his annual address to the Federal Assembly this month, Putin nonetheless revealed his fears about the future. For example, his promise of economic growth was familiar, but he was far more explicit than usual in warning that Russia could fall behind other countries. "The speed of technological progress is accelerating sharply," he observed. "Those who manage to ride this technological wave will surge far ahead. Those who fail to do this will be submerged and drown in this wave." There can be little doubt that Russia currently risks drowning.
Similarly, Putin devoted the bulk of his speech to a multimedia show of sophisticated new strategic weapons: super-heavy intercontinental ballistic missiles, hypersonic strategic attack weapons, gigantic futuristic underwater torpedoes, and nuclear-powered cruise missiles with unlimited range. But in his attempt to prove that Russia can overcome any new strategic defense measures the US might put in place, Putin betrayed his fear that Russia's strategic nuclear arsenal could be rendered irrelevant.
Aside from Russia's nuclear arsenal and the veto power that it enjoys as a permanent member of the United Nations Security Council, its foundation of strategic influence is weak. Even after adjusting for differences in purchasing power, Russia's economy is closer in size to Italy's. If Putin is serious about sustaining a strategic arms race with the US, he will have to force significant sacrifices on other key economic sectors – and a lower standard of living on ordinary Russians.
On the other hand, Putin recently expressed openness to deploying a UN peacekeeping mission in Ukraine's Donbas region. And it is possible that his gadget show was meant to underscore the need for more strategic arms control and open dialogue. If so, he chose an odd way to convey that message.
Even if Putin did want to open a dialogue with the West, one cannot ignore the nerve-agent attack on former Russian double agent Sergei Skripal and his daughter in Salisbury, England, this month. As with the 2006 polonium attack that killed Russian defector and former spy Alexander Litvinenko, the British government has concluded that the Kremlin ordered the operation against the Skripals.
Russian security agencies may have a "license to kill" defectors with whatever sophisticated methods they can muster. But, like the polonium attack a decade ago, the first-time use of a sophisticated nerve agent, Novichok, did not go undetected, and the Kremlin is now resorting to a crude arsenal of lies and disinformation to try to hide its tracks. Needless to say, a regime that murders and lies is not an inviting partner for cooperation.
But this doesn't make serious talks between US and Russia any less necessary. Both countries are modernizing their nuclear arsenals, and there is a real risk that new technologies could erode longstanding arms-control measures or render them obsolete.
The future of Putin's extended reign is highly uncertain. Domestic reforms are not likely to be forthcoming, and the Kremlin's unleashing of its security forces abroad has undermined the prospect of rapprochement with the West. While a new arms race would pose significant dangers for Russia – and for everyone else – it would also almost certainly bring the country to ruin, as the Soviet Union's last leaders could no doubt attest.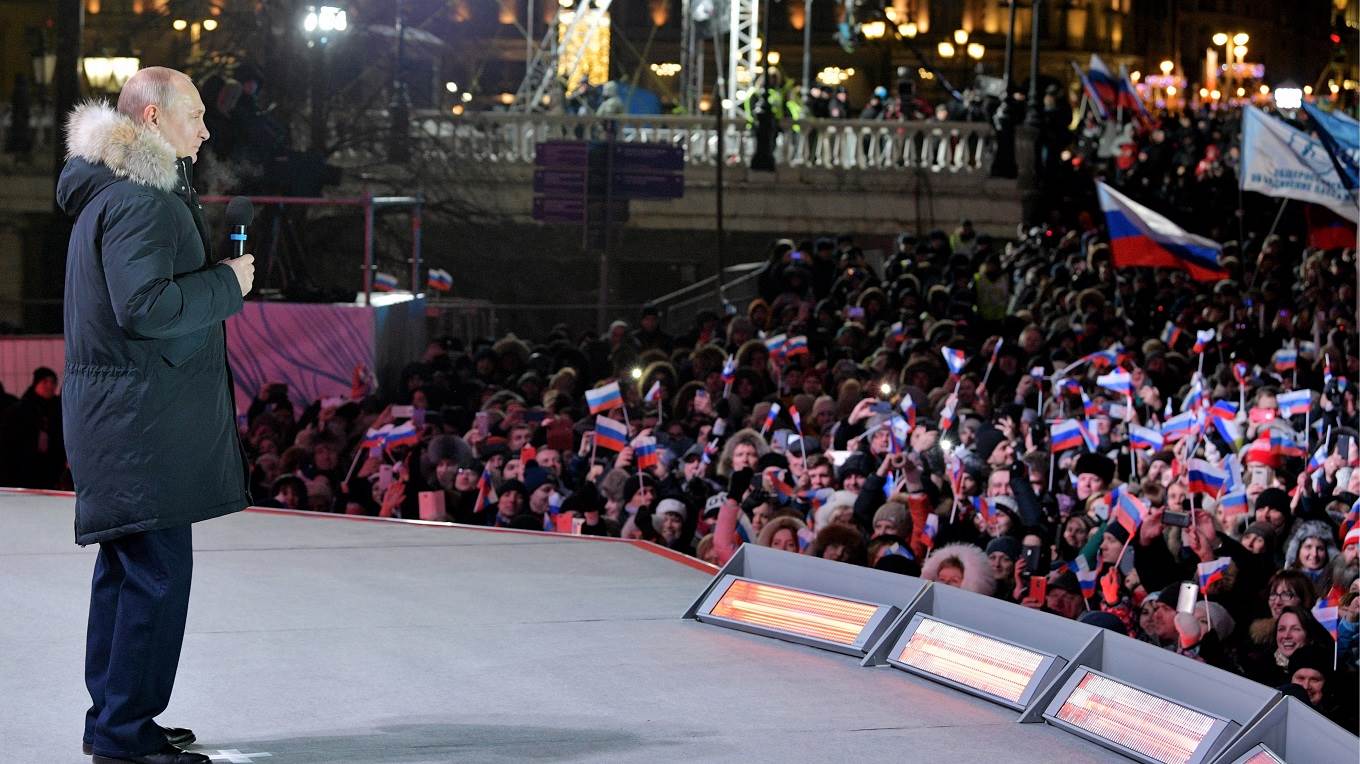 What Putin Won in Russia's Election
Over the course of his 18 years in power, Russian President Vladimir Putin has veered from embracing the West to vilifying it. His reelection – with record-high turnout and support – suggests that his bet on nationalism has paid off handsomely, and that Russia is headed for a long period of stagnation.
MOSCOW – At the beginning of his presidency in the early 2000s, Vladimir Putin was a pro-Western island in a sea of anti-Western Russian elites. As I observed at the time, his desire to "anchor Russia firmly to the West" stood in stark contrast to the country's traditional notions of security. But after Sunday's presidential election, in which Putin cemented his vision of Russia as a military bastion, it is clear that now his island is nationalism, and will remain so for as long as he rules the Kremlin.
The danger this poses is all too clear. After 18 years in power, Putin now goes even further than his Soviet predecessors in casually raising the prospect of a nuclear conflict with the West. This aggressive rhetoric seems to have served him well in the election, the result of which has essentially granted him carte blanche for his fourth term.
As I was leaving for the polling station, my niece Masha, a first-year college student, pointed out, "Putin is the only leader I have ever known." That gave me chills. When I was a first-year college student in Moscow, I knew only Leonid Brezhnev, and what that augured for the future seemed horrifying. Putin, for his part, has already surpassed Brezhnev's tenure in power, and is now second only to Joseph Stalin, who ruled for almost three decades.
Putin won a record-breaking 76% of the vote, which means that over 56 million Russians voted for him – also a new record. And the presence of other candidates has afforded his victory a semblance of legitimacy. His "opponents" included Pavel Grudinin of the Communist Party, Vladimir Zhirinovsky of the Liberal Democratic Party, the celebrity-cum-journalist Ksenia Sobchak (the Donald Trump of Russian politics), and Grigory Yavlinsky, who has been running for president ever since Mikhail Gorbachev was in office.
Putin's previous vote record was the 50 million or so that he received in 2004. But in recent years, he has managed to rally Russians around the flag and marginalize opponents. After annexing Crimea from Ukraine in 2014, criticism of the government came to be regarded as almost treasonous.
To sustain the atmosphere of crisis – the sense that Russia is under attack from all sides – Putin has since exploited various international scandals. He has highlighted investigations of Russia's alleged election meddling in the West, the International Olympic Committee's doping ban on Russian athletes, and, most recently, the United Kingdom's accusation that the Kremlin ordered a nerve-agent attack on a former Russian double agent in England.
With so much bad publicity, it is little wonder that Russians would feel the need for solidarity. Voter turnout, at almost 70%, was close to the Kremlin's target.
Putin wasn't taking any chances. The Kremlin spent 770 million rubles ($13.3 million) pushing slogans such as, "Vote for Putin, vote for strong Russia." On the day of the election, officials set up polling stations with food stalls where everything was half price. Viral videos depicted Putin as the sinewy "father of the nation." Large companies and factories were pressured to mobilize voters. And in far-flung places like Dagestan in the south or Chukotka in the north, polling-station staff were not shy about barging into booths to check that people were indeed voting for Putin.
But even in places where the voting was freer than in Dagestan – such as Kalmykia, Bryansk, Krasnodar, Kursk, and other industrial and agricultural regions – around 80% supported Putin. This so-called "red belt" has traditionally supported communists offering patriotic slogans. But in 2018, Putin had a monopoly on patriotism.
Meanwhile, the anti-corruption lawyer and opposition leader Alexei Navalny's appeal to boycott the election backfired. Navalny argued that people should stay home to deprive Putin of his desired 70% turnout. But with Navalny himself barred from running, owing to trumped-up criminal charges, even traditional opposition strongholds like Moscow and St. Petersburg went to Putin.
And yet the absence of liberal candidates does not explain why Putin won 70% of the vote in Moscow and 75% in St. Petersburg (where the turnout was 15% less than the national average). Those results suggest that the electorate has become more pliant. Many now feel that it is easier to support Putin's "strong country" message than to go against the grain and risk accusations of treason and problems at work.
The absence of protest voting this year was a new phenomenon for Russia. My visit to the polling station – to observe, not to participate – reminded me of the Soviet era. It felt like a polite police state: there were around ten people there voting, and at least 20 police officers and voting officials there to watch them. The only difference between Putin's Russia and the Soviet Union is that voters are now at least given the impression that they have a choice other than the "dear leader."
According to the voting-rights organization Golos (Voice), there may have been fewer instances of outright ballot-box stuffing or voter intimidation this year than in previous elections. But that is because other techniques – including old-school workplace coercion and non-stop propaganda – have proved so effective. Other than Putin, the only beneficiary of this election was Sobchak, who used the campaign to promote her celebrity brand. Sobchak often refers to Putin as "Dyadya Vova" (Uncle Vova, short for Vladimir), and is happy to help the Kremlin turn opposition politics into frivolous entertainment. She even declared the voting process "more transparent" than in the past, as if she would know.
For Putin, this election allows him to form a new government without regard for once-powerful electoral blocs such as the urban middle class, which is now isolated and willing to go along with "strong Russia" voters. Putin's regime is stagnant, but it could survive for a long time, given the absence of effective opposition.
What is certain is that Putin cannot fulfill his promise of military might and a prosperous future. The two promises are at odds, because sustaining Russian militarism will require raising the retirement age, increasing taxes, and other difficult reforms. In the end, Russians have voted for less social and political freedom, and more economic stagnation. They have decided to go back in time, to a future that they once dreaded.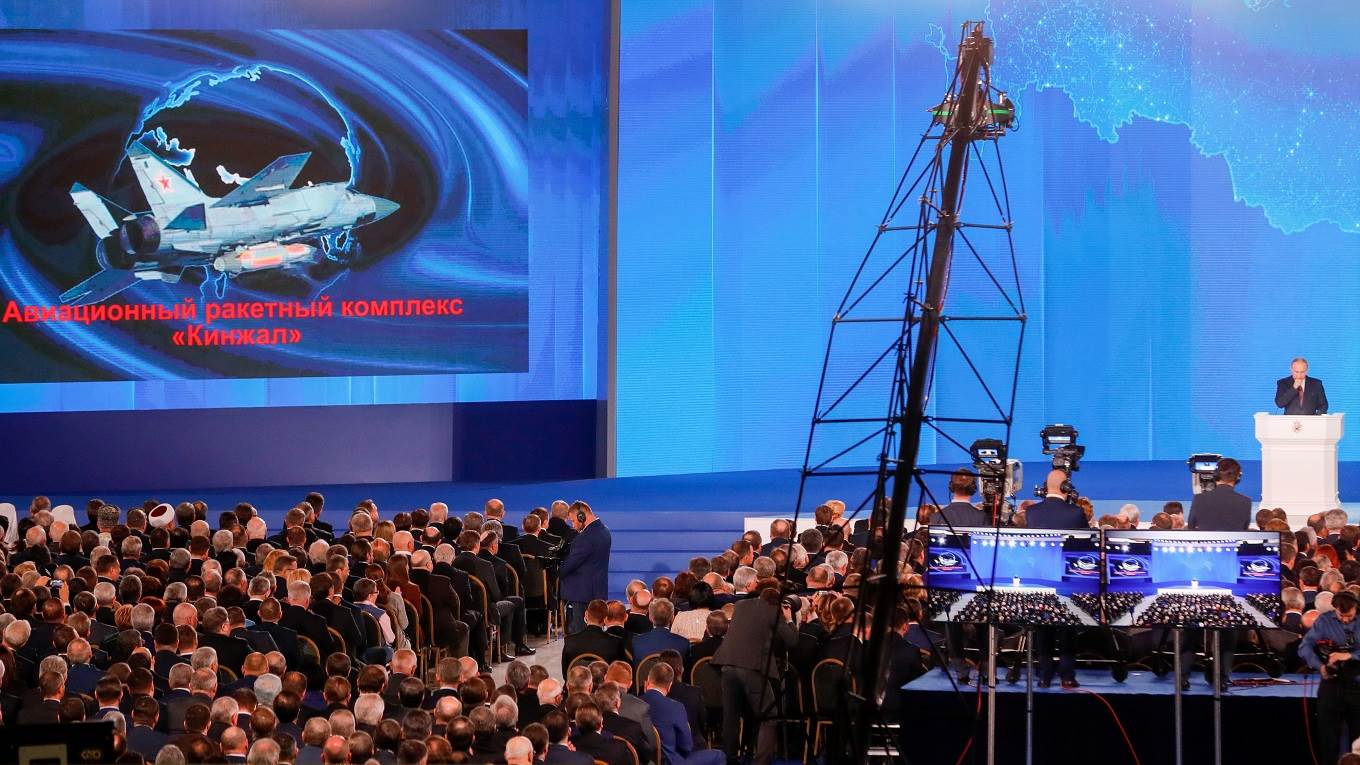 The West's Unilateral Cold War
The problem between Russia and the West is really a problem among Westerners themselves. If there is a new cold war, it is only because established elites have not come to terms with reality: the balance of military, political, economic, and moral power has shifted too far away from the West to be reversed.
MOSCOW – Rising tensions between the United Kingdom and Russia are but further proof that Russia and the West, according to no less an authority than Richard N. Haass, President of the Council on Foreign Relations, have entered a "Cold War II". I tend to disagree.
Yes, Russia's relations with the United States, and now also with the UK, are worse than in the 1950s, and the chance of a direct conflict is higher than at any time since the 1962 Cuban missile crisis. Given the complexity of today's strategic nuclear weapons and the systems designed to neutralize them, one cannot rule out the possibility that some actor on either side, or a third party, could provoke escalation.
Making matters worse, communication between US and Russian leaders is all but nonexistent, owing to the lack of trust on both sides. Among Americans, feelings toward Russia verge on something close to hatred, and many in Russia now regard Americans with ill-concealed disdain.
This psychological backdrop to the bilateral relationship truly is worse than during the Cold War. But that does not mean that today's tensions amount to a sequel. Such a confrontation would require an ideological component that is decidedly lacking on the Russian side.
Russia has no intention of waging another Cold War. Although some degree of confrontation with the US does help President Vladimir Putin unite the public while burnishing Russian elites' nationalist credentials, Russia is not an ideologically motivated state. What ideology it does have is based in Russian culture and civilization, which it is not interested in exporting.
The Kremlin in fact prefers not to proselytize on Russia's behalf. Russia's approach to international affairs has long centered on respect for national interests and sovereignty, and the belief that all peoples and nations should have the freedom to make their own political, economic, and cultural choices. Russia also embraces universal human values such as trust in God, family, and country, as well as self-fulfillment through service to society and nation.
I dream of the possibility that even 2% of the accusations concerning Russian "interference" in the 2016 US election prove true. It would bolster my self-esteem as a Russian, while educating Americans – whose government has long interfered in other countries' internal affairs – about the dangers of throwing stones from a glass house.
But the problem between Russia and the West is really a problem among Westerners themselves. The US establishment is using the scarecrow of Russian interference to regain its lost political control, particularly in the realm of social media, where a discontented population and maverick politicians have finally found a voice.
But even if American elites do manage to wrest back control, the deeper source of Western angst will remain. For at least the past decade, the world has been witnessing the endgame of the West's 500-year hegemony. It started in the sixteenth century, when Europe developed better guns and warships and began its imperial expansion. In the following centuries, Europeans would use their economic, cultural, political, and especially military dominance to siphon off the world's wealth.
For a few decades in the second half of the twentieth century, the West's dominant position was challenged by the Soviet Union and China. But after the Soviet Union imploded, the US emerged as the sole hegemon, and the world seemed to return to its historic status quo. Soon enough, however, the US overextended itself by plunging into geopolitical misadventures like the invasion of Iraq. And then came the 2008 financial crisis, which exposed the weaknesses of twenty-first-century capitalism.
At the same time, the US has long pursued military superiority. In 2002, it unilaterally abrogated the 1972 Anti-Ballistic Missile Treaty. And, more recently, it has embarked on a massive build-up of conventional forces and a large-scale modernization of its nuclear arsenal.
Still, Russia, China, and the rest of the world won't allow a return to US hegemony. Putin recently made this clear by unveiling a number of new, cutting-edge strategic weapons systems, as part of what I would call a strategy of "preemptive deterrence." The message was that the US cannot hope to regain absolute military superiority, even if it decides to bleed itself dry in an arms race, as the Soviet Union did.
Preliminary assessments that my colleagues and I recently carried outsuggest that even if the US decides to wage a unilateral Cold War, its chances against Russia, China, and other emerging powers would not be very good. The balance of military, political, economic, and moral power has simply shifted too far away from the West to be reversed.
Nonetheless, a new Cold War, even if largely one-sided, would be extremely dangerous for humanity. The world's major powers should concentrate on strengthening international strategic stability through dialogue; reopening channels of communications between militaries; and restoring civility to their interactions. We should also consider establishing more diplomatic, legislative, academic, and educational exchanges. Most of all, though, we must stop demonizing each other.
The world is entering a dangerous period. But if we are wise, we can build a more balanced international system, one in which the major powers will deter one another while cooperating to solve global problems. Smaller countries, meanwhile, will be freer to develop according to their own political, cultural, and economic preferences.
The previous, Western-led system has collapsed. To ensure a peaceful future, we need to start working together to build a new one.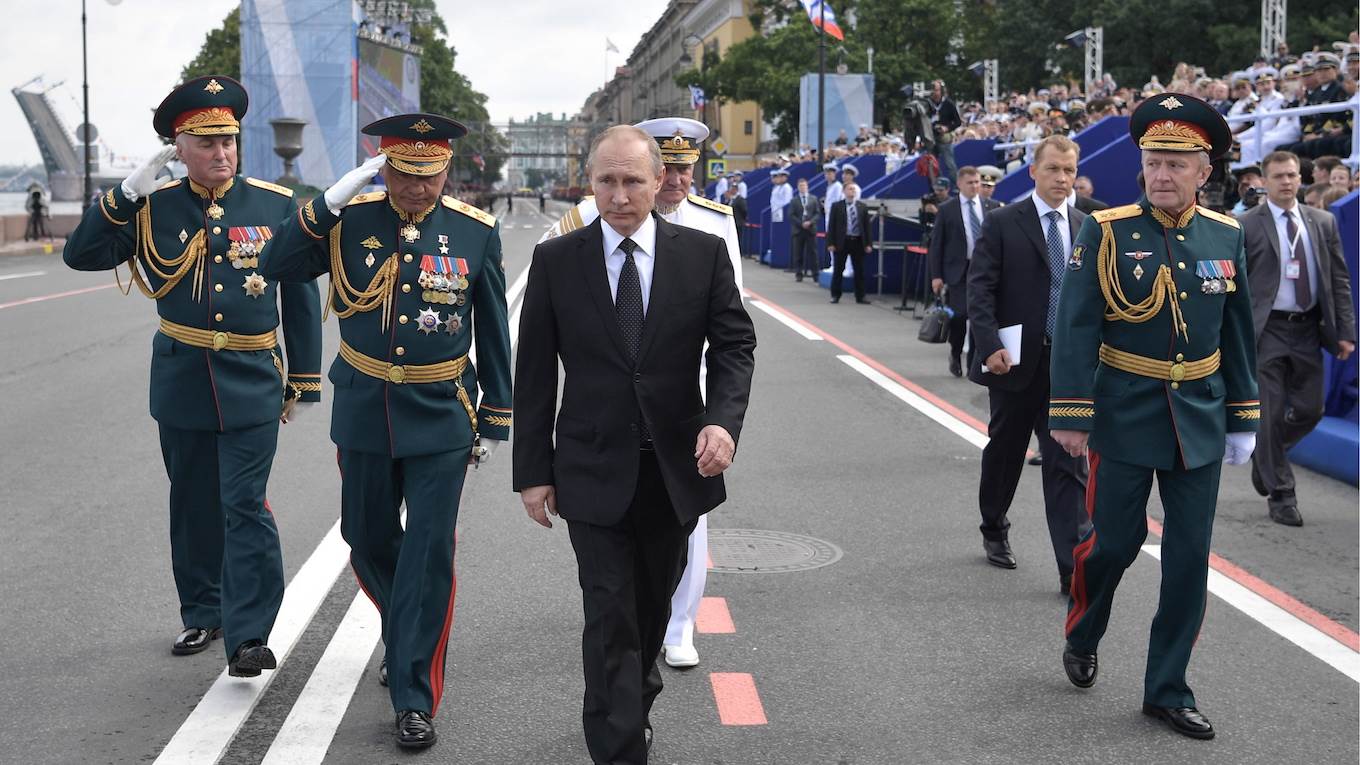 Cold War II
A quarter-century after the end of the Cold War, the world unexpectedly finds itself in a second one. This state of affairs was anything but inevitable, and it is in neither side's interest to escalate tensions further.
NEW YORK – The Cold War lasted four decades, in many ways both beginning and ending in Berlin. The good news is that it stayed cold – largely because nuclear weapons introduced a discipline missing from previous great-power rivalries – and that the United States, together with its European and Asian allies, emerged victorious, owing to sustained political, economic, and military effort that a top-heavy Soviet Union ultimately could not match.
A quarter-century after the end of the Cold War, we unexpectedly find ourselves in a second one. It is both different and familiar. Russia is no longer a superpower, but rather a country of some 145 million people with an economy dependent on the price of oil and gas and no political ideology to offer the world. Even so, it remains one of two major nuclear-weapons states, has a permanent seat on the UN Security Council, and is willing to use its military, energy, and cyber capabilities to support friends and weaken neighbors and adversaries.
This state of affairs was anything but inevitable. The end of the Cold War was expected to usher in a new era of friendly Russian ties with the United States and Europe. It was widely thought that post-communist Russia would focus on economic and political development. And relations got off to a good start when Russia, rather than standing by its long-time client Iraq, cooperated with the US in reversing Saddam Hussein's invasion of Kuwait.
The goodwill did not last. Just why will be a matter of debate among historians for decades to come. Some observers will blame successive US presidents, pointing to a lack of economic support extended to a struggling Russia, and even more to NATO enlargement, which, by treating Russia as a potential adversary, increased the odds it would become one.
It is true that the US could and should have been more generous as Russia made its painful transition to a market economy in the 1990s. Nor is it clear that NATO enlargement was preferable to other security arrangements for Europe that would have included Russia. That said, the lion's share of the responsibility for the emergence of a second Cold War is Russia's, and above all Vladimir Putin's. Like many of his predecessors, Putin viewed the US-dominated world order as a threat to his rule and to what he regarded as his country's rightful place in the world.
Russia in recent years has used armed force to seize, occupy, and annex Crimea, in the process violating the fundamental principle of international law that borders may not be changed by armed force. Putin continues to use military or covert means to destabilize Eastern Ukraine, Georgia, and parts of the Balkans. And Russia employed military force in particularly brutal ways in Syria to prop up Bashar al-Assad's appalling regime.
Putin's Russia also went to great lengths, in the words of US Special Counsel Robert Mueller, to carry out "fraud and deceit for the purpose of interfering with the US political and electoral processes, including the presidential election of 2016." Heads of US intelligence agencies have made clear that they expect further such efforts between now and the midterm congressional elections in November.
As Russia has become a revisionist country, with few if any qualms about overturning the status quo by whatever means it judges necessary, shoring up Europe's defense and providing lethal arms to Ukraine is a sensible response. But what more should the US do, beyond reducing the vulnerability of voting machines and requiring technology firms to take steps to prevent foreign governments from trying to influence US politics?
First, Americans must recognize that defense is not enough. Congress is right to call for additional sanctions, and Donald Trump is wrong to refuse to implement sanctions that Congress has already passed.
The US government also needs to find its voice and criticize a Russian regime that arrests its opponents and reportedly murders journalists. If Trump, for whatever reason, continues to coddle Russia, then Congress, the media, foundations, and academics should publicly detail the corruption that characterizes Putin's rule. Circulating such information might increase internal opposition to Putin, persuade him to hold off on further interference in US and European politics, and, over time, buttress more responsible forces within Russia.
At the same time, the objective should not be to end what little remains of the US-Russian relationship, which is already in worse shape than it was for much of the first Cold War. Diplomatic cooperation should be sought whenever it is possible and in America's interest. Russia may well be willing to stop interfering in Eastern Ukraine in exchange for a degree of sanctions relief, if it could be assured that ethnic Russians there would not face reprisals. Likewise, the Kremlin has no interest in a military escalation in Syria that would increase the relatively modest cost of its intervention there.
At the same time, Russian support is needed to tighten sanctions against North Korea. And maintaining arms-control arrangements and avoiding a new nuclear arms race would be in the interest of both countries.
There is thus a case for regular diplomatic meetings, cultural and academic exchanges, and visits to Russia by congressional delegations – not as a favor, but as a means to make clear that many Americans are open to a more normal relationship with Russia if it acts with greater restraint. The US and its partners have a large stake in greater Russian restraint while Putin remains in power – and in a Russia characterized by other than Putinism after he is gone.