The End of NATO?
US President Donald Trump escalated his war on US alliances and multilateral institutions at NATO's summit in Brussels and then at his meeting with Russian President Vladimir Putin in Helsinki. There is now little doubt that Trump's strange affinity for Putin represents a serious threat to European security.
STOCKHOLM – What is left of NATO and the transatlantic order after US President Donald Trump's tumultuous week in Brussels, the United Kingdom, and Helsinki, where he defended Russian President Vladimir Putin against accusations of cyber warfare by America's own intelligence agencies?
Watching events unfold through rose-tinted glasses, one might think that the West's most important strategic alliance is more or less okay, or even growing stronger. In fact, NATO is in peril, and its fate now lies in Trump's contemptuous hands.
Prior to and during the NATO summit, there was much hand-wringing over member states' military spending as a share of GDP. Each member is expected to increase its spending to 2% of GDP by 2024, but Trump seems to think that this already should have been done. And at the summit last week, he suddenly called for a new target of 4% of GDP – which is more than even the United States spends.
To be sure, over the past few decades, NATO's primary focus was on peacekeeping operations in distant places, rather than on its core function of territorial defense. For most European member states, the peace dividend from the alliance's operations justified cuts in domestic military spending.
But this attitude changed in 2014, when Russia annexed Crimea and launched secretive military incursions into Eastern Ukraine. Since then, NATO member states' defense budgets have increased by around 4% per year on average, making the 2024 target eminently achievable.
More fundamentally, Trump's complaint that the US is shouldering an unfair share of the burden for NATO's collective defense is dubious. While the US military budget equals roughly 72% of combined defense spending by all NATO member states, roughly three-quarters of US military spending is directed toward regions other than Europe. Around half of the US defense budget is spent on maintaining a presence in the Pacific, and another quarter is spent on operations in the Middle East, strategic nuclear command and control, and other areas.
Moreover, although the US has increased its defense outlays in Europe substantially over the past few years, it is worth remembering that most US forces and facilities there are actually focused on the geostrategic arc from India to South Africa. With facilities such as Ramstein, Fairford, Rota, Vicenza, and Sigonella, the US has long used Europe as a staging ground for deploying forces elsewhere. And the early-warning and surveillance facilities that the US maintains in the United Kingdom and Norway are there to defend the continental US, not Europe.
The fact is that total European defense spending is around twice what the US spends on European security, and also roughly twice what Russia spends on defense, according to estimates produced at the US National Defense University.
The critical importance of US command, control, and intelligence forces in Europe should not be minimized, but it should at least be put into perspective. Although the US Army recently rotated heavy brigades through Europe for military exercises, its permanently stationed troops are equipped only for limited interventions.
This is why NATO must continue to improve its defense capacity in Europe. At a minimum, Europe needs more military forces, and those forces need to be equipped for rapid deployment to critical areas. The new mobility command that is being established in Germany is a promising first step.
And yet, Russia's advantages over NATO have less to do with resources than with command and control. As a single country, Russia's military forces are more integrated, and can be deployed more quickly in pursuit of strategic directives from the Kremlin. Such nimbleness was amply demonstrated in Crimea in 2014 and in Syria the following year.
For its part, NATO does have a deeply integrated command structure for the forces that are assigned to it. But that hardly matters if political decisions to deploy forces or launch operations are not taken in time. In any military confrontation, unity of will and the speed of high-level decision-making determine the outcome.
The problem is that while NATO's military capacity is actually improving, its political decision-making capacity is deteriorating. Imagine what would happen if a NATO member state sounded the alarm about Russia launching a secretive Crimea-style military operation within its borders. Then, imagine that US intelligence agencies confirmed that an act of aggression was indeed underway, despite Putin's denials.
Finally, imagine how Trump might respond. Would he call Putin to ask what's going on? And would Putin make another "incredible offer" to help US investigators get to the bottom of things? Even more to the point: Would Trump quickly invoke the principle of collective defense under Article 5 of the NATO treaty? Or would he hesitate, question the intelligence, belittle US allies, and validate Putin's denials?
These are truly disturbing questions to have to ask of an American president. They will now hang over Europe's head indefinitely.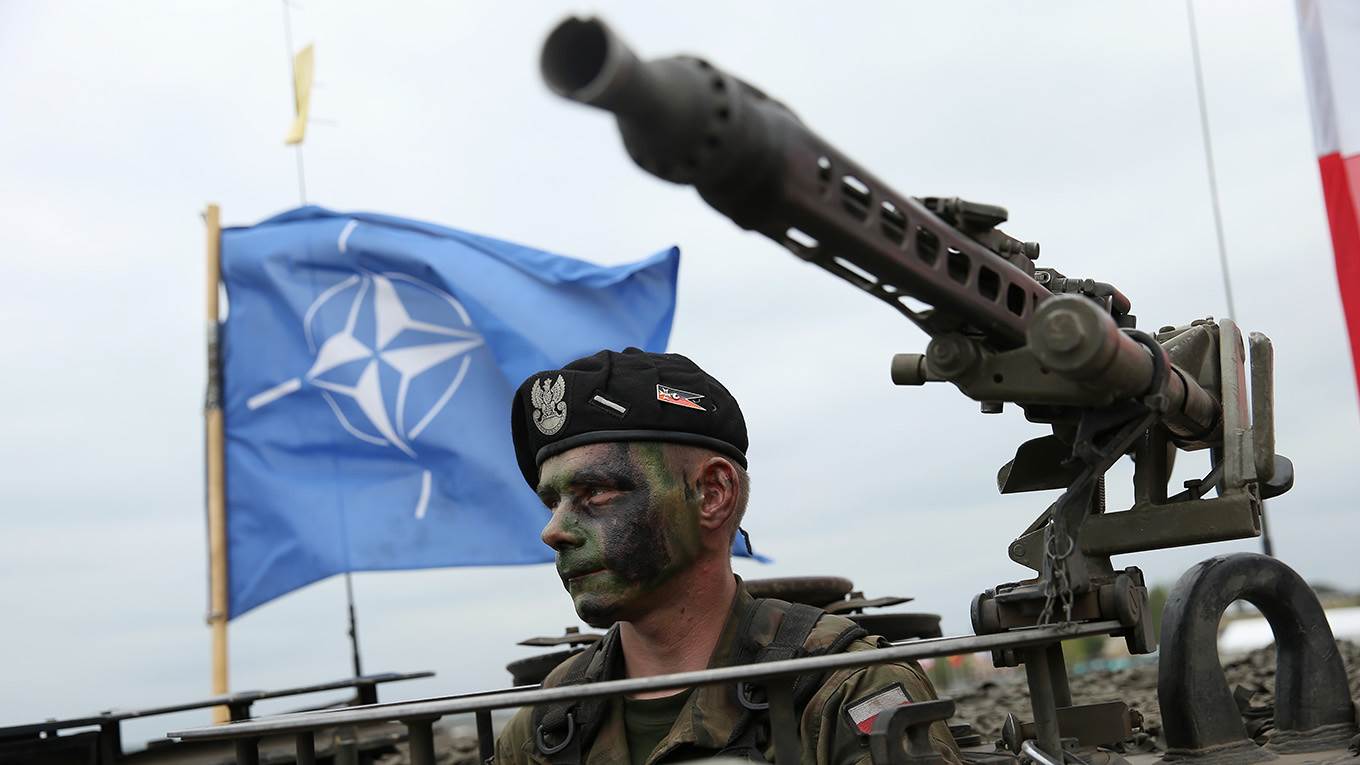 What Trump Gets Wrong About EU Defense
Donald Trump is not the first US president to demand that European countries spend more on their own defense, but he is the first to ignore the value of America's alliances. In fact, with NATO's European pillar recently strengthened, the US will have an even more reliable defense partner.
MADRID – The annual NATO summit this month was the latest installment in a long series of disagreements between US President Donald Trump and America's European allies. At last year's summit, Trump refused to affirm the principle of collective defense under Article 5 of the North Atlantic Treaty – the keystone of the transatlantic alliance. And, after derailing a G7 summit last month, Trump added further tensions this week by refusing to utter even the mildest criticism of Russian President Vladimir Putin at their Helsinki meeting.
At last week's NATO summit in Brussels, Trump not only persisted in demanding that all NATO member states immediately spend at least 2% of their GDP on defense; he also suggested that this spending should eventually reach 4% of GDP. The latter proposal is a non-starter, not only because of the budgetary sacrifices it would entail, but also because it would create significant military imbalances on the continent. At 4% of GDP, Germany's military budget would be around €40 billion ($46 billion) more than that of France.
At a time of growing international volatility, it is essential that we Europeans defend ourselves from scurrilous attacks and uphold our many collective achievements. But that is not to say we should avoid self-criticism. Trump's 2% demand is neither unfounded nor unprecedented: previous US presidents have also called on European countries to increase their defense spending. In 2014, NATO member states that were not spending 2% of their GDP on defense committed to do so by 2024. Yet, despite notable progress, it is fair to say that some countries are still far from reaching that target.
Beyond the need to maintain solidarity with our allies, it is in Europe's interest to take responsibility for our own security. Both external and internal threats are spreading, and they are becoming more and more interconnected. A paradigmatic example is the war in Syria: the horrible humanitarian tragedy that has afflicted the country's population for more than seven years fueled a refugee crisis that shook the foundations of the European Union.
But obsessing over spending levels will not get to the root of the problem. Increasing military spending will be largely unproductive unless we do it "Europeanly." The EU's total military budget is already second only to that of the US, and almost four times larger than Russia's. What matters, then, is how those resources are invested, and whether we have the capacity and infrastructure to facilitate joint NATO missions and US operations on and around the continent.
Trump is wrong to suggest that NATO enables other countries to take advantage of the US while offering little in return. No one denies that US security guarantees play a key role in deterring military confrontations. But the US must not forget that other NATO member states have upheld their commitment to mutual defense and have internalized US priorities.
In fact, the only time that Article 5 has ever been invoked was after the September 11, 2001, attacks in the US. And soon thereafter, NATO led the United Nations-mandated International Security Assistance Force in Afghanistan – the longest mission in the Alliance's history.
Europe continues to strive to be a valuable ally to the US. In December 2017, the EU established the Permanent Structured Cooperation, which will allow participating countries to develop joint defense capabilities more efficiently. PESCO will also accelerate the EU's progress toward achieving strategic autonomy, as outlined in its 2016 "Global Strategy." With NATO's European pillar strengthened, the US will have an even more reliable defense partner, one that is equipped with cutting-edge capabilities and technologies. Reducing the fragmentation of the European defense industry will enhance its competitiveness, which is essential for avoiding a technological gap between Europe and the US.
Fortunately, such initiatives under the EU's Common Defense and Security Policy have the overwhelming support of the European population. For Europeans, a collective and constructive approach to defense spending will always be more compelling than any coercion our allies may consider.
But Trump has stood in the way of such collaborative efforts. Paradoxically, while his administration demands that we Europeans take charge of our security, it consistently strives to undermine every joint defense project that we pursue.
Such prejudice and shortsightedness with respect to European security cooperation is not new. The US argues that such cooperation will create redundancies with NATO operations, but nothing could be further from the truth. The real source of duplication and waste is the congeries of obstacles that European countries face when it comes to developing joint capabilities.
Trump also objects to measures to boost the European defense industry, because they will make Europe less reliant on US exports. But, again, it makes no sense to insist that Europe become more self-sufficient while at the same time pushing it to become more dependent on American-made arms, equipment, and technology.
Given its long history of contributing to global security through civilian and military missions, the EU has much to offer NATO. An EU with a more compact and coherent approach to defense will make NATO stronger and directly benefit the US. Rather than persist in his undiplomatic and unilateral crusades, Trump would be wise to treat the EU as the friend it has always been to his country, and to grasp the promise of Europe's collaborative approach to collective defense.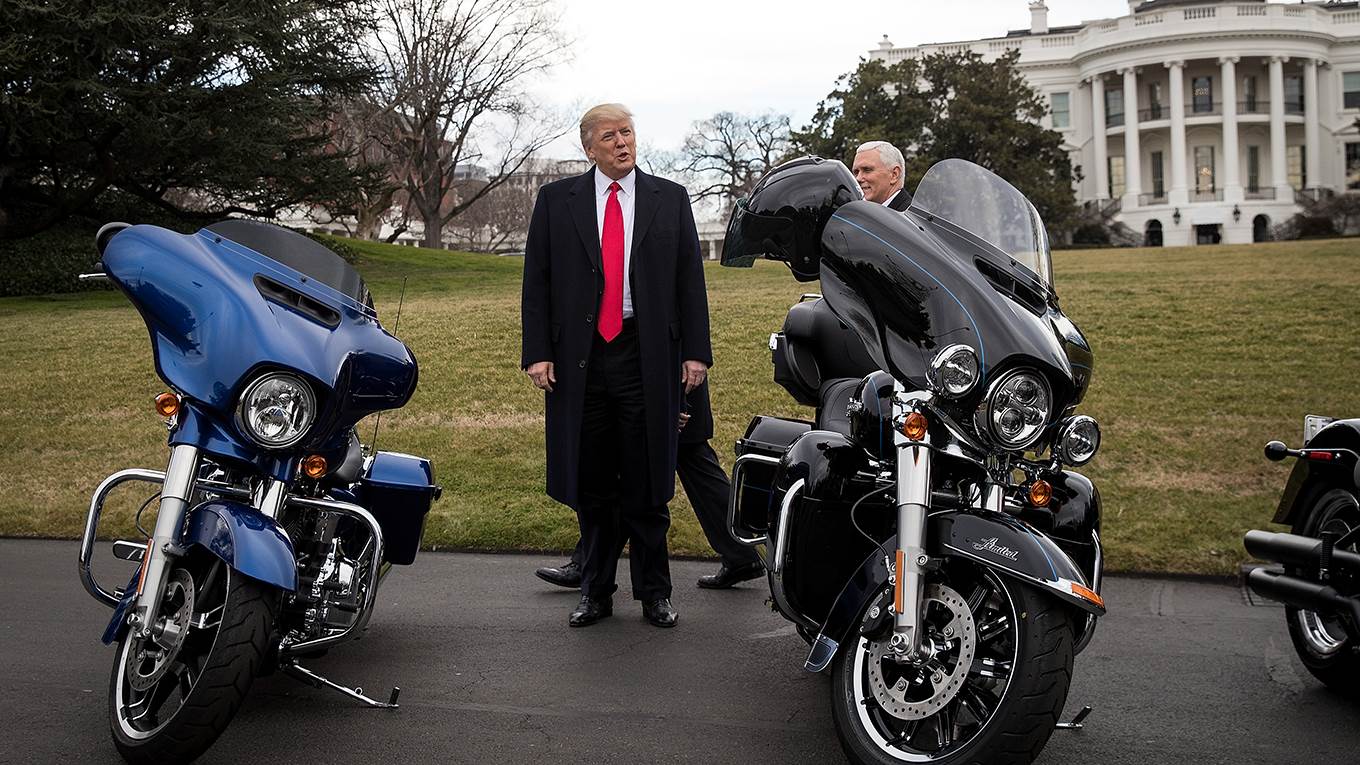 America the Loser
Donald Trump's unhinged recent attacks on the iconic motorcycle maker Harley-Davidson distill his larger assault on American democracy. Even if Democrats do manage to retake one or both houses of Congress this November, the damage that Trump and Republican leaders have done to the country's global standing cannot be repaired.
BERKELEY – The Washington Post's Catherine Rampell recently recalled that when US President Donald Trump held a session for Harley-Davidson executives and union representatives at the White House in February 2017, he thanked them "for building things in America." Trump went on to predict that the iconic American motorcycle company would expand under his watch. "I know your business is now doing very well," he observed, "and there's a lot of spirit right now in the country that you weren't having so much in the last number of months that you have right now."
What a difference a year makes. Harley-Davidson recently announced that it would move some of its operations to jurisdictions not subject to the European Union's retaliatory measures adopted in response to Trump's tariffs on imported steel and aluminum. Trump then took to Twitter to say that he was, "Surprised that Harley-Davidson, of all companies, would be the first to wave the White Flag." He then made a promise that he cannot keep: "… ultimately they will not pay tariffs selling into the EU."
Then, in a later tweet, Trump falsely stated that, "Early this year Harley-Davidson said they would move much of their plant operations in Kansas City to Thailand," and that "they were just using Tariffs/Trade War as an excuse." In fact, when the company announced the closure of its plant in Kansas City, Missouri, it said that it would move those operations to York, Pennsylvania. At any rate, Trump's point is nonsensical. If companies are acting in anticipation of his own announcement that he is launching a trade war, then his trade war is not just an excuse.
In yet another tweet, Trump turned to threats, warning that, "Harley must know that they won't be able to sell back into U.S. without paying a big tax!" But, again, this is nonsensical: the entire point of Harley-Davidson shifting some of its production to countries not subject to EU tariffs is to sell tariff-free motorcycles to Europeans.
In a final tweet, Trump decreed that, "A Harley-Davidson should never be built in another country – never!" He then went on to promise the destruction of the company, and thus the jobs of its workers: "If they move, watch, it will be the beginning of the end – they surrendered, they quit! The Aura will be gone and they will be taxed like never before!"
Needless to say, none of this is normal. Trump's statements are dripping with contempt for the rule of law. And none of them rises to the level of anything that could be called trade policy, let alone governance. It is as if we have returned to the days of Henry VIII, an impulsive, deranged monarch who was surrounded by a gaggle of plutocrats, lickspittles, and flatterers, all trying to advance their careers while keeping the ship of state afloat.
Trump is clearly incapable of executing the duties of his office in good faith. The US House of Representatives and Senate should have impeached him and removed him from office already – for violations of the US Constitution's emoluments clause, if nothing else. Barring that, Vice President Mike Pence should have long ago invoked the 25th Amendment, which provides for the removal of a president whom a majority of the cabinet has deemed "unable to discharge the powers and duties of his office."
And yet, neither Speaker of the House Paul Ryan nor Senate Majority Leader Mitch McConnell nor Pence has dared to do anything about Trump's assault on American democracy. Republicans are paralyzed by the fear that if they turn on Trump, who is now supported by roughly 90% of their party's base, they will all suffer at the polls in the midterm congressional election this November.
It is nice to think that the election will fix everything. But, at a minimum, the Democratic Party needs a six-percentage-point edge to retake the House of Representatives, owing to Republican gerrymandering of congressional districts. Democrats also have to overcome a gerrymandering effect in the Senate. Right now, the 49 senators who caucus with the Democrats represent 181 million people, whereas the 51 who caucus with the Republicans represent just 142 million people.
Moreover, the US is notorious for its low voter turnout during midterm elections, which tends to hurt Democratic candidates' prospects. And Trump and congressional Republicans have been presiding over a relatively strong economy, which they inherited from former President Barack Obama, but are happy to claim as their own.
Finally, one must not discount the fear factor. Countless Americans routinely fall victim to social- and cable-media advertising campaigns that play to their worst instincts. You can rest assured that in this election cycle, as in the past, elderly white voters will be fed a steady diet of bombast about the threat posed by immigrants, people of color, Muslims, and other Trump-voter bugaboos (that is, when they aren't being sold fake diabetes cures and overpriced gold funds).
Regardless of what happens this November, it is already clear that the American century ended on November 8, 2016. On that day, the United States ceased to be the world's leading superpower – the flawed but ultimately well-meaning guarantor of peace, prosperity, and human rights around the world. America's days of Kindlebergian hegemony are now behind it. The credibility that has been lost to the Trumpists – abetted by Russia and the US Electoral College – can never be regained.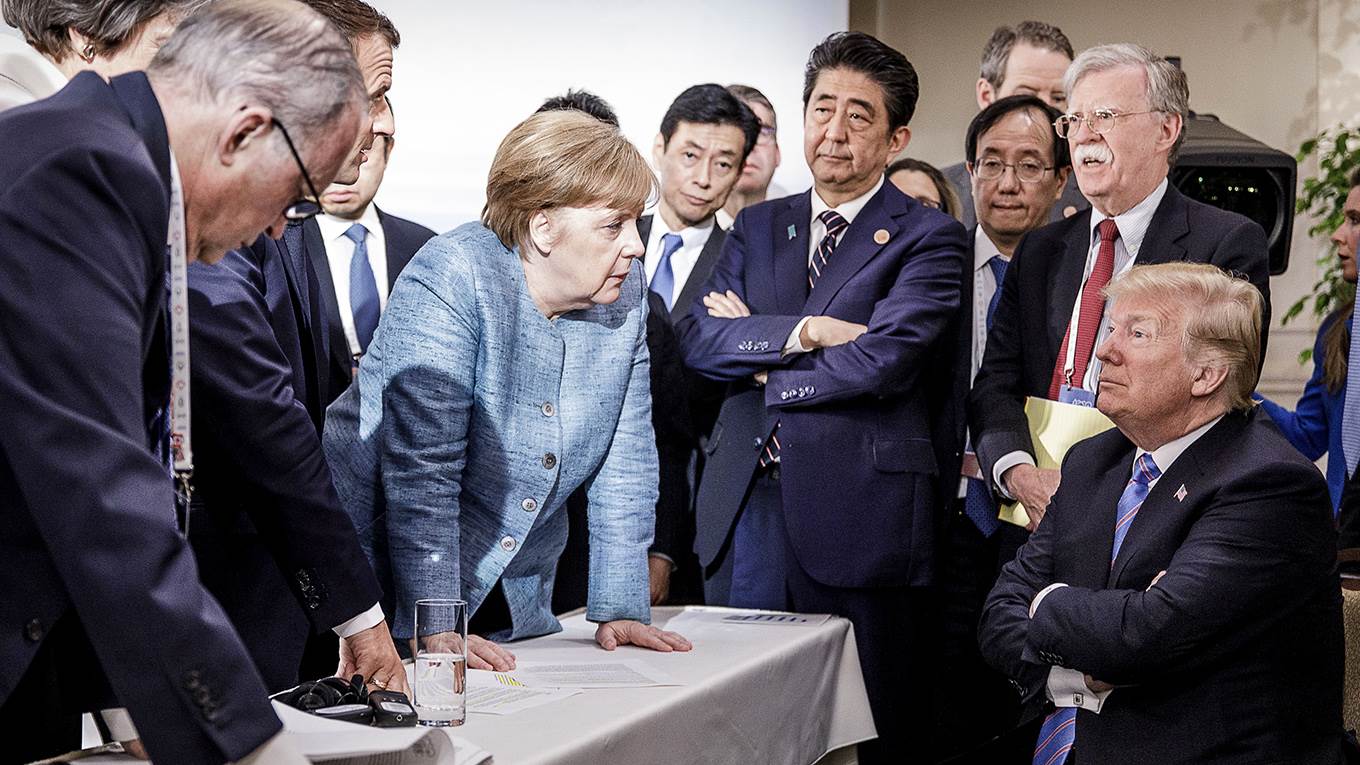 Reading the Signs of the Times
What was unimaginable only a few years ago – a US president insulting democratic allies and praising dictators, or calling the free press "enemies of the people," or locking up refugees and taking away their children – has become almost normal now. When will it be too late to sound the alarm?
PARIS – Comparing today's demagogues with Adolf Hitler is almost always unwise. Such alarmism tends to trivialize the actual horrors of the Nazi regime, and distracts attention from our own political problems. But if alarmism is counterproductive, the question remains: At what point are democracies truly in danger? What was unimaginable only a few years ago – a US president insulting democratic allies and praising dictators, or calling the free press "enemies of the people," or locking up refugees and taking away their children – has become almost normal now. When will it be too late to sound the alarm?
Great books have been written about this very question. Giorgio Bassani's masterpiece, The Garden of the Finzi-Continis, describes the lives of bourgeois Italian Jews under fascism. Slowly, step by step, a legal and social noose tightens around these cultivated Italians, who took their lives of comfort and influence for granted. And yet, in different ways, they are in denial. The narrator's father even joins the Fascist Party, while the wealthier Finzi-Continis withdraw into their ever more isolated family circle. Pride and a lack of imagination blind them to the danger they are in, until it is too late and they are deported to the death camps.
The human incapacity to see what is coming also animates Sebastian Haffner's memoir Defying Hitler, written in 1939, a year after he left his native Germany. Haffner, later a journalist and author, was a law student who witnessed how the Nazi dictatorship became lethal, again incrementally, like the persecution of Jews in Italy. He saw how his fellow law students, none of whom were Nazis, came to accept each step – racial laws, abrogation of the constitution, and so on – precisely because they were couched in legal terms. There never seemed to be a point at which they recognized that an intolerable line had been crossed and only resistance or exile would do. Haffner, who was not Jewish, did recognize it; he left in the year that synagogues were torched and Jews driven from their homes.
Under most circumstances, there are probably more Finzi-Continis than Haffners. It is hard to sleep well in a state of alarm. Life is easier if the world seems normal, even if it is anything but.
There are many ways people stick their heads in the sand, and some parallels between our own time and Europe in the early 1930s can be seen. Quite a number of German businessmen and industrialists, who were conservatives but not Nazis, thought they could live with Hitler, as long as he benefited them financially. He was a vulgar upstart, whose manners might not have been the finest, but surely they would be able to control him.
Historical knowledge can help people to recognize certain patterns of behavior – attacks on an independent judiciary, for example – that have led to tyranny in the past. But historical memory, often blended with myth, can also stop people from reading the signs of what might come. In countries with a democratic history, it is easy to assume that "it could never happen here," because "our institutions are too strong," or "our people love freedom too much," or they are "too civilized" or "too modern" to slide into barbarism.
Leftists can be just as blinkered as conservatives. Communists (instructed by Stalin), but also the non-Communist left in 1920s Germany, refused to defend the fragile Weimar Republic when it was under assault from the right. Communists saw social democrats as a greater danger than Nazis; and leftwing intellectuals were distracted by the hypocrisy and corruption of mainstream parties they really should have supported.
Donald Trump may not be a reincarnated Hitler, but Republicans' acquiescence in every step he has taken away from civilized democratic norms is ominous. And so is talk on the far left that the difference between Trump and Clinton or Obama is one of degree, not kind: he merely displays the iniquities of neoliberalism more blatantly than they did. In both cases, the particular dangers posed by today's right-wing populism are underrated or ignored.
The much-maligned mainstream press – those "enemies of the people" – is still robust. But its influence is waning. What appears in The New York Times or the Washington Post matters less than presidential tweets that go straight to millions of people and are echoed in partisan radio or TV shows.
In a polarized society, politicians who stir up the mob by exploiting fear and resentment are probably more likely to be successful than less exciting figures who try to appeal to our more rational faculties. Political parties that oppose the anti-liberal trends are in a serious bind. If they respond to youthful anger and idealism and move too far to the left, they could lose essential votes in the center. If they choose centrist candidates, who look for reforms rather than radical change, they might lose the fired-up young.
And yet freedoms must be defended, which is possible only when the threats are seen clearly. The moment people stop believing that the demagogues can be prevented from doing their worst is the moment we can be sure that it is already too late.