Macron's Real Limits
French President Emmanuel Macron's recent meeting with German Chancellor Angela Merkel demonstrated the limits of his method. Seemingly compelling oratory does not necessarily translate into feasible policies.
FRANKFURT – When Emmanuel Macron was recently interviewed by two very aggressive journalists, the result was not exactly the "ideal speech situation" cherished by Jürgen Habermas, the towering German philosopher and great supporter of the French president. But, despite being repeatedly interrupted, Macron fared very well. Always concrete and willing, if necessary, to delve into the minutiae of an issue, Macron was clearly on top of his game. He needed no speaking notes, as he also admirably demonstrated in his speech condemning nationalism and populism at the European Parliament a few days later.
His meeting with German Chancellor Angela Merkel in Berlin that same week, however, was much different in both tone and substance. Most important, it demonstrated the limits of the méthode Macron: Seemingly compelling oratory does not necessarily translate into feasible policies.
Politics, at its core, reflects the interplay of interests at the national level. And that is precisely where Macron's ideas about re-designing Europe's institutional architecture arrive at an impasse. His proposals are too numerous and vague to judge, and they do not account for the state of debate at the national level, where skepticism is on the rise. Being positive about Europe comes at a cost.
For northern Europeans, two prospects raise particular concern: risk sharing (for example, in underwriting retail bank deposits) and a eurozone budget.
Of course, a fragmented banking system complicates a single monetary policy. Some academic economists, as well as the rare policymaker (such as the late Tommaso Padoa-Schioppa), called for centralized supervision of financial institutions long before the euro crisis erupted. At least in some respects, such "Europeanization" of supervision has been established, with the European Central Bank serving as the eurozone's banking watchdog and the Single Resolution Board dealing with vulnerable banks.
But guaranteeing retail deposits remains a task for the eurozone's individual member states. Hence, the quality of those guarantees varies, with some members vulnerable to bank runs. But in northern Europeans' (quite reasonable) view, insurance after an accident has occurred (think of non-performing loans) is a form of redistribution that shifts the burden to innocent bystanders (in this case, northern taxpayers). As German and Dutch officials, in particular, have argued, banks' financial health must be addressed before completion of European banking union can take place.
Europeanization of deposit insurance would also mean that eurozone member states would, if push came to shove, lose any authority over banking politics. A eurozone institution, democratically accountable, would have to be charged with this.
But it is in regard to the proposed eurozone budget that Macron's ideas are the least specific. And it is here where political resistance is the strongest – again, for reasons that are not difficult to understand.
A common eurozone budget has been presented as both a stabilizing mechanism and an investment tool. But, under normal circumstances, national public-sector budgets already perform the stabilizing role automatically – through unemployment insurance, progressive taxation, and the like – and this is a derived role, not the primary objective. What is needed is a security valve for eurozone countries that face temporary – and particularly difficult – challenges. And an investment budget has little to do with the purpose of a stabilizing mechanism: to cushion economic shocks.
So the substance of Macron's economic-policy suggestions is, frankly, confusing. And even if Merkel were to embrace them, she would be an easy target for political attack (and not just from the opposition Alternative für Deutschland, but also from within her Christian Democratic Union and its sister party, the Christian Social Union, not to mention the Social Democrats).
There is no avoiding the national political dimension in the EU, given that every leader needs to be elected, and that most want to be re-elected. Merkel's idea of establishing a eurozone super committee that would partly substitute for the Eurogroup of eurozone finance ministers – which Dutch Prime Minister Mark Rutte already proposed, to no avail – would complicate things even further.
Yes, such a committee would bring Merkel the added political benefit of constraining the influence of Social Democrat Olaf Scholz, her Vice-Chancellor and finance minister. But, in terms of substance, there was no need for her proposal. Scholz immediately endorsed the schwarze Null (balanced budget) of his predecessor, Wolfgang Schäuble. Given the German public's deep-rooted sentiment in favor of fiscal probity, anything else would have been politically self-defeating. Indeed, with even Macron pursuing it, the schwarze Null has come back with a vengeance. But that does not make it a less flimsy economic concept, one that cannot be found in any economics textbook.
This is the fundamental problem of the méthode Macron: his policy pronouncements – vague to the point of not being implementable – somehow lack the courage of his European convictions. Proposals by the French Treasury (from 2014!), for example, presented much more detailed policy options to achieve the ends that Macron appears to seek, as did proposals developed by Italian Finance Minister Pier Carlo Padoan in 2015.
Macron's method is also marked by a strong reliance on an intergovernmental approach, which most likely reflects his understanding of French voters' current mood. At least in this respect, the exchange between Macron and his two impertinent interlocutors last week was highly enlightening. The self-declared representatives of French society's deep frustration did not touch on European issues at all.
They did so for a reason. Many French do not hold "Europe" (meaning the European Commission in Brussels) in high standing, and, as the 2005 referendum on a European constitution showed, that has been true for some time. So any vote based on the ideas sketched in Macron's various speeches is unlikely to turn out favorably. In this context, Merkel's insistence on the need to amend the Treaty on the European Union – which would require referenda in the member states – to establish Macron's proposed European Monetary Fund is a barely hidden way of saying "Nein."
Macron's commitment to disinterested dialogue, à la Habermas, is admirable. But unless and until he gets his hands as dirty with European politics as he seems willing to do for the sake of domestic French reforms, those dialogues will remain ephemeral, if not just plain hot air.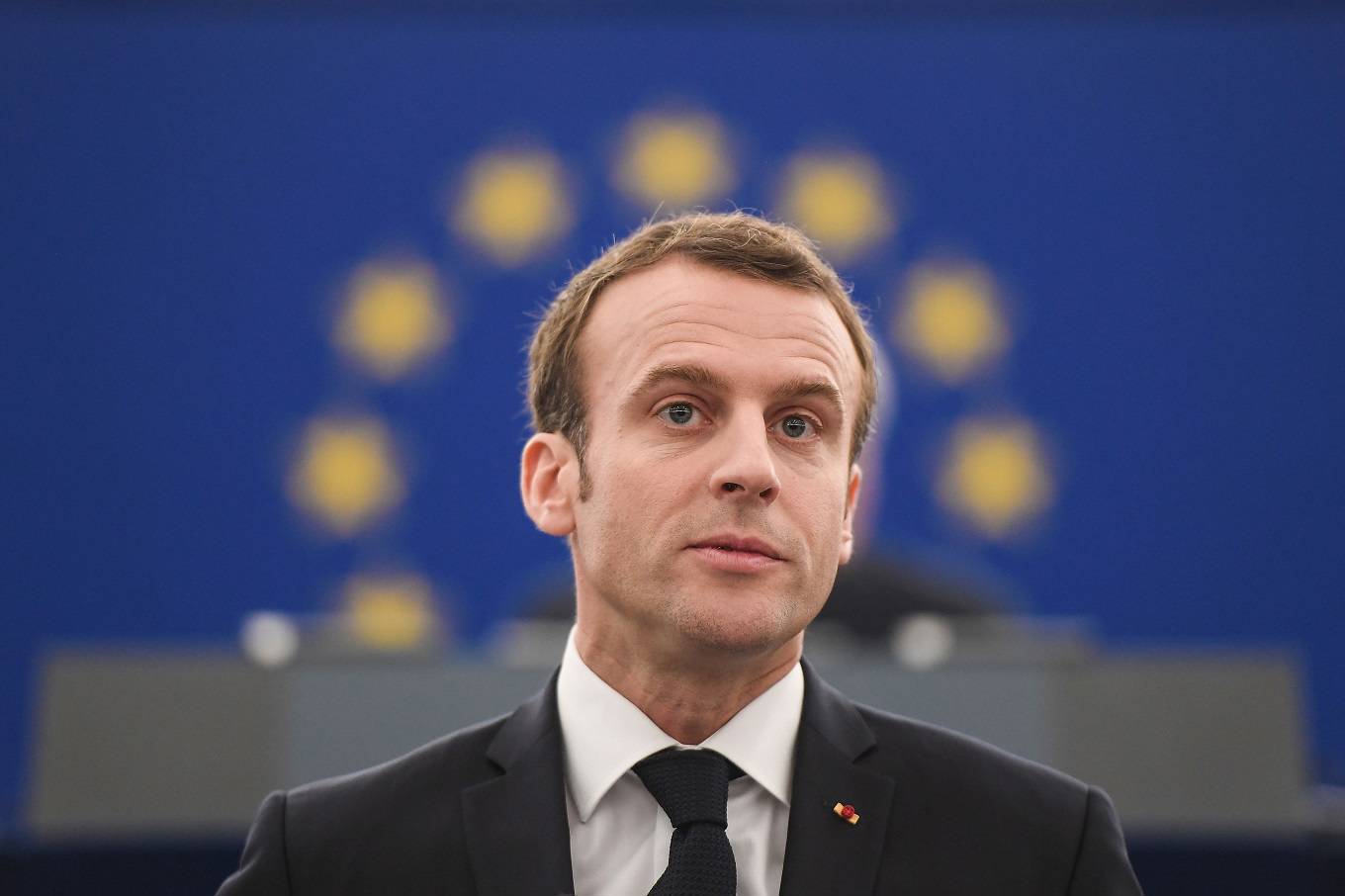 Macron's Vital Message
In a recent speech, Macron set out a potent agenda: the EU must convince its citizens that it deserves their support, by engaging with them directly and offering a compelling narrative that emphasizes its unwavering commitment to liberal democracy. Everyone who believes in the EU should now be stepping up to support that vision.
MADRID – When Emmanuel Macron was elected president of France last year, he was presented as a kind of European savior, a wunderkind who had burst onto the French political scene just in the nick of time. Now, many are asking, with a combination of schadenfreude and defeatism, whether Macron's star burned too bright – and is thus destined to burn out fast. But this focus on Macron's record so far threatens to overshadow his crucial message about the future of European democracy.
Macron won the French presidency not by appropriating veiled nationalist-populist messages, as Mark Rutte did to hold on to power in the Netherlands, but by championing a positive and robust pro-European platform. With his ambitious calls for European unity and dogged support of liberal democracy, Macron inspired hope that the wave of anti-European populism had crested, and that real progress was on the horizon.
But the last year has produced, at best, mixed results. Germany's federal election last September delivered a weak mandate for Chancellor Angela Merkel, and established the far-right Alternative für Deutschland as a real political force. This was followed in February by the ignominious resignation of European cheerleader Martin Schulz as leader of the Social Democrats.
In Italy's general election in March, the populist Five Star Movement and the far-right League party together won more than 50% of the vote. And, in Hungary earlier this month, Prime Minister Viktor Orbán, the poster child of illiberal democracy, secured a third term – and the chance to reshape the constitution – with a large majority. Clearly, Macron's victory did not mark the beginning of a new era of European politics so much as the beginning of yet another chapter in the ongoing struggle for the future of Europe.
Macron delivered this very message earlier this month while addressing the European Parliament in Strasbourg , where he declared that "European democracy is our best chance," and called for a "new European sovereignty" that would protect and provide for the European Union's citizens. He also addressed directly the issue of complacency: "I don't want to belong to a generation of sleepwalkers that has forgotten its own past. I want to belong to a generation that has decided forcefully to defend its democracy."
Macron's rousing call to arms is the latest development in a diplomatic offensice that included hobnobbing with Saudi Crown Prince Mohammed bin Salman and frank discussions about EU-Turkey relations with Turkish President Recep Tayyip Erdoğan. That effort is now continuing, with the jupiterian Macron meeting the mercurial Donald Trump in Washington, DC, this week. Earlier this month, both leaders – along with British Prime Minister Theresa May – ordered strikes on Syrian military installations, following a chemical-weapons attack on rebel-held territory allegedly carried out by President Bashar al-Assad's forces.
Some argue that Macron's soaring pro-European rhetoric and outsize international personality amount to a ploy to boost his popularity within France. After all, his attempts to reform the French economy, public sector, and labor markets – not to mention his perceived elitist pretensions and imperialist tendencies – have produced a swift and severe backlash.
This is almost certainly true. But so what? Virtually all politicians try to leverage their international status to boost their standing at home. And, whatever his motive, Macron's message is sound.
Yet even Macron's supporters fail adequately to defend that message, instead getting caught up in the practical challenges ahead. This is the "yes, but" crowd: "Yes he is right about Europe," they say, "but he has to reform the French economy first," or "he can't succeed without more German support."
The criticisms are not unwarranted. To be an engine of change in Europe, France must undergo a deep structural transformation, which, as student protests at Sciences Po and railway strikes across France show, will be very difficult. And to reform the EU, Macron will need German backing, which may not be in the offing, given the apparent turn by Merkel's coalition away from deeper European integration.
The danger is here is that by tying the message too tightly to Macron and his achievements, we may devalue the underlying ideas. France might not get its act together, and Merkel might not leap to reform Europe's monetary union. But that does not change the fact that Europe needs to evolve. It needs new ideas and, most important, a new animating spirit.
In his Strasbourg speech, Macron set out a potent agenda: the EU must convince its citizens that it deserves their support, by engaging with them directly and offering a compelling narrative that emphasizes the Union's unwavering commitment to liberal democracy. But he cannot do it alone.
Rather than poke holes in Macron's methods or circumstances, Europeans should view his message as a challenge. Everyone who believes in the EU must step up to strengthen it, not just by offering ideas, but also by fighting for their realization. Leadership is needed at all levels.
Macron might be a talented soloist, but what Europe needs now is a chorus. Unfortunately, too few voices have been ringing out.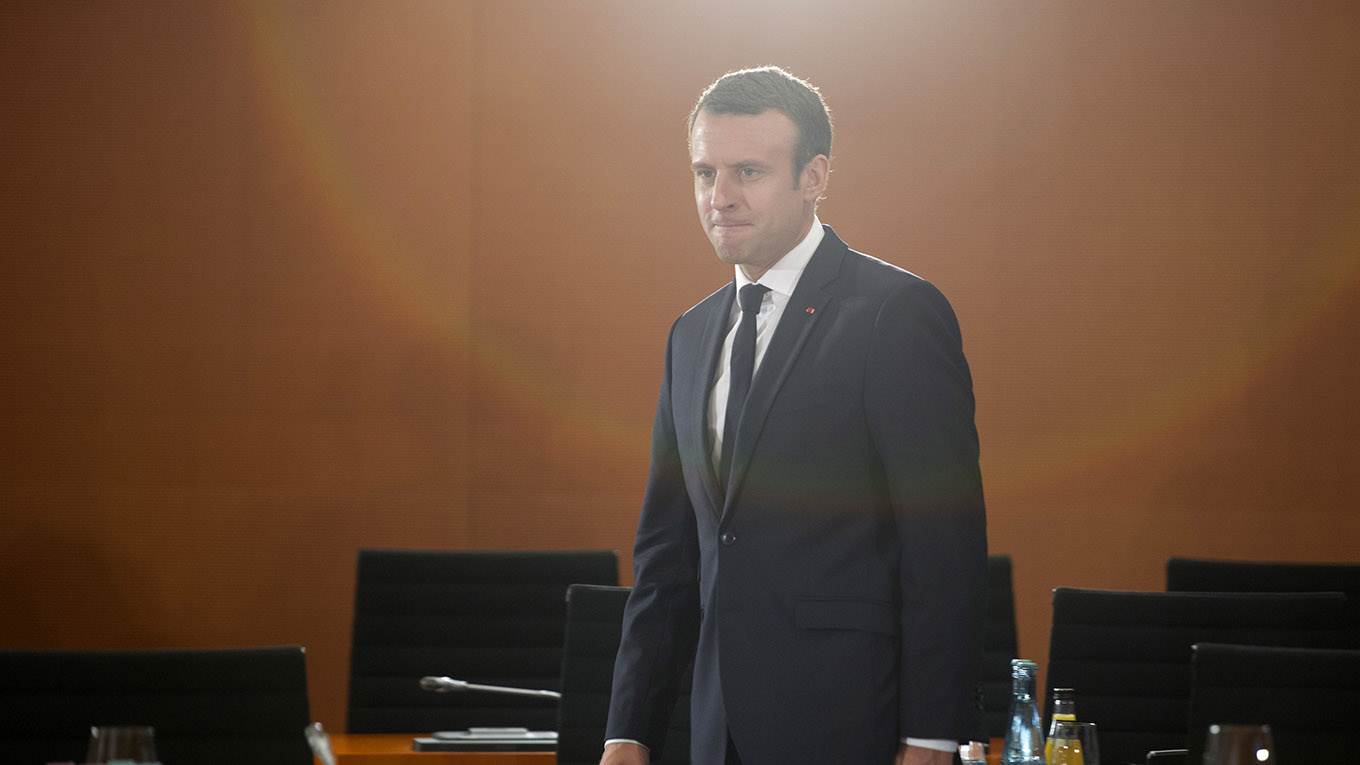 The Macron Doctrine?
French President Emmanuel Macron has invited Vladimir Putin to Paris as his first foreign guest, while Donald Trump will attend this year's Bastille Day celebrations. By reaching out to these two world leaders, neither of whom wanted him in the Élysée Palace, Macron has set the stage for a new and ambitious French foreign policy.
PARIS – French President Emmanuel Macron invited Russian President Vladimir Putin to Paris as his first foreign guest, while US President Donald Trump will attend this year's Bastille Day celebrations. By reaching out to two world leaders who made no secret of their hope that he would never make it to the Élysée Palace, Macron has set the stage for a new and ambitious French foreign policy.
The message Macron is sending is that he will remain open to new opportunities for compromise – talking to anyone who is willing, but without glossing over disagreements. His foreign policy seeks to restore France's central position on the world stage, while remaining firmly committed to Europe.
Macron's foreign-policy effectiveness will depend on his ability to bring about a domestic economic turnaround – a lesson learned from Macron's predecessor François Hollande. Beyond a military intervention against Islamist militants in Mali, Hollande achieved little on the international stage, precisely because he lacked credibility at home, owing to France's economic weakness.
It is too early to tell whether Macron will succeed where Hollande failed. But it is already clear that Macron possesses some valuable skills and attributes that his predecessor lacked: undeniable charisma, an ability to connect with foreign leaders (thanks partly to his fluent English), a solid grasp of global issues, and a drive to implement economic reform.
Macron will also benefit from external factors. For starters, the economic situation not only in France, but throughout Europe, has recently improved substantially. Moreover, France and Germany seem to be converging on a large number of global issues. Add to that the United Kingdom's self-isolation and Trump's erratic "America first" polices, and Macron is in a strong position to establish himself as a key champion of multilateralism.
Of course, even if Macron does guide an economic turnaround, France will have neither the means nor the ambition to supplant the US on the world stage. But Macron does want France to exercise more influence over the international system – an ambition that is underscored by the way he addresses Putin and Trump.
Just a couple of weeks after his election, Macron slammed Russian state-owned media for employing "lying propaganda" to smear him during the campaign – while standing right next to Putin himself. No French leader since Charles de Gaulle would have dared to stand up to Russia in such a public way. From Macron's perspective, however, the disagreements that will shape the bilateral relationship had to be laid out, and a clear power dynamic established, before dialogue could occur.
The major test of the Russia-France relationship lies in Syria – an issue that, so far, Macron has handled skillfully. He intentionally set aside the question of whether Syrian President Bashar al-Assad would remain in power (as Putin wants) or be deposed (as the US and others desire), but also made it clear that France would intervene militarily if Assad were to use chemical weapons again. It is not yet clear whether Macron's approach will succeed; but France has reestablished itself, at least for now, as a player in Syria.
As for Trump, Macron's disagreement with him mostly concerns multilateral issues. France and Europe place much stock in multilateralism, which supports burden sharing. The Trump administration's tendency toward trade protectionism – not to mention financial deregulation – is therefore a source of serious concern.
But it is Trump's commitment to withdraw from the Paris climate agreement that is most problematic to Macron, who plans to work with German Chancellor Angela Merkel to bring about a US reversal. If this effort succeeds, Macron will have established France as an effective advocate and practitioner of multilateralism.
Macron has another objective with regard to Trump: to prevent disagreements from undermining their ability to pursue shared interests, especially in the fight against terrorism. In Syria, for example, the French and US positions are rather closely aligned, and Trump has already shown more willingness than his predecessor, Barack Obama, to enforce a "red line" on the use of chemical weapons. But Trump's Syria policy remains confused, with few clear lines having really been drawn and significant discrepancies between the claims of Trump and his own cabinet.
Of course, Trump's threats of disengagement from NATO also worry France. But France has always sought to maintain a capacity for strategic autonomy, and Macron hopes that the weakening of the US strategic guarantee will convince Europeans, who have long lagged on the establishment of a stronger common defense posture, to do the same.
Considerable economic, strategic, and cultural obstacles to the emergence of a European defense posture no doubt remain, including among those within some French industrial circles who oppose open tenders for defense contracts. But there are signs of progress. Most notably, the European Commission has for the first time decided to offer European funding for key military programs, especially in research and development.
It will take time to marshal not just the money, but also (and more challenging) the political will. But rising uncertainty over America's reliability – together with the departure of the UK, which has long opposed European defense, from the European Union – has already spurred Germany to acknowledge the need for progress. And, of course, progress for Europe is progress for France, as Europe acts as a multiplier of its national power.
There is not yet a "Macron Doctrine." But Macron's foreign policy goals are coming into focus: increase France's credibility by reversing its economic decline; bolster the Franco-German axis in Europe; strengthen Europe's role in the world; and engage with everyone. It is a realist approach – but certainly not a cynical one.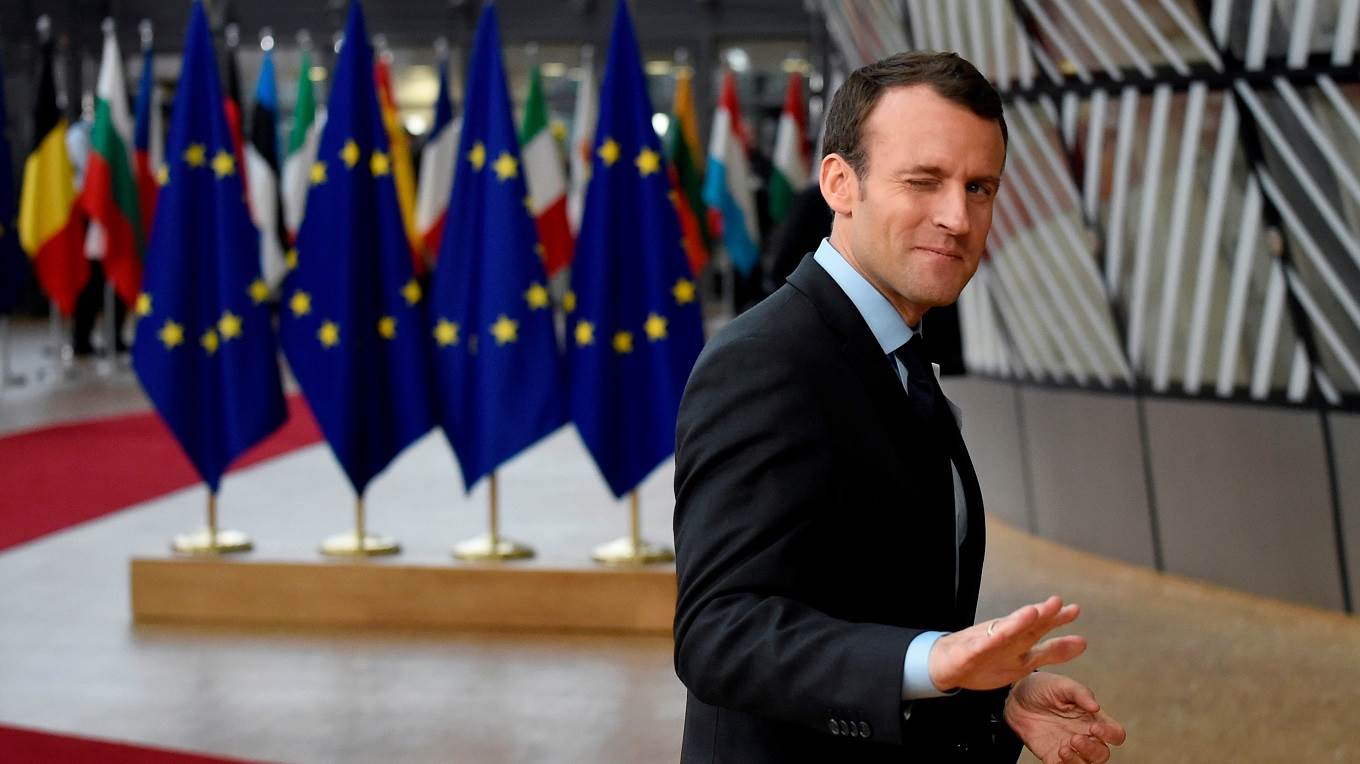 Macron Takes Aim at European Politics
During his first year in office, French President Emmanuel Macron outlined a series of proposals for reforming European institutions; now he is launching a campaign to shake up the European Parliament election in 2019. Through it all, he has adhered to a coherent philosophy of how politics in the twenty-first century should work.
LONDON – Until the terrorist attack at a market in southern France on March 23, French President Emmanuel Macron had been planning to launch a new European-level political campaign. Though the official rollout has now been postponed, Macron's latest project remains central to his presidency and to his conception of power.
Macron's "La Grande Marche pour l'Europe" will mimic the program that toppled France's dominant political parties and transformed his La République En Marche ! movement into a political force in 2017. Over the course of six weeks, he will dispatch ten ministers and 200 parliamentarians to survey the French people's views on Europe and European issues. The results will then be considered in developing a platform that can beat populist and Euroskeptic parties in the 2019 European Parliament election.
Macron has persuaded all other EU member states (with the exception of Hungary and the United Kingdom) to conduct similar public consultations, which he hopes will lay the groundwork for the EU-level reforms he proposed in major speeches in Athens and at the Sorbonne last year.
To understand the full scope of Macron's ambitions, we should consider the principles that underpin his worldview and guide his approach to politics. Few are better acquainted with Macron's thinking than French historian and philosopher François Dosse. Dosse not only taught Macron at Sciences Po in the late 1990s, but also introduced him to his intellectual mentor, French philosopher Paul Ricoeur, for whom Macron worked as a research assistant for two years.
Dosse recently published a book about Macron and Ricoeur titled Le Philosophe et le President. A few weeks ago, I met with him in his Paris apartment to discuss his latest work, and he explained Macron's approach to European reform as a combination of two fundamental Ricoeurian concepts.
The first is "consensus dissensuel." This may sound like a highfalutin version of "having one's cake and eating it." But, according to Dosse, it is really about drawing strength from the opposition between two conflicting viewpoints, unlike a Hegelian approach, which seeks synthesis between two poles. Macron's embrace of the Ricoeurian model is evident in his frequent use of the phrase "en même temps" ("at the same time") when describing parallel domestic-reform proposals.
Similarly, Macron's vision for Europe seems to reconcile the irreconcilable: his plan is both to preserve member states' sovereignty and deepen EU integration. Institutionally, this means supporting supranational bodies while also allowing for more flexibility in areas where national governments, rather than Brussels, are better positioned to solve problems.
On defense policy, Macron wants to work within existing EU treaties, and he supports proposals for a Permanent Structured Cooperation (PESCO) agreement and a European Defense Fund. But he also hopes to move beyond the current EU and even NATO frameworks to establish a European Intervention Initiative (EII), which would operate alongside British, US, and other allied expeditionary forces.
On migration, Macron wants both to secure Europe's external borders and ensure that the burden of taking in refugees is shared across the EU. In the short term, he is pushing for an agreement among member states on refugee quotas. But, in the long run, he supports greater harmonization of asylum systems, or even the creation of a central EU asylum agency.
Macron also hopes to reconcile opposite ideas with respect to the euro. While pushing for reforms within France that will reduce the risks of financial contagion, he is also calling for a common eurozone budget and finance ministry to make the monetary union more resilient to future shocks.
Beyond these areas, Macron wants to boost innovation in the digital sphere, by establishing a European version of the United States' Defense Advanced Research Projects Agency (DARPA). At the same time, he wants to protect national sovereignty in the digital age through regulations and a common fiscal approach.
The second Ricoeurian concept underpinning Macron's worldview is the idea of a European "refoundation." Whereas the first wave of European integration was largely limited to economics, Macron now wants to focus on politics and culture, starting with the European Parliament election next year.
When Macron looks at the EU political stage, he sees stale cartel parties that are just as ripe for disruption as France's mainstream parties were in 2017. For example, he has mocked the center-right European People's Party (EPP), asking how any parliamentary group can call itself Christian Democratic when it includes the parties of former Italian Prime Minister Silvio Berlusconi and Hungarian Prime Minister Viktor Orbán.
Macron also recognizes that the decline of the center left in Europe – along with the impending post-Brexit exodus of UK Labour Party MPs – has left a large void that needs to be filled. To that end, he has considered creating a Europe-wide "En Marche !" movement that could nominate its own Spitzenkandidat to the European Commission presidency. In fact, there has already been some talk of positioning European Commissioner for Competition Margrethe Vestager for that role.
Initially, the Macronistes had planned to recruit defectors from other party groups, and then ally with the left-leaning Alliance of Liberals and Democrats for Europe. But the creation of a European En Marche ! could mean that they will try to edge out the ALDE, too. At any rate, German Chancellor Angela Merkel will insist on a conservative candidate for the Commission presidency, so Macron might try to use that as a bargaining chip for concessions on other issues.
Much remains to be seen, but it is already clear that Macron has brought a new kind of thinking to European politics. In his view, sovereignty in Europe can really be exercised only at the level of the EU. He is taking France from the Fifth Republic to a Sixth Republic that is no longer strictly franco-francaise, but truly European.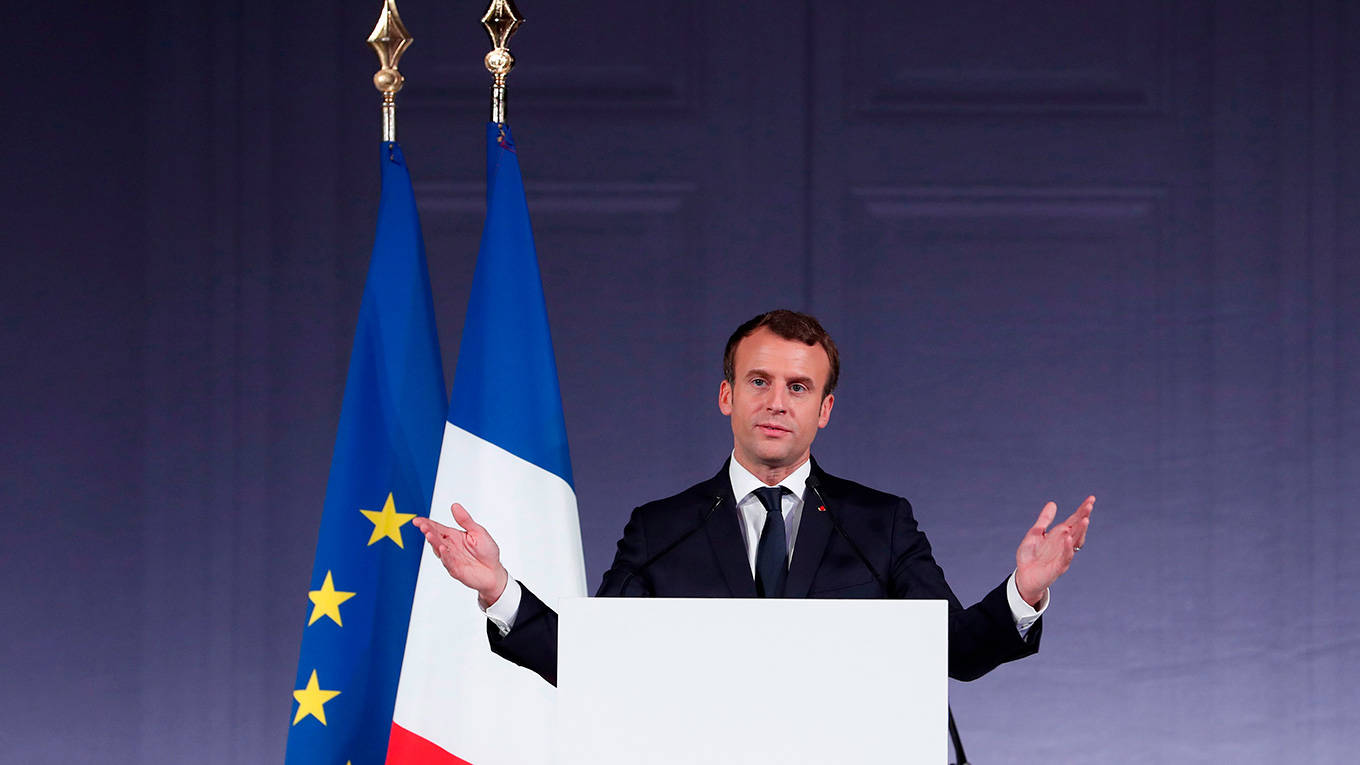 Can Europe Sustain the Macron Moment?
The European Union's political and economic outlook improved dramatically in 2017, following a year in which the bloc reeled from the United Kingdom's Brexit referendum and Donald Trump's election in the United States. But European leaders must not become complacent in 2018, or the EU could be thrown into crisis yet again the following year.
STOCKHOLM – At the start of 2017, many feared that the European project would experience a near-breakdown within the next year. The United Kingdom had decided to leave the European Union, the United States had elected a president who cheered the Brexiteers on, and populists running in the French and German elections posed a clear danger to European integration.
As we approach the start of 2018, the picture is very different. The European project has not only survived, but may be gaining new momentum. At least within the bubble of EU institutions in Brussels, one senses a newfound confidence.
More than anyone else, French President Emmanuel Macron is at the center of this turnaround. His post-election victory speech in May was accompanied by the EU anthem, Beethoven's "Ode to Joy" – a strong symbolic gesture. Since then, Macron has launched or proposed one initiative after another to strengthen EU institutions, while taking a lead in European foreign policy. With German Chancellor Angela Merkel struggling to form a government after September's general election, all eyes are now on Macron.
The changing mood in Europe over the past year has been influenced by three factors in particular. The first is Brexit, which is undeniably causing problems for the British – and in turn causing most Europeans to begin to understand the extent to which their economies and societies are intertwined. The once-glorious country of Great Britain is now in a state of political agony as it tries to sort out the politics, economics, and logistics of leaving the bloc. It is unlikely that voters in any other member state will envy the British experience.
The second factor is Donald Trump, whose US administration has a lower standing in Europe than any other in recorded history. According to one recent poll, Germans now regard Trump as a greater threat to their country's interests abroad than Russian President Vladimir Putin or North Korean dictator Kim Jong-un. In a true race to the bottom, Trump is ahead.
Over the past year, European leaders have accepted that Europe will have to take more responsibility for its own affairs. After a vexing encounter with Trump at the G7 summit in Italy in May, Merkel summed up a sentiment that most other European leaders now share. "We Europeans must fight for our own future and destiny," she said in an unscripted outburst at a campaign stop. "We Europeans truly have to take our fate into our own hands."
The third factor is Putin's Russia, which has continued to meddle in Western elections and act aggressively in Ukraine. All told, the "BTP effect" – Brexit, Trump, Putin – has convinced even skeptical Europeans that EU-level cooperation is necessary.
But, in addition to the impetus of the BTP effect, Europe is being propelled by stronger economic growth. The dark days of the euro crisis have begun to fade into memory, as has the refugee crisis of late 2015, which had a profound political effect on Germany, Sweden, and other countries. Although the huge task of deepening EU integration remains unfinished, the political and economic conditions for seeing that process through have improved.
At the same time, the EU has suddenly emerged as the preserver of the liberal world order. In September, the Comprehensive Economic and Trade Agreement (CETA) between the EU and Canada entered into force. And, since then, the EU has moved closer to finalizing an even more important trade agreement with Japan, and, separately, with the founding countries of Mercosur – Argentina, Brazil, Paraguay, and Uruguay. Britain may be leaving, but the rest of the world seems to be lining up to make deals with the EU.
Still, there is no room for complacency. Despite many positive developments, governance is becoming more complicated within certain European countries, owing to an increasingly fractured political landscape. In Germany, forming a new government after an election used to be a straightforward affair. But now the country could be under a caretaker government until March, with little clarity about what sort of government will emerge. In the meantime, Germany can hardly play its customary role as Europe's anchor of stability.
In the Danubian lands of Hungary, Austria, and Bavaria, nationalism is on the rise. And in Italy, few would dare to offer any solid predictions of what will happen in the next general election, which must be held before May 20, 2018.
Moreover, Europeans cannot rely indefinitely on the low interest rates that have contributed to the current recovery. EU leaders will need to push much harder for structural reforms than they have so far. Although Spain has revived its economy with important reforms, and Macron has tackled France's notoriously Byzantine labor code, the EU is still struggling on many fronts. For example, despite Estonia's heroic efforts to create a digital-reform agenda during its presidency of the Council of the EU, far more needs to be done in that area.
Next year will be the last chance to pursue EU-level reforms before a fateful year of reckoning begins. In March 2019, Britain will leave the EU, with or without a divorce agreement. Then, in May, come elections to the European Parliament, and new leaders will be appointed for the EU's core institutions. Before we know it, Jean-Claude Juncker's presidency of the European Commission will be over.
Macron is anxiously awaiting a new government in Berlin. As things stand, it is far from clear that the next German coalition will support his EU-reform agenda. And, with each passing day, the European Commission will be running out of time to pursue any new initiatives that could realistically be finalized before 2019.
So, while the gloom and doom of 2016 may have receded, it could all too easily return. Sustaining the momentum generated by Macron's election in France and realizing the promise that it holds will require decisive action in the months ahead.