Big Tech Meets Big Government
In an ideal world, major tech companies would recognize and adjust to their growing systemic importance in step with external actors, including governments and consumers, thereby striking the right balance between innovation, consumer benefits and protection, and national security. But this is not an ideal world.
SINGAPORE – Impressive quarterly results from the biggest technology companies show that they are nowhere near saturating their consumer markets, exhausting their innovation cycles, or reaching growth maturation. Dig a little deeper, and those reports also illustrate the sector's substantial and growing systemic importance. Yet, for the tech sector, there is a distinct downside to this development.
With increased systemic importance often comes greater scrutiny. And, indeed, today's prosperous and innovative tech giants now face the prospect of redoubled efforts to regulate and tax their activities. The longer it takes for these companies to recognize their systemic importance, the greater the likelihood of a more powerful backlash by governments and the public, hurting the companies and undermining their ability to continue producing innovations that genuinely boost consumers' wellbeing.
When the tech sector began its evolution toward systemic importance, it comprised a collection of hungry start-ups possessing breakthrough technologies. Beyond disrupting existing economic sectors and activities, these technologies ended up producing new demand for the altogether new goods and services that they enabled.
Tech companies' track record – time and again proving their capacity for exceptional growth – enables them to attract massive investment. They are thus able not only to strengthen their market position in their core activities, but also to develop innovative capabilities in new areas, by taking over smaller competitors, whether actual or prospective. And some are even able to self-disrupt repeatedly – and thus consistently to remain at the technological frontier.
Fueling Big Tech's remarkable growth further, many of these companies' services are ostensibly free, facilitating quick adoption by consumers. It helps that these services often can be provided as seamlessly abroad as they are within their country of origin, to the point that the very concept of "abroad" has become rather elastic.
Over time, the major tech companies' rapid accumulation of market power has led to the rise of oligopolies in some sectors, and monopoly players in a few. Their social, economic, and even political influence has soared in some cases. Facebook and Twitter, for example, played a pivotal role in galvanizing protesters during the Arab Spring uprisings of 2011.
This raises serious risks: as beneficial as Big Tech's innovations are, they can also serve as important channels for state or non-state actors to bring about their own disruptions. In the run-up to last year's presidential election in the United States, some social media platforms inadvertently enabled the spread of disinformation. More menacing, extremists like the Islamic State have relied on social media for recruitment and propaganda purposes.
It should come as no surprise that Big Tech firms tend to move much faster than governments and regulators. As such, what began as a laissez-faire attitude of benign neglect– largely a result of ignorance and inattention – is evolving into something more forceful. As tech firms reach systemic importance, attitudes toward them change markedly.
This shift has become increasingly apparent in recent years, as major tech firms have faced intensifying scrutiny of their competitive practices, tax behavior, data uses, and privacy policies. Broader questions about their contributions to labor displacement and effects on wage growth have also arisen, even as societies increasingly recognize that technological disruption implies the need for education reform and improvements in skills acquisition and retraining.
Yet the tech sector itself still seems to underestimate its growing systemic importance. As a result, firms can lag in recognizing the need to update their operations, resources, and mindsets to reflect their shift from small disruptor to powerful incumbent. That means building more comprehensive and integrated business models, informed by experienced talent with expertise in a broader array of areas, in order to move beyond these companies' laser focus on innovation.
The longer this process takes, the greater the risk that tech firms will lose control of the narrative. Beyond fueling a rise in outside monitoring, regulation, and supervision, there is the risk of a consumer backlash – or even the further exploitation of innovations by malicious actors.
In an ideal world, major tech companies would recognize and adjust to their changing role in step with external actors, including governments and consumers, thereby striking the right balance between innovation, consumer benefits and protection, and national security. But this is not an ideal world. And, so far, internal and external forces have been out of sync, in terms of perceptions, capabilities, and actions. Add to that conscious and unconscious biases and considerable temptation for political manipulation, and the risks become only more profound.
Big Tech can and should play a larger role in helping the entire economy to evolve in an orderly and mutually beneficial manner. This will require, first and foremost, that they internalize their own systemic importance, and adjust their perspectives and behaviors accordingly. But it will also demand far better communication, with firms' objectives and operations becoming much more transparent. And, finally, it will call for a commitment to enhanced monitoring both of themselves and of their peers, together with more effective collective action, as appropriate.
If the tech sector fails to make such changes, government oversight and regulation will inevitably intensify. And it is far from certain that the net result will be positive for society, much less for business.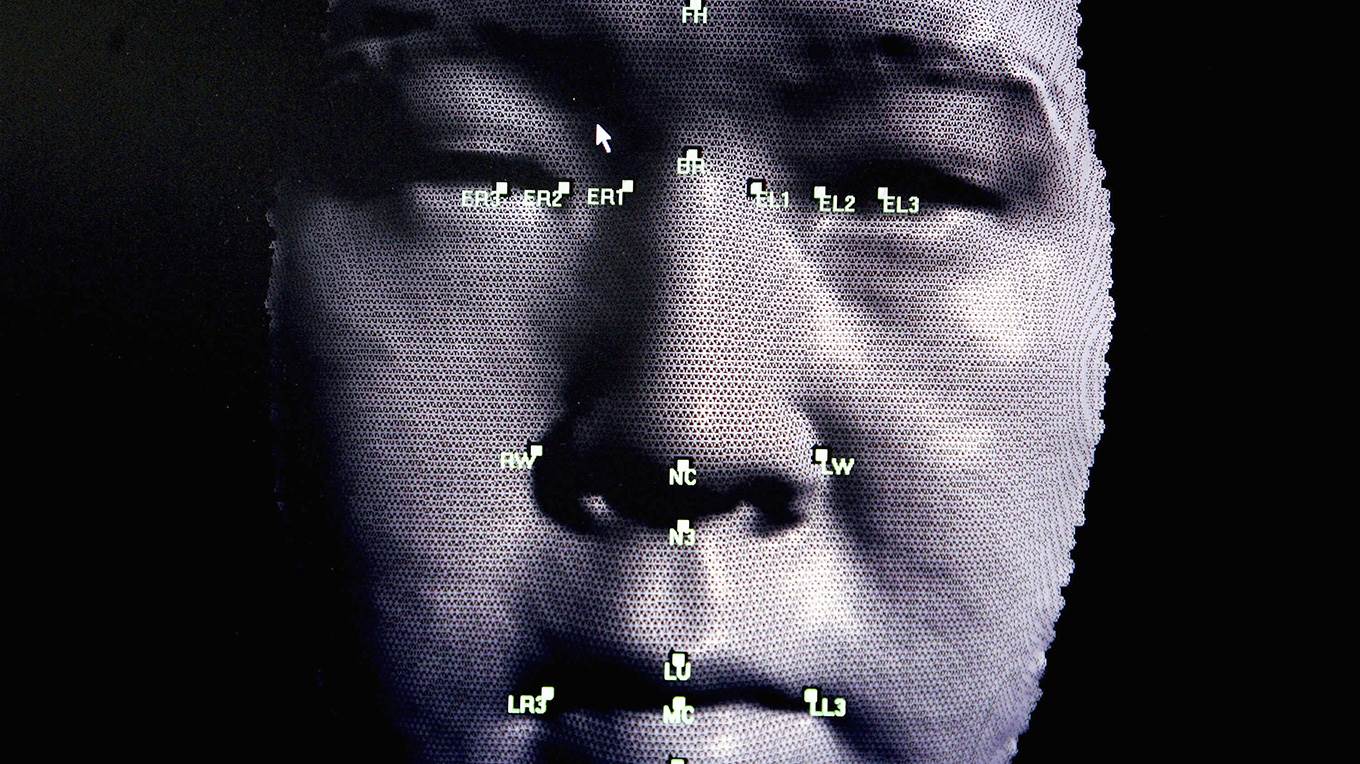 The Illusion of Freedom in the Digital Age
The biggest danger in the coming years is not that technology will put free and autocratic societies increasingly at odds with one another. It is that the dystopian visions of George Orwell and Aldous Huxley will become manifest in both types of system.
LONDON – Over the last few weeks, media around the world have been saturated with stories about how technology is destroying politics. In autocracies like China, the fear is of ultra-empowered Big Brother states, like that in George Orwell's 1984. In democracies like the United States, the concern is that tech companies will continue to exacerbate political and social polarization by facilitating the spread of disinformation and creating ideological "filter bubbles," leading to something resembling Aldous Huxley's Brave New World.
In fact, by bringing about a convergence between democracy and dictatorship, new technologies render both of these dystopian visions impossible. But that doesn't mean that there is nothing to fear.
Much of the coverage of the 19th National Congress of the Communist Party of China (CPC) focused on President Xi Jinping's consolidation of power. He is, observers warn, creating an information-age dictatorship, in which the technologies that were once expected to bring freedom to China's 1.4 billion citizens have instead enabled him to entrench his own authority. By providing the government with highly detailed information on the needs, feelings, and aspirations of ordinary Chinese, the Internet allows China's leaders to preempt discontent. In other words, they now use Big Data, rather than brute force, to ensure stability.
And the data are big indeed. More than 170 million face-recognition surveillance cameras track every step citizens make. An artificial-intelligence-enhanced security system can spot criminal suspects as they cycle beside a lake or purchase dumplings from a street vendor, and immediately alert the police. Data surveillance cameras feed into China's "social credit" data bank, where the regime compiles thick files on its people's creditworthiness, consumption patterns, and overall reliability.
The CPC is also using technology to manage its own ranks, having developed dozens of apps to communicate with party members. Meanwhile, it blocks some of the empowering features of technology: by forcing all tech companies to have their servers within China, it effectively "in-sources" censorship.
The impact of technology on American politics has been even more visible, but it is analyzed in terms of the market, rather than the state. Among the most eye-catching stories has been the role that "fake news" played in shaping last year's presidential election. Facebook has admitted that 126 million Americans might have seen fake news during the campaign.
More recently, Special Counsel Robert Mueller, who is conducting an investigation into whether US President Donald Trump's campaign colluded with Russia's interference in the 2016 election, charged one-time campaign chairman Paul Manafort with 12 counts – including "conspiracy against the United States" – for his actions prior to the campaign. A foreign policy adviser to the Trump campaign, George Papadopoulos, was also indicted for lying to the FBI about meetings with individuals closely associated with the Russian government during the campaign, though he has already pleaded guilty and has been cooperating with investigators since the summer.
But beyond such bombshell developments is a broader anxiety about the ability of tech companies to control the information people receive. With Big Tech's secret algorithms determining how we perceive the world, it is becoming increasingly difficult for people to make conscious decisions – what philosophers perceive as the basic dimension of free will.
Big tech companies, worth more than some countries' GDP, seek to maximize profits, not social welfare. Yet, at a time when attention is supplanting money as the most valuable commodity, the impact of their decisions is far-reaching. James Williams, a Google engineer turned academic, argues that the digital age has unleashed fierce competition for our attention, and few have benefited more than Trump, who is for the Internet what Ronald Reagan was for television.
At the same time, the impact of technology on politics is relatively independent of regime type. Technology is blurring the comforting distinction between open and closed societies, and between planned and free economies, ultimately making it impossible for either to exist in its ideal form.
By revealing the US National Security Administration's massive government surveillance, Edward Snowden made clear that the state's desire for omniscience is not limited to China. On the contrary, it is central to the idea of national security in the US.
In China, things are moving in the opposite direction. To be sure, the Chinese government is pressuring the biggest tech companies to give it a direct role in corporate decision-making – and direct access to their data. At the same time, however, the Internet is changing the nature of Chinese politics and the Chinese economy, pushing both to become more responsive to consumer needs.
For example, a friend who worked for the search engine Baidu explained to me how the company tries to enhance the consumer experience of censorship, testing the ways in which people prefer to be censored. Jack Ma of tech giant Alibaba thinks that China can use Big Data to design perfectly calibrated state interventions that enable it to outperform free-market economies. In the coming decades, Ma believes, "the planned economy will get bigger and bigger."
In the digital age, the biggest danger is not that technology will put free and autocratic societies increasingly at odds with one another. It is that the worst fears of both Orwell and Huxley will become manifest in both types of system, creating a different kind of dystopia. With many of their deepest desires being met, citizens will have the illusion of freedom and empowerment. In reality, their lives, the information they consume, and the choices they make will be determined by algorithms and platforms controlled by unaccountable corporate or government elites.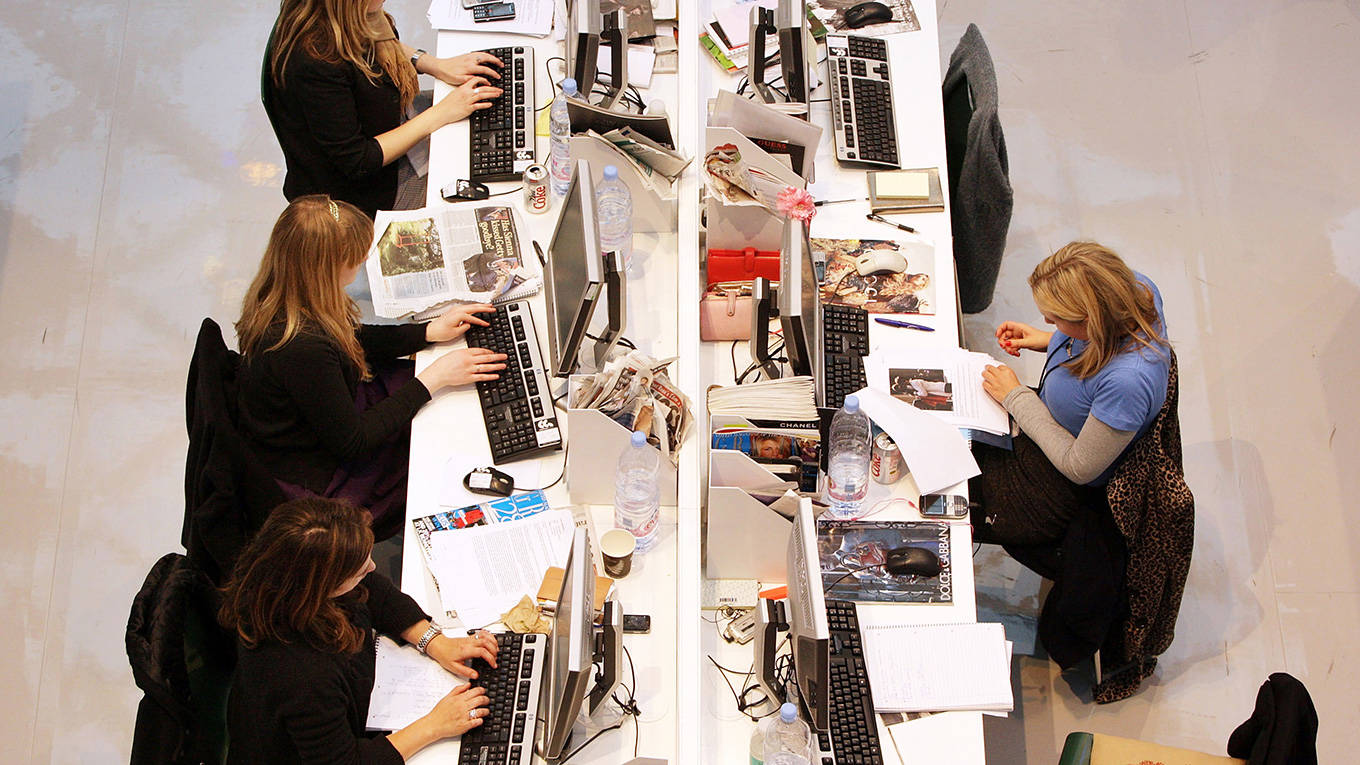 Media Capture in the Digital Age
The age of censors physically redacting newspapers is mostly over. But press freedom remains highly vulnerable, even in developed democracies, as governments and vested interests engage in a kind of soft control that resembles regulatory capture.
NEW YORK – The last couple of years have not been good for freedom of expression. The governments of Poland, Hungary, and Turkey have become increasingly authoritarian and – like leaders in the Balkans, China, and Russia – increasingly eager to control public discourse. In the United States, too, President Donald Trump relentlessly attempts to discredit the news media, and his administration is unprecedentedly inaccessible to the press.
The age of censors physically redacting newspapers, as I have seen in Vietnam and Myanmar, is mostly over. But, as recent developments show, press freedom remains highly vulnerable, as governments and "vested interests networked with politics," in the words of the political scientist Alina Mungiu-Pippidi, engage in a kind of soft control that can be described as "media capture."
Economists used the term "capture" after the financial crisis of 2008 to describe how regulators, who often came from (and returned to) the industry they were supposed to oversee, failed to police the sector properly. Media capture works in much the same way, with political leaders either owning media outlets outright (think of Italy's Silvio Berlusconi) or ensuring that media leaders are loyal to them, whether through cronyism or punishment.
One of the first orders of business for Poland's far-right government, led unofficially by Jarosław Kaczyński, was to adopt a new media law allowing it to hire and fire the heads of public broadcasting networks. In Turkey, President Recep Tayyip Erdoğan's government has jailed critical journalists – such as the well-known columnist Ahmet Altan and his brother Mehmet, a professor – and closed down or seized control of media companies, using fear to shape reporting.
In a less extreme version of Erdoğan's approach, Trump bullies his critics, such as CNN and The New York Times, encouraging others, such as the Wall Street Journal, to treat him favorably. Elsewhere, government cronies do the bullying: in South Africa, the politically connected Gupta family has targeted former Business Day and Financial Mail editor Peter Bruce for criticizing President Jacob Zuma. Leaders may also try to control the narrative by denying access to potentially critical media organizations, as has occurred in the US and, more aggressively, in crisis-ridden Venezuela under President Nicolás Maduro.
Such media capture is vital to enable governments – especially those pursuing what could be unpopular policies – to sustain public support. Trump's campaign against the "fake news media" has enabled him to retain the loyalty of much of his base, despite revelations that would have buried any other US politician.
Just as media capture shapes public perceptions, it can also shape economic outcomes. The economist Maria Petrova argues that media capture can fuel inequality, particularly if the rich are doing the capturing (rather than politicians, who can often be voted out of office). Likewise, Giacomo Corneo of the Free University of Berlin believes that increased economic concentration makes media bias more likely.
Media capture is not a new phenomenon. But the Internet was supposed to free us from it, at least those in countries without overt online censorship. As entry barriers fell, the proliferation of media outlets, it was believed, would make it difficult to capture them all. Even if some outlets were captured, the media could still be an effective watchdog, so long as there was sufficient diversity. This expectation was reinforced by the assumption that more competition could lead to higher-quality news.
But the opposite may have happened. The rise of digital media rendered traditional media outlets' business models untenable. Advertisers migrated to the Internet, where slots are cheap, and consumers, with seemingly infinite free options, became less willing to pay for content. As a result, traditional media have endured precipitous declines in revenue and large-scale job losses.
Dwindling resources undermined the quality of reporting, especially because many cash-strapped outlets, as Science Po's Julia Cagé argues, tried to appeal to as broad an audience as possible. The need to chase clicks on sites like Facebook, Twitter, and Google eroded the ability of legacy media owners to perform their traditional role in ensuring accountability.
Declining media revenues promoted capture in another key way: it shifted the incentive for owning a media outlet. If a newspaper will not provide much in the way of economic returns, the main inducement for purchasing or running one becomes influence. The billionaire American casino owner Sheldon Adelson, for example, didn't purchase The Las Vegas Review-Journal in 2015 or capture Israeli media for the money.
As the media landscape increasingly lends itself to capture, political and corporate accountability will only decline. That is why the Center for International Media Assistance has just released a new report shining a spotlight on the phenomenon – and calling for solutions.
Free and healthy news media are essential to a well-functioning democracy. If we are to protect the latter, we must defend the former at all costs.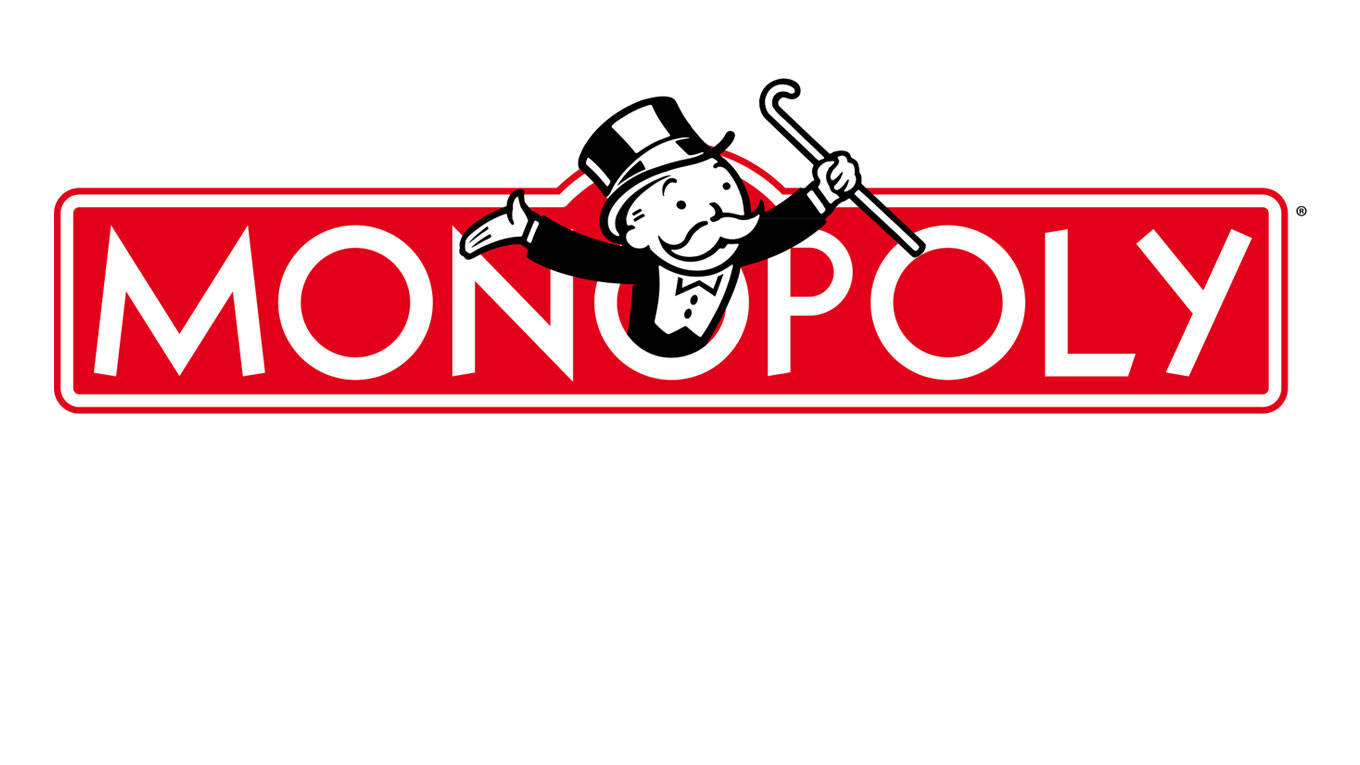 The New Monopolists
While innovations in information technology have transformed how people live, work, and connect, the IT industry's growth pattern has contributed to a widening gap between rich and poor. Addressing it will require new taxation schemes and modernization of antitrust legislation.
STANFORD – For more than 30 years in advanced economies, particularly the United States, wealth and income inequality have increased, real (inflation-adjusted) wages have risen slowly, and retirees have faced declining interest rates on savings. This has occurred while corporate profits and stock prices have risen sharply. Now, research I have conducted shows that these changes were primarily caused by the rise in modern information technology (IT).
IT has impacted the economy in myriad ways; the computer, the Internet, and mobile technology have transformed media, online retailing, the pharmaceutical industry, and countless other consumer-related services. IT has improved life enormously.
But, by enabling the rise of monopoly power, and by facilitating barriers to entry, the growth of IT has also had major negative economic, social, and political side effects, including the proliferation of "fake news."
For starters, the very structure of the IT sector allows for the formation of monopoly power. IT has improved the processing, storage, and transmission of data, and IT innovators are the sole owners of major information channels that they actively work to prevent competitors from using.
IT firms could defend their monopoly power through patents or by copyrighting intellectual property. But these routes require making trade secrets public. So, for strategic reasons, many firms forego legal protections, and consolidate a dominant market position by issuing ongoing software updates that, by default, serve as barriers that are difficult for competitors to breach. When potential new technologies emerge, bigger firms often acquire their challengers, either to develop the competing technologies on their own, or to suppress them.
Once an innovative firm establishes platform dominance, size becomes an advantage. Because the cost of processing and storing information has declined in recent years, a firm with a size advantage has smaller operating costs, and profits rise rapidly as the number of users multiplies (Google and Facebook are good examples). These cost and economies-of-scale advantages are almost impossible for competitors to overcome.
In addition, because these firms derive their power from information, their positions are enhanced by their ability to use their customers' private information as a strategic asset. Indeed, many IT platforms are not producers in the traditional sense; they are public utilities that enable coordination and information-sharing among users in diverse fields. In short, IT enables the creation of barriers to market entry, and then encourages leading firms to become further entrenched. With the pace of IT innovation increasing, monopoly power is also rising.
In a recent paper measuring the economic effects of monopoly power, I approximated normal levels above which profits or stock values are not purely chance events, but rather reflective of monopoly power. With these levels, I measured the monopoly component of total stock values – what I call "monopoly wealth" – and of monopoly profits or rent. I then sought to determine how monopoly wealth and rent have evolved.
The figure below shows monopoly wealth as a percentage of total stock-market value between 1985 and 2015. As the data show, there was no monopoly wealth in the 1980s. But as the IT industry developed, monopoly wealth rose dramatically; it reached 82% of total stock-market value – equivalent to some $23.8 trillion – in December 2015. This is the extra wealth gained by rising monopoly power, and it is continuing to grow.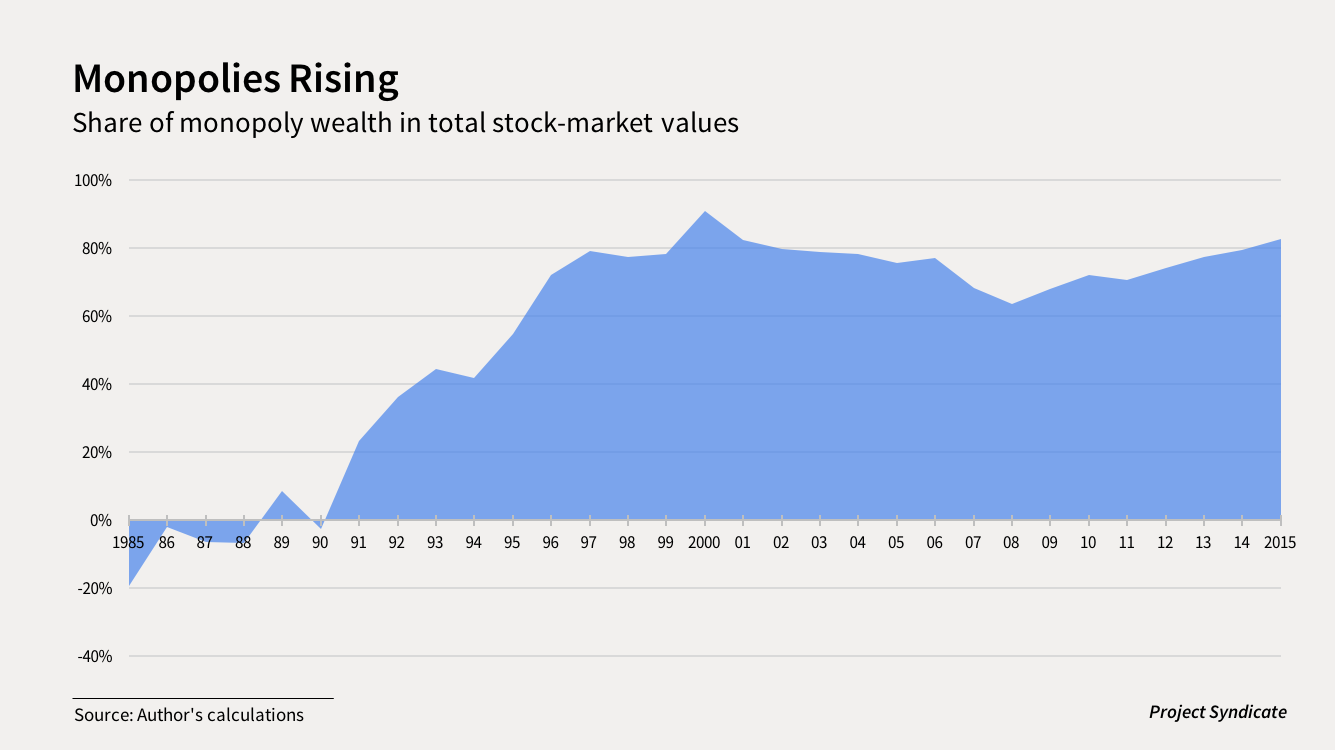 To put in perspective the percentage of monopoly wealth, consider the related sharp rise in corporate leverage. In 1960, the percentage of all real corporate assets financed by debt was less than 20%. By 2015, that share had risen to about 80%, meaning that most capital held by public corporations today is owned and traded by bondholders. In other words, investors have agreed to finance corporate debt by using monopoly wealth as collateral, and most trading in the stock market can therefore be thought of as traded ownership of monopoly wealth.

As the table below shows, nine of the ten firms with the largest monopoly wealth in December 2015 are IT-related, focusing on mobile communications, social media, online retailing, and drugs. Similarly, most monopoly wealth among the top 100 firms, is being created by companies transformed by IT.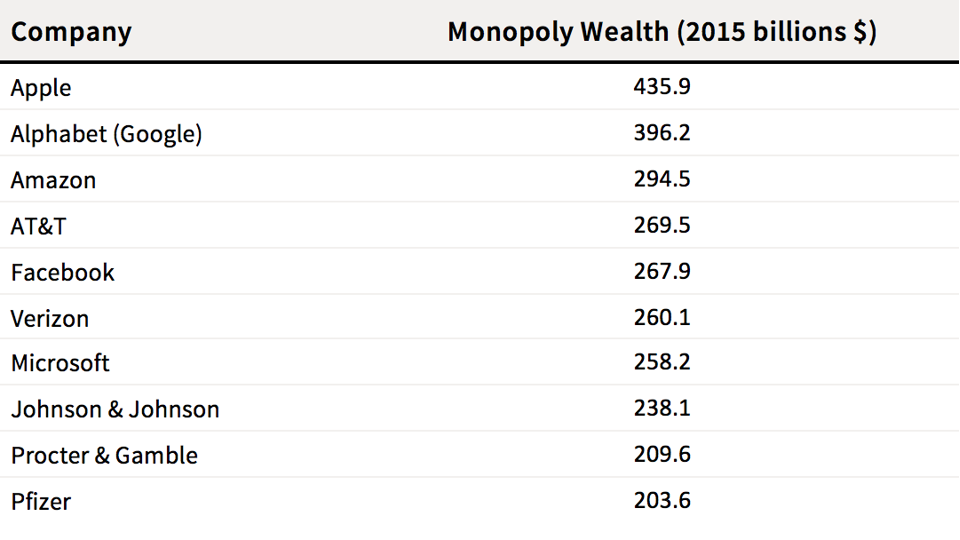 Income created by firms with monopoly power is divided into three types: labor income, normal interest income paid to capital, and monopoly profits. The data show that in the 1970s and early 1980s, monopoly profits were negligible. But since 1984, the share of monopoly profits has risen steadily; it reached 23% of total income produced by American corporations in 2015. This means that during the three decades before 2015, monopoly power caused the combined shares of wages and normal interest on capital to decline by 23%.

Rising productivity and capital accumulation increases wages and capital income, but monopoly power reduces these income shares. This partly explains why, during the 1985-2015 period, wages exhibited sluggish growth and retirees faced declining interest rates on their savings.
Why, then, has rising monopoly power in the IT sector caused income and wealth to concentrate in fewer hands, leading to an increase in personal income and wealth inequality?
One part of the answer is that rising monopoly power increased corporate profits and sharply boosted stock prices, which produced gains that were enjoyed by a small population of stockholders and corporate management. But, given that many IT entrepreneurs were young at the start of their careers, with limited ownership of stocks, a more refined explanation is needed.
Since the 1980s, IT innovations have largely been software-based, giving young innovators an advantage. Additionally, "proof of concept" studies are typically inexpensive for software innovations (except in pharmaceuticals); with modest capital, IT innovators can test ideas without surrendering a major share of their stock. As a result, successful IT innovations have concentrated wealth in fewer – and often younger – hands.
This was not true in the twentieth century, when major innovations in leading sectors such as automobiles required large investments of risk capital. With more investors needed, the wealth created was distributed more broadly.
The negative side effects of IT are not well understood, and public discussion of how to regulate the sector is urgently needed. Three considerations are critical. First, because most technology-based monopoly power does not violate existing antitrust laws, regulating IT will require new measures to weaken monopolies. New concepts of the public interest are also needed for regulating new public information channels such as social networks. Second, standard views of business income and wealth taxation will need to be adapted to account for IT firms' monopoly power. And, third, laws intended to protect private information should be reevaluated to ensure that IT companies are unable to profit from exploiting and manipulating it.
Above all, the public must develop a deeper understanding of the economic effects of IT, particularly how technologies that have improved the lives of so many are enriching the lives of so few.