Does Trade Fuel Inequality?
To explain the rise in inequality that began in the 1980s and has accelerated since the turn of the century, many have pointed out that indicators of globalization, such as the trade-to-GDP ratio, have also been rising rapidly over the same period. But does that correlation imply a causal link between trade and inequality?
CAMBRIDGE – Inequality has become a major political preoccupation in the advanced economies – and for good reason. In the United States, according to the recently released World Inequality Report 2018, the share of national income claimed by the top 1% of the population rose from 11% in 1980 to 20% in 2014, compared to just 13% for the entire bottom half of the population. Qualitatively similar, though less pronounced, trends characterize other major countries such as France, Germany, and the United Kingdom.
To explain the rise in inequality that began in the 1980s and has accelerated since the turn of the century, many have pointed out that indicators of globalization, such as the trade-to-GDP ratio, have also risen since 1980. But does that correlation imply a causal link between trade and inequality?
There are certainly reasons to doubt it. The global trade-to-GDP ratio peaked in 2008 at 61%, after a 35-year climb, falling back to 56% by 2016 – at precisely the time when fear of globalization reached political fever pitch.
What if we look at the world as a whole, rather than individual countries? As Columbia's Xavier Sala-i-Martin pointed out in 2002 and 2006, even as inequality has risen in nearly every country, inequality across countries has decreased, owing largely to the success of developing countries like China and India in raising their per capita incomes since the 1980s.
Multiple factors, including urbanization, high savings rates, and improved access to education, undoubtedly underlie these countries' impressive performance. But, if one uses geography to isolate exogenous determinants of trade, it becomes apparent that trade has been among the most powerful drivers of Asia's economic success, and thus the convergence between the developed and developing worlds.
For someone like US President Donald Trump, this would indicate that Asia's success has come at America's expense. This view of trade as a zero-sum game was a feature of the mercantilist theory that reigned three centuries ago, before Adam Smith and David Ricardo made the case that trade would normally benefit both partners, by enabling each to take advantage of their comparative advantages.
But the Smith-Ricardo theory has a key limitation: it does not distinguish among a country's citizens, and therefore cannot address the question of income distribution within a country. Given this, the Heckscher-Ohlin-Stolper-Samuelson model may be more useful, as it distinguishes between workers and owners of physical, financial, or human (skills) capital.
The HO-SS theory, which dominated international economic thinking from the 1950s through 1970s, predicted that international trade would benefit the abundant factor of production (in rich countries, the owners of capital) and hurt the scarce factor of production (in rich countries, unskilled labor). Workers could command higher wages if they did not have to compete against abundant labor in poorer countries.
Then came the post-1980 revolutions in trade theory. Paul Krugman and Elhanan Helpman introduced the previously neglected elements of imperfect competition and increasing returns to scale. Later, in 2003, Marc Melitz showed how trade could shift resources from low-productivity to high-productivity firms.
Critics of globalization latched onto these newer economic theories, claiming that they demanded a rethinking of the traditional case for free trade. It was precisely at that time, however, that the HO-SS trade theory's prediction that free trade would hurt lower-skill workers in rich countries apparently began to materialize.
Yet not all of the HO-SS theory's predictions have come true. As Pinelopi Goldberg and Nina Pavcnik reported in 2007, the expectation that trade would reduce inequality in the countries with the most unskilled workers, because their services are in greater demand in an integrated world market, has not been borne out. "There is overwhelming evidence," they write, "that less-skilled workers in developing countries "are generally not better off, at least not relative to workers with higher skill or education levels." In the same year, Branko Milanović and Lyn Squire also found that tariff reduction is associated with higher inequality in poor countries.
Ten years later, inequality continues to worsen within developing countries, including the so-called BRICS emerging economies. In Brazil, the top 1% accounts for 25% of national income. In Russia, the income share of the top 1% of the population increased from 4% in 1980 to 20% in 2015. Likewise, in India, that figure rose from 6% in 1982 to 22% in 2013. In China, it surged from 6% in 1978 to 14% in 2015. And, in South Africa, it rose from 9% in 1987 to 19% in 2012. A look at the top 10% of earners shows similar trends.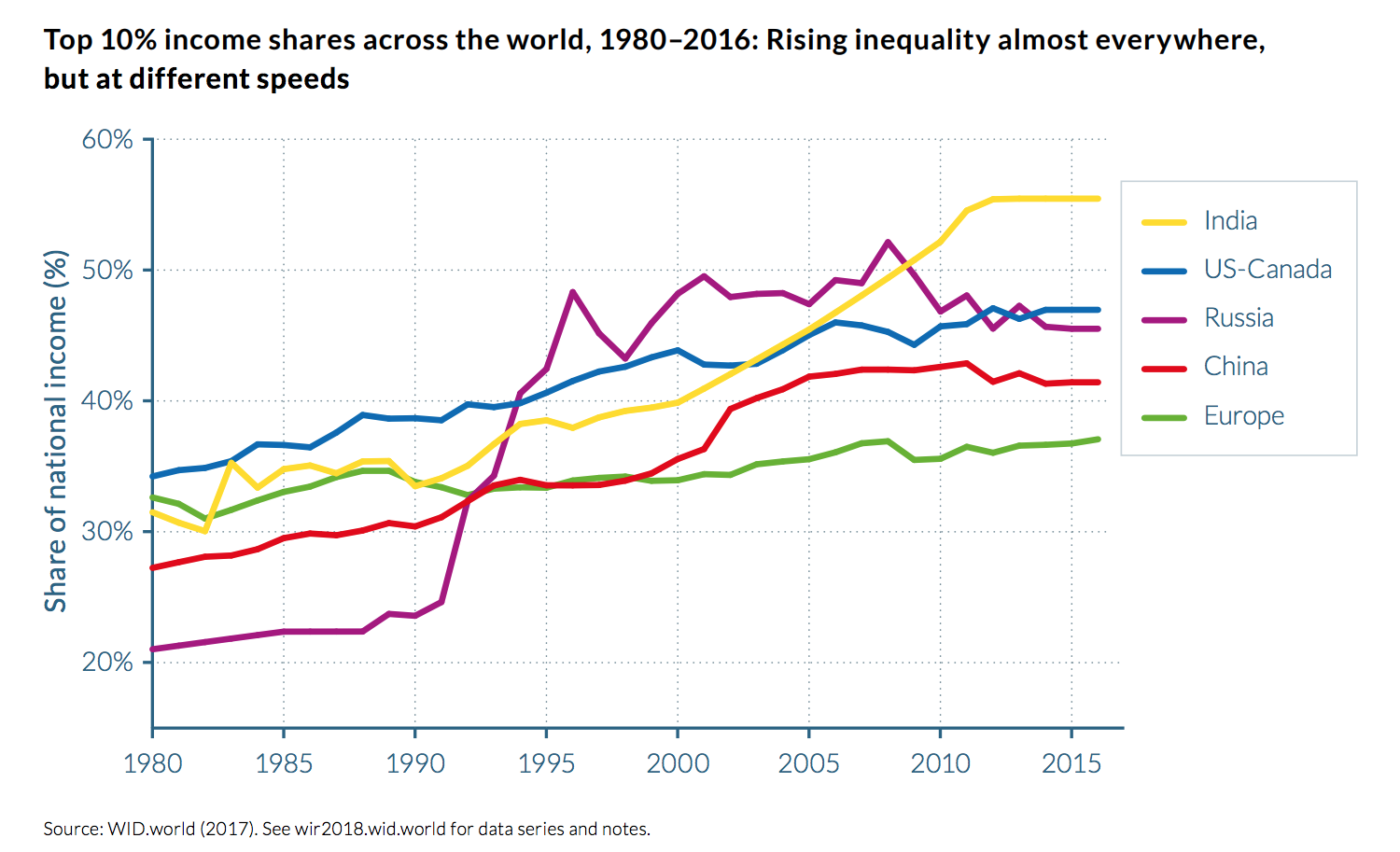 This does not mean that the forces described by the HO-SS theory are irrelevant. But there is clearly more to current inequality trends than trade. Technological progress – which has raised demand for skilled workers relative to unskilled workers, at a time when the supply of skilled graduates lags – seems to be a major factor everywhere. The growing tendency of many professions to produce winner-take-all outcomes may play a role as well. A lack of redistribution through taxes in a country like the US (compared to major countries in Europe) does not help matters.
Inequality is clearly a serious problem that merits political attention. But focusing on trade is not the way to resolve it.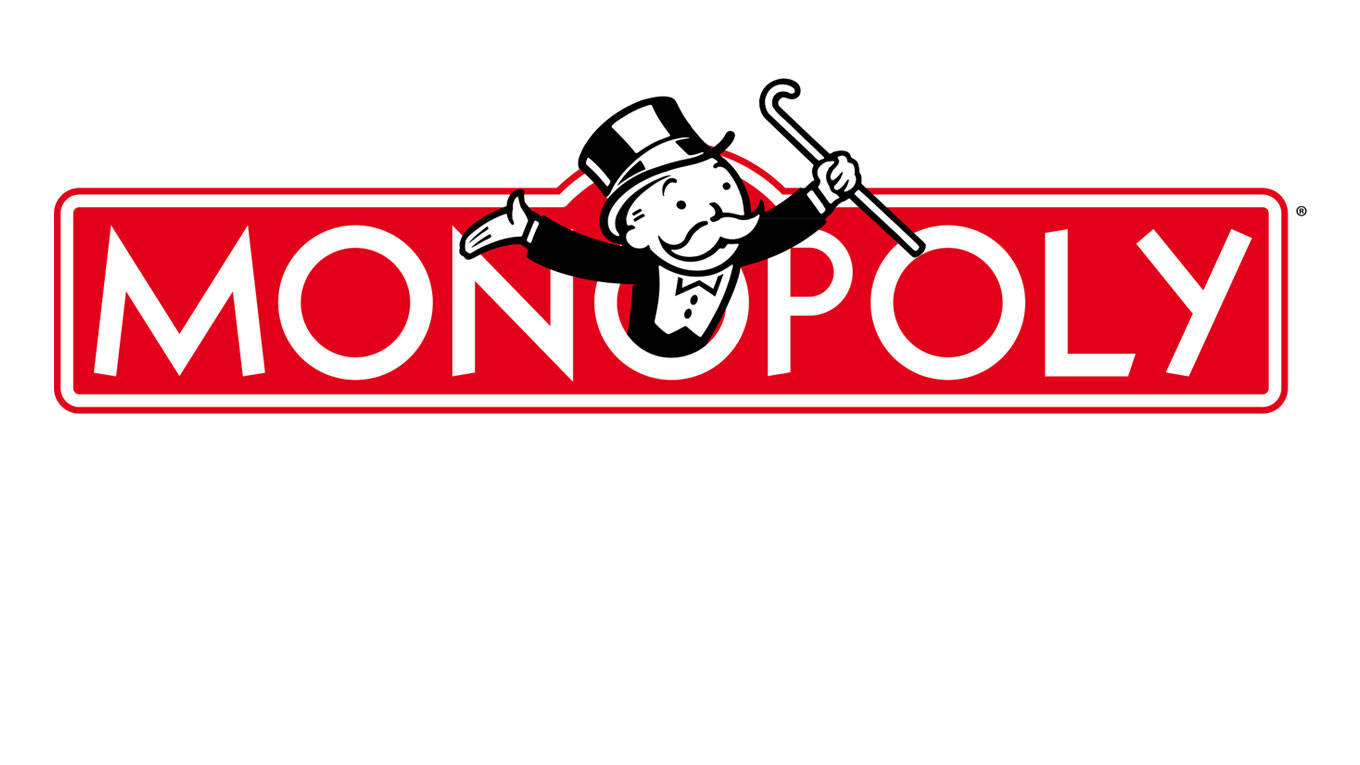 The New Monopolists
While innovations in information technology have transformed how people live, work, and connect, the IT industry's growth pattern has contributed to a widening gap between rich and poor. Addressing it will require new taxation schemes and modernization of antitrust legislation.
STANFORD – For more than 30 years in advanced economies, particularly the United States, wealth and income inequality have increased, real (inflation-adjusted) wages have risen slowly, and retirees have faced declining interest rates on savings. This has occurred while corporate profits and stock prices have risen sharply. Now, research I have conducted shows that these changes were primarily caused by the rise in modern information technology (IT).
IT has impacted the economy in myriad ways; the computer, the Internet, and mobile technology have transformed media, online retailing, the pharmaceutical industry, and countless other consumer-related services. IT has improved life enormously.
But, by enabling the rise of monopoly power, and by facilitating barriers to entry, the growth of IT has also had major negative economic, social, and political side effects, including the proliferation of "fake news."
For starters, the very structure of the IT sector allows for the formation of monopoly power. IT has improved the processing, storage, and transmission of data, and IT innovators are the sole owners of major information channels that they actively work to prevent competitors from using.
IT firms could defend their monopoly power through patents or by copyrighting intellectual property. But these routes require making trade secrets public. So, for strategic reasons, many firms forego legal protections, and consolidate a dominant market position by issuing ongoing software updates that, by default, serve as barriers that are difficult for competitors to breach. When potential new technologies emerge, bigger firms often acquire their challengers, either to develop the competing technologies on their own, or to suppress them.
Once an innovative firm establishes platform dominance, size becomes an advantage. Because the cost of processing and storing information has declined in recent years, a firm with a size advantage has smaller operating costs, and profits rise rapidly as the number of users multiplies (Google and Facebook are good examples). These cost and economies-of-scale advantages are almost impossible for competitors to overcome.
In addition, because these firms derive their power from information, their positions are enhanced by their ability to use their customers' private information as a strategic asset. Indeed, many IT platforms are not producers in the traditional sense; they are public utilities that enable coordination and information-sharing among users in diverse fields. In short, IT enables the creation of barriers to market entry, and then encourages leading firms to become further entrenched. With the pace of IT innovation increasing, monopoly power is also rising.
In a recent paper measuring the economic effects of monopoly power, I approximated normal levels above which profits or stock values are not purely chance events, but rather reflective of monopoly power. With these levels, I measured the monopoly component of total stock values – what I call "monopoly wealth" – and of monopoly profits or rent. I then sought to determine how monopoly wealth and rent have evolved.
The figure below shows monopoly wealth as a percentage of total stock-market value between 1985 and 2015. As the data show, there was no monopoly wealth in the 1980s. But as the IT industry developed, monopoly wealth rose dramatically; it reached 82% of total stock-market value – equivalent to some $23.8 trillion – in December 2015. This is the extra wealth gained by rising monopoly power, and it is continuing to grow.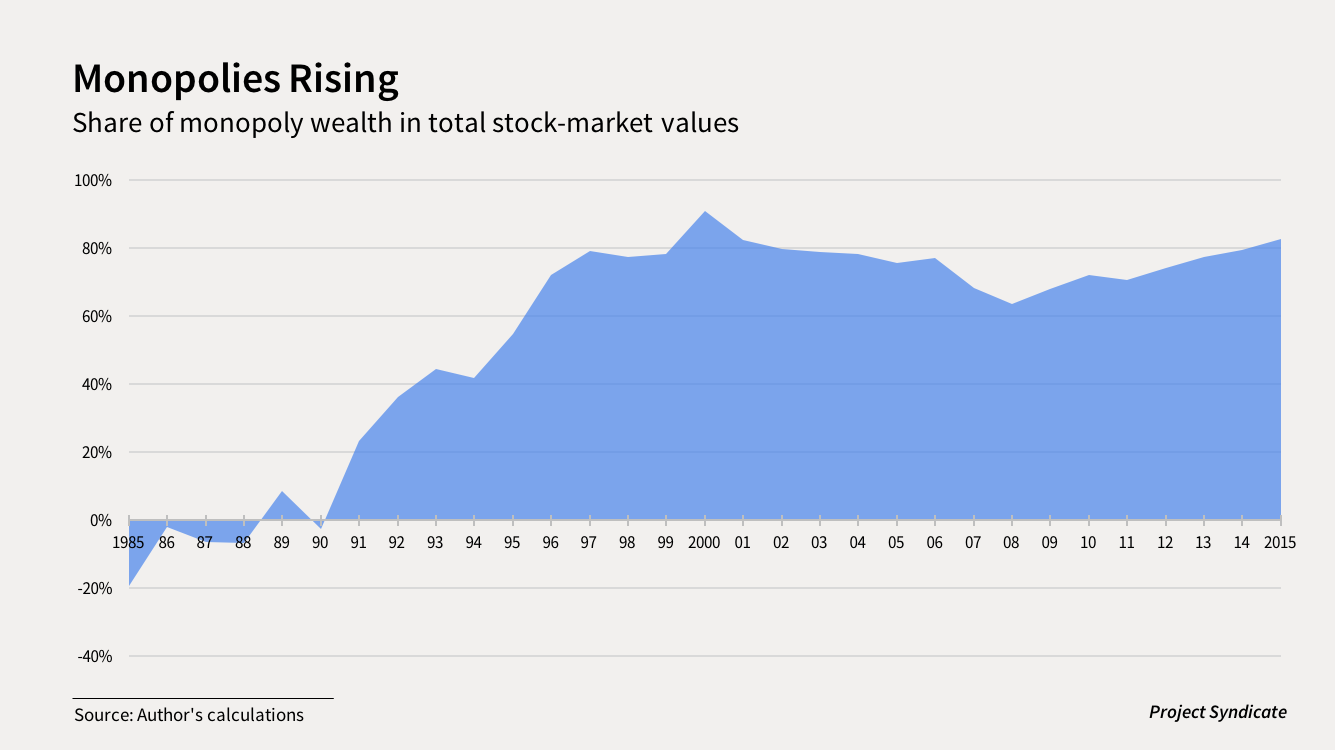 To put in perspective the percentage of monopoly wealth, consider the related sharp rise in corporate leverage. In 1960, the percentage of all real corporate assets financed by debt was less than 20%. By 2015, that share had risen to about 80%, meaning that most capital held by public corporations today is owned and traded by bondholders. In other words, investors have agreed to finance corporate debt by using monopoly wealth as collateral, and most trading in the stock market can therefore be thought of as traded ownership of monopoly wealth.

As the table below shows, nine of the ten firms with the largest monopoly wealth in December 2015 are IT-related, focusing on mobile communications, social media, online retailing, and drugs. Similarly, most monopoly wealth among the top 100 firms, is being created by companies transformed by IT.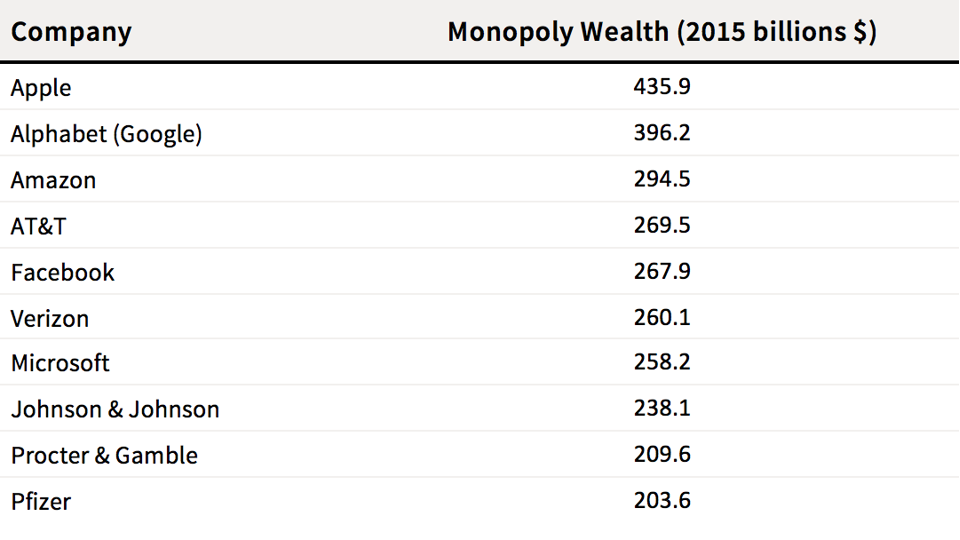 Income created by firms with monopoly power is divided into three types: labor income, normal interest income paid to capital, and monopoly profits. The data show that in the 1970s and early 1980s, monopoly profits were negligible. But since 1984, the share of monopoly profits has risen steadily; it reached 23% of total income produced by American corporations in 2015. This means that during the three decades before 2015, monopoly power caused the combined shares of wages and normal interest on capital to decline by 23%.

Rising productivity and capital accumulation increases wages and capital income, but monopoly power reduces these income shares. This partly explains why, during the 1985-2015 period, wages exhibited sluggish growth and retirees faced declining interest rates on their savings.
Why, then, has rising monopoly power in the IT sector caused income and wealth to concentrate in fewer hands, leading to an increase in personal income and wealth inequality?
One part of the answer is that rising monopoly power increased corporate profits and sharply boosted stock prices, which produced gains that were enjoyed by a small population of stockholders and corporate management. But, given that many IT entrepreneurs were young at the start of their careers, with limited ownership of stocks, a more refined explanation is needed.
Since the 1980s, IT innovations have largely been software-based, giving young innovators an advantage. Additionally, "proof of concept" studies are typically inexpensive for software innovations (except in pharmaceuticals); with modest capital, IT innovators can test ideas without surrendering a major share of their stock. As a result, successful IT innovations have concentrated wealth in fewer – and often younger – hands.
This was not true in the twentieth century, when major innovations in leading sectors such as automobiles required large investments of risk capital. With more investors needed, the wealth created was distributed more broadly.
The negative side effects of IT are not well understood, and public discussion of how to regulate the sector is urgently needed. Three considerations are critical. First, because most technology-based monopoly power does not violate existing antitrust laws, regulating IT will require new measures to weaken monopolies. New concepts of the public interest are also needed for regulating new public information channels such as social networks. Second, standard views of business income and wealth taxation will need to be adapted to account for IT firms' monopoly power. And, third, laws intended to protect private information should be reevaluated to ensure that IT companies are unable to profit from exploiting and manipulating it.
Above all, the public must develop a deeper understanding of the economic effects of IT, particularly how technologies that have improved the lives of so many are enriching the lives of so few.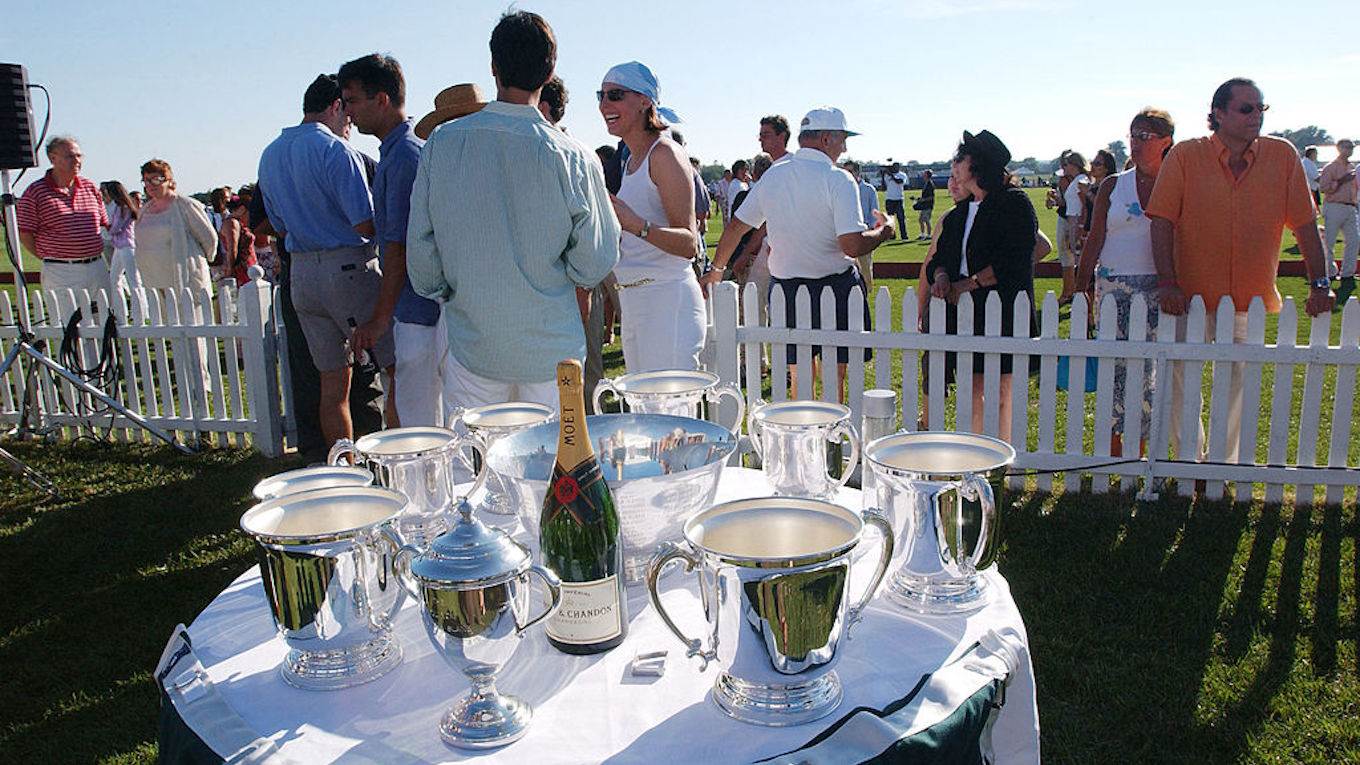 The Complexity of Inequality
In recent years, inequality has been at the forefront of public debate in most advanced economies, blamed for everything from low growth and stagnating productivity to the rise of populism and the Brexit vote. But inequality remains poorly defined, its effects highly variable, and its causes hotly debated.
MUNICH – Since 2013, when Thomas Piketty published his much-discussed study of the distribution of income and wealth, inequality has been at the forefront of public debate in most advanced economies, blamed for everything from slow growth and stagnating productivity to the rise of populism and the Brexit vote. But inequality remains poorly defined, its effects highly variable, and its causes hotly debated.
Even the most basic question – how much inequality is too much – is virtually impossible to answer. There is no "natural rate of inequality" characterizing an economy in equilibrium, a level at which policymakers can aim. Instead, countries' rates of inequality are measured against one another – a narrow approach that ignores everything from broader economic trends to differences in the impact of wealth inequality on populations in different social environments.
At a time when everyone seems to be complaining about inequality, wealth is, at the global level, more broadly distributed than ever. In the last 16 years alone, the number of people who qualify for inclusion in the global middle class – at today's level, people with net financial assets of €7,000-42,000 ($7,400-$44,600) – has more than doubled, to over one billion, or about 20% of the world population.
And it is not just the middle class that is growing. At the end of last year, around 540 million people around the world could count themselves among the global wealthy, with net assets above €42,000. That is some 100 million, or 25%, more than in 2000.
The key to this progress has been the success of the emerging economies, especially China. And, indeed, many of those who have joined the high-wealth group are not from the traditional "rich" countries; on the contrary, the United States, Japan, and Western Europe now have just 66% of the world's high-wealth households, compared with over 90% in 2000.
On the national level, inequality is rising, but only in some places. In the emerging economies, the share of wealth owned by the middle class is increasing, indicating a drop in wealth inequality. It is primarily in the industrialized world that inequality is on the rise, with the share of wealth held by the top 10% growing the most.
This discrepancy may be explained partly by the fact that the global financial crisis was most painful for the advanced countries, especially in Europe. But the expansionary monetary policies that advanced-country central banks pursued after the crisis made a bad situation worse.
Those policies pushed up prices of assets – especially bonds and equities – that were held largely by wealthy households. At the same time, they hurt middle-class savers, who typically rely on duller savings instruments like bank deposits. With zero or, later, negative interest rates, those savers lost out. Though median households are generally benefiting from lower borrowing costs, wealthier households are benefiting much more, thanks in part to savings on mortgage loans, which are highest relative to income for the upper middle class.
But the impact of ultra-loose monetary policy extends far beyond today's wealth and income effects. With advanced-country populations aging rapidly, saving for old age is more important than ever. With very low interest rates reducing the rate of accumulation of pension assets, all but the wealthiest households will probably have to boost savings and/or reduce consumption, now and in the future. The decline in lifetime spending will ultimately have a negative impact on growth and potentially generate social fault lines for the coming generations.
Complicating the inequality narrative further are differences across individual economies, including among those that, technically, have similar levels of inequality. Consider the disparities between the US, Denmark, and Sweden – all three of which are among the world's most unequal societies, with respect to the distribution of wealth.
Denmark and Sweden are known for their well-developed social-welfare systems, free education, and high labor-market participation. Moreover, Denmark took the top spot in the United Nations' World Happiness report last year, suggesting that wealth inequality does not trouble Danes too much.
By contrast, in the US, which lacks many of the social protections provided by its northern European counterparts, inequality is very troubling indeed. The increase in wealth inequality there over the last decade has been the most pronounced of any country. Today, the US has the smallest middle class, holding just 22% of total net financial assets, half the average of other industrialized countries, and the highest concentration of wealth than in any other country.
As in Europe or Japan, the financial crisis and subsequent monetary policy might be a major cause for this development. However, another factor could also be the digital revolution which, at least for the main protagonists, is increasingly turning out to be a "wealth catalyst". In any case, it is important to recognize that America's situation is extraordinary. It does not represent the state of Western capitalism. It is the exception, not the rule.
All of this has important implications for how to tackle inequality. Simply put, if the causes and impacts of inequality differ across countries, so should the policy prescriptions.
For some countries, such as in southern Europe, tackling unemployment is critical to enable middle- and lower-income households to save and consume. Other countries should focus on improving the conditions for long-term savings, such as through occupational pension schemes. Still others would do well to reduce the tax burden, in particular for low- and middle-wage earners.
There is, however, one policy prescription that would benefit many of the countries with the highest levels of inequality. Central banks must bring down the curtain on zero and, especially, negative interest rates. Doing so would certainly be a good start to combating rising wealth inequality.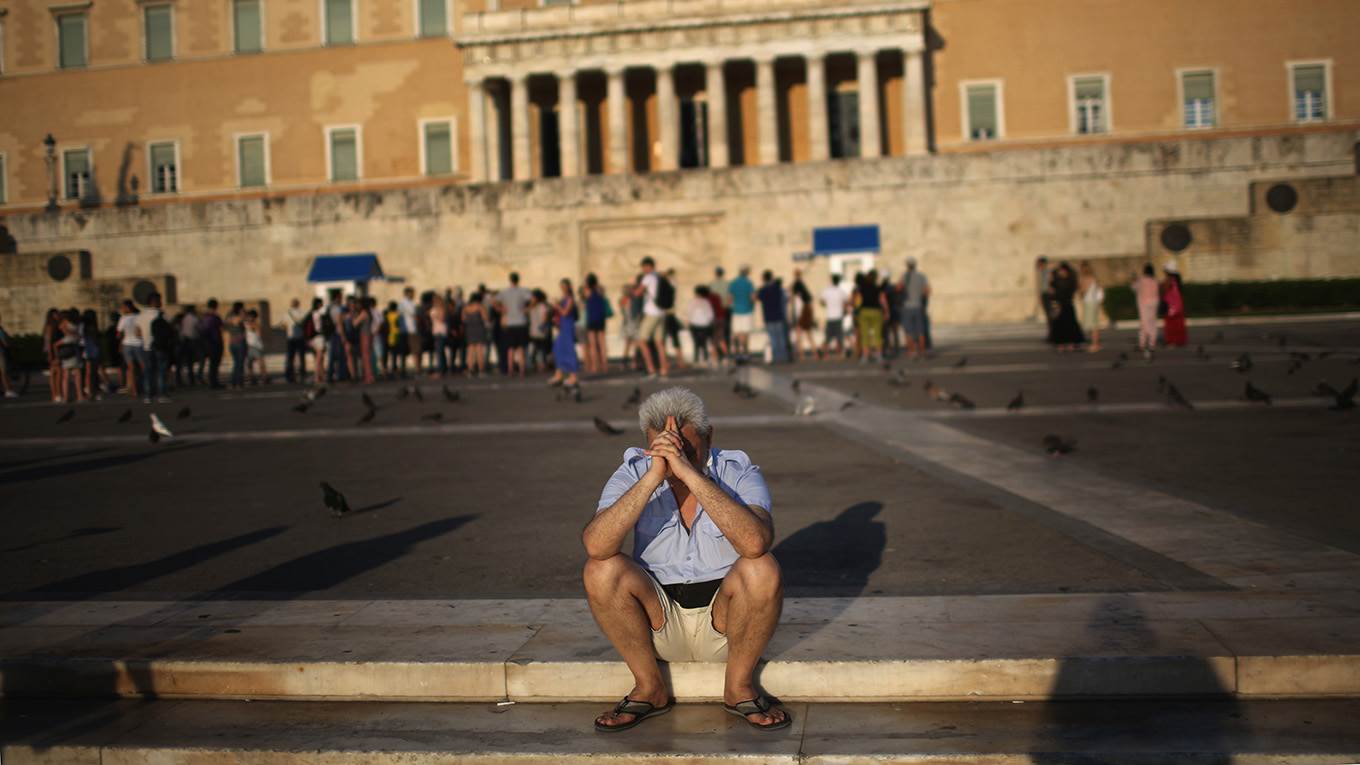 Manuel Muñiz Says Economic Growth Is No Longer Enough
As new technologies subject the world's economies to massive structural change, wages are no longer playing the central redistributive role they once did. Manuel Muñiz, Dean of the IE School of International Relations in Madrid and a Senior Associate at Harvard University's Belfer Center for Science and International Affairs, says that unless this decoupling of productivity and wages is addressed, the political convulsions many countries are experiencing will only intensify.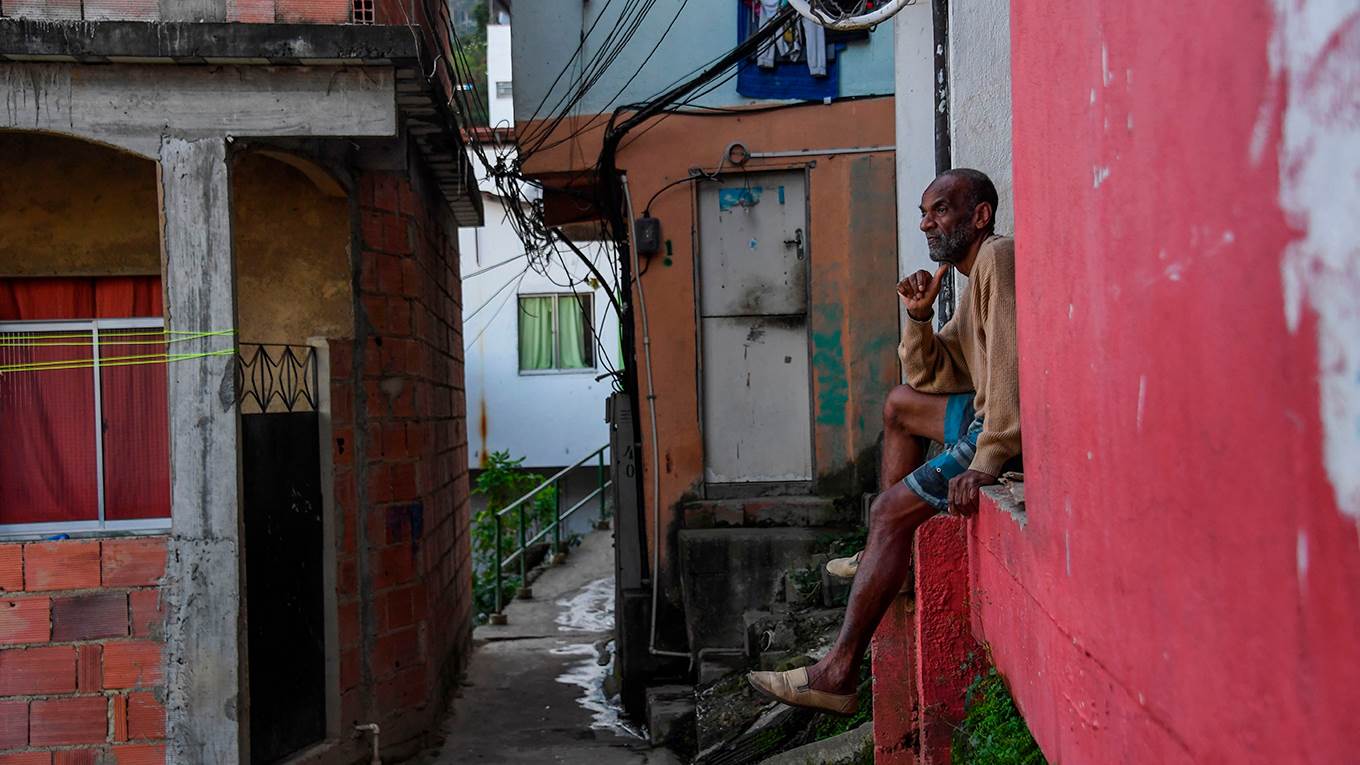 Tackling Non-Inclusive Growth
Rigorous research on the causes and consequences of unequally distributed growth is necessary to identify solutions. But the best analysis means little in the absence of hands-on consensus-building and political engagement.
MILAN – Several years ago, I had the privilege of chairing a commission on growth in developing countries. Its members had significant economic, political, and social policymaking experience in the developing world, and despite their differences, they all agreed on certain crucial points. Two still stand out in my memory.
First, as we concluded in our final report, non-inclusive growth patterns will always ultimately fail. Such patterns cannot produce the sustained high growth that is necessary for reducing poverty and fulfilling basic human aspirations for health, security, and the chance to contribute productively and creatively to society. They underutilize and misuse valuable human resources; and they often give rise to political or social turmoil, often marked by ideological or ethnic polarization, which then leads either to wide policy swings or to policy paralysis.
Our second broad conclusion was that sustained growth requires a coherent, adaptable strategy that is based on shared values and goals, trust, and some degree of consensus. Of course, achieving that is easier said than done.
Many developing countries have experienced extended periods of slow or no growth. In some cases, a country's leaders are simply confused, and do not understand what needs to be done. In most cases, however, the ingredients of an effective "growth model" are well known, and the problem is a lack of political or social consensus about how to implement it.
Achieving a higher growth equilibrium is rarely a gradual or incremental transition. It requires a discontinuous leap in expectations and policies, and a fundamental shift in the political and social consensus. When these shifts occur, leadership plays a crucial role, by providing citizens with an alternative vision, based on common values, that all stakeholders can support. Such leadership can come from above, from below, or from a representative group. But as the persistence of low-growth equilibria in many countries shows, it often doesn't come at all.
The spillover effects of non-inclusive growth are already evident almost everywhere, to varying degrees, in the form of social polarization, policy gridlock and incoherence, and a generalized loss of public trust. In this respect, developing countries' experience holds potentially important lessons for policymakers and various stakeholders in advanced economies.
There has been some progress in identifying the factors causing economic inclusiveness to decline in the last three decades. This is important: only by understanding the nature of the challenge can we develop more effective responses to it. If we misdiagnose the problem with a flawed or rushed analysis, our response will be ineffective, and probably even counterproductive.
That said, the analyses conducted so far have not yet generated widespread awareness of the threat that non-inclusive growth poses to productivity and economic performance as conventionally measured. The adverse economic effects of non-inclusive growth grow and multiply slowly over time, and will continue to do so in the absence of collective action – usually but not necessarily manifested through government – to shift prevailing distributional patterns.
Some would disagree with this proposition, because they believe that the factors behind economic performance and dynamism are independent of distributional patterns. But I would remind them of the second lesson from developing countries' experience: non-inclusive growth patterns undermine trust and eventually governance, in turn undercutting policymakers' ability to sustain policies and strategies that support high growth.
To put it bluntly, insightful analysis has its uses, but change will not happen without a widespread social and political convergence around shared values and objectives – something that is sorely missing in many countries today. People need to trust one another and their leaders, and they need to agree on how to assess and respond to polarizing economic and social trends.
At the same time, continued inaction will fuel alienation, creating a vicious circle of distrust and paralysis that will have to be broken before effective action can occur. There are already many important initiatives dedicated to various dimensions of the inclusiveness challenge, which include not just income and wealth inequality, but also automation, artificial intelligence, and the future of work. Despite their good intentions, it remains to be seen if any of these initiatives will pave the way for effective policy responses.
The value of insightful analyses of such complex problems should not be discounted. But we cannot assume that getting the diagnosis right will be sufficient to overcome political gridlock. The other key ingredient is direct engagement. Restoring public trust will require a deep and sustained commitment, and a new consensus that is broad enough to overcome the political and social divides that are now legion across advanced economies.
From this perspective, the proliferation of commissions and other initiatives that are structured around inclusion, which might seem excessive and redundant under less polarized circumstances, is actually very encouraging. Convening diverse voices from business, industry, labor, government, academia, and civil society – and doing so as frequently as possible – is exactly what is needed right now.
The engagement aspect of the inclusive-growth mission may seem a bit nebulous, especially next to concrete analysis. Nevertheless, it is crucial. Bringing together people who disagree or even distrust one another is the first step toward building a foundation for collective action in the future.