Could the Iranian Economy Sink Rouhani?
Iranian President Hassan Rouhani is expected to win re-election this May, because he has generally done what he said he would do, and because every president of the Islamic Republic before him has served two terms. But if he loses, he can blame his harsh economic policies, which delivered too little, too late.
CAMBRIDGE – For a "managed democracy," Iran holds remarkably unpredictable presidential elections. And the upcoming election on May 19 is no exception, given that the incumbent, Hassan Rouhani, is facing a tough conservative challenger.
Rouhani's opponent, Ebrahim Raisi, is a high-ranking cleric who is considered to be a possible successor to Iran's Supreme Leader, Ayatollah Ali Khamenei. Raisi's campaign has received a boost following the withdrawal of another hardliner, Mohammad Bagher Qalibaf, the mayor of Tehran, who garnered one-third as many votes as Rouhani in the 2013 election.
When Rouhani was elected in 2013, Iran was suffering from 35% inflation, the national currency had depreciated by two-thirds in the previous year, and international sanctions were crippling the economy. Oil exports and output of automobiles – Iran's leading manufacturing industry – had each declined by two-thirds, and restless industrial workers were demanding back pay.
Rouhani had campaigned against former President Mahmoud Ahmadinejad's populist policies, promising to put jobs and production before redistribution. He said that he would control inflation, negotiate a deal with the West to end the sanctions, and restore macroeconomic stability.
By any reasonable standard, he delivered: inflation is in the single digits for the first time in three decades; sanctions have been lifted in accordance with the 2015 nuclear deal; and the exchange rate has been stable for four years. But, unfortunately for Rouhani, many Iranians who had expected their living standards and employment prospects to improve as a result of these successes are now feeling disappointed.
To be sure, the economy has started to grow again, after contracting for two years. But there is disagreement about the current recovery's breadth and durability. Because much of the recent growth has come from a doubling in oil production, it has not increased most household incomes, or created new employment opportunities. Thus, International Monetary Fund monitors who visit Iran twice a year have projected 6.6% growth for the 2016-2017 fiscal year, but only half that for the 2017-2018 fiscal year.
Survey data show that, outside of Tehran, average real (inflation-adjusted) household expenditures fell during the first two years of Rouhani's term, while poverty rose. In the 2015-2016 fiscal year, there were almost one million more people below the poverty line than when Rouhani took office.
And yet these outcomes do not necessarily amount to broken promises. When voters rallied behind Rouhani's call for lower inflation, they may not have realized that prices rising at a slower rate would also mean slower income growth. And the lay public was not alone: even one of Rouhani's economic advisers initially boasted that people were 20% better off because the rate of inflation had declined by 20 percentage points.
Moreover, Rouhani has pursued a tight fiscal policy that deepened the recession and delayed the recovery. He has kept the government's rate of fixed investment at around 5% of GDP, which is twice what it was under Ahmadinejad, but still too low. Government fixed investment is the traditional driver of economic growth in Iran, and has been as high as 20% of GDP in good times.
Making matters worse, Iran has a major investment bottleneck, owing to collapsing real-estate values and a frozen banking system. Iran's banks are still saddled with bad loans forced on them by Ahmadinejad to finance his populist projects. And the Central Bank of Iran has failed to get credit flowing again, even though it has been pumping money into the economy and increasing liquidity by 26% per year.
As a result, real interest rates have risen to above 10%, choking off private investment. With the state unwilling to spend, and the private sector unable to borrow, total investment fell by 9% in the first nine months of the 2016-2017 fiscal year, after falling by 17% during the same period the previous year.
Despite renewed economic growth, unemployment actually increased in the last four years. Although the economy created more than a half-million jobs each year, new entrants to the labor force pushed up the unemployment rate, from 10.1% to 12.1% – and from 24% to 29% for workers aged 15-24.
Khamenei has led the charge against Rouhani's record on jobs. In a speech in March marking the Iranian new year, he called for a year of "production and employment," and urged the next president to create jobs with local resources, rather than look for assistance abroad.
Rouhani's economic strategy has clearly failed younger Iranians, who account for 60% of the unemployed, and who generally favored him in the 2013 election. But Iran's youth will likely overlook Rouhani's economic-policy shortcomings, and vote for him again, because they prefer his more relaxed social-policy positions to his conservative rival's stern moralizing.
Older Iranians, however, might not be so forgiving. Youth unemployment affects everyone, but particularly the adults who must house and feed the jobless. According to 2015-2016 survey data, of the 65% of men under the age of 35 who lived with their parents, 85% were single, and 24% were unemployed. Marriage and employment are the two defining elements of adult life in Iran. Without them, many young people have turned to crime and drugs, which has had far-reaching adverse effects.
Rouhani has also hiked energy prices by 50%, without increasing cash transfers to the poor. We do not know the extent to which the poor supported Rouhani in 2013; but they are less likely to do so this time. Rouhani severely criticized Ahmadinejad's cash-transfer policy, which was designed to compensate for lost bread and energy subsidies. But even if Ahmadinejad's overzealous attempt to deliver "the oil money to peoples' dinner tables" added to inflationary pressures, it also seems to have reduced poverty and inequality significantly.
Still, Rouhani is expected to win re-election, not least because every president of the Islamic Republic has served two terms. But if he loses, his economic policies – which delivered too little, too late – will be to blame.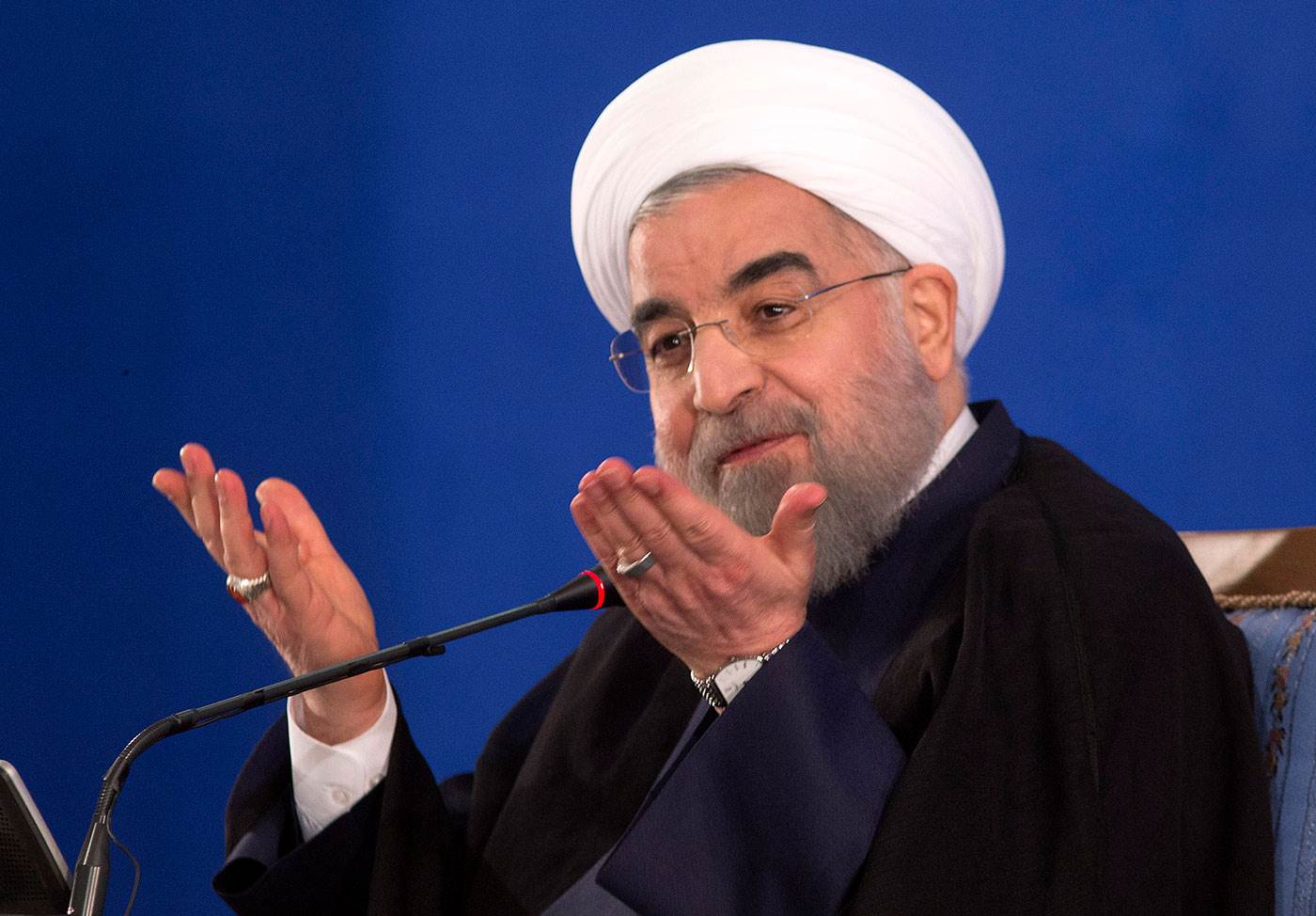 Iran's Long Economic Journey
The landslide re-election of Iran's president, Hassan Rouhani, reflects the by now familiar pattern of continuity and change that has characterized Iran's major elections over the last two decades. But it also stands out in one key way: Rouhani has remained popular despite pursuing painful macroeconomic stabilization.
LONDON – The landslide re-election of Iran's president, Hassan Rouhani, reflects the by now familiar pattern of continuity and change that has characterized Iran's major elections over the last two decades.
For starters, the result defied most expectations. While Rouhani was the favorite, few anticipated his large margin of victory (by winning 57% of the vote, he precluded a runoff). Previous landslide victories in Iran – those of the reformist Mohammad Khatami in 1997, of the little-known populist firebrand Mahmoud Ahmadinejad in 2005, and, arguably, even of Rouhani four years ago – were also largely unexpected outcomes.
The second familiar feature of the latest election was high voter turnout – about 73% – which has been a hallmark of elections involving popular reform-minded candidates. The highest-ever turnout – nearly 85% – was recorded in the disputed 2009 election, when Mir-Hossein Mousavi seemed certain to win, yet Ahmadinejad, the incumbent, was declared the victor.
Such a surge in Iran is usually driven by the passion of women and young people, who hope to benefit from the changes promised by pro-reform candidates. Rouhani, who also benefited from high turnout when he was first elected in 2013, has the added distinction of avoiding the decline in voter-participation rates that is common for incumbents.
The third – and perhaps most significant – familiar element of the latest election is the backdrop against which it took place. When Iran is at a crossroads, a popular reformist candidate emerges, promising to end Iran's international isolation, and his conservative rival defends Iran's insularity as self-reliance and pledges handouts to the people.
Yet there is one important area in which the latest election stands out: the economy. Rouhani inherited an economy beset by stagflation. Despite record oil revenues, GDP contracted by nearly 7% in 2012 and annual inflation rose above 40%, after the near-collapse of the Iranian currency (the rial). When oil prices crashed – by some 70% since mid-2014 – the situation looked even bleaker.
But Rouhani worked hard to free Iran's economy from the shackles of international sanctions. And, in 2015, he secured a deal with six countries – China, France, Germany, Russia, the United Kingdom, and the United States – along with the European Union to halt Iran's nuclear program in exchange for economic relief.
Even as sanctions have been eased, however, Iran's economy has continued to struggle. Despite some progress since the deal came into effect in 2016, foreign investors have remained cautious, owing to lingering US non-nuclear sanctions and banking restrictions. No one wants to fall afoul of the US Treasury.
It is not easy to pursue macroeconomic stabilization and economic growth simultaneously. The problem is accentuated when stabilization is given priority, owing to the economic pain and social backlash that can result. In some cases, stabilization has been accompanied by ruthless political repression. Chile was thus "stabilized" by General Augusto Pinochet's regime in the 1970s. In the 1980s and early 2000s, Turkey, too, achieved macroeconomic stability, which required heavy doses of supply-side medicine – and the iron hand of the state to deliver them.
The Rouhani government's continued popular support may seem surprising, given that it has pursued macroeconomic stability over growth. This is partly a reaction to the excesses of statism under Rouhani's populist predecessor, Ahmadinejad. It also partly reflects the neoliberal credentials of his economic team. Perhaps most important, it underscores Rouhani's hope that the "peace dividend" from the nuclear agreement would be enough to boost lagging domestic demand and offset the impact of fiscal tightening.
Though progress has been slow, Rouhani's achievements are significant. Inflation in Iran has been reduced to single digits (around 9% per year), and growth has reached 5-6%.
To be sure, growth remains uneven and shaky, and mostly reflects the growth of oil output, which has attained its pre-sanctions level of nearly four million barrels a day. Iran's lopsided GDP growth enabled Rouhani's conservative rivals to turn the election into something of a referendum on his economic record. But the scale of Rouhani's victory suggests that the public, though very concerned about the state of the economy, has some hope for his approach.
If Rouhani is to continue to make progress, however, he will need to look beyond current conditions to address entrenched structural challenges facing the Iranian economy, as well as the limitations of the Islamic Republic's institutional, judicial, and legal frameworks.
The first structural challenge lies in Iran's excessive dependence on the oil sector. Despite recent reductions in oil income, the sector still accounts for over 70% of total exports. If the country is to achieve sustainable, broad-based, and inclusive economic growth, diversification is critical.
The second structural challenge is demographic. Iran's large youth population can be a powerful driver of growth. But, to tap that potential, there is an urgent need to create jobs, thereby reducing youth unemployment, which stood at 29.4% in 2014 (when total unemployment was 12.8%).
But what ultimately defines the Islamic Republic is its unique institutional makeup. Arguably the world's only theocracy, the Iranian system requires reconciling the demands of a rapidly changing twenty-first-century economy with the traditional values of spiritual leaders and aging clergymen. Given the challenges of modernizing an economy within the parameters of a theocratic state, structural adjustment and global integration are likely to be prolonged processes.
In his endorsement of Rouhani, Khatami called on Iranian voters to support the president's program as a journey that is only half-complete. Judging by Rouhani's resounding electoral victory, it seems that Iranians are willing to give him the chance to attempt to finish what he started.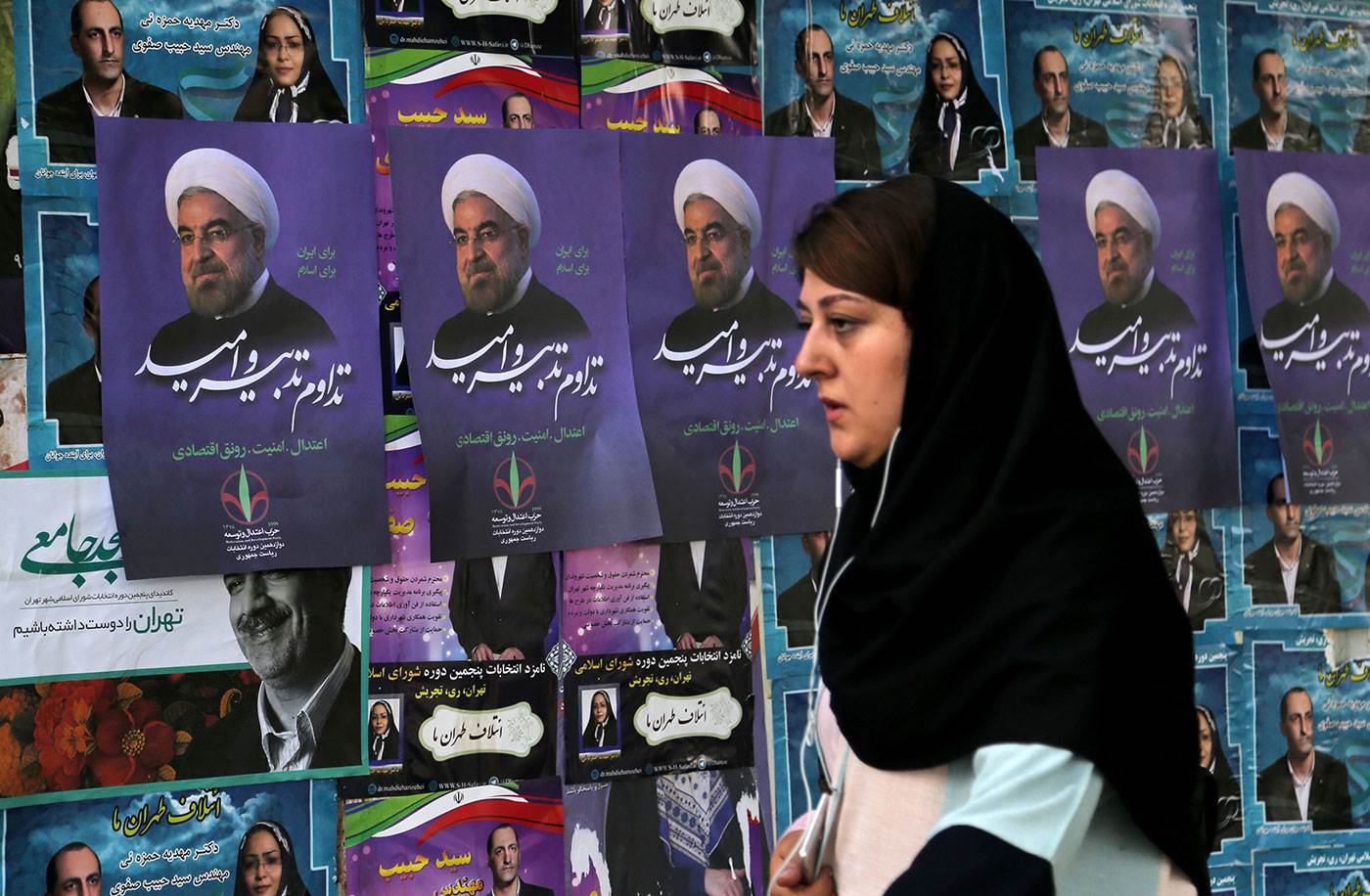 The Rouhani Factor
In the 1980s, the US did not formulate its policy toward the Soviet bloc without careful consideration of political developments there. It would be folly for the US to formulate policy on Iran without giving domestic developments there the attention they deserve.
PALO ALTO – Iran's presidential election on May 19 was paradoxical and potentially pivotal. It began as a sleepy affair – a likely victory for the incumbent, Hassan Rouhani, running against a motley crew of conservative has-beens or upstarts. Moreover, a two-term presidency has been the default in the Islamic Republic since 1981. Early attacks on Rouhani were thus seen as efforts by Supreme Leader Ali Khamenei, his conservative clerical allies, and the Revolutionary Guards to weaken and contain the incumbent in his second term.
But then the election became a heated contest, as the conservatives coalesced around a dark horse candidate, Ebrahim Raisi, a hardline jurist with a history of brutality against the opposition. The fact that Khamenei had earlier named Raisi to head the largest religious endowment in Iran was now seen not as a sinecure, but as a move to position him as a possible future Supreme Leader.
It was widely believed that a win for Raisi would virtually guarantee his success in the eventual battle to succeed Khamenei, who himself had been President when he was catapulted to the position of Supreme Leader, following the death of Ayatollah Ruhollah Khomeini. With Khamenei reported to be suffering from cancer, the question of succession has become acute. As a result, the conservatives' considerable ideological, institutional, and propaganda apparatus was mobilized in favor of Raisi, and against Rouhani.
In response, the hitherto careful and pragmatic Rouhani threw caution to the wind and unabashedly embraced the reform movement's criticisms of the status quo. The grassroots of Iran's reform and democratic movement – students, women, artists, and Iran's quietly relentless civil society – swung into action and turned the election into a surprisingly heated referendum on the country's future.
Social media were widely used by both sides. Supporters of Rouhani used online platforms not only to mobilize voters, but also to fact-check Raisi's proposals and expose his past actions in suppressing the opposition. More than once, Rouhani supporters subtly referred to the question of succession, by suggesting that the election was about Iran's fortunes for the next 40 years.
Conservatives used both social media and their control of Iranian radio and television to highlight the dire economic situation and Rouhani's unfulfilled promises that all international sanctions would be lifted after Iran agreed in 2015 to the nuclear deal with the United Nations (and by extension, the United States).
As a result, it became clear that two competing political paradigms were fighting for the soul of the Islamic Republic. The conservatives are animated by a desire to maintain their grip on Iran's state-dominated economy; a preference for pious managers over technocrats; aversion to globalism; a proclivity to align Iran with Russia (and China) against the West, especially the US; persistent pursuit of Shia power by expanding Iran's support for the likes of Syrian President Bashar al-Assad and Hezbollah in Lebanon; antipathy toward cultural openness; and persistent misogyny.
In the past three elections, this paradigm has usually managed to gain 15-17 million votes. (The only exception was the widely disputed 2009 election, in which the conservative Mahmoud Ahmadinejad supposedly received more than 25 million votes, giving the world the "miracle" of his second term.) In order to increase his share of the vote, Raisi promised to triple the monthly cash subsidies paid by the government to virtually every citizen.
The reformist paradigm, by contrast, advocates a more open society; a government managed by competent technocrats; an end to crony capitalism; a vigorous effort to attract foreign direct investment; less censorship; a more conciliatory relationship with Iran's vast and powerful diaspora; and greater equality for women and marginalized religious and ethnic minorities. They also dismiss the idea of increasing cash subsidies as economically foolhardy and fiscally unaffordable.
Some 40 million of Iran's 55 million eligible voters – nearly 73% – went to the polls, often braving long lines. Twenty-five million of those 40 million (62.5%) voted for the reformist paradigm, delivering a landslide victory to Rouhani.
At the same time, reformist candidates for city councils scored major victories throughout the country. In Tehran, for example, the reformist slate won every seat, ensuring that the current mayor – himself a conservative presidential candidate – will soon be out of a job. Even in Meshed, Raisi's hometown and a bastion of conservative clerical power, a reformist woman candidate won more votes than any male.
And yet, if the past is any indication, Rouhani's decisive victory does not mean the end of conservative power. Khamenei, relying on the Revolutionary Guards, has a disproportionate share of power. In any case, Iran's future trajectory will be determined not only by Rouhani and the conservative camp, but also by regional developments and the policy adopted by US President Donald Trump's administration.
In the 1980s, the US did not formulate its policy toward the Soviet bloc without careful consideration of political developments there. It would be folly for the US to formulate policy on Iran and the Middle East without giving domestic developments there the attention they deserve.