A People's Democracy in America
In November 2016, even as Donald Trump was winning the presidency, minimum-wage increases passed in Arizona, Colorado, Maine, and Washington by margins of 10-18 percentage points. And this year, initiatives for democratic reforms are in the process of being qualified across the country.
BERKELEY – You've probably heard this before: Markets are soaring, and wealth is growing, but most of the gains are going to those at the top. Rapid technological advances are transforming daily life and creating new industries, but are also fueling anxiety about lost jobs and occupations. People are increasingly angry at giant corporations' perceived monopolistic power. Cities are thriving as magnets for the wealthy and ambitious, but rural residents often feel left behind. Anti-immigrant sentiment has become intense, and sometimes violent. Women are challenging male power in viral protests. Political corruption is fueling widespread fury, with many convinced that moneyed interests have captured their democratic institutions. Trust in political parties is at new lows. And amid all the dismay and dysfunction, some of the new plutocrats have stepped up as philanthropists to underwrite social reform.
Yes, it all sounds like Trump-era America. But these conditions also prevailed more than a century ago, during the Progressive Era of the early 1900s.
Disgusted by the massive inequalities of the Gilded Age, the first Progressives sought comprehensive reform. Changes to the US Constitution adopted during this period include the introduction of the federal income tax with the Sixteenth Amendment, direct election of senators with the Seventeenth Amendment, the prohibition of alcohol with the Eighteenth Amendment (some ideas were really bad), and women's suffrage with the Nineteenth Amendment.
Progressives wanted citizens to rule more directly, overturning a powerful and often corrupt political-industrial complex that had gradually usurped their rights. They championed recall votes as a way to remove leaders and officials serving vested interests rather than citizens. They created direct primary elections, empowering citizens to choose which candidates to nominate, thereby undermining the power of party "machines." And in 1902, Progressives in Oregon won overwhelmingly approval of a ballot measure creating the initiative and referendum processes. Since then, most states have adopted these fundamental democratic processes, enabling citizens to introduce or approve proposed laws or amendments to their state constitutions.
As James Fishkin of Stanford has written, "deliberative democracy" has a long history, extending back to the original democracy in Greece in the fifth century, BC. In this model, informed and engaged citizens directly set the agenda for their representatives (though not with the Greeks' narrowly circumscribed definition of who is a citizen).
Today, a new generation of progressive federalists are leveraging the initiative process to give citizens power over policy. The specifics of how citizens can put measures to a popular vote or require the legislature to address them vary substantially from place to place, but 26 states and hundreds of cities, accounting for more than 70% of the US population, have initiatives in their governance tool box.
Sometimes initiatives have created ongoing challenges for elected leaders, as has been the case with California's Proposition 13, which capped state property taxes when it passed in 1978. And sometimes they have addressed frivolous issues, as was the case with a failed attempt in 2016 to require condoms in pornography. But they have also been fundamental to major reforms that have reshaped governance, especially in California. Citizen-based redistricting, open primaries, changes to term limits, majority-vote budgets, a rainy-day fund, and legislative transparency have all been the direct result of civic-minded leaders deploying the initiative process for the public good.
California is not alone. In the last several years, the initiative process has led to redistricting in Arizona, and ranked-choice voting in Maine. In many other states, voters have approved public financing of elections, the adoption and preservation of Medicaid expansion, and marijuana legalization. Voter initiatives in several cities have also resulted in significant increases in the minimum wage and other worker benefits. On average, 150-200 initiative measures are on the ballot in states across the US every election year.
Now, leading reformers are seeking to launch a movement to use initiatives in a more coordinated national campaign. The lessons learned from the minimum-wage campaigns show the promise of such an effort. Beginning in mid-2016 in California and Washington, DC, ballot measures to raise minimum wages passed with overwhelming support. In November 2016, even as Donald Trump was winning the presidency, minimum-wage increases passed in Arizona, Colorado, Maine, and Washington by margins of 10-18 percentage points. Total spending of $25 million (less than was spent on a special election for the House of Representatives in Georgia) brought 8.1 million workers in six states a pay raise of over $2.5 billion (growing to more than $20 billion when fully implemented).
In November of this year, Maine shocked observers again, when voters there approved Medicaid expansion by 59-41%, overturning five vetoes by Governor Paul LePage of legislative efforts in favor of the expansion. For a total campaign cost of $1.7 million, 89,000 Maine citizens now stand to gain health insurance.
Watch this space. In 2018, initiatives for democratic reforms – including redistricting, stricter ethics standards, and broader voting rights – are in the process of being qualified across the country. These measures build on a legacy of reforms that have spread across the country over the last few election cycles.
The original Progressives would be proud. It may have taken more than a century, but their effort to ensure that democracy actually works, by putting power in the hands of citizens through the initiative process, created what may be the most powerful reform tool in US history. Let's hope so.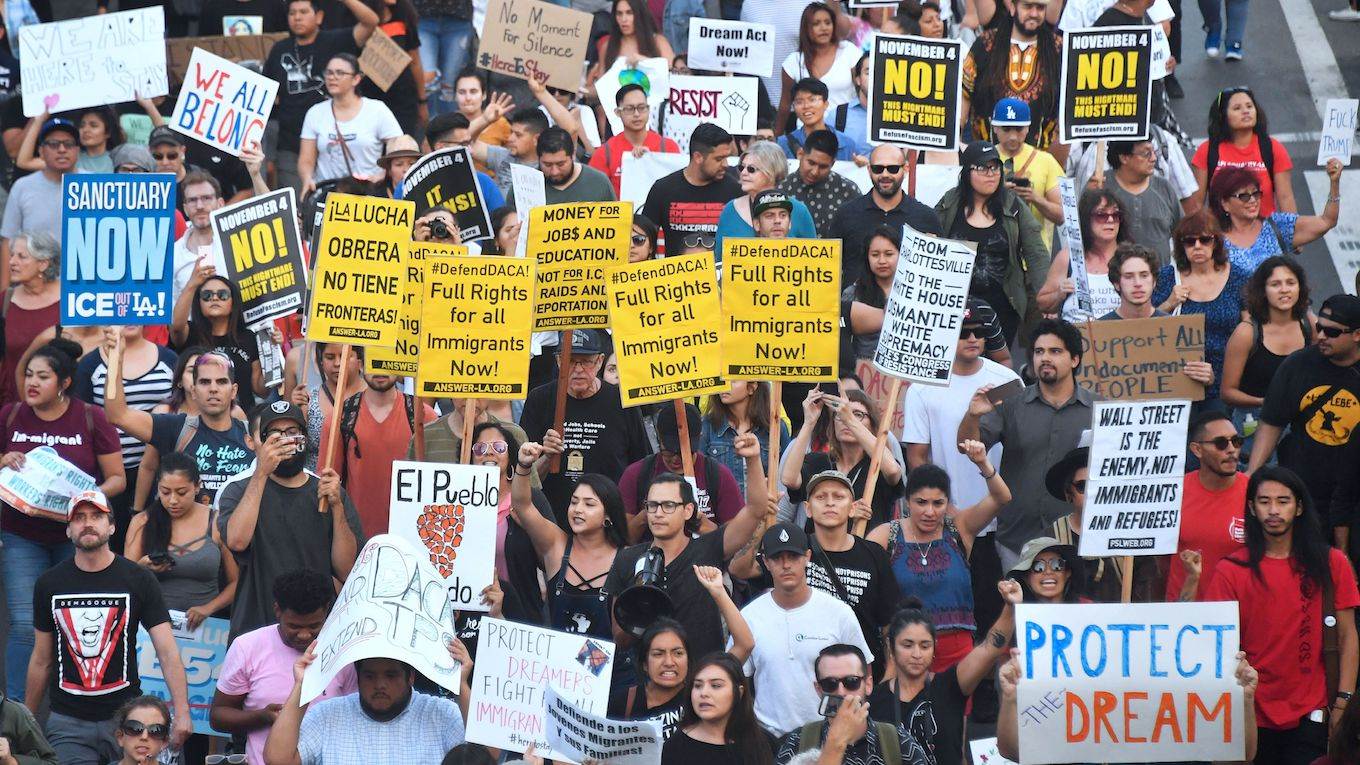 California's War With Trump
Since US President Donald Trump took office, governments in states like California have sought ways to negate his policies on taxation, immigration, energy, and more. How this standoff will end is anyone's guess; but where it will end is clear: in the courts.
STANFORD – If one looks past the headlines of the media's full-time Donald Trump coverage, one can discern a global shift in political, economic, and cultural forces that might prove far more consequential for America and the world than the actual Trump presidency. Chief among these changes is the fraying of relations between central and subnational, and national and supranational, governments.
Americans primarily interact with government at the state and local level, through schools and roads, police and hospitals. And in California, among other states, demands for greater local autonomy are growing louder, occasionally echoing the rhetoric of Catalan secessionists or Brexiteers in the United Kingdom. With near-monopoly control of California's state and local governments, the Democrats are trying to negate the effects of virtually all of Trump's policies.
For example, a bill in the state legislature would offset the new federal tax law's limit on state income- and property-tax deductions – a provision that will hit California hard because it has one of the highest tax rates in the country, and its residents own expensive homes. Under the proposed state law, Californians would be allowed to "donate" their state taxes to a state shell charity as tax-deductible charitable contributions.
But the Internal Revenue Service will quickly see through this ruse. Charitable contributions are deductible at the federal level only if the donor receives no more than incidental value for the contribution, which obviously wouldn't be the case in this situation. In fact, not even the fair-market value of a meal at a charity dinner is deductible.
Effective next year, the new federal tax law also repeals the individual mandate of the 2010 Affordable Care Act (Obamacare), which imposes a fine on those who do not purchase health insurance. Because the repeal could accelerate a surge in Obamacare insurance premiums, many California Democrats are demanding a single-payer government-funded health-care system, like those in Canada and Europe. Never mind that such a system might triple the state budget.
Moreover, because California considers itself the vanguard of green energy, state agencies have responded to Trump's proposal to open up offshore oil drilling by threatening to ban the transportation of oil through the state, even in existing pipelines.
The source of the most contentious disagreement is immigration policy. Since declaring itself a "sanctuary city" in 1989, San Francisco has prohibited its police force from cooperating fully with federal immigration agents. But, as of last year, the entire state has been declared a "sanctuary," and California Attorney General Xavier Becerra now plans to fine employers that cooperate with federal immigration officials. With tensions between federal and state law-enforcement agencies rising, many Californians are being put in the untenable position of paying state fines or violating federal laws.
On all of these issues, there are two opposing, partly valid arguments. Consider immigration. While the overwhelming majority of illegal immigrants are working to support their families and improve the lives of their children, some commit serious crimes or belong to violent gangs. Trump focuses on the latter to make the case for increased border security, often invoking examples of Americans killed by illegal immigrants who have returned after being repeatedly deported. Trump's opponents argue that illegal immigrants themselves are often victims of – or witnesses to – serious crimes, but are reluctant to go to the police because they fear deportation.
Both sides have a point; but, sadly, they have ceased engaging with each other. Thus, when the Trump White House recently proposed a plan for immigration reform that offered something to both sides, it was instantly denounced by anti-immigration activists and pro-immigration crusaders alike.
Specifically, the plan would grant permanent legal status and a path to citizenship for 1.8 million people who were brought or sent to the country illegally as children. That is more than twice the number of people who were protected under former President Barack Obama's Deferred Action for Childhood Arrivals (DACA) program. In exchange, Trump wants an additional $25 billion for security on the border with Mexico – including his promised wall – and reforms to limit family-based legal immigration and favor higher-skilled workers, which is the norm in most developed countries.
Anti-immigration hardliners have rejected Trump's plan as a form of amnesty. At the same time, the Democratic leader in the House of Representatives, Nancy Pelosi, has described it as a scheme to "make America white again." But here's the rub: The Trump administration's plan is the most realistic immigration-reform proposal in decades. If the Democrats were smart, they would curb their detestation, and recognize that Trump's credibility with anti-immigration Republicans puts him in an ideal position to negotiate a bipartisan package.
As California continues its efforts to negate the Trump administration's policies, one wonders if its approach will lead to a constitutional challenge. States certainly have the legal authority to adopt policies that are at odds with federal policy. In fact, the Tenth Amendment of the US Constitution explicitly reserves for the states all powers not delegated to the federal government. And states may sue the federal government, as Republican governors and attorneys general have done to overturn several Obama-era regulations and executive orders.
But the US Supreme Court has repeatedly ruled that states may not nullify or contravene federal law – a right some southern states claimed in the mid-twentieth century to resist school integration. This is a constitutional principle that dates back to the mid-nineteenth century, when the Supreme Court overturned a Wisconsin Supreme Court ruling that nullified the abominable Fugitive Slave Act of 1850.
In less than nine months, California will hold elections for governor, a US Senate seat, and 53 seats in the House. So, the rhetoric of "resistance" to Trump is likely to become even more heated – and the courts are likely to find themselves ever busier sorting out what is and is not legal.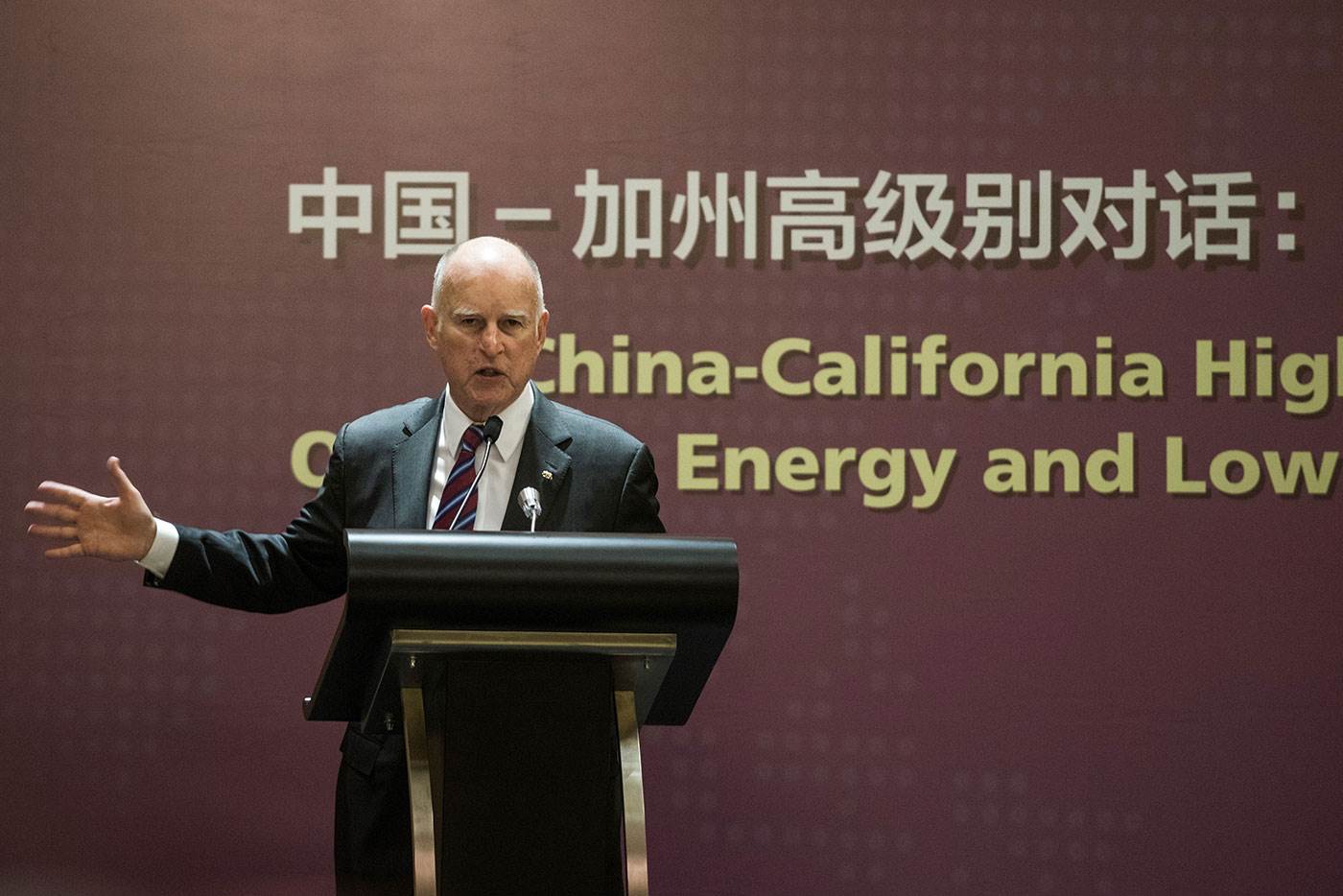 Can US States Right Trump's Wrongs?
This is a good time to remember that the US is a federal system, not a unitary state with an all-powerful central government. So, can Americans who oppose the contraction of social programs and revocation of progressive federal legislation use US states' authority to counter these trends?
VENICE – US President Donald Trump, with the help of a Republican-controlled Congress, is undermining many of the fundamental values that Americans hold dear. He is jeopardizing their access to health care by seeking to repeal the 2010 Affordable Care Act ("Obamacare"). His budget proposes massive cuts in everything from early childhood education to food stamps and medical research. His tax reform plan, and especially its much lower top rate for "pass-through" business income, implies significant further redistribution of income to the wealthy.
Most recently, his misguided decision to withdraw from the Paris climate agreement jeopardizes America's global standing. Worse, it puts the health and welfare of the planet at risk.
This is a good time to remember that the United States is a federal system, not a unitary state with an all-powerful central government (think France). Its system is enshrined in the Tenth Amendment of the US Constitution, which stipulates that all powers not expressly assigned to the federal government are "reserved to the states."
Traditionally, states' rights were invoked by southern states to defend slavery, and then nearly a century of Jim Crow (the legal framework for racial segregation), from federal interference, thereby preserving southern business owners' and farmers' control of their black labor force. More recently, socially conservative states have appealed to the Tenth Amendment to oppose progressive legislation and the expansion of federal powers more generally.
Now the tables have turned. Can Americans who oppose the contraction of social programs and revocation of progressive federal legislation use states' rights to counter these trends?
Consider environmental policy. California already has its own relatively stringent standards for vehicle emissions. Fourteen other states have adopted those standards, which therefore cover 40% of the US population. Auto companies can't afford to produce two different sets of cars for states with strict and lenient emission rules. So California could well dictate emissions standards for the country.
Moreover, one can imagine California signing voluntary climate deals with China and other countries in an effort to restore the culture of oversight and accountability of the Paris accord. Indeed, the state's cap-and-trade carbon program is the model for the carbon-trading scheme that Chinese officials are currently considering. It is worth recalling that California is the world's sixth largest economy, a fact that makes it a plausible interlocutor for environmentally conscious countries.
After that, however, it gets harder. The California State Senate just passed a bill to create a single-payer health plan without specifying how to pay for it. One possibility is a 15% payroll tax. Another is to plow Medicare dollars provided by the federal government into the plan. But it is unclear whether either approach is politically viable.
Like the residents of other "blue" (Democratic) states, Californians clearly prefer more spending on education and social services. The problem is that they are already subject to some of the highest personal income and business taxes in the country. Groups like the Howard Jarvis Taxpayers Association warn that further increases could lead to a massive exodus of businesses and jobs.
Two of my Berkeley colleagues, Emmanuel Saez and Gabriel Zucman, have come up with a two-part solution to this problem. First, they would tax the global profits of companies on the basis of the share of their sales occurring in California. Second, they would levy a modest 1% wealth tax on residents with assets of more than $20 million. Critics will warn of a brain drain, but do we really think that a 1% tax would convince, say, the venture capitalist Peter Thiel to pack up and move to New Zealand?
There are two scenarios – one benign, the other vindictive – for what another of my Berkeley colleagues, Laura Tyson, has called "progressive federalism."
In the benign scenario, people will club together in different states on the basis of their preferences for big or small government, public or private provision of services, and international cooperation or isolationism. Mick Mulvaney, Trump's budget director, has himself made the case. "If you live in a state that wants to mandate maternity coverage for everybody, including 60-year-old women, that's fine," And if you don't, "then you can figure out a way to change the state that you live in" or alter "state legislatures and state laws," in Mulvaney's words. "Why do we look to the federal government to try and fix our local problems?"
In the vindictive scenario, by contrast, Trump and the Congress could seek to limit progressive states' rights. They could prohibit use of Medicare funds for single-payer health plans. They could refuse to renew the waiver of Environmental Protection Agency regulations that allows California to impose its more stringent emissions standards.
They could invoke the Commerce Clause of the Constitution as part of an effort to prevent states from signing climate accords with foreign countries. They could eliminate the federal deductibility of state taxes to increase the cost of funding state programs. They could curtail federal support for public services in sanctuary cities and states with immigrant-friendly policies.
We Americans are about to find out in which US, benign or vindictive, we now live.