Can the Euro Be Saved?
Across the eurozone, political leaders are entering a state of paralysis: citizens want to remain in the EU, but they also want an end to austerity and the return of prosperity. So long as Germany tells them they can't have both, there can be only one outcome: more pain, more suffering, more unemployment, and even slower growth.
NEW YORK – The euro may be approaching another crisis. Italy, the eurozone's third largest economy, has chosen what can at best be described as a Euroskeptic government. This should surprise no one. The backlash in Italy is another predictable (and predicted) episode in the long saga of a poorly designed currency arrangement, in which the dominant power, Germany, impedes the necessary reforms and insists on policies that exacerbate the inherent problems, using rhetoric seemingly intended to inflame passions.
Italy has been performing poorly since the euro's launch. Its real (inflation-adjusted) GDP in 2016 was the same as it was in 2001. But the eurozone as a whole has not been doing well, either. From 2008 to 2016, its real GDP increased by just 3% in total. In 2000, a year after the euro was introduced, the US economy was only 13% larger than the eurozone; by 2016 it was 26% larger. After real growth of around 2.4% in 2017 – not enough to reverse the damage of a decade of malaise – the eurozone economy is faltering again.
If one country does poorly, blame the country; if many countries are doing poorly, blame the system. And as I put it in my book The Euro: How a Common Currency Threatens the Future of Europe, the euro was a system almost designed to fail. It took away governments' main adjustment mechanisms (interest and exchange rates); and, rather than creating new institutions to help countries cope with the diverse situations in which they find themselves, it imposed new strictures – often based on discredited economic and political theories – on deficits, debt, and even structural policies.
The euro was supposed to bring shared prosperity, which would enhance solidarity and advance the goal of European integration. In fact, it has done just the opposite, slowing growth and sowing discord.
The problem is not a shortage of ideas about how to move forward. French President Emmanuel Macron, in two speeches, at the Sorbonne last September, and when he received the Charlemagne Prize for European Unity in May, has articulated a clear vision for Europe's future. But German Chancellor Angela Merkel has effectively thrown cold water on his proposals, suggesting, for example, risibly small amounts of money for investment in areas that urgently need it.
In my book, I emphasized the urgent need for a common deposit insurance scheme, to prevent runs against banking systems in weak countries. Germany seems to recognize the importance of a banking union for the functioning of a single currency, but, like St. Augustine, its response has been, "O Lord, make me pure, but not yet." Banking union apparently is a reform to be undertaken sometime in the future, never mind how much damage is done in the present.
The central problem in a currency area is how to correct exchange-rate misalignments like the one now affecting Italy. Germany's answer is to put the burden on the weak countries already suffering from high unemployment and low growth rates. We know where this leads: more pain, more suffering, more unemployment, and even slower growth. Even if growth eventually recovers, GDP never reaches the level it would have attained had a more sensible strategy been pursued. The alternative is to shift more of the burden of adjustment on the strong countries, with higher wages and stronger demand supported by government investment programs.
We have seen the first and second acts of this play many times already. A new government is elected, promising to do a better job negotiating with the Germans to end austerity and design a more reasonable structural reform program. If the Germans budge at all, it is not enough to change the economic course. Anti-German sentiment increases, and any government, whether center-left or center-right, that hints at necessary reforms is thrown out of office. Anti-establishment parties gain. Gridlock emerges.
Across the eurozone, political leaders are moving into a state of paralysis: citizens want to remain in the EU, but also want an end to austerity and the return of prosperity. They are told they can't have both. Ever hopeful of a change of heart in northern Europe, troubled governments stay the course, and the suffering of their people increases.
Portuguese Prime Minister António Costa's socialist-led government is the exception to this pattern. Costa managed to lead his country back to growth (2.7% in 2017) and achieve a high degree of popularity (44% of Portuguese thought the government was performing above expectations in April 2018).
Italy may prove to be another exception – though in a very different sense. There, anti-euro sentiment is coming from both the left and the right. With his far-right League party now in power, Matteo Salvini, the party's leader and an experienced politician, might actually carry out the kinds of threats that neophytes elsewhere were afraid to implement. Italy is large enough, with enough good and creative economists, to manage a de facto departure – establishing in effect a flexible dual currency that could help restore prosperity. This would violate euro rules, but the burden of a de jure departure, with all of its consequences, would be shifted to Brussels and Frankfurt, with Italy counting on EU paralysis to prevent the final break. Whatever the outcome, the eurozone will be left in tatters.
It doesn't have to come to this. Germany and other countries in northern Europe can save the euro by showing more humanity and more flexibility. But, having watched the first acts of this play so many times, I am not counting on them to change the plot.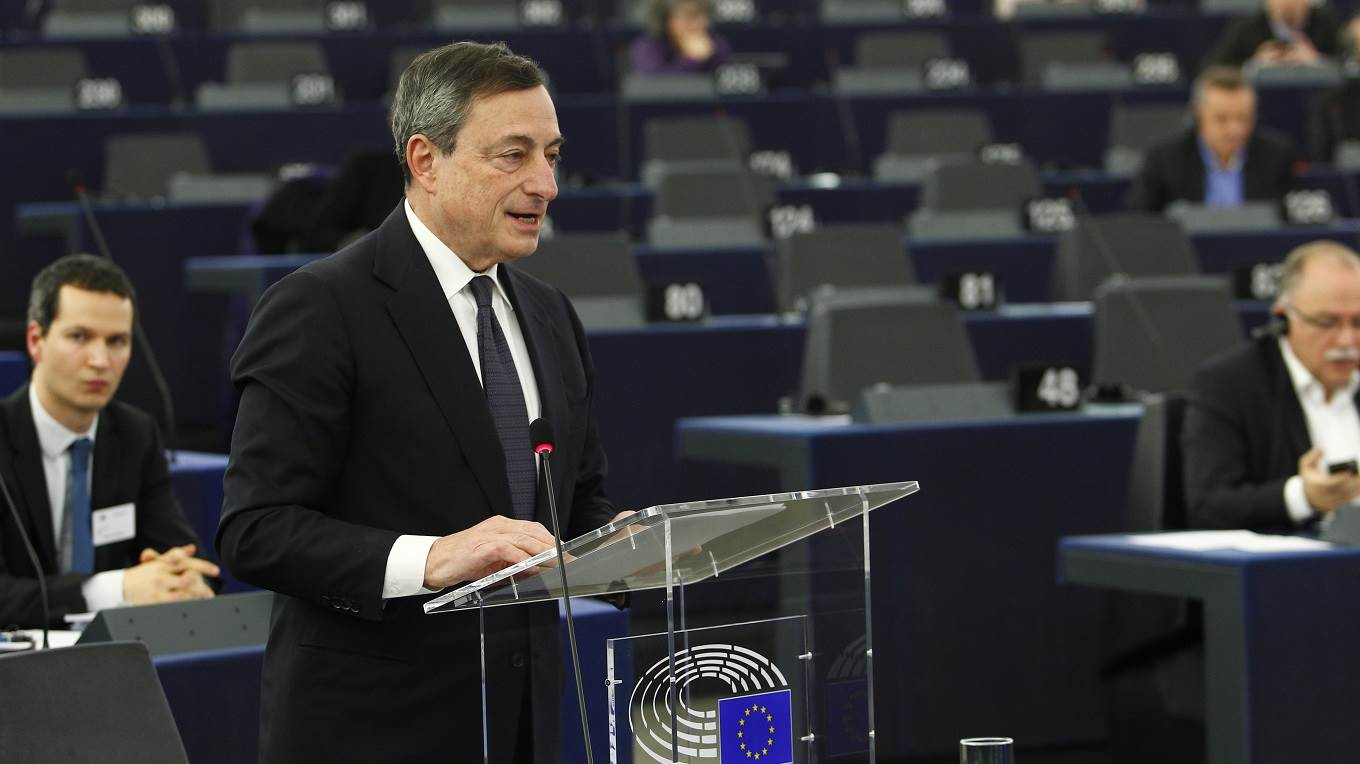 How Democratic Is the Euro?
If the European Union is to remain viable and democratic at the same time, policymakers will have to pay closer attention to the demanding requirements of delegating decisions to unelected bodies. They should promote such a delegation of sovereignty only when it truly enhances the long-term performance of their democracies.
SAN SERVOLO, ITALY – When Italy's president recently vetoed the appointment of the Euroskeptic Paolo Savona as finance minister in the government proposed by the Five Star Movement-League party alliance, did he safeguard or undermine his country's democracy? Beyond constitutional strictures specific to the Italian context, the question goes to the heart of democratic legitimacy. The difficult issues it raises need to be addressed in a principled and appropriate manner if our liberal democracies are to be restored to their health.
The euro represents a treaty commitment from which there is no clear exit within prevailing rules of the game. President Sergio Mattarella and his defenders point out that an exit from the euro had not been subject to debate in the election campaign that brought the populist coalition to power, and that Savona's appointment threatened a financial market meltdown and economic chaos. Mattarella's detractors argue that he overstepped his authority and has allowed financial markets to veto the selection of a minister by a popularly elected government.
By joining the euro, Italy surrendered monetary sovereignty to an external, independent decision-maker, the European Central Bank. It also undertook specific commitments with respect to the conduct of its fiscal policy, though these constraints are not as "hard" as those framing monetary policy. These obligations place real limits on the Italian authorities' macroeconomic policy choices. In particular, the absence of a domestic currency means Italians cannot choose their own inflation target or devalue their currency vis-à-vis foreign currencies. They also have to keep their fiscal deficits below certain ceilings.
Such external restraints on policy action need not conflict with democracy. Sometimes it makes sense for the electorate to tie its hands when doing so helps it achieve better outcomes. Hence the principle of "democratic delegation": Democracies can enhance their performance by delegating aspects of decision-making to independent agencies.
The canonical case for democratic delegation arises when there is a paramount need for credible commitment to a particular course of action. Monetary policy is perhaps the clearest instance of this. Many economists subscribe to the view that central banks can generate output and employment gains through expansionary monetary policy only if they are able to produce surprise inflation in the short run. But, because expectations adjust to central bank behavior, discretionary monetary policy is futile: it yields higher inflation but no output or employment increases. Accordingly, it is far better to insulate monetary policy from political pressures by delegating it to technocratic, independent central banks that are charged with the singular objective of price stability.
Superficially, the euro and the ECB can be seen as the solution to this inflationary conundrum in the European context. They protect the Italian electorate from their politicians' counterproductive inflationary tendencies. But there are peculiarities to the European situation that make the democratic delegation argument more suspect.
For one thing, the ECB is an international institution, bearing responsibility for monetary policy for the eurozone as a whole rather than Italy alone. As a result, it will be generally less responsive to Italian economic circumstances than a purely Italian, but equally independent central bank would have been. This problem is aggravated by the fact that the ECB chooses its own inflation target, which was last defined in 2003 as "below, but close to, 2% over the medium term."
It is difficult to justify the delegation of the inflation target itself to unelected technocrats. When some countries in the eurozone are hit by adverse demand shocks, the target determines the extent of painful wage and price deflation these countries must undergo to readjust. The lower the target, the more deflation they must bear. There was a good economic argument for the ECB to have lifted its inflation target following the euro crisis to facilitate competitiveness adjustments in Southern Europe. Insulation from political accountability was probably a bad thing in this case.
As Paul Tucker, a former deputy governor of the Bank of England, discusses in his masterful recent book Unelected Power: The Quest for Legitimacy in Central Banking and the Administrative State, the argument for democratic delegation is a subtle one. The distinction between policy goals and how they are implemented needs to be clear. Insofar as they entail distributional consequences or tradeoffs between contending goals (employment versus price stability, for example), policy objectives have to be determined through politics. Delegation is warranted at best in the conduct of policy that serves politically determined objectives. Tucker argues, correctly, that few independent agencies are based on a careful application of principles that would pass the test of democratic legitimacy.
This shortcoming is far worse in the case of delegation to international agencies or treaties. Too often, international economic commitments serve not to fix democratic failures at home, but to privilege corporate or financial interests and undermine domestic social bargains. The European Union's legitimacy deficit derives from the popular suspicion that its institutional arrangements have veered too far from the former to the latter. When Mattarella cited the reaction of financial markets in justifying his veto of Savona, he reinforced those suspicions.
If the euro – and indeed the EU itself – is to remain viable and democratic at the same time, policymakers will have to pay closer attention to the demanding requirements of delegating decisions to unelected bodies. This does not mean that they should resist surrendering sovereignty to supranational agencies at all costs. But they should recognize that economists' and other technocrats' policy preferences rarely endow policies with sufficient democratic legitimacy on their own. They should promote such a delegation of sovereignty only when it truly enhances the long-term performance of their democracies, not when it merely advances the interests of globalist elites.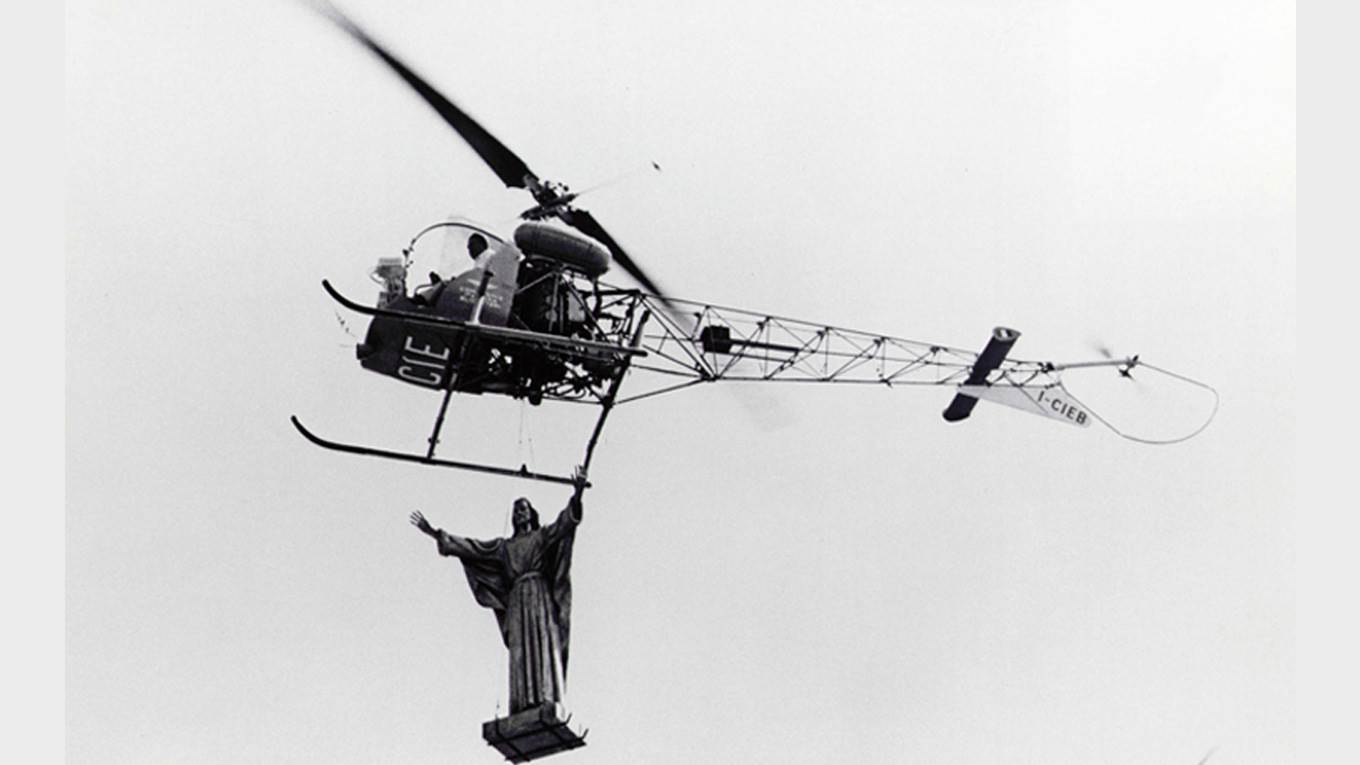 The Italian Economy's Moment of Truth
Unlike many other European countries, Italy still has not restored economic growth to its pre-crisis level – a fundamental failing that lies at the heart of many of its political problems. Now that a new anti-establishment government is taking power, it remains to be seen if the economy will be remade, or broken further.
MILAN – Italy and Europe are at an inflection point. After an election in March in which the anti-establishment Five Star Movement (M5S) and the far-right League party captured a combined parliamentary majority, followed by months of uncertainty, Italy has become the first major EU member state to be governed by a populist coalition.
M5S and the League both openly question the benefits of eurozone membership, though neither party made leaving the euro a specific commitment of their governing program in the election campaign, a failure that Italian President Sergio Mattarella seized upon in vetoing key cabinet pick. They also disdain globalization more generally. The League, in particular, is obsessed with cracking down on immigration. On the domestic front, both parties have promised to tackle corruption and topple what they see as a self-serving political establishment, while introducing radical policies to reduce unemployment and redistribute incomes.
Still, we won't know the precise dimensions of the M5S/League agenda until the populist coalition begins governing in earnest. There are rumors that the parties want to write down Italy's sovereign debt, which currently stands at a relatively stable level of just over 130% of GDP. If they did, a Greek-style confrontation with the European Union would seem certain to follow, with interest rates and spreads on Italian sovereign debt increasing rapidly, especially if the European Central Bank decided that its mandate precluded it from intervening.
In such a scenario, Italian banks currently holding considerable amounts of government debt would suffer substantial balance-sheet damage. The risk of deposit flight could not be excluded.
Unlike most eurozone countries, Italy's nominal (non-inflation-adjusted) growth is too weak to produce substantial deleveraging, even at today's low interest rates. Other things being equal, a rise in nominal interest rates would thus produce rising debt ratios and further constrain the government's fiscal space, with adverse knock-on effects for growth and employment. And, unlike most of the rest of Europe, Italy's real per capita GDP remains well below its 2007 pre-crisis peak, indicating that the restoration of growth remains a key challenge.
Whether any of the risks Italy now faces will materialize depends on whether the incoming government accepts reality and pursues prudent action and policies to spur more inclusive growth.
The outcome in Italy resonates beyond Europe, because political developments there are consistent with a worldwide retreat from globalization and growing demands for national governments to reassert control over the flow of goods and services, capital, people, and information/data. Looking back, this worldwide trend seems to have been inevitable. For years, global market forces and powerful new technologies have plainly outstripped governments' capacity to adapt to economic change.
Broadly speaking, then, Italy's situation is not unique. And yet, more than many other countries, it desperately needs an agenda that ensures macroeconomic stability and encourages inclusiveness growth. That means more employment, more equitably distributed incomes and wealth, and more entrepreneurial opportunities.
Without greater economic inclusiveness, Italy could soon find that its leading export is talented young people. Mobile workers in their prime will seek outlets for their skills, creativity, and entrepreneurial impulses elsewhere, and Italy will have lost one of the principal engines of economic dynamism, growth, and adaptability.
Outside of financial and economic circles, foreigners tend to see a different and important side of Italy. They see a country of stunning beauty that is rich in intangible assets, culture, and creative industries, and home to many of the world's most sought-after travel destinations. Those in academia or certain business sectors know about its centers of excellence in biomedical science, robotics, and artificial intelligence, and that Italian researchers, technologists, and entrepreneurs figure prominently in innovation hubs worldwide. And others are no doubt aware that Italian governments tend to come and go rather frequently, and that the economy and society have rarely suffered undue disruptions as a result.
In fact, international observers and Italians would all agree: Italy has enormous economic potential. But the challenge lies in unlocking it, which will require several things to happen.
For starters, the Italian government needs to root out corruption and self-dealing, and demonstrate a much stronger commitment to the public interest. The populists are probably right about these problems. And they are probably right that a reassertion of greater sovereignty over the key flows of globalization is necessary to counter the centrifugal political, social, and technological forces sweeping across advanced countries.
Moreover, Italy needs to develop the entrepreneurial ecosystems that underpin dynamism and innovation. As matters stand, the financial sector is too closed, and it provides too little funding and support for new ventures. There are major opportunities in e-commerce, mobile-payment systems, and social-media platforms to lower entry barriers and promote innovation. China, for its part, is rapidly advancing in these areas, creating significant opportunities for young people in the process.
Of course, with any digital technology, there are justifiable concerns about data security, privacy, and bad actors bent on manipulating information to undermine social cohesion and democratic institutions. But these issues should not stand in the way of realizing digital technology's tremendous potential as an engine of inclusive growth.
Finally, it is worth noting that collaboration between government, business, and labor has played a key role in the countries that have adapted better to globalization and technology-induced structural change. To be sure, collaboration requires trust, and trust is established gradually over time. But without it, economic structures ossify, productivity lags, competitiveness suffers, and activity in tradable goods and services migrates elsewhere.
At this stage, uncertainty about the future is inevitable. But unless a country is prepared to accept long-term stagnation, failing to adapt to the coming changes is not an option. With a clear mandate for change, Italy's new government could implement a vigorous, pragmatic, long-term policy agenda to produce inclusive growth. Otherwise, the country's great potential will continue to fall short of being fully realized.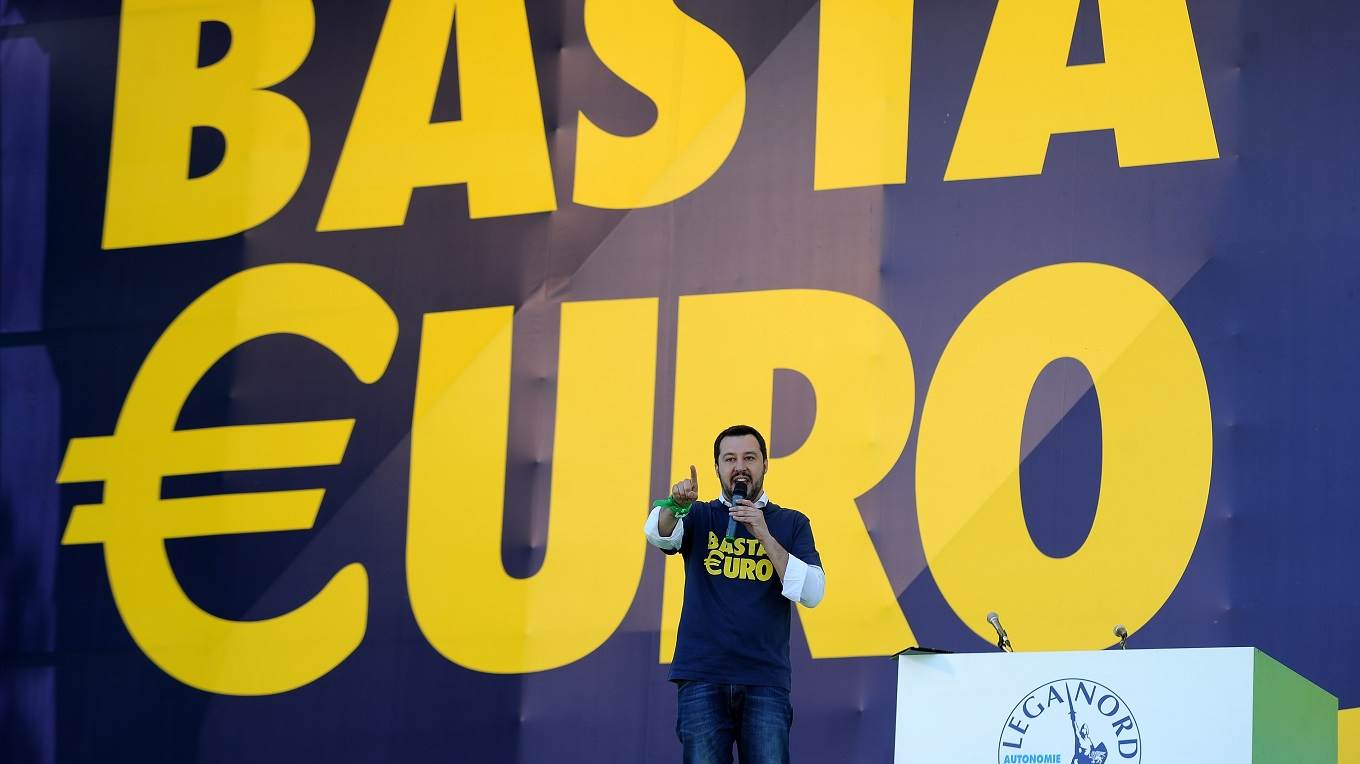 The Populists' Euro
It is not hard to imagine that if Italy's new government proceeds with its ambitious fiscal plans, instituting both a flat tax and a universal basic income, it could blow up the budget deficit. In that case, Italy could quickly find itself out of the eurozone and ring-fenced by capital controls, whether the government intended this or not.
BERKELEY – The majority of Italians want two things: new political leadership and the euro. The question is whether they can have both.
The point about new leadership is uncontroversial. The country's two ruling populist parties, the League and the Five Star Movement (M5S), together commanded 50% of the vote in the March 4 general election, and, as a result, have majorities in both houses of parliament. Their majorities may be slim, but the election, in which the main center-right and center-left parties eked out just 33%, was a resounding repudiation of the status quo.
The second point is less well known, but even less controversial: recent polls show that 60-72% of Italians favor the euro. Some believe the single currency safeguards their savings, while others regard it as an emblem of Italy's status as a founding member of the European Union. But if motives differ, the balance of public opinion does not.
Bowing to this reality, the coalition partners have now dropped the idea of abandoning the euro, expunging the possibility from their "contract" and respective websites. Paolo Savona, a diehard opponent of the euro, has been denied the finance ministry. But Carlo Cottarelli, whose proposed appointment at the head of a technocratic government would have disenfranchised a majority of voters, has also been denied the reins of power. Appropriately, given the election result, Italians now have their populist government and their euro, too.
Keeping them will be another matter. If its initial measures fail to deliver economic growth, the new government will lose popular support. In desperation and anger, its leaders may then resort to even more extreme policies. Support for the euro will weaken as well, because the government and its backers will blame the EU and its most visible achievement, the euro, for frustrating their best-laid plans.
Indeed, it is not hard to imagine that if the coalition proceeds with its ambitious fiscal plans, instituting both a flat tax, as the League proposes, and a universal basic income (UBI), as M5S advocates, it could blow up the budget deficit. It would then be sanctioned by the European Commission, deemed ineligible for financial support by the European Central Bank, and experience capital flight. Italy could quickly find itself out of the eurozone and ring-fenced by capital controls, regardless of whether the government intended this outcome.
In fact, the argument for a measured fiscal stimulus is sound – just not the kind of fiscal stimulus the League and M5S have in mind. An economy in Italy's condition needs "two-handed policies": supply-side reforms of labor and product markets to boost productivity and international competitiveness, accompanied by demand stimulus to prevent the uncertainties of reform and the surrounding political noise from depressing spending. Although Italy has a heavy debt burden, it also has a modicum of fiscal space, given low interest rates and a primary budget surplus.
But whether the government will use that space to get growth going again is very much in doubt. The League's flat tax would benefit mainly the rich, who have a relatively low propensity to spend, and aggravate complaints about inequality. And, given its dire fiscal implications, M5S's proposed UBI would trigger a sharp reaction by financial markets.
A better approach would be to cut payroll and social security taxes, thereby reducing the third-highest tax wedge in the OECD. This should appeal to M5S voters, who would see bigger pay packets. To the extent that the recipients spend the additional pay, the tax cuts will stimulate demand and growth.
But these are also supply-side-friendly reforms, because they reduce the cost of labor and, by getting people into employment, facilitate the transmission of productivity-enhancing skills. They should also appeal to the League, insofar as business owners who support party leader Matteo Salvini will benefit from declining costs and enhanced competitiveness.
Will the European Commission permit the Italian government to exceed its mandated deficit target? The Commission worries, as always, about setting a dangerous precedent. But it should realize that frustrating the new government at every turn could end up only making the Italian authorities more intransigent. If the alternative to a modestly larger budget deficit, coupled with supply-side reforms, is a let-it-rip budget, open conflict with the EU, and massive capital flight, then the Commission would do well to think twice.
The view within EU institutions in Brussels is that, when sanctioned by the Commission and by financial markets, Italy's new government will change course, abandoning its fiscal ambitions to avoid catastrophe. But the view in Rome is that the new government has the voters behind it and that Italy is too big to fail, so it is the Commission and the other member states that will blink.
In America, there is a name for this situation. It's called a game of chicken: two cars hurtle toward each other at full speed; the driver who swerves first is the chicken. It is a game that does not always end well.