The Evolution of the Refugee Crisis
The 2015 refugee crisis is still a raw issue for millions of Europeans, and continues to serve as fodder for populist and nationalist movements. But, in reality, the situation has started to improve dramatically in many host countries, and it is now incumbent on European leaders to ensure that the trend continues.
LONDON – As they celebrate Christmas, Germans are also remembering the dead from last year's attack on a Berlin Christmas market by a migrant who had been denied asylum. That incident fanned the flames of public sentiment against immigration, and probably played a role in Chancellor Angela Merkel's stunning failure to form a new a coalition government after the federal election in September. Within the German electorate, there are widespread fears that another wave of migrants like the influx two years ago will deluge the country.
But the facts on the ground have changed dramatically. On November 15, 2015, a migration command center in the German Foreign Ministry on Werderscher Markt in Berlin was tracking refugee flows at every potential border crossing on the route from Greece to Germany. Eventually, of 12 million displaced Syrians, one million arrived in Europe. And despite a massive response from the German government and members of the public, many asylum-seekers ended up sleeping on the streets and in railway stations. At the time, there were rumors of a migrant-fueled crime wave sweeping the country, though later research found little increase in crime along migration routes.
Two year later, much has changed. The German bureaucratic engine has been firing on all cylinders to process asylum claims and facilitate integration. Of 700,000 asylum applications in 2016, almost 300,000 were denied, and those people are waiting to be returned to their countries of origin. Greece, the first stop in the European Union for refugees from the Middle East, has started to close some refugee camps, after granting asylum to around 50,000 people. And even Italy, the first EU port of call for African migrants, is now experiencing a decline in asylum applications.
Turkey, meanwhile, has stuck to its deal with the EU, whereby it receives financial aid in exchange for taking in Syrian refugees. Before the deal entered into effect in March 2016, Turkey's government had been actively encouraging migrants and refugees to continue to Europe; now, it is integrating refugees into Turkish society, and even trying to prevent high-skilled migrants from leaving. Accordingly, the European Commission announced this month that it would provide another €700 million ($830 million) in aid to Turkey.
The situation has also improved in Northern Iraq (Iraqi Kurdistan). Previously, the Syrian civil war and the rise of the Islamic State (ISIS) had displaced three million Iraqis and hundreds of thousands of Syrian Kurds. But now that ISIS has been defeated militarily and its territory reclaimed, refugee Kurds have a choice of either staying in Iraq or returning to Syria. Internally displaced Iraqis, on the other hand, are expected to return to whatever remains of their cities and homes – a process that has been accelerated by the Iraqi Kurds' renewed push for independence this year.
Against this backdrop of relatively improved conditions, Lebanon stands out as an exception. Although Lebanon has a population of just four million people, it is now host to more than 1.5 million Syrian refugees. The result is a growing sense of refugee fatigue, which is threatening to destabilize the country's fragile multi-confessional power-sharing arrangement. Already, the government's rhetoric has started to focus on returning refugees to Syria, rather than on determining how best to provide for them.
As for the refugees themselves, many are visible in the streets of Beirut, the capital, but most are stuck in camps or temporary host communities, and lack adequate access to health care and schooling. And even when refugees are accommodated by schools and universities, they have limited employment prospects after graduating. Another lost generation is coming of age in a country that has long been riven by bungled integration efforts. Making matters worse, following the resignation and return of Prime Minister Saad Hariri, Lebanon is now experiencing a political crisis that has raised the specter of a return to civil war.
So, what can be done? Neighboring Jordan may offer one model to follow. Rather than integrating refugees, Jordan has until recently kept them largely confined along the Syrian border. At first, this left refugees with little access to education or labor markets. But, thanks to concerted efforts by the international community and funding from the EU, there are now several programs in place to stimulate investment, encourage companies to hire refugees, and create special economic zones on the border. The idea is that by spurring economic activity on the border, Syrian refugee communities and businesses can start to develop the capacity needed to rebuild post-war Syria when the time comes. It is too soon to evaluate the full impact of these measures, but they are promising nonetheless.
But Europe, for its part, must do far more than provide funding. The failure of European governments to manage the sudden influx of refugees in 2015 has fueled populism and intolerance in previously open societies. True, this failure was partly due to genuine constraints, particularly in health-care and education systems. But it also reflected poor preparation, a lack of coordination, and insufficient investment.
The refugee crisis is fundamentally a systemic challenge, because developments in one country can affect many other countries. As such, the crisis demands an EU-level and, indeed, a global response. Fortunately, for the first time since Syria's civil war began, there is hope that the EU might muster an effective joint approach to the problem. In a wide-ranging speech at the Sorbonne in September, French President Emmanuel Macron injected new energy into EU policymaking in this area. And, inspired by the Jordanian model, EU policymakers can now begin to develop a more coherent, evidence-based migration policy.
Of course, much will depend on Germany. One hopes that its leaders will not let whipped-up sentiments about migration torpedo a coalition agreement. They must recognize that German leadership in the EU and on the world stage is crucial for managing the migration challenge, not least in Germany itself.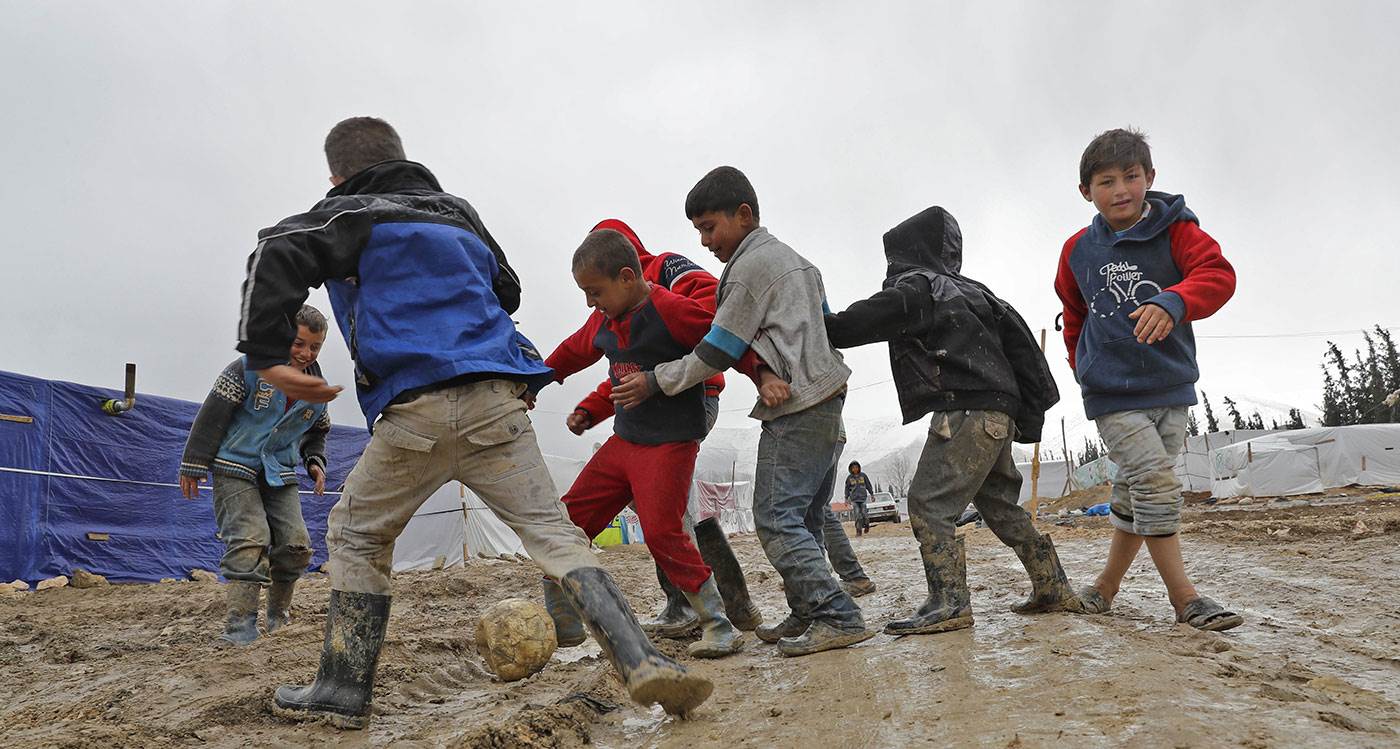 What We Owe Refugee Children
One of the best ways to mitigate the plight of refugee children is to provide them with an education. But host countries have struggled to integrate refugee children into their education systems, partly because the international community has not delivered on the support it promised.
BEIRUT – Last year, images of desperate refugees, many of them children, stirred our collective conscience and prompted world leaders to take action. But a year of political upheaval has diverted media attention from refugees' plight. Against the backdrop of Brexit, terrorist attacks, and national elections in the United States, France, and Britain, we have lost sight of the fact that the refugee crisis is getting worse.
Today, on World Refugee Day, the Office of the United Nations High Commissioner for Refugees (UNHCR) is launching its #WithRefugees petition, to remind governments that they must work together to end the crisis. Indeed, a renewed sense of urgency is needed.
All refugees and asylum-seekers need help, but children are especially vulnerable. One of the best ways to mitigate their plight is to provide them with an education. And yet host countries, which are often near war zones, have struggled to integrate refugee children into their education systems. Among UNHCR-registered refugees, including those fleeing from Afghanistan and Somalia, 3.75 million children – 900,000 of them Syrian – are not in school. All told, the chance that a refugee child will be deprived of schooling is five times higher than the global average.
This is a stain on the international community. It is crucial that refugee children receive an education, so that they can someday return to their home countries with the skills and knowledge needed to create functioning states. One young refugee girl I met wants to do just that. When I asked her about her future plans, she told me that her dream is to become an engineer so that she can rebuild her country.
Education is also a vital instrument for combating violent extremism, which can capture the minds of young people with no hope for the future. And school attendance is essential for children's welfare, because it gives them access to basic health-care services and protects them from the horrors of child labor and prostitution.
Fortunately, countries such as Greece, which is on the front line of the refugee crisis in Europe, are now adding more permanent education provisions to their refugee-care model. But, in Lebanon, we have had to resort to creative thinking to accommodate the influx of refugees from Syria.
When Syrian refugees first arrived, Lebanon's education system was already in need of repair and reform. Now, Lebanon is host to some two million migrants, including 1.5 million Syrian refugees, in addition to its population of 3.75 million. With one refugee for every two citizens, Lebanon is dealing with a massive increase in demand for public services such as health care and education.
In addition to the 250,000 Lebanese students in the state school system, the Lebanese government has had to find a way to educate 450,000 Syrian children. To help meet this need, we have created the Reaching all Children with Education (RACE) initiative, focused on improving access to formal education for Syrian refugees and underprivileged Lebanese.
Because it is crucial that we provide an education for all children, we have had to stretch our resources as far as possible. Today, many school-age Syrian refugees are studying under the same teachers as their Lebanese peers, and many of our schools are running double shifts in mornings and afternoons to accommodate refugees.
So far, Lebanon has already accommodated around 40% of all UNHCR-registered school-age refugee children. Annually, this outlay costs approximately $343 for a Syrian child studying in the morning shift, and $550 for a child in the afternoon shift. It is neither fair nor sustainable for Lebanon to shoulder this burden alone.
Although the 2016 Supporting Syria and the Region Conference in London garnered aid pledges totaling $12 billion, many of these funds have been severely delayed or have never materialized. A recent study from the children's charity Theirworld finds that just $400 million of the $1.4 billion pledged for education has been delivered.
It is difficult to confirm if individual governments are meeting their pledges, but it has become abundantly clear that the international community overall is moving far too slowly. We cannot keep starting and stopping children's schooling while waiting for funding. The longer children are out of school, the harder it becomes to get them back in the classroom and on track to complete their studies.
Beyond meeting its funding commitments, the international community needs to increase its investment in mobile and scalable education technologies. For example, remote-learning tools would be especially useful for educating children in refugee communities. One good teacher would be able to reach anywhere that has satellite technology, solar-powered computer hardware, and an interactive live feed.
This is the idea behind Teach to Reach Remote Classrooms, a UNHCR-funded distance-learning program overseen by the Varkey Foundation. With TRC, a teacher in a studio in Ghana's capital, Accra, can live-stream lessons to around 300 school-age refugee children, many of whom have fled conflict in Côte d'Ivoire and now attend a primary school in the Ampain Refugee Camp in western Ghana. These displaced children are now catching up on their basic education, while also learning the language of their host country. And they will be well positioned to pursue secondary or higher education in the future.
TRC shows what governments, charities, and the private sector can accomplish through creative collaboration. But politicians must step up and take action. Leaders around the world, especially those who have been recently elected, should put responding to the global refugee crisis at the top of their agendas.
To that end, I was proud to join the Atlantis Group as a founding member. After launching at the Global Education & Skills Forum this year, we are bringing together former education ministers and heads of state from around the world to advise governments and policymakers on tackling the major issues of our time, not least refugee education.
The world cannot expect a small group of countries on the borders of war zones to bear sole responsibility for displaced people. To solve the refugee crisis, countries that are fortunate enough to have peace and security must do their part.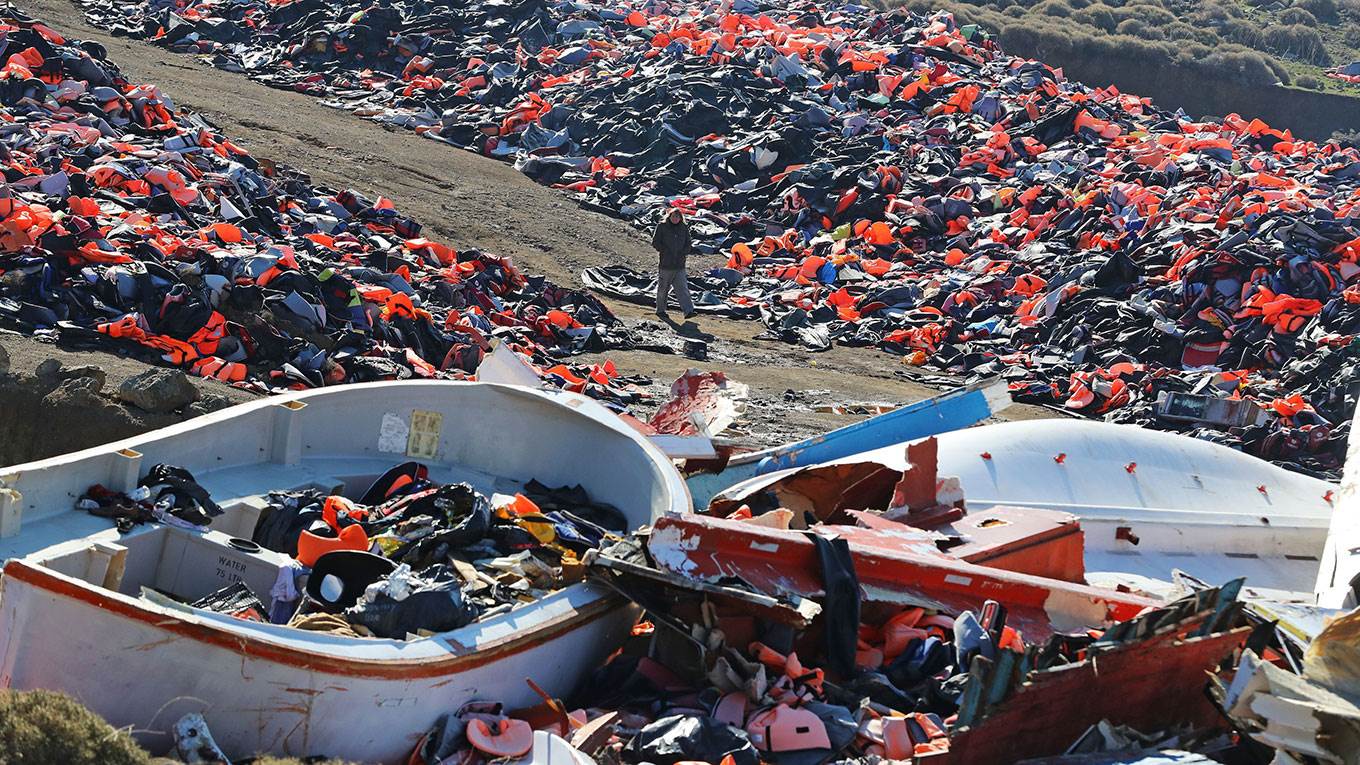 Lesbos's Ghosts, Europe's Disgrace
The influx of refugees into Greece continues, with another 2,238 arriving on the Greek island of Lesbos in September alone. But the refugees' misery doesn't end on arrival, where they face inhuman conditions – and an even worse fate if they are returned home.
ATHENS – In 2015, hundreds of thousands of refugees landed on Greece's island shores. Many had perished at sea. Today, the international public has been lulled into believing that Greece's refugee crisis has abated. In fact, it has become a permanent scourge blighting Europe's soul and brewing future trouble. The island of Lesbos was, and remains, its epicenter.
The story of Shabbir demonstrates how starkly reality clashes with Europe's official storyline. Shabbir, 40, lived with his wife and two young children in a midsize town in Pakistan, where he ran a car rental business. One night in December 2015, a local group of Islamist extremists petrol-bombed Shabbir's neighbor's home and waited outside for the fleeing family.
Shabbir's neighbors were Christian, and the extremists were keen to evict them and convert their home into a madrasa (religious school). Instinctively, Shabbir rushed to his Christian neighbors' defense. Designated an "apostate," his business was burned down, his brother was brutally murdered, his wife and children fled to neighboring villages, and Shabbir, together with his elderly father, took the long, cruel road, via Iran and Turkey, to imagined safety in civilized Europe.
Along the way, Shabbir's father died of exhaustion on some snow-covered Turkish mountain peak. Months later, after managing to board a trafficker's flimsy vessel on Turkey's Aegean coast, he found himself shipwrecked, surrounded by dozens of drowned fellow refugees. Picked up off the coast of Lesbos, he was brought to the Moria camp. That is when his next ordeal began.
No Westerner who saw Moria during the winter of 2016/2017 could do so without feeling dehumanized. Mud, refuse, and human excrement formed a magma of misery, a hellscape surrounded by barbed wire and the official indifference reflected in the puny resources provided by the European Union and Greek authorities.
Refugees like Shabbir faced a minimum of nine months before their first encounter with any official who would receive their asylum application. Within the camp, a small makeshift office, surrounded by more barbed wire and hundreds of despairing refugees, would admit one or two per hour for their first interview. "If you are a little ill, Afghani or Pakistani, it may take 12 months before you speak to an official," one refugee told us. "We are ghosts roaming around without anyone noticing," he remarked: "I wish we had died in the war instead."
Wandering around the camp, segregation was in plain sight. Some families were afforded the luxury of containers, guarded behind tall fences. Despite the absence of running water, heating, or any facilities to speak of, they were the privileged ones.
Walking northwest up the hill was like experiencing the ascent of inhumanity. First there was the Afghanis' shantytown, enveloped in mud and an unbearable stench. On the hilltop were Pakistanis in the same dire conditions, burning anything they could find in order to cook. Next to them were Algerians, feared by all the others and caged behind a triple row of barbed wire. At the foot of the slope, just next to the appalling semi-open-air toilets, were the "Africans," amidst whose tents runs filth from up the slope.
A year after Shabbir arrived on Lesbos, and three months after his first interview, his asylum application was refused and a deportation order was issued. His appeal was unceremoniously rejected and, when he tried to seek refuge with supporters in a nearby village, the police mounted a manhunt. Eventually, he surrendered, before being taken back to Turkey. For weeks, we heard nothing of his fate. Then we learned that he was returned to Pakistan, where he had been located by the Taliban and shot. Reportedly, he is still alive, though we do not know his condition.
Shabbir had imagined, he told one of us, that, "despite being Muslim," Europe would give him asylum, "not least because I thought that defending Christians at my family's expense would mean something here." But "Europe" had other ideas. The EU deal with Turkey's President Recep Tayyip Erdoğan, negotiated in 2016 by German Chancellor Angela Merkel, had a single purpose: To stop the flood of refugees from Turkey to Greece at all cost. If that meant that the EU would end up bribing Erdoğan with several billion euros in order to violate international legislation protecting refugees like Shabbir, so be it.
In September alone, another 2,238 refugees arrived in Lesbos, despite Turkey's attempts to cut the flow. A camp designed for 2,000 people now "houses" three times that number. In early October, the first autumnal storms turned the Moria camp into a mud field again.
Europe pretends to itself that this crime against humanity is no one's fault. The Greek authorities blame the EU for not providing funds, the EU blames Greece for not doing enough with available funds, and large NGOs are preoccupied with maintaining their own line of command and funding. The only survivors in this moral shipwreck are the local grassroots teams – comprising volunteers from all over the world and smaller NGOs – that have been keeping the spirit of humanity alive.
Meanwhile, the West in general, and the EU in particular, perpetuates the economic, environmental, and military factors driving the unfolding humanitarian disaster.
Galrim, another Pakistani refugee in Lesbos, explained to us Europe's blunder: "The Islamist extremists have a plan. By spreading fear and loathing," he says, "they wish to ghettoize refugees in Europe, to cut them off from European societies, to make them victims of European xenophobia. It is their recruitment strategy by which to stoke the fires of East-West hatred and render them significant players."
Galrim should know. A democrat who opposed ballot rigging in his town, his body was broken by mafia networks in "safe" Turkey, in a succession of torture sessions for ransom. On one occasion, he was dragged behind a speeding truck. Galrim's asylum application was also turned down, placing him on the deportation list.
Some 2,500 years ago, Sappho of Lesbos wrote:
Their heart grew cold
they let their wings down
To prevent that from happening to humanists across Europe, we need a new movement to campaign for refugees' release from odious conditions and a swift asylum process. Beyond that, we need to end the policies that are contributing to their desperate flight.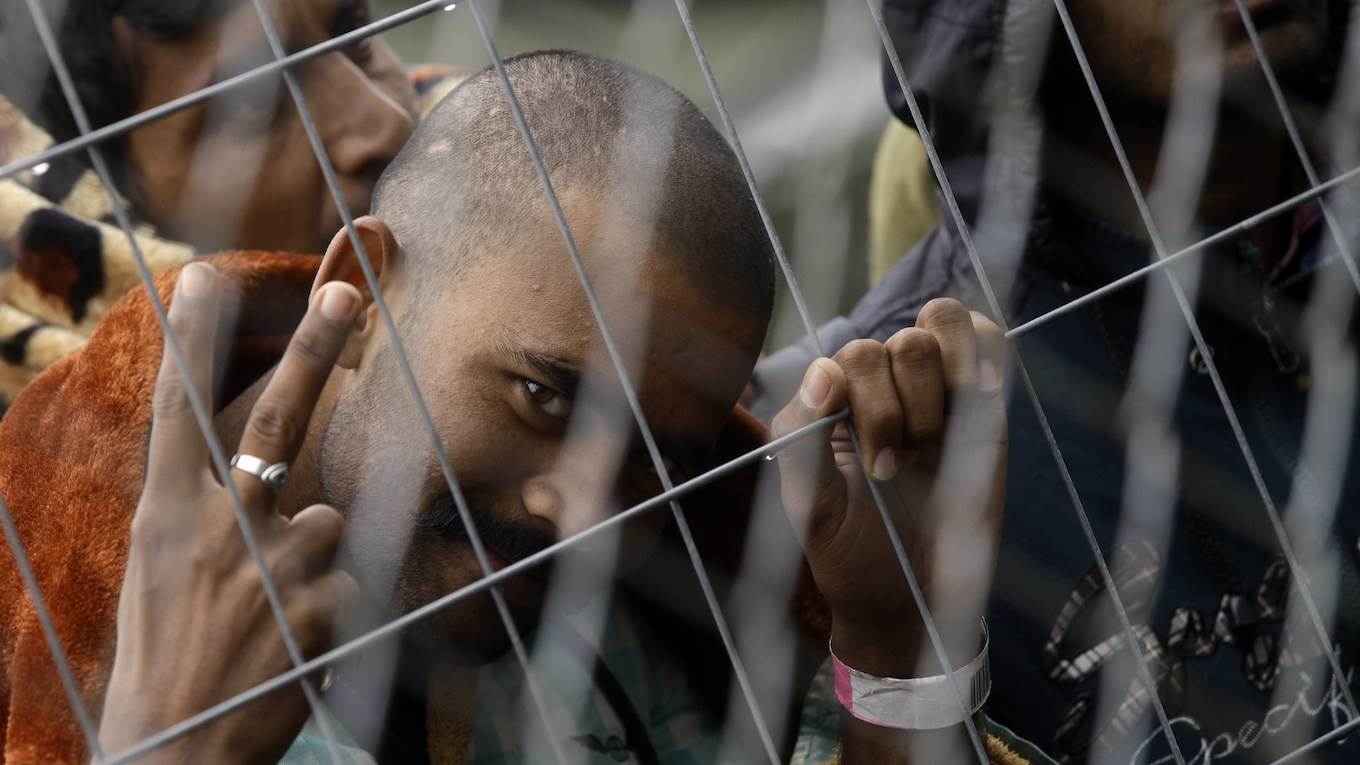 Eastern Europe's Crisis of Shame
As thousands of refugees pour into Europe to escape the horrors of war, Eastern Europeans have revealed themselves to be intolerant, illiberal, xenophobic, and incapable of remembering the spirit of solidarity that carried them to freedom a quarter-century ago. The root cause is to be found in World War II and its aftermath.
BERLIN – As thousands of refugees pour into Europe to escape the horrors of war, with many dying along the way, a different sort of tragedy has played out in many of the European Union's newest member states. The states known collectively as "Eastern Europe," including my native Poland, have revealed themselves to be intolerant, illiberal, xenophobic, and incapable of remembering the spirit of solidarity that carried them to freedom a quarter-century ago.
These are the same societies that clamored before and after the fall of communism for a "return to Europe," proudly proclaiming that they shared its values. But what did they think Europe stands for? Since 1989 – and particularly since 2004, when they joined the EU – they have benefited from massive financial transfers in the form of European structural and cohesion funds. Today, they are unwilling to contribute anything to resolve the greatest refugee crisis facing Europe since World War II.
Indeed, before the eyes of the entire world, the government of Hungary, an EU member state, has mistreated thousands of refugees. Prime Minister Viktor Orbán sees no reason to behave otherwise: the refugees are not a European problem, he insists; they are a German problem.
Orbán is not alone in this view. Even Hungary's Catholic bishops are following Orbán's line, with Laszlo Kiss-Rigo, Bishop of Szeged-Csanad, saying that Muslim migrants "want to take over," and that the Pope, who has called on every Catholic parish in Europe to take in a refugee family, "doesn't know the situation."
In Poland, a country of 40 million people, the government initially expressed a readiness to accept 2,000 refugees – but only Christians (Slovakia proposed a similar stipulation). Refugees are not an Eastern European problem, a Polish journalist told National Public Radio in the United States, because these countries did not participate in the decision to bomb Libya (neither did Germany).
Have Eastern Europeans no sense of shame? For centuries, their ancestors emigrated in droves, seeking relief from material hardships and political persecution. And today their leaders' heartless behavior and callous rhetoric play to popular sentiment. Indeed, the electronic version of Poland's largest newspaper, Gazeta Wyborcza, now publishes a stunning notice at the end of every article about refugees: "Because of the extraordinarily aggressive content of remarks advocating violence, contrary to the law, and calling for racial, ethnic, and religious hatred, we will not allow readers to publish comments."
Not so long ago, in the immediate postwar years, Eastern European Jewish Holocaust survivors fled from the murderous anti-Semitism of their Polish, Hungarian, Slovak, or Romanian neighbors to the safety of displaced persons camps in, of all places, Germany. "Safe Among the Germans" proclaimed the title of an important book by the historian Ruth Gay about these 250,000 survivors. Now Muslim refugees and survivors of other wars, having found no refuge in Eastern Europe, also are fleeing to safety among the Germans.
In this case, history is not a metaphor. On the contrary, the root cause of the Eastern European attitudes now on grim display is to be found in World War II and its aftermath.
Consider the Poles, who, deservedly proud of their society's anti-Nazi resistance, actually killed more Jews than Germans during the war. Although Poland's Catholics were cruelly victimized during the Nazi occupation, they could find little compassion for the fate of Nazism's ultimate victims. In the words of Józef Mackiewicz, a conservative, anti-Communist Polish writer with impeccable patriotic credentials: "During the occupation there was not, literally, a single person who would not have heard the saying – 'One thing Hitler has done correctly is to wipe out the Jews.' But one should not talk about this openly."
Of course, there were Poles who helped Jews during the war. Indeed, the number of Polish "Righteous Among Nations," recognized by Israel's Yad Vashem for their wartime heroism, is the largest among all European countries (unsurprisingly, given that prewar Poland had Europe's largest Jewish population by far). But these remarkable individuals typically acted on their own, against prevailing social norms. They were misfits who, long after the war had ended, insisted on keeping their wartime heroism a secret from their neighbors – afraid, it seems, that their own communities would otherwise shun, threaten, and ostracize them.
All occupied European societies were complicit to some degree in the Nazi effort to destroy the Jews. Each made a different contribution, depending on country-specific circumstances and conditions of German rule. But the Holocaust played out most gruesomely in Eastern Europe, owing to the sheer number of Jews in the region and the incomparable ruthlessness of the Nazi occupation regimes.
When the war ended, Germany – because of the victors' denazification policies and its responsibility for instigating and carrying out the Holocaust – had no choice but to "work through" its murderous past. This was a long, difficult process; but German society, mindful of its historical misdeeds, has become capable of confronting moral and political challenges of the type posed by the influx of refugees today. And Chancellor Angela Merkel has set an example of leadership on migrants that puts all of Eastern Europe's leaders to shame.
Eastern Europe, by contrast, has yet to come to terms with its murderous past. Only when it does will its people be able to recognize their obligation to save those fleeing in the face of evil.