Donald Trump Meets Davos Man
For the global business, financial, and political leaders who gather at the World Economic Forum's flagship conference every January, the news that Donald Trump would be joining them this year must have come as a shock. Why would the world's leading white nationalist enter the lion's den of the "globalist" elite?
MOSCOW – "If the mountain will not come to Muhammad," so the saying goes, "then Muhammad must go to the mountain." With his decision to attend this year's World Economic Forum meeting in Davos, Switzerland, US President Donald Trump seems to be taking that message to heart (though he would undoubtedly recoil from any link between the Prophet Muhammad and himself).
For the global business, financial, and political leaders who gather in Davos every January, the news that Trump would be joining them this year must have come as a shock, to say the least. Much of the global elite, exemplified by the Davos crowd, feel deep contempt for Trump, and their disdain has likely been deepened by Trump's recent racist rants about "shithole countries."
Yet the conference will undoubtedly have its share of obsequious displays designed to appeal to Trump's vanity, with participants by turns fawning over him and propping him up as he clumsily attempts to defend the indefensible, starting with his "America First" approach. After all, this is the same crowd that kowtowed to Chinese President Xi Jinping last year, when he fraudulently positioned himself as the world's new champion of globalization and the rules-based international order.
Some of the world leaders at Davos have strong incentive to suck up to Trump. British Prime Minister Theresa May, in particular, may be eager to appease Trump, after the prospect of mass demonstrations kept him from attending the dedication ceremony for the new US embassy in London. With Brexit looming – and losing support at home – Britain can't afford any further deterioration of its "special relationship" with the United States. May's government is desperate to sustain the prospect, however deluded, that Trump will offer a good trade deal to the UK.
But, as much as Trump craves a good sycophant, this does not seem a compelling reason for him to attend the WEF meeting in Davos. It is not as if there is any shortage of spineless bootlickers at home, both in Trump's cabinet and in the Republican congressional leadership. Earlier this month, Senator Tom Cotton of Arkansas and Senator David Perdue of Georgia both attempted to defend Trump's blatantly racist comments by claiming, first, that they did not recall hearing him say "shithole" and, later, that he must have said "shithouse" instead. (Could one base a defense on a more meaningless distinction?)
Not everyone at Davos is prepared to take that approach. French President Emmanuel Macron and German Chancellor Angela Merkel will probably make themselves scarce when Trump is around.
Macron has so far handled Trump cleverly: he appeased Trump's inner martinet by inviting him to the Bastille Day military parade last summer, but he has also challenged Trump publicly, with everything from a bravura handshake at their first meeting to a defense of the Iran nuclear deal. As for Merkel, her taut and anguished meetings with Trump are almost as legendary as her frosty encounters with Trump's apparent hero, Russian President Vladimir Putin.
There is no telling how African leaders at Davos – many of whom have publicly denounced Trump's comments, demanding apologies and retractions – will react to the man in the flesh. Likewise, it remains uncertain whether journalists will hold their tongues respectfully or give Trump the kind of shellacking that Peter Hoekstra, the new US ambassador to the Netherlands, has been getting from the Dutch press. (Hoekstra is being forced to answer for his 2015 lies that the "Islamic movement" had brought chaos to the country, that Dutch politicians were being burned by Islamists, and that Muslim-dominated "no-go zones" had emerged in the country.)
Given the risk that Trump will face derision and even outright mockery from some quarters, why he has decided to attend Davos remains unclear. The only reason I can discern is that he plans to play to his domestic base, by putting his economic nationalism, xenophobic immigration policies, antipathy toward the press, and contempt for international institutions on full display. If his comments are met with boos or silence, he will proudly tweet that it is because he – unlike his predecessor Barack Obama – is actually defending America's interests.
Last week, Republican Senator Jeff Flake of Arizona condemned Trump for using Joseph Stalin's infamous phrase "enemies of the people" to describe the free press. Flake (who, like many other Republicans, will retire from Congress this year) was, of course, being too literal. Coming from Stalin's lips, the phrase, backed by the full and fearsome force of the Soviet state's internal security apparatus, was a death sentence for millions. When the same words are uttered by Trump, an object of suspicion for much of the US security apparatus, they become just another part of the narrative spectacle by which he channels the loyalties and antipathies of his supporters.
For Trump, going to Davos amounts to no more – or less – than taking the show on the road. So, with apologies to Osip Mandelstam, I recommend to conference attendees an adaptation of "The Kremlin Mountaineer" (also known as "The Stalin Epigram"), the mocking poem that cost Mandelstam his life.
The White House Mountaineer
Our lives no longer feel ground under them.
At ten paces you can't hear our words.
But whenever there's a snatch of talk or tweet
it turns on the White House mountaineer.
the ten tiny fingers on his pudgy hands,
his words both cunning and weightless,
the huge snuggling fox covering his pate,
the orange glitter of his skin colorizer.
Ringed by a scum of chicken-necked advisers
he toys with the tributes of half-men.
One salutes, another meows, a third snivels.
He pokes out his little finger and he alone goes boom.
He spews incitements in a line like horseshoes,
One for the groin, one the forehead, temple, eye.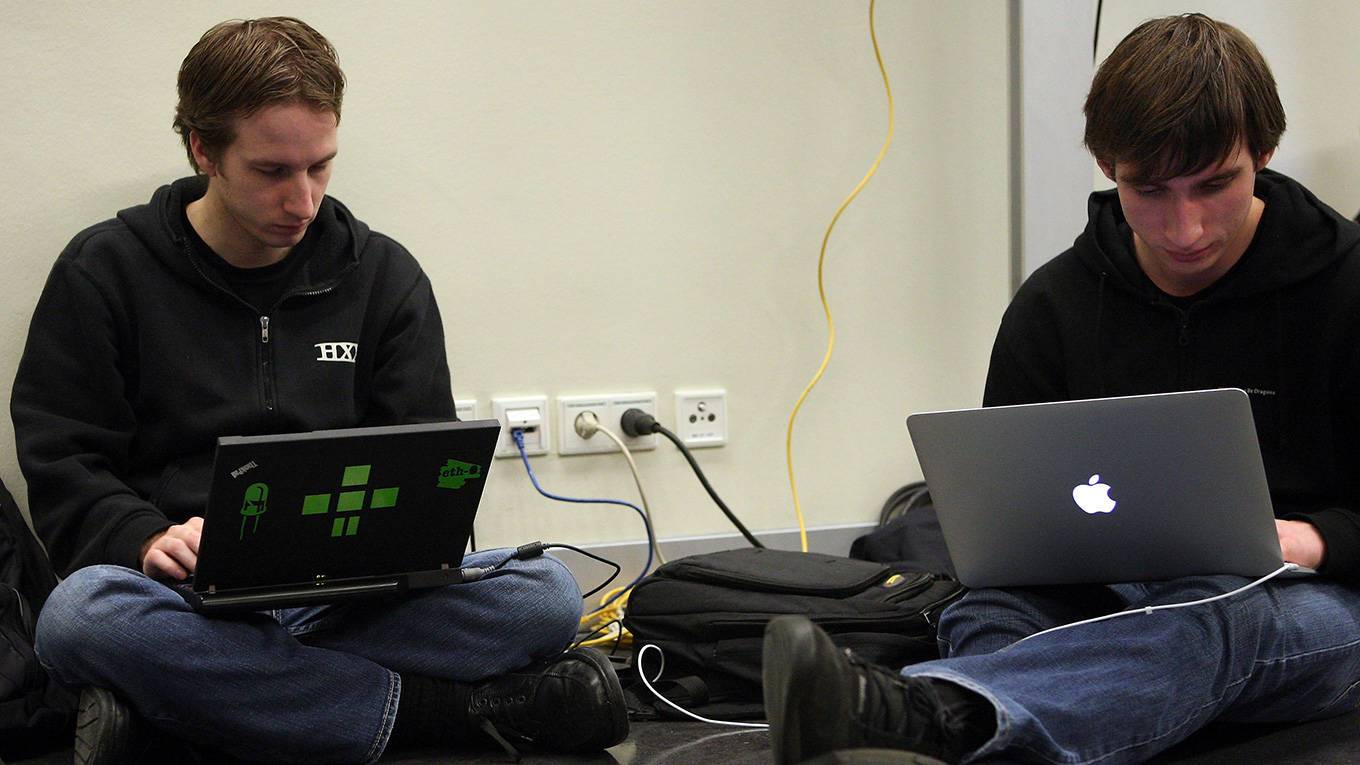 Fighting Cybercrime with Neuro-Diversity
Neurologically exceptional people, such as those with autism or Asperger syndrome, tend to be disadvantaged by the traditional interview process. But, if given the opportunity to train and work as cybersecurity professionals, they could prove integral to protecting the data that underpins the digital age.
LONDON – Cybersecurity is one of the defining challenges of the digital age. Everyone, from households to businesses to governments, has a stake in protecting our era's most valuable commodity: data. The question is how that can be achieved.
The scale of the challenge should not be underestimated. With attackers becoming increasingly nimble and innovative, armed with an increasingly diverse array of weapons, cyber-attacks are happening at a faster pace and with greater sophistication than ever before. The security team of my company, BT, a network operator and Internet service provider, detects 100,000 malware samples every day – that's more than one per second.
Creative thinking among cyber attackers demands creative thinking among those of us fending them off. Here, the first step is ensuring that there are enough talented and trained individuals engaged in the fight. After all, according to a recent survey by the International Data Corporation, 97% of organizations have concerns about their security skills. By 2022, another study estimates, there will be 1.8 million vacant cybersecurity jobs.
Amid this critical shortage of security specialists, it is imperative that we develop new approaches to attracting, educating, and retaining talented individuals, in order to create a deep pool of highly skilled cyber experts prepared to beat cybercriminals at their own game.
The key to success is diversity of talents and perspectives. This includes neurological diversity, such as that represented by those with autism, Asperger syndrome, and attention-deficit disorder. People with Asperger syndrome or autism, for example, tend to think more literally and systematically, making them particularly adept at mathematics and pattern recognition – critical skills for cybersecurity.
The problem is that neurologically exceptional people tend to be disadvantaged by the traditional interview process, which relies heavily on good verbal communication skills. As a result, such people often struggle to find employment, and even when they do find a job, their work environment may not be able to support them adequately.
The United Kingdom's National Autistic Society reports that just 16% of autistic adults in Britain have full-time paid employment, and only 32% have any kind of paid work, compared to 47% for disabled people and 80% for non-disabled people. This highlights the scale of the challenge faced by such candidates, as well as the vast untapped resource that they represent.
Recognizing the potential of neurological diversity to contribute to strengthening cybersecurity, we at BT have reframed how we interact with candidates during interviews. We encourage them to talk about their interests, rather than expecting them simply to answer typical questions about their employment goals or to list their strengths and weaknesses. This approach has already been applied with great success by the likes of Microsoft, Amazon, and SAP in the areas of coding and software development, and by the UK's GCHQ intelligence and security organization, one of the country's biggest employers of autistic people.
Of course, an updated approach to interviewing candidates will not work for everyone. But it is a start. More broadly, we must do more not just to expand the opportunities available to neurologically exceptional candidates, but also to ensure that these opportunities are well publicized.
Delivering this change will require leadership by – and cooperation between – government and business. I am pleased to say that, on this front, BT is already taking a leading role, including by working with the British government on their Cyber Discovery program, a special initiative to attract schoolchildren into the cyber industry, and through our own apprenticeship programs.
In the digital age, neuro-diversity should be viewed as a competitive advantage, not a hindrance. We now have a chance to invest in talented people who are often left behind when it comes to work, benefiting them, business, and society as a whole. By recognizing and developing the skills of this widely overlooked talent pool, we can address a critical skills shortage in our economies and enhance our ability to fight cybercrime. Such opportunities are not to be missed.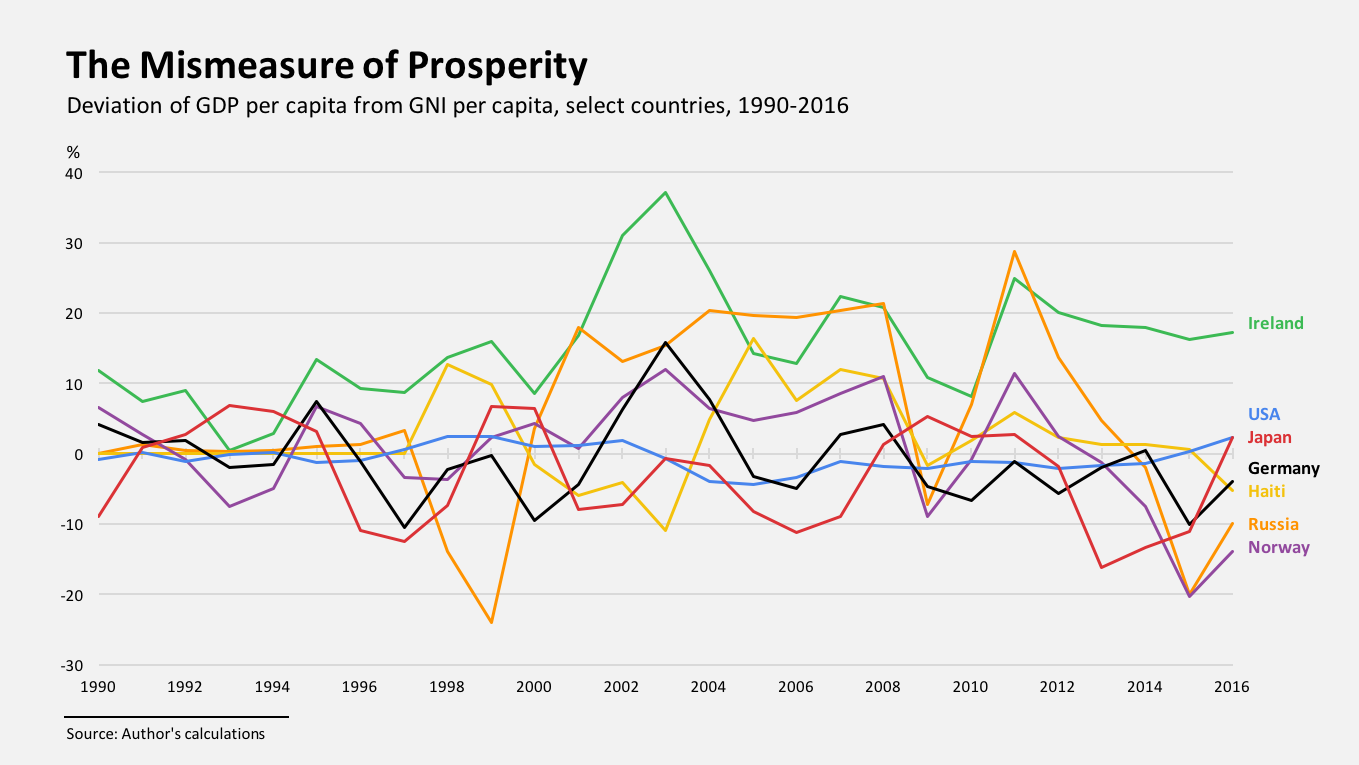 GDP Should Be Corrected, Not Replaced
The hazards of relying solely on gross domestic product as a measure of overall economic activity have become obvious over time, especially as corporate profits have outpaced GDP growth in key economies. But none of the flaws in GDP are fatal, and policymakers should focus on fixing them, rather than seeking an entirely new framework.
ZURICH – Respected economists have long pointed out that gross domestic product is an inadequate measure of economic development and social well-being, and thus should not be policymakers' sole fixation. Yet we have not gotten any closer to finding a feasible alternative to GDP.
One well-known shortcoming of GDP is that it disregards the value of housework, including care for children and elderly family members. More important, assigning a monetary value to such activities would not address a deeper flaw in GDP: its inability to reflect adequately the lived experience of individual members of society. Correcting for housework would inflate GDP, while making no real difference to living standards. And the women who make up a predominant share of people performing housework would continue to be treated as volunteers, rather than as genuine economic contributors.
Another well-known flaw of GDP is that it does not account for value destruction, such as when countries mismanage their human capital by withholding education from certain demographic groups, or by depleting natural resources for immediate economic benefit. All told, GDP tends to measure assets imprecisely, and liabilities not at all.
Still, while no international consensus on an alternative to GDP has emerged, there has been encouraging progress toward a more considered way of thinking about economic activity. In 1972, Yale University economists William Nordhaus and James Tobin proposed a new framework, the "measure of economic welfare" (MEW), to account for sundry unpaid activities. And, more recently, China established a "green development" index, which considers economic performance alongside various environmental factors.
Moreover, public- and private-sector decision-makers now have far more tools for making sophisticated choices than they did in the past. On the investor side, demand for environmental, social, and governance data is rising steeply. And in the public sector, organizations such as the World Bank have adopted metrics other than GDP to assess quality of life, including life expectancy at birth and access to education.
At the same time, the debate around gross national income has been gaining steam. Though it shares fundamental elements with GDP, GNI is more relevant to our globalized age, because it adjusts for income generated by foreign-owned corporations and foreign residents. Accordingly, in a country where foreign corporations own a significant share of manufacturing and other assets, GDP will be inflated, whereas GNI shows only income the country actually retains (see chart).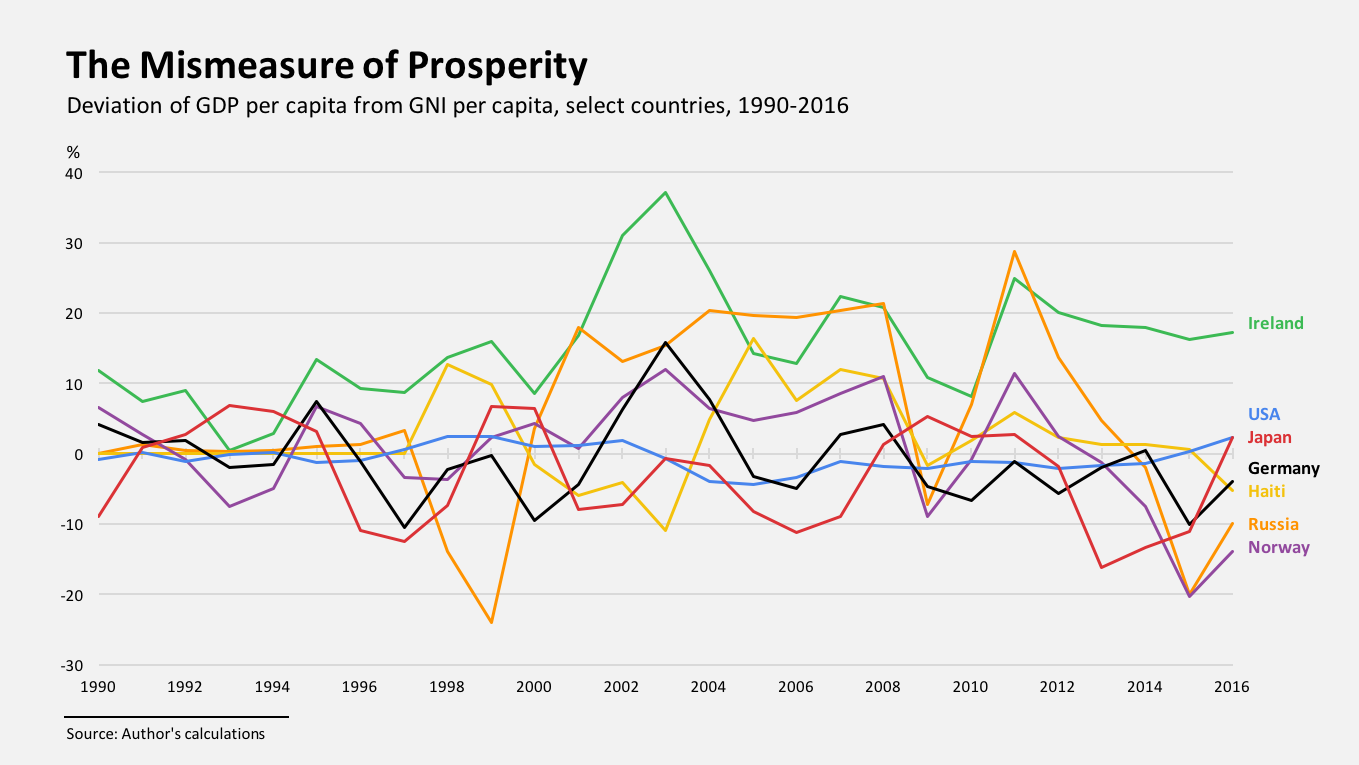 Ireland is a prominent example of how GNI has been used to correct for distortions in GDP. In 2015, Ireland's reported GDP increased by an eye-popping 26.3%. As an October 2016 OECD working paper noted, the episode raised serious questions about the "ability of the conceptual accounting framework used to define GDP to adequately reflect economic reality."
The OECD paper went on to conclude that GDP is not a reliable indicator of a country's material well-being. In Ireland's case, its single year of astonishing GDP growth was due to multinational corporations "relocating" certain economic gains – namely, the returns on intellectual property – in their overall accounting. To address the growing disparity between actual economic development and reported GDP, the Irish Central Statistics Office introduced a modified version of GNI known as GNI*) for 2016.
The gap between GDP and GNI will likely close soon in other jurisdictions, too. In a recent working paper, Urooj Khan of Columbia Business School, Suresh Nallareddy of Duke University, and Ethan Rouen of Harvard Business School highlight a misalignment in "the growth in corporate profits and the overall US economy" between 1975 and 2013. They find that, during that period, average corporate-profit growth outpaced GDP growth whenever the domestic corporate-income-tax rate exceeded that of other OECD countries.
In late December, this disconnect was addressed with the passage of the 2017 Tax Cuts and Jobs Act. By lowering the corporate-tax rate to a globally competitive level and granting better terms for repatriating profits, the tax package is expected to shift corporate earnings back to the United States. As a result, the divergence between GDP and GNI will likely close in both the US and Ireland, where many major US corporations have been holding cash.
Looking ahead, I would suggest that policymakers focus on three points. First, as demonstrated above, the relevant stakeholders are already addressing several of the flaws in GDP, which is encouraging. Second, public- and private-sector decision-makers now have a multitude of instruments available for better assessing the social and environmental ramifications of their actions.
And, third, in business one must not let the perfect become the enemy of the good. We have not solved all of the problems associated with GDP, but we have come a long way in reducing many of its distortions. Instead of seeking a new, disruptive framework to replace current data and analytical techniques, we should focus on making thoughtful, incremental changes to the existing system.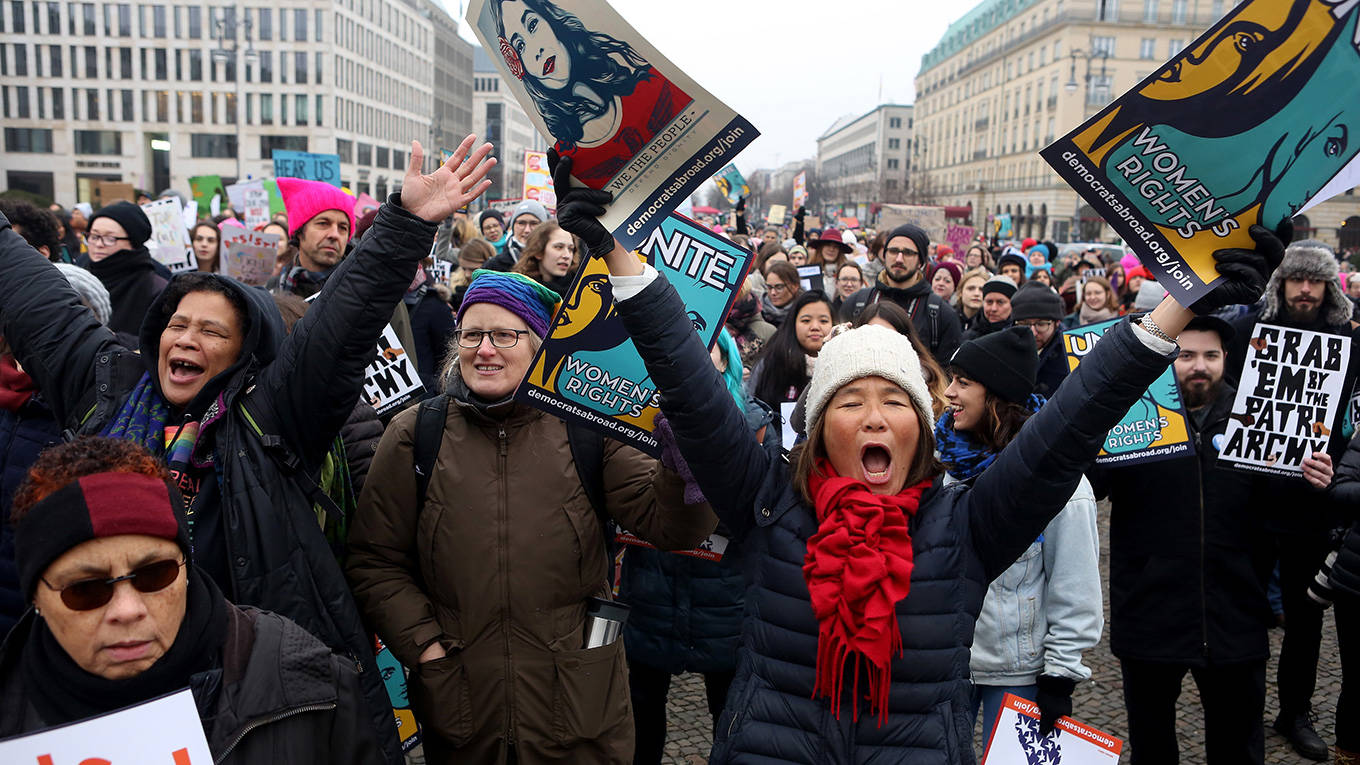 It's Time to Let Women Thrive
At the start of 2018, the #MeToo movement has given global efforts to empower women new momentum, and provided an opportunity for governments to take concrete steps to boost female workforce participation. In fact, that, as much as anything else, may be what is needed to sustain today's global economic recovery.
DAVOS – In public debates around the world, women's empowerment is increasingly being recognized as a top priority. The question of how to provide more economic opportunities for women is firmly on the agenda at the World Economic Forum's annual meeting in Davos this year. And longtime advocates for women are feeling energized, as countless others – men and women alike – have come to recognize the urgency of the task.
Affording women and girls the opportunity to succeed is not just the right thing to do; it can also transform societies and economies for the good of all. For example, bringing women's labor force participation up to the same level as that of men would boost GDP by as much as 9% in Japan and 27% in India.
The International Monetary Fund has documented many other macroeconomic benefits associated with women's empowerment. Reducing gender gaps in employment and education has been shown to help economies diversify their exports. Appointing more women to banking-supervision boards can prevent cozy groupthink, thereby ensuring greater stability and resilience in the financial sector. And reducing gender inequalities also reduces income inequality, allowing for more sustainable growth.
Closing the gender gap may seem like a tall order, but it is essential for long-term economic development and prosperity. The challenge for every country, then, is to make the most of all of its people's talents.
Realizing women's potential is a universal mission. But some of the barriers holding women back are also universal. Astonishingly, almost 90% of countries have one or more gender-based legal restrictions on the books. In some countries, women still have limited property rights compared to men; in others, husbands have the right to forbid their wives from working.
Beyond legal barriers, women also face social and cultural obstacles that limit their access to education, work, and finance. This is especially true in countries with fragile political systems.
Now that public awareness is growing, it is time to press ahead with concrete measures to help women remain in the workforce while raising a family. For a glimpse of what that might look like, consider Norway, where affordable childcare and parental-leave schemes have proven successful in enabling both mothers and fathers to work. Yes, these programs are costly. But they are well worth the investment, given employed women's enormous contribution to economic growth.
Moreover, programs that help women keep working also change the role of fathers. In Norway and other countries with similar policies, fathers now share equally in parental leave and child-rearing. As a result, more women can pursue leadership roles in work and public life.
Of course, countries that are not yet at Norway's level of economic development typically face other gender-related challenges, including limited access to water and education. Unfortunately, while many countries have made progress in reducing gender gaps in primary-school enrollment, there is still much more work to be done at the secondary and tertiary levels. As long as these gaps persist, women will not be able to aspire to political and economic power on an equal footing with men. Accordingly, Norway has made girls' education a top priority in its international-development programs.
Beyond education, ensuring that women in developing countries have access to finance is critical, because it enables them to participate fully in the economy, including as entrepreneurs. When women are empowered to start their own businesses, they can drive innovation and help their countries prosper.
Because women's labor-force participation is so important for growth, organizations such as the IMF are committed to working with governments around the world to empower women economically. IMF-supported programs in Egypt and Jordan, for example, include measures to boost investment in public nurseries and safe public transportation.
In addition to specific policies, today's conversation has increasingly focused on the need for wider social change. And now that movements such as #Equalpay and #MeToo have gained so much momentum, it looks like that change could be coming. It has been inspiring to see so many women, girls, and – yes – men speaking out against retrograde attitudes toward women, which have been holding all of us back.
With the global economy recovering, governments must now lay the foundation for long-term growth, by creating the conditions for women everywhere to realize their full potential. Discrimination and abuse against women can no longer stand. It is time for women to thrive.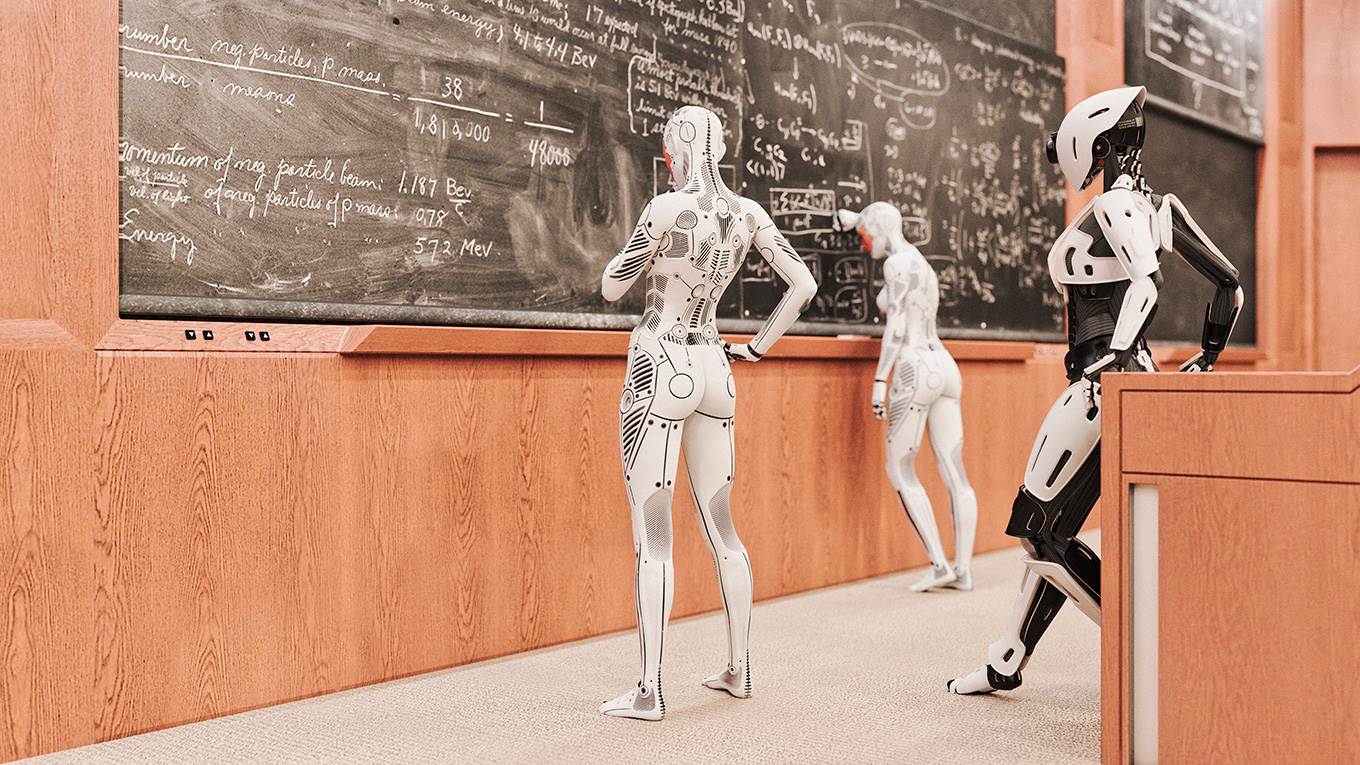 Machines Can't Dream
The scale of AI's impact is hotly debated, and often boils down to a single question: Could machines replace us? But, rather than obsess over a dystopian future, government, business, and education leaders should work together to minimize the adverse consequences for humans of the robots we do deploy.
WALLDORF, GERMANY – For more than 20 years, advances in artificial intelligence (AI) have been viewed through the lens of competition between humans and machines. Ever since May 1997, when IBM's "Deep Blue" computer defeated chess champion Garry Kasparov, there has been growing anxiety about the consequences of this cognitive arms race. More recent computer victories – like "Watson's" 2011 win on the Jeopardy game show, and Google's 2015 computerized takedown of a professional Go player – have only heightened popular concern.
Leaders, technologists, futurists, and employees in every industry rightly wonder how AI will affect our workplaces, societies, and lives. The scale of AI's impact is hotly debated, and often boils down to a single question: Could machines replace us?
Smart people disagree about the answer. Some, like Stephen Hawking, believe that AI's rise represents an existential threat. In 2014, Hawking told a BBC radio audience that "the development of full artificial intelligence could spell the end of the human race." But others consider such fears overblown, and predict that intelligent automation will lead to a utopia populated by intuitive machines.
One thing is certain: there is nothing to be gained from fearing a dystopian future that we have the power to prevent.
Even in divisive times like the present, human ingenuity, kindness, innovation, and creativity are powering us forward. If we harness this energy, we can create a world in which AI benefits humanity, and where automation frees people from the dangerous and repetitive tasks often associated with manual labor. Instead of machine versus man, then, the world would be better served by embracing an "augmented humanity" – what former Google CEO Eric Schmidt defined as getting "computers to help us at the things we're not very good at," and vice versa.
Mehdi Miremadi, an AI consultant at McKinsey & Company, similarly believes that partnership, not rivalry, will define the future of computer-assisted work. And that future is fast approaching. "I think the human-robot interaction is the name of the game," he said recently. "It will be the most important trend in the near- to mid-term – the next five to 15 years."
Already, leading industrial manufacturers like Airbus and Nissan are introducing collaborative robots – "co-bots" – to the factory floor. Robots are consistent, reliable, never tire, and don't improvise. Changes to assembly lines require painstaking human adjustments, making it hard to alter what a factory produces quickly; robots do it faster. But machines can't do everything, so the solution, according to researchers, is factories in which robots and humans work in tandem.
Leaders in every sector – including government, industry, and education – will need to plan thoughtfully to minimize the adverse effects of AI. Among the most important tasks is ensuring that young people have the skills to excel in an AI-dominated marketplace, and that those already in the workforce can adapt to new requirements.
Robots will not become people's officemates overnight; only a small percentage of current jobs are susceptible to full automation. Then again, almost every occupation can and will be partly automated at some point in the future. The jobs most prone to automation include routine activities like data collection and processing. But AI's role in the workplace will deepen with time.
Throughout history, tectonic shifts in technology have upended occupational structures and employment. But these periodic upheavals have also created new, more modern jobs – and often in greater numbers than those that were lost. The coming AI disruption, in other words, will likely have a net positive impact on employment.
Industry analysts predict that AI will drive growth in the coming years and decades. Gartner, a research and advisory firm, estimates that AI-enabled tools will generate $2.9 trillion in business value by 2021, while PwC forecasts that by 2030, AI could contribute as much as $15.7 trillion to the global economy. Some estimates show that companies could save as much as $4 trillion annually with AI automation. And the benefits for businesses will go far beyond savings, as automation will spur innovation, improve forecasting, optimize operations, and lead to better customer service.
In any technological transition, those leading the change cannot lose sight of the human element; there are some things even the smartest machines will never do. Machines don't dream, set goals, or plan for college. Creativity, curiosity, and emotional intelligence will always be the province of people. Even when fed high diets of data, machines can learn only from the past, and cannot imagine the future. Fortunately, life and business are not purely mathematical chess matches.
When I look to the future, I see a need for thoughtful debate about the social impact of AI. But I also see evidence that humanity's greatest challenges have always been our greatest opportunities.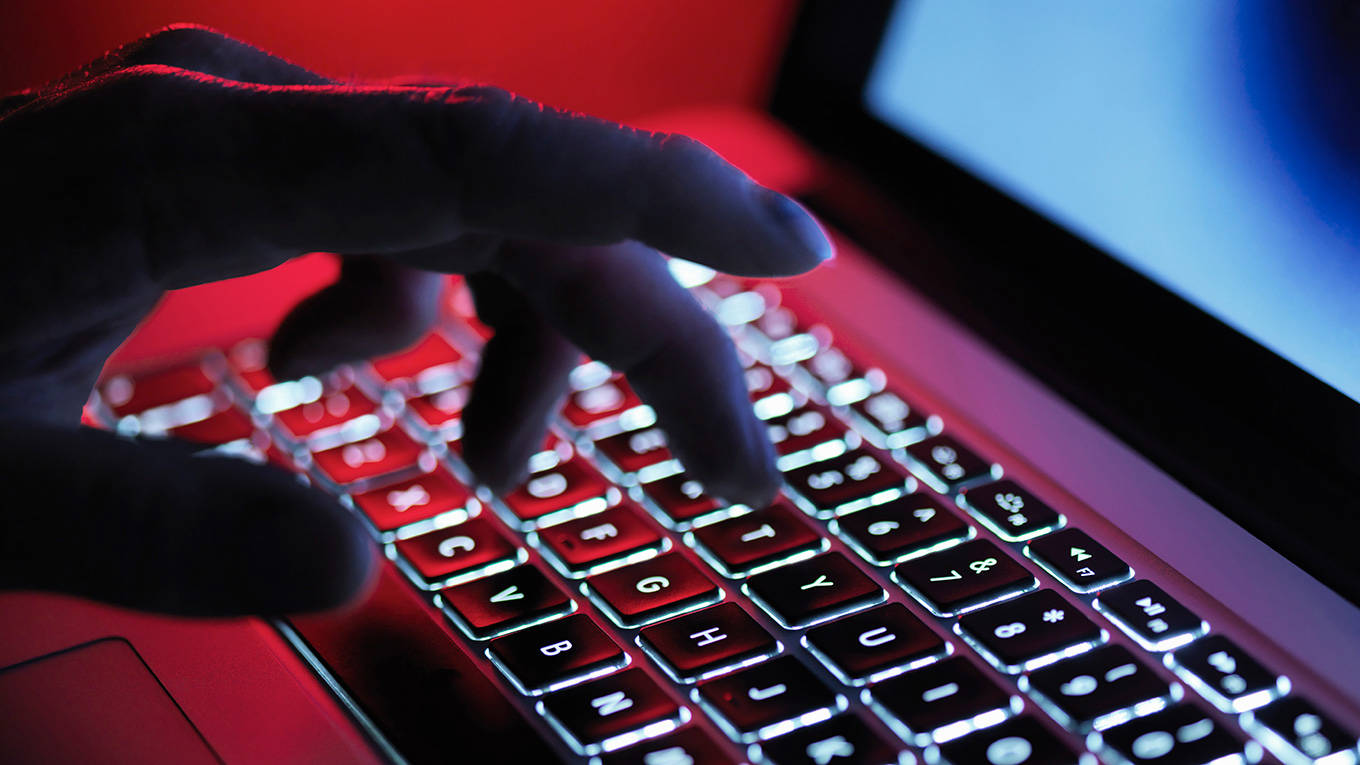 Securing the Digital Transition
Within a few decades, the Internet has transformed the global economy and rendered the old Westphalian order increasingly obsolete. But without a new governance framework to manage cyber threats and abuses, what has been a boon to globalization could become its undoing.
NEW DELHI – Every year, the World Economic Forum publishes a Global Risks Report, which distills the views of experts and policymakers from around the world. This year, cybersecurity is high on the list of global concerns, as well it should be. In 2017, the world witnessed a continued escalation in cyber attacks and security breaches that affected all parts of society. There is no reason to believe 2018 will be different.
The implications are far-reaching. Most immediately, we must grapple with governance of the Internet as well as on the Internet. Otherwise, the opportunities afforded by digital technologies could be squandered in a regulatory and legal arms race, complete with new borders and new global tensions.
But there's a broader issue: For all the speed with which we are racing into the digital age, efforts to ensure global stability are lagging far behind. In many respects, our world is still organized within a Westphalian framework. States with (mostly) recognized borders are the building blocks of the international system. Their interactions, and their willingness to share sovereignty, define the existing world order.
But globalization has gradually changed the realities on the ground. And while its force – waxing and waning since the decades preceding World War I – is nowadays being tempered by geopolitics, and by the impulse to slow the pace of technological change, the digital transformation will propel globalization forward, albeit in a different form. After all, the Internet's key feature is its non-territorial architecture. By breaking down traditional borders, it poses a direct challenge to the very foundation of the Westphalian order.
This is a profoundly positive development, because it facilitates free expression and the cross-border exchange of goods and ideas. But, as with all human inventions, the Internet can be abused, as evidenced by the rise in cybercrime, online harassment, hate speech, incitement to violence, and online radicalization.
Minimizing such abuses in the years ahead will require close international cooperation to establish and enforce common rules. There can be no solution in isolation, because no single government can tackle the problem on its own.
Over time, an alphabet soup of organizations has emerged to bring together the technical community, businesses, governments, and civil society. And bodies such as ICANN (Internet Corporation for Assigned Names and Numbers), IETF (Internet Engineering Task Force), and W3C (World Wide Web Consortium) now provide de facto governance of the Internet's architecture. But governance on the Internet is far more complex. Here, the institutional landscape is both crowded and unsettled.
It is crowded because numerous actors are competing to shape the normative framework of cyberspace. Many countries have multiple relevant ministries regulating online activity. Websites and online services have vastly different community guidelines and terms of service. Public- and private-sector developers determine the design of the Internet's changing infrastructure. And numerous civil-society groups are proposing their own sets of cyber principles, while international organizations attempt to develop multilateral agreements.
The landscape remains unsettled because intergovernmental cooperation has largely stalled, owing to conflicting priorities among countries. Making matters worse, there are still too few dedicated spaces for different stakeholders to interact and devise operational solutions.
In the absence of mutually agreed frameworks, governments will tend to adopt short-term unilateral measures – mandatory data localization, excessive content restrictions, intrusive surveillance – to address immediate concerns, or as a response to domestic political pressure. But by doing so, they could fuel a dynamic that heightens, rather than minimizes, international tensions.
Digital governance touches on everything from cybersecurity to the economy to human rights, and uncertainty about which laws apply in different jurisdictions weakens enforcement in all of them, leaving everyone worse off. Moreover, measures to address one dimension can easily affect the others, which means that uncoordinated and rash policy decisions can have negative consequences across the board.
When I had the honor of chairing the Global Commission on Internet Governance, our 2016 report highlighted these risks, and called for "a new Social Compact" to ensure that the Internet of the future will be accessible, inclusive, secure, and trustworthy.
Progress since then has been limited. Because efforts at the United Nations to establish global cyber rules have reached an impasse, alternative initiatives will have to drive the process forward.
Fortunately, the Global Commission on the Stability of Cyberspace recently issued an important "Call to Protect the Public Core of the Internet." And the upcoming Global Internet and Jurisdiction Conference in Ottawa will provide another valuable opportunity for policymakers to continue working toward solutions.
Such technical and legalistic proceedings are essential for shaping the global transition from the industrial to the digital era. To avoid a legal arms race, policymakers will need to develop a smart approach to a variety of tricky issues, from mutual assistance frameworks for investigations to the role of domain-name administrators and service providers in addressing abusive speech online.
Achieving policy coherence across jurisdictions should be a top priority. Doing so will require direct, sustained interactions among all stakeholders. Only then can we create a framework to preserve the cross-border nature of the Internet, protect human rights, fight abuse, and sustain a truly global digital economy.
As Kofi Annan said back in 2004, "In managing, promoting, and protecting [the Internet's] presence in our lives, we need to be no less creative than those who invented it." Westphalia is behind us. What comes next is up to us.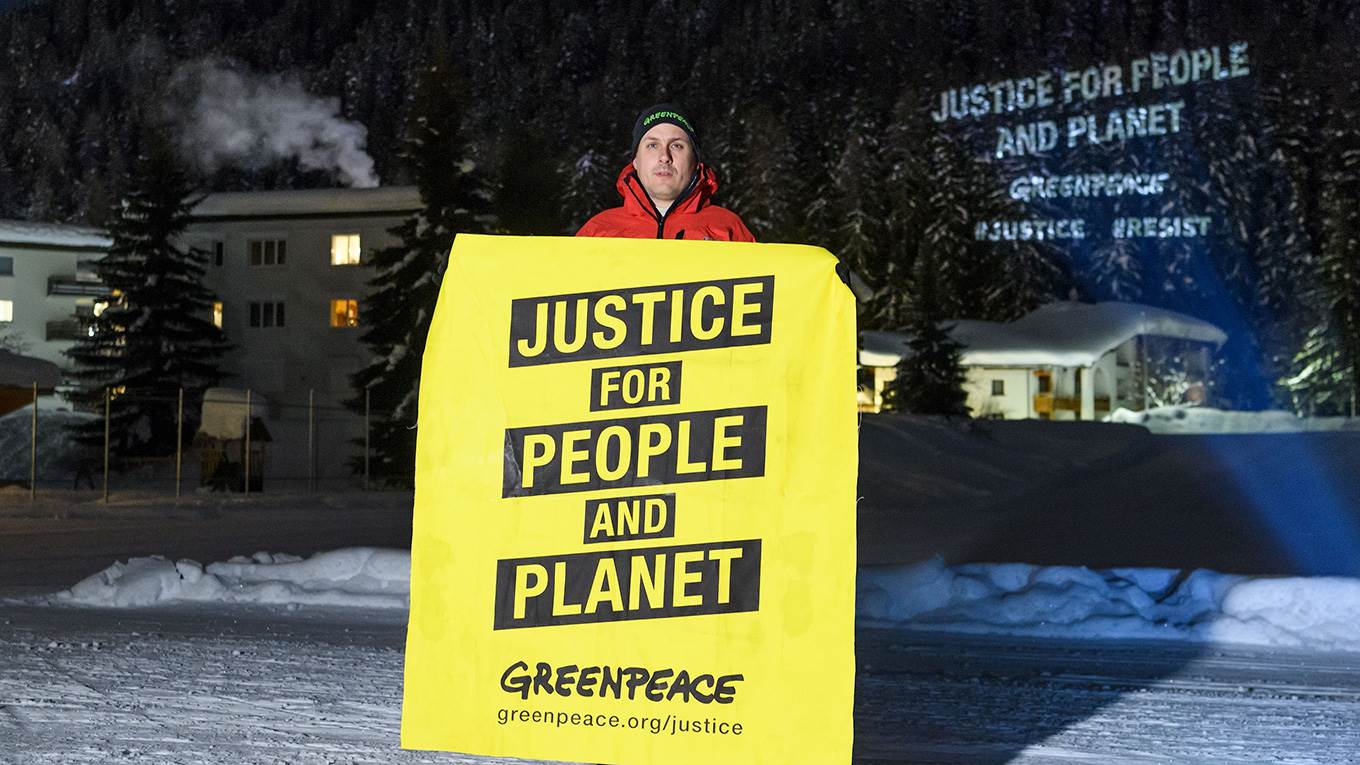 Post-Davos Depression
The CEOs of Davos were euphoric this year about the return to growth, strong profits, and soaring executive compensation. Economists reminded them that this growth is not sustainable, and has never been inclusive; but in a world where greed is always good, such arguments have little impact.
DAVOS – I've been attending the World Economic Forum's annual conference in Davos, Switzerland – where the so-called global elite convenes to discuss the world's problems – since 1995. Never have I come away more dispirited than I have this year.
The world is plagued by almost intractable problems. Inequality is surging, especially in the advanced economies. The digital revolution, despite its potential, also carries serious risks for privacy, security, jobs, and democracy – challenges that are compounded by the rising monopoly power of a few American and Chinese data giants, including Facebook and Google. Climate change amounts to an existential threat to the entire global economy as we know it.
Perhaps more disheartening than such problems, however, are the responses. To be sure, here at Davos, CEOs from around the world begin most of their speeches by affirming the importance of values. Their activities, they proclaim, are aimed not just at maximizing profits for shareholders, but also at creating a better future for their workers, the communities in which they work, and the world more generally. They may even pay lip service to the risks posed by climate change and inequality.
But, by the end of their speeches this year, any remaining illusion about the values motivating Davos CEOs was shattered. The risk that these CEOs seemed most concerned about is the populist backlash against the kind of globalization that they have shaped – and from which they have benefited immensely.
Not surprisingly, these economic elites barely grasp the extent to which this system has failed large swaths of the population in Europe and the United States, leaving most households' real incomes stagnant and causing labor's share of income to decline substantially. In the US, life expectancy has declined for the second year in a row; among those with only a high school education, the decline has been underway for much longer.
Not one of the US CEOs whose speech I heard (or heard about) mentioned the bigotry, misogyny, or racism of US President Donald Trump, who was present at the event. Not one mentioned the relentless stream of ignorant statements, outright lies, and impetuous actions that have eroded the standing of the US president – and thus of the US – in the world. None mentioned the abandonment of systems for ascertaining truth, and of truth itself.
Indeed, none of America's corporate titans mentioned the administration's reductions in funding for science, so important for strengthening the US economy's comparative advantage and supporting gains in Americans' standard of living. None mentioned the Trump administration's rejection of international institutions, either, or the attacks on the domestic media and judiciary – which amounts to an assault on the system of checks and balances that underpins US democracy.
No, the CEOs at Davos were licking their lips at the tax legislation that Trump and congressional Republicans recently pushed through, which will deliver hundreds of billions of dollars to large corporations and the wealthy people who own and run them – people like Trump himself. They are unperturbed by the fact that the same legislation will, when it is fully implemented, lead to an increase in taxes for the majority of the middle class – a group whose fortunes have been in decline for the last 30 years or so.
Even in their narrowly materialistic world, where growth matters above all else, the Trump tax legislation should not be celebrated. After all, it lowers taxes on real-estate speculation – an activity that has produced sustainable prosperity nowhere, but has contributed to rising inequality everywhere.
The legislation also imposes a tax on universities like Harvard and Princeton – sources of numerous important ideas and innovations – and will lead to lower local-level public expenditure in parts of the country that have thrived, precisely because they have made public investments in education and infrastructure. The Trump administration is clearly willing to ignore the obvious fact that, in the twenty-first century, success actually demands more investment in education.
For the CEOs of Davos, it seems that tax cuts for the rich and their corporations, along with deregulation, is the answer to every country's problems. Trickle-down economics, they claim, will ensure that, ultimately, the entire population benefits economically. And the CEOs' good hearts are apparently all that is needed to ensure that the environment is protected, even without relevant regulations.
Yet the lessons of history are clear. Trickle-down economics doesn't work. And one of the key reasons why our environment is in such a precarious condition is that corporations have not, on their own, lived up to their social responsibilities. Without effective regulations and a real price to pay for polluting, there is no reason whatsoever to believe that they will behave differently than they have.
The Davos CEOs were euphoric about the return to growth, about their soaring profits and compensation. Economists reminded them that this growth is not sustainable, and has never been inclusive. But such arguments have little impact in a world where materialism is king.
So forget the platitudes about values that CEOs recite in the opening paragraphs of their speeches. They may lack the candor of Michael Douglas's character in the 1987 movie Wall Street, but the message hasn't changed: "Greed is good." What depresses me is that, though the message is obviously false, so many in power believe it to be true.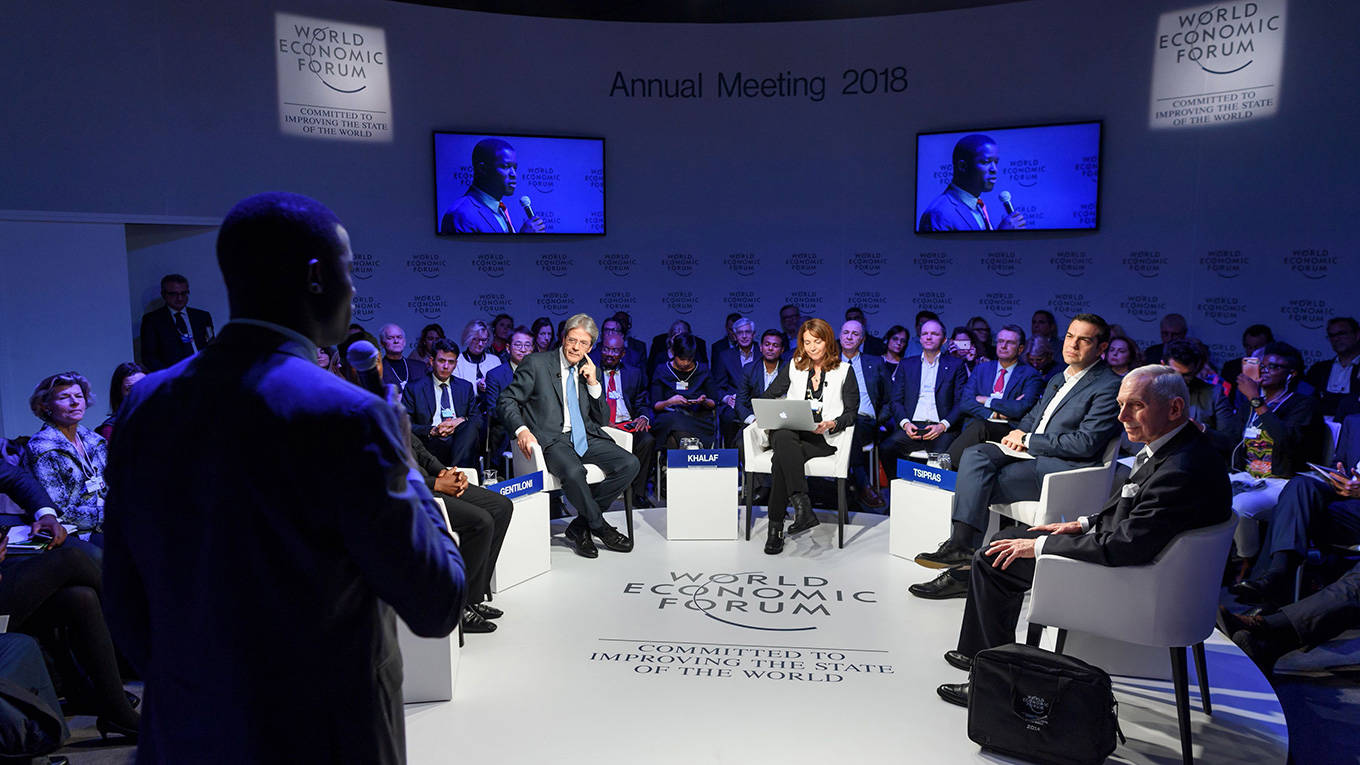 What I Learned at Davos
Davos man must change. But that cannot mean rejecting the core commitment to the view that human ingenuity, fostered by open societies and rewarded by markets, remains the sturdiest foundation for the advancement of humankind.
DAVOS – The World Economic Forum's annual flagship meeting in Davos has always been an easy target for caricature, even ridicule. Over the years, it has gained a somewhat deserved reputation for gathering a bunch of global elites in a posh Swiss resort for a week's worth of self-congratulatory speeches – a sort of affirmation that the elite's values and successes epitomize the triumph of democracy and capitalism.
That is not to say that dissent has not been tolerated; but, more often than not, it was mere quibbling at the margins, never a genuine reflection on what might be flawed or missing. Until the financial crisis of 2008, Davos never wavered in its cheerleading for democracy, markets, and globalization.
Today, Davos man (and it remains mostly men) isn't so supremely confident. The challenges he faces are on many fronts, and they aren't all called Trump.
For years, Davos was a reflection of the world that Francis Fukuyama proclaimed had reached the "end of history," a community of nation-states drawn ever closer by trade and liberal-democratic values. That might have been true about the history that was made in 1989 and immediately afterwards. Communism lost. But capitalism's (or democracy's) victory began to look less complete against the backdrop of ethnic and religious strife – and soon sectarian terrorism – that filled some of the vacuum left by the demise of the Soviet Union.
Davos was also about faith in rational economic behavior. That belief, too, seems quaint in the aftermath of the credit bubble that fueled the global financial crisis, which exposed economic models based on rational decision-making to stinging intellectual attack from the behavioral economists.
Finally, Davos was about a belief that globalization, abetted by information technology, would not be just an engine of growth, but also a leveler of cultural and historic divisions. Clearly, that, too, has not worked out the way Davos man had thought.
It should come as no surprise that as the Davos consensus has ebbed, a wave of populist nativism – often suffused with racism, religious or ethnic intolerance, misogyny, and gender bias – has rushed in. Davos man is not ready to succumb. Too much is at stake for surrender.
But one thing I didn't hear at Davos this year was an ability to articulate the globalist answer to nativism. It isn't enough to disparage the other's values. Negativity may win the battle, but it's unlikely to win the war, much less secure long-term peace and prosperity.
Davos man is beginning to learn a much-needed lesson in humility, requiring him to ask which of his beliefs are foundational, and which need revision. My sense is that the answer will reaffirm that democracy, a market economy, and globalization are the foundations of human progress. So, too, are acceptance of diversity, logic, and science.
Those always were Davos man's core tenets. But his successor – perhaps we should say Davos woman – understands that they are both necessary and insufficient.
Equality of opportunity – who knows, perhaps even a fairer distribution of income – is what the formerly smug, self-assured Davos man left out of the equation. If the nativists today stand for anything, it is that Davos 1.0 didn't work for them.
But it is important not to lose sight of what Davos should reaffirm. I heard the passion and determination of a young man, barely out of his teens, who spoke about his efforts to devise a simple technology that in several decades may rid the oceans of 90% of the plastic waste that now floats in masses half the size of continents.
I listened to a professor of materials science describe how teams of researchers are using nanotechnology to address myriad challenges. One team has developed degradable packaging to replace plastics. Another is advancing drug therapies tailored to the needs of individual patients. And yet another team is collaborating with biotechnology experts to find ways to regenerate human tissue, giving hope to those paralyzed by spinal cord injuries that they may one day walk again.
Those stories of creativity and the power of science belong to the best of Davos. The young man working to clean the world's oceans is the son of immigrants. The materials scientist is a woman. Both work freely across borders and disciplines. Their ingenuity is supported by the public and private sectors, and though their accomplishments may one day be handsomely rewarded, their motivations are more a mix of intellectual curiosity and altruism.
Davos man must change. But that cannot mean rejecting the core commitment to the view that human ingenuity, fostered by open societies and rewarded by markets, remains the sturdiest foundation for the advancement of humankind. Rather, it means ensuring inclusion, so that no one is denied the opportunity to participate in the betterment of their lives and their communities.