Automation and American Leadership
In an era of rapid technological change, it is widely assumed that disruptions to labor markets are inevitable – and positive – indicators of a country's international competitiveness. But should policymakers really use the economy to advance national power at the expense of the many people and regions left behind?
LONDON – Not so long ago, there were two competing explanations of unemployment. The first was the Keynesian theory of deficient demand, which holds that workers become unemployed "involuntarily" when their community lacks the money to buy the goods and services they produce. The second was the view often associated with the Chicago School, according to which unemployment is a voluntary choice of leisure over work at whatever the offered wage.
Now, a third explanation is gaining traction: declines in full-time work opportunities and real wages are both due to automation. To be sure, the idea that robots are gobbling up human jobs is a new slant on the very old problem of technological unemployment. But it is a slant that merits attention, because the problem cannot be solved with the conventional policy responses.
The "official" narrative about technology treats accelerating change as inevitable. According to acronymically named institutions, think tanks, task forces, et hoc genus omne, automation and artificial intelligence (AI) will soon eliminate or alter a large but unpredictable number of human jobs.
At the same time, embracing new technology is considered necessary for a country's geopolitical and competitive success. Thus, disruptions to existing work patterns should be welcomed and "mitigated," by adapting education and social-security systems to the needs of an automation-driven job market.
So says The Work Ahead: Machines, Skills, and US Leadership in the Twenty-First Century, a new report published by the Council on Foreign Relations. Like many other recent reports on the topic, this one starts from unargued – and largely unwarranted – assumptions and arrives at anodyne conclusions.
For example, we are told that technological possibilities will determine job outcomes. Because most jobs will be automated in whole or in part, resistance is futile, and adaptation ("mitigation") is the only option. Moreover, technological innovation must be enthusiastically embraced, or the "best and brightest" workers will flock to foreign competitors.
We are also told that if the United States were to slow the pace of automation unilaterally, it would forfeit its dominant position on the world stage. On the assumption that China is a strategic enemy of the US, it is imperative that the American people embrace technological innovation to win the race for world leadership.
Lastly, we are told that work is the source of one's identity. So, rather than delinking economic security from employment, the challenge is to salvage traditional but more flexible forms of paid employment. Thus, a universal basic income must be rejected, owing to its "enormous cost and the potential disincentives to work."
If one abides by these ground rules, then the only answer to the march of the robots must be an active labor-market policy geared toward preparing workers to race with machines. The challenge of a more precarious job market is to be met by making people more precarious.
To its credit, the CFR report does come close to making an important point about the relationship between cyclical unemployment and the longer-term problem of technological unemployment. The authors are correct to view a policy of "full employment" as necessary (though not sufficient) to win the public's acceptance of automation. And they even note that the US economy has been at full employment for just 30% of the period since 1980, compared to 70% of the period between the late 1940s and 1980. "At any given time," the authors write, "millions of people are likely to be out of jobs involuntarily and looking for work, and in times of recession and economic slowdown, those numbers will spike."
And yet, to "mitigate" this problem, the report proposes more of the same policies that brought us to where we are. Accordingly, monetary policy should be used to expand employment – even though it has consistently failed to do so. And, "Congress and the Trump administration should also use fiscal policy prudently to maintain strong growth and employment" – even though "the worsening federal budget deficit … will unfortunately further handcuff" efforts in this direction.
So much for using macroeconomic policies to confront the "jobs challenge." Instead, we are left with the usual microeconomic measures to prepare people for algorithmic employment – that is, the use of big data to match people with the jobs they will need to remain consumers. Again, we are told that future labor-market participants should be equipped with job-targeted education and portable social-security pots to help them jump from one automated workplace to another.
In the case of education, the report calls on employers and colleges to work together to develop talent "pipelines." For example, it highlights Miami Dade College's "programs in animation and game development, working with companies such as Pixar Animation Studios and Google." Likewise, Toyota "has built its own advanced manufacturing technician program to provide a pathway for students seeking careers at the company."
And to ensure labor mobility, the report gives pride of place to "flexicurity," in the form of portable benefits ("transition assistance for workers"). In typical fashion, it does not attempt to delink benefits from work itself, but rather from "single employers and full-time work."
In the end, the report never makes up its mind about whether flexible forms of work in the "gig economy" represent Keynesian demand deficiency, voluntary choices for part-time work and self-employment, or the involuntary encroachment of automation. And while the authors admit that globalization and technological dynamism have left a large part of the US population and territory behind in terms of wealth, income, and self-esteem, their own remedy is to redouble ongoing efforts to bring the "left behinds" up to speed.
For my part, I would draw a different conclusion from the same facts. If the goal is to lift all boats as far as possible, then some slowdown of globalization and automation is inescapable. Every citizen has a right not to be left too far behind. Upholding that right should not be sacrificed in the name of largely bogus calculations about the effects of slowing down automation on US global leadership.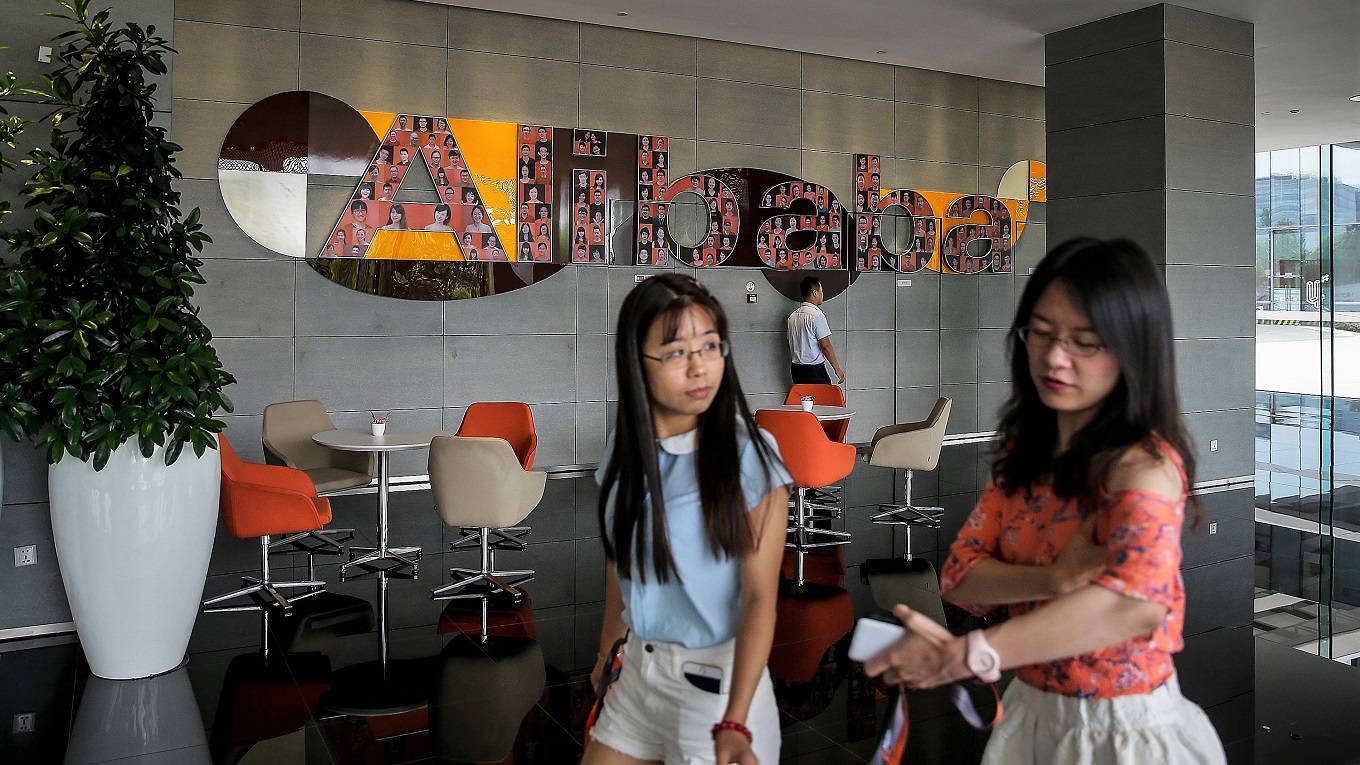 The Rise of Silicon China
Key features of Chinese history and culture have put it in a position to become the global leader in artificial-intelligence technologies, surpassing even the tech giants of Silicon Valley. But to do so, China will need to overcome economic hurdles – both at home and abroad – that could stand in its way.
CAMBRIDGE – In the future, if not already, the Silicon Valleys of artificial intelligence (AI) will be in China. The tech firms Xiaomi, Baidu, Didi Chuxing, Meituan, and Toutiao are all headquartered in Beijing. Alibaba, China's e-commerce giant, is based in Hangzhou. And Tencent, a multinational conglomerate that is investing heavily in AI, is in Shenzhen. Tencent already has a market capitalization higher than General Electric, and Baidu is larger than General Motors.
China has a chance to lead in AI because it has managed to adopt new technologies very quickly. Just as millions of consumers in India went directly from no phones to smartphones – skipping landlines and flip phones altogether – Chinese consumers are now doing the same, and across a wide range of new technologies. For example, Chinese shoppers have skipped credit cards and gone straight to using e-payment platforms. While Apple Pay is struggling to gain momentum in the United States, Tencent is already facilitating more than 600 million cashless transactions every day.
Tencent and other Chinese firms' massive centralized platforms give them an edge in AI research and development, by allowing them to generate and collect huge stores of data with which to train their machine-learning algorithms. These platforms also enjoy near-monopolistic power, which will help them monetize AI applications in the future.
Moreover, Chinese firms are benefiting from Chinese cultural norms concerning privacy. In the West, privacy is regarded as a personal right to one's own space and, by extension, to one's data. This conception of privacy is good for individuals and, arguably, for society; but it is bad for AI developers, who face hurdles accessing the data they need to train their algorithms.
By contrast, in Chinese culture, privacy is viewed suspiciously, as a form of secrecy. It is assumed that an honest person should have nothing to hide from the public domain, so Chinese consumers are often happy to give up their data. Unlike in India, whose Supreme Court affirmed the right to privacy as a fundamental right, and the European Union, which has codified a "right to be forgotten," there has not been any serious discussion about data privacy in China.
That suits Chinese technology firms just fine. The legal framework in China allows tech firms to collect a wide range of user data for a wide range of purposes, such as constructing social-scoring systems, like Alibaba's Sesame Credit.
Still, limited financing and investment opportunities – both at home and abroad – could slow China's momentum in AI and related fields. Chinese savers have little incentive to put their money in Chinese banks, because the rate of inflation is higher than the real rate of return on deposits. And given China's high consumer-price volatility, many people are hesitant to lock up their savings for long.
Moreover, there is little reason to invest in the Shanghai Stock Exchange Composite Index so long as economic growth rates are systematically higher than stock-market performance. And investors are wary of a repeat of 2015, when market turbulence led to government intervention, sharply falling prices, and several trading halts. The government did manage to stabilize prices, but it did so by creating added incentives for brokers and banning short-sells and the sale of stocks above a certain threshold.
A third problem is that a steady increase in housing prices has made investment in all risk assets riskier. Zhou Xiaochuan, the governor of the People's Bank of China, is now warning of a "Minsky moment," whereby China's growing mortgage-fueled household debt could lead to a sudden asset-price collapse.
A final problem is that Chinese firms face limitations in investing overseas. In addition to the Chinese government's own capital controls, the US government has been considering tighter restrictions on Chinese investments in strategically important sectors, particularly those relating to AI and machine learning. In fact, US regulators recently blocked Alibaba's attempt to acquire MoneyGram, citing national-security concerns.
The prospect of a China-led AI revolution poses both opportunities and challenges. From the perspective of the West, it could allow for more collaboration with one of the world's most dynamic economies. And it could bring China more deeply into the fold of the rules-based international order.
Yet, at the same time, China's lead in AI will likely occasion more clashes between Chinese firms and foreign regulators. China's tech giants are expanding internationally, and their approach to data collection and privacy will present a dilemma for other countries. The challenge will be to contain the risks of doing business with an illiberal state, without losing out on Chinese investments and innovations.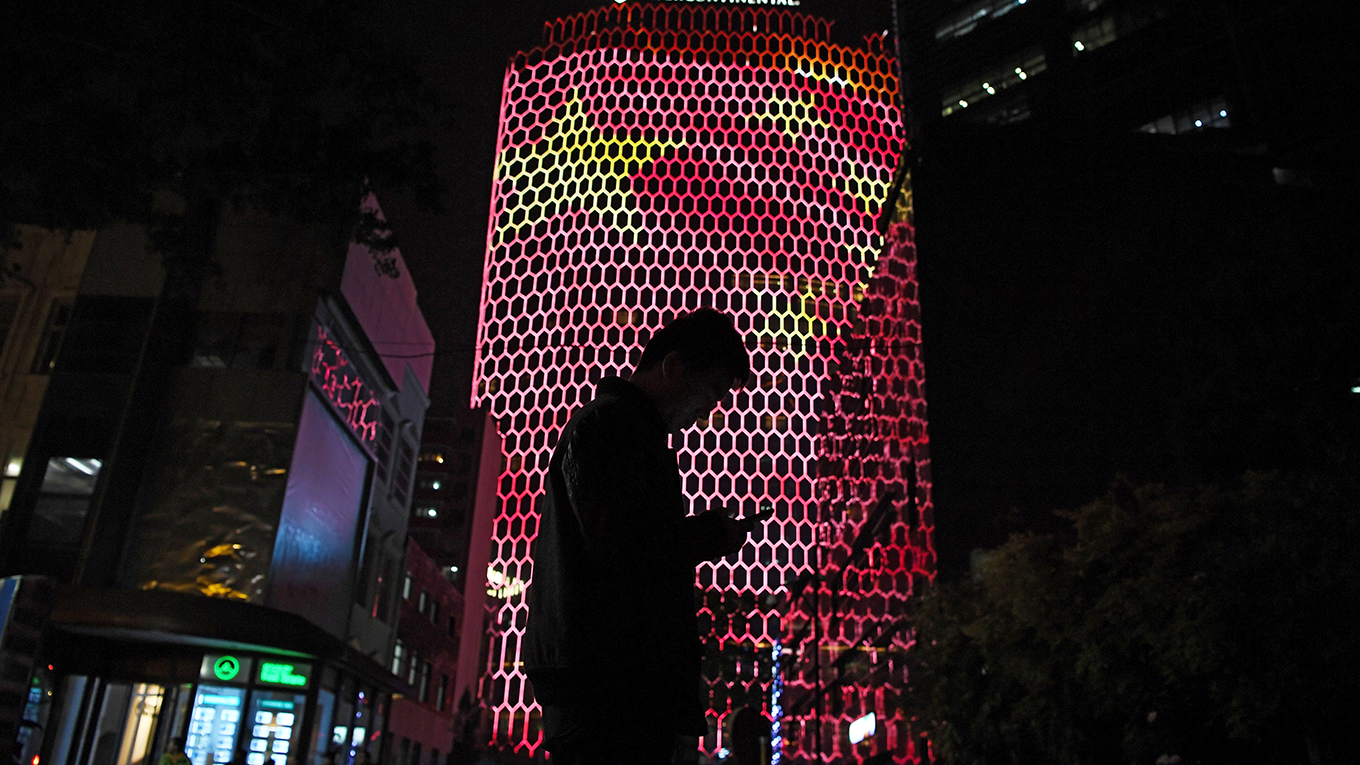 China, the Digital Giant
From retraining those displaced by automation to preventing the rise of tech monopolies, the shift into the digital age is rife with challenges. But the readiness of China's government to embrace the digital age, pursue supportive policies, and avoid excessive regulation has already placed the country at a significant advantage.
SHANGHAI – China has firmly established itself as a global leader in consumer-oriented digital technologies. It is the world's largest e-commerce market, accounting for more than 40% of global transactions, and ranks among the top three countries for venture capital investment in autonomous vehicles, 3D printing, robotics, drones, and artificial intelligence (AI). One in three of the world's unicorns (start-ups valued at more than $1 billion) is Chinese, and the country's cloud providers hold the world record for computing efficiency. While China runs a trade deficit in services overall, it has lately been running a trade surplus in digital services of up to $15 billion per year.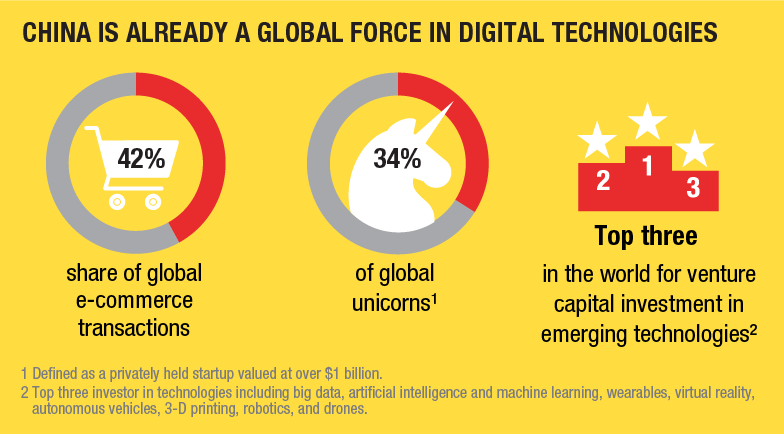 Powering China's impressive progress in the digital economy are Internet giants like Alibaba, Baidu, and Tencent, which are commercializing their services on a massive scale, and bringing new business models to the world. Together, these three companies have 500-900 million active monthly users in their respective sectors. Their rise has been facilitated by light – or, perhaps more accurate, late – regulation. For example, regulators put a cap on the value of online money transfers a full 11 years after Alipay introduced the service.
Now, these Internet firms are using their positions to invest in China's digital ecosystem – and in the emerging cadre of tenacious entrepreneurs that increasingly define it. Alibaba, Baidu, and Tencent together fund 30% of China's top start-ups, such as Didi Chuxing ($50 billion), Meituan-Dianping ($30 billion), and JD.com ($56 billion).
With the world's largest domestic market and plentiful venture capital, China's old "copy-cat" entrepreneurs have transformed themselves into innovation powerhouses. They fought like gladiators in the world's most competitive market, learned to develop sophisticated business models (such as Taobao's freemium model), and built impregnable moats to protect their businesses (for example, Meituan-Dianping created an end-to-end food app, including delivery).
As a result, the valuation of Chinese innovators is many times higher than that of their Western counterparts. Moreover, China leads the world in some sectors, from livestreaming (one example is Musical.ly, a lip-syncing and video-sharing app) to bicycle sharing (Mobike and Ofo exceed 50 million rides per day in China, and are now expanding abroad).
Most important, China is at the frontier of mobile payments, with more than 600 million Chinese mobile users able to conduct peer-to-peer transactions with nearly no fees. China's mobile-payment infrastructure – which already handles far more transactions than the third-party mobile-payment market in the United States – will become a platform for many more innovations.
As Chinese firms become increasingly technically capable, the country's market advantage is turning into a data advantage – critical to support the development of AI. The Chinese firm Face++ recently raised $460 million, the largest amount ever for an AI company. DJI (a $14 billion consumer drone company), iFlyTek (a $14 billion voice recognition company), and Hikvision (a $50 billion video-surveillance company) are the world's most valuable firms in their respective domains.
Another important developing trend in China is "online merging with offline" (OMO) – a trend that, along with AI, Sinovation Ventures is betting on. The physical world becomes digitized, with companies detecting a person's location, movements, and identity, and then transmitting the data so that it can help shape online experiences.
For example, OMO stores will be equipped with sensors that can identify customers and discern their likely behavior as seamlessly as e-commerce websites do now. Similarly, OMO language learning will combine native teachers lecturing remotely, local assistants keeping the atmosphere fun, autonomous software correcting pronunciation, and autonomous hardware grading homework and tests. With China in a position to rebuild its offline infrastructure, it can secure a leading position in OMO.
Yet, even as China leads the way in digitizing consumer industries, business adoption of digital technologies has lagged. This may be about to change. New McKinsey Global Institute research finds that three digital forces – disintermediation (cutting out the middle man), disaggregation (separating processes into component parts), and dematerialization (shifting from physical to electronic form) – could account for (or create) 10-45% of the industry revenue pool by 2030.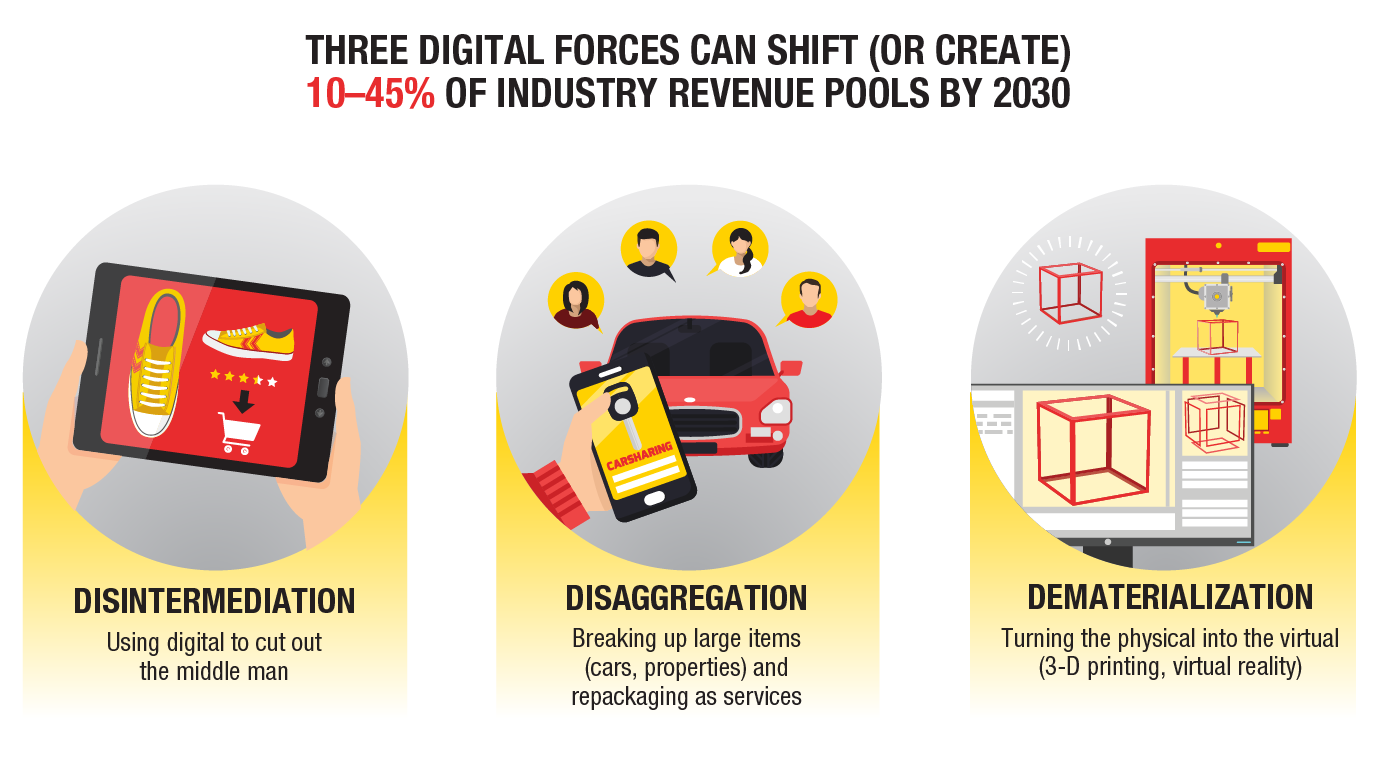 Those actors that successfully capitalize on this shift are likely to be large enough to influence the global digital landscape, inspiring digital entrepreneurs far beyond China's borders. Value will shift from slow-moving incumbents to nimble digital attackers, armed with new business models, and from one part of the value chain to another. Large-scale creative destruction will root out inefficiencies and vault China to a new echelon of global competitiveness.
China's government has grand plans for the country's future as a digital world power. The State Council-led Mass Entrepreneurship and Innovation Program has resulted in more than 8,000 incubators and accelerators. The government's Guiding Fund program has provided a total of $27.4 billion to venture capital and private equity investors – a passive investment, but with special redemption incentives. The authorities are now mobilizing resources to invest $180 billion in building China's 5G mobile network over the next seven years, and are supporting the development of quantum technology.
The State Council has also issued guidelines for developing AI technologies, with the goal of making China a global AI innovation center by 2030. Xiongan, now under construction, may be the first "smart city" designed for autonomous vehicles. In Guangdong Province, the government has set an ambitious target of 80% automation by 2020.
Such aspirations will inevitably disrupt the labor market, beginning with routine white-collar jobs (such as customer service and telemarketing), followed by routine blue-collar jobs (such as assembly line work), and finally affecting some non-routine jobs (such as driving or even radiology). Recent MGI research found that in a rapid-automation scenario, some 82-102 million Chinese workers would need to switch jobs.
Retraining the displaced will be a major challenge for China's government, as will preventing the major digital players from securing innovation-stifling monopolies. But the government's readiness to embrace the emerging digital age, pursuing supportive policies and avoiding excessive regulation, has already placed the country at a significant advantage.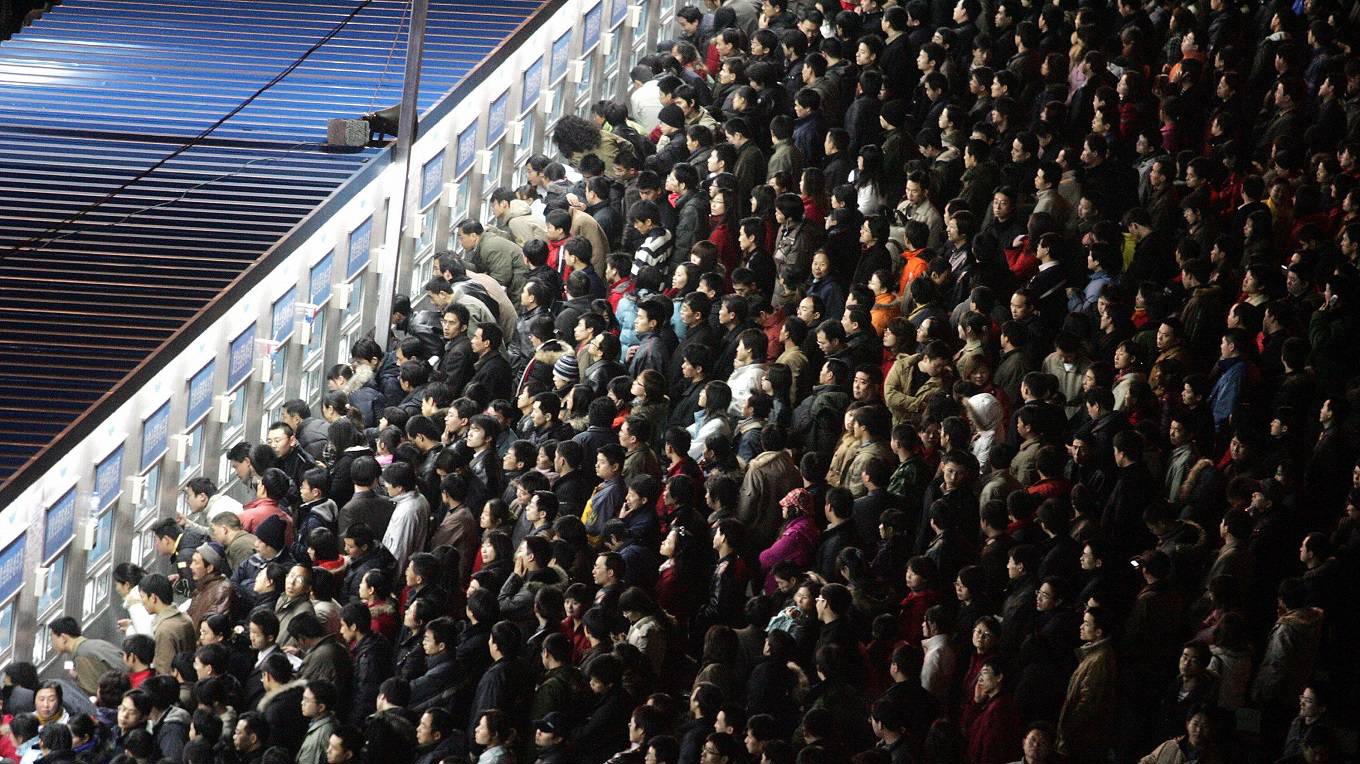 Will China Really Supplant US Economic Hegemony?
As artificial intelligence reshapes the global economy, economists who once argued that China's massive population would propel it to superpower status should rethink that assumption. In fact, as the global economy reaches higher stages of development, China's labor advantage today could become a handicap tomorrow.
CAMBRIDGE – As China and the United States engage in their latest trade tussle, most economists take it as given that China will achieve global economic supremacy in the long run, no matter what happens now. After all, with four times as many people as the US, and a determined program to catch up after centuries of technological stagnation, isn't it inevitable that China will decisively take over the mantle of economic hegemon?
I am not so sure. Many economists, including many of the same experts who see China's huge labor force as a decisive advantage, also worry that robots and artificial intelligence will eventually take away most jobs, leaving most humans to while away their time engaged in leisure activities.
Which is it? Over the next 100 years, who takes over, Chinese workers or the robots? If robots and AI are the dominant drivers of production in the coming century, perhaps having too large a population to care for – especially one that needs to be controlled through limits on Internet and information access – will turn out to be more of a hindrance for China. The rapid aging of China's population exacerbates the challenge.
As the rising importance of robotics and AI blunts China's manufacturing edge, the ability to lead in technology will become more important. Here, the current trend toward higher concentration of power and control in the central government, as opposed to the private sector, could hamstring China as the global economy reaches higher stages of development.
The possibility that China might never supplant the US as the world's economic hegemon is the flip side of the technology and inequality problem. Everyone in the West is worrying about the future of work, but in many ways it is a bigger problem for the Chinese development model than for the American one. The US needs to struggle with the problem of how to redistribute income internally, especially given highly concentrated ownership of new ideas and technology. But for China, there is the additional problem of how to extend its franchise as export superpower into the machine age.
True, it is highly unlikely that President Donald Trump's huffing and puffing and bluffing will bring about a large-scale return of manufacturing jobs to the US. But the US has the potential to expand the size of its manufacturing base anyway, in terms of output if not jobs. After all, today's high-tech factory floors produce far more with far fewer workers. And the robots and AI are coming not just in manufacturing and driverless cars. Robo-doctors, robo-financial advisors, and robo-lawyers are just the tip of the iceberg in machine disruption of service-sector jobs.
To be sure, China's rise is hardly a mirage, and its heady success is not built on population size alone. India has a similar population (both around 1.3 billion people), but for now, at least, it trails far behind. Chinese leadership must be credited with doing a miraculous job of lifting hundreds of millions of people out of poverty and into the middle class.
But China's rapid growth has been driven mostly by technology catch-up and investment. And while China, unlike the Soviet Union, has shown vastly more competence in homegrown innovation – Chinese companies are already leading the way in the next generation of 5G mobile networks – and its cyber-warfare capacity is fully on par with the US, keeping close to the cutting edge is not the same thing as defining it. China's gains still come largely from adoption of Western technology, and in some cases, appropriation of intellectual property. Trump is hardly the first American president to complain on this score, and he is right to do so (though starting a trade war cannot be the solution).
In the economy of the twenty-first century, other factors, including rule of law, as well as access to energy, arable land, and clean water may also become increasingly important. China is following its own path and may yet prove that centralized systems can push development further and faster than anyone had imagined, far beyond simply being a growing middle-income country. But China's global dominance is hardly the predetermined certainty that so many experts seem to assume.
Yes, the US faces vast challenges as well. For example, it must devise a way to retain dynamic technological growth while preventing excessive concentration of wealth and power. To be a hegemon, however, does not require being the world's largest country – otherwise, England would never have ruled much of the world as it did for more than a century. China might lead the digital future if the US drops the ball, but it won't become the dominant global power simply because it has a larger population. On the contrary, the coming machine age could be a game changer in the battle for hegemony.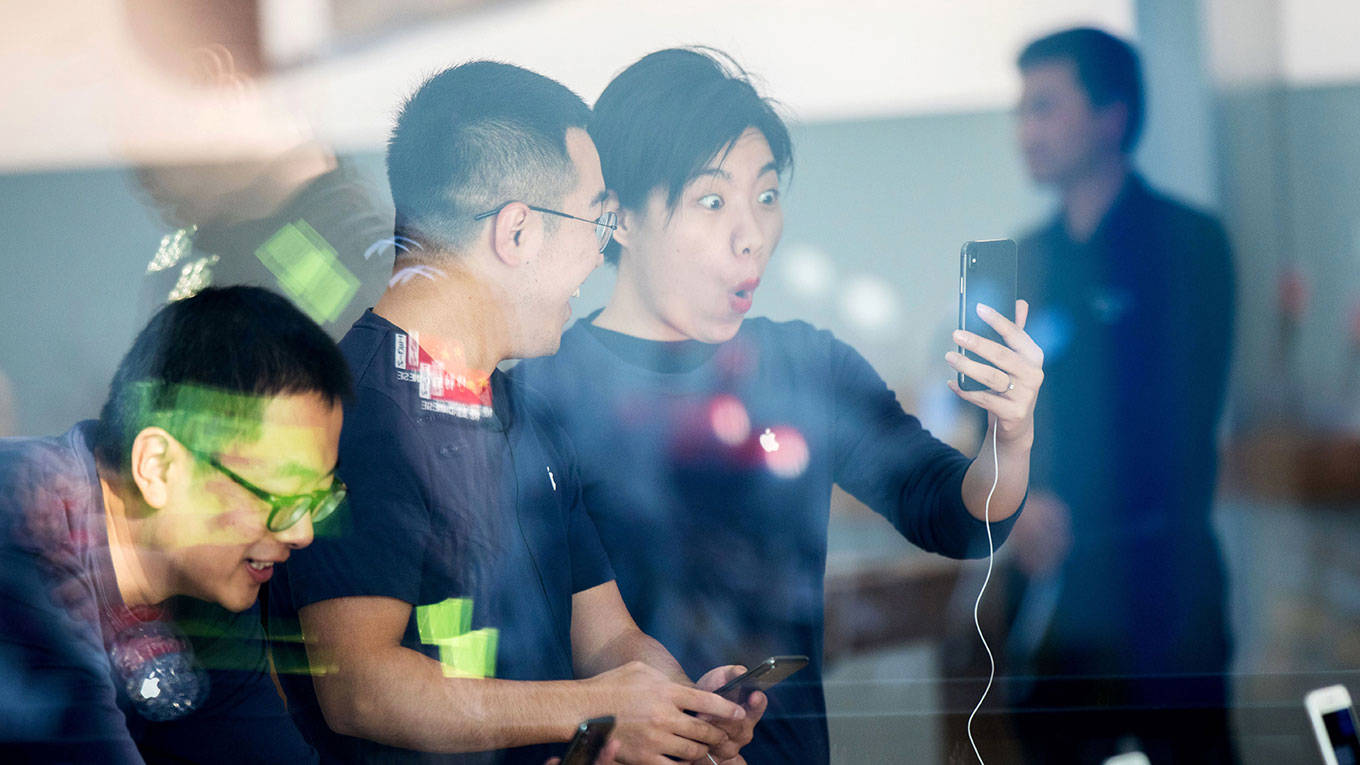 The Challenges Confronting China's Digital Economy
If China is to ensure the continued development of its digital economy, while containing the risks associated with disruption, its leaders will need to implement smart regulations. And that will require careful consideration of the factors that have contributed to – and impeded – its progress so far.
HONG KONG – China's digital economy is a force to be reckoned with. The country now accounts for 42% of global e-commerce, boasts one-third of the world's most successful tech startups, and conducts 11 times more mobile payments than the United States per year. But there are major challenges ahead.
To be sure, China is on track for continued progress, thanks to its rich ecosystem of innovators, a tech-friendly attitude among regulators and government, and its massive consumer market. China's 731 million Internet users outnumber those in the European Union and the US combined.
These factors underpin projections of rapid growth in China's FinTech market. From 2016 to 2020, Goldman Sachs expects consumption-related third-party payment value to grow from $1.9 trillion to $4.6 trillion, with lending by non-traditional players soaring from $156 billion to $764 billion and new online-oriented asset management increasing from $8.3 trillion to $11.9 trillion.
Moreover, China is accelerating investment in artificial intelligence. In its report Artificial Intelligence: Implications for China, McKinsey estimates that AI technology in China could add 0.8 to 1.4 percentage points to China's annual GDP growth, depending on the speed of adoption. Early this month, Google AI China was launched in Beijing by the company's Chinese-born chief scientist for cloud computing, Fei-Fei Li.
Yet China still has a long way to go. As another recent McKinsey study, Digital China: Powering the Economy to Global Competitiveness, points out, the US remains 4.9 times more digitized than China. And, within China, there are large variations in various sectors' level of digitization.
China will confront serious risks as it closes these gaps. As McKinsey notes, digitization promises to shift and create value equivalent to anywhere from 10% to 45% of total industry revenues in four key sectors (consumer and retail, automotive and mobility, health care, and freight and logistics) by 2030. This implies significant disruptions to value chains and uncertainty about jobs, consumption, and the socio-political context.
If China is to ensure the continued development of its digital economy, while containing the risks associated with disruption, its leaders will need to implement smart regulations. And that will require careful consideration of the factors that have contributed to – and impeded – its progress so far.
As recently as a decade ago, few expected China's remarkable digital breakthrough. In fact, both of the country's key Internet pioneers, Jack Ma of Alibaba and Pony Ma of Tencent, experienced early failures. But thanks to the Chinese leadership's willingness to experiment, allowing access to foreign capital and technology, these pioneers were able to pursue initial public offerings elsewhere – Tencent in Hong Kong and Alibaba in New York.
As they took advantage of emerging digital technology – not to mention China's high-quality public infrastructure – to leverage and build services, these pioneers spearheaded rapid progress in China's digital economy. Alibaba's e-commerce platform expanded market access and reduced transaction costs, crowding out traditional middleman who undermined productivity. Tencent's WeChat reduced the costs of communication, interaction, coordination, and socialization among individuals, stimulating innovation across industries. Both broke down barriers among manufacturing, distribution, media, and finance, thereby achieving scale, expanding scope, and increasing speed.
These achievements – which produced major productivity, income, and wealth gains – are a testament to private-sector ingenuity. But they were facilitated by the state, which pursued a policy of flexible non-enforcement of functional rules and regulations that enabled not only the expansion of private markets in China, but also the integration of those markets into the global economy.
Yet market-based innovations are intrinsically unpredictable, and expectations regarding innovations often overshoot. In the case of China's digital economy, imperfect and lagging regulations and enforcement exacerbated the effects of imbalances in the business environment, which enabled the emergence of severe vulnerabilities, from financial and debt risk to pollution and inequality.
Under China's current system, it is up to the government to deal with these problems. And, over the last five years, it has attempted to do just that, often using old, imperfect, but already-available administrative tools. Over the last year alone, China's authorities have steadily tightened regulations governing the crypto-currency Bitcoin, B2C financing platforms, shadow banking, cross-border capital flows, and debt and securities markets.
But such changes do not address the underlying weaknesses that allow risk to proliferate. For that, China must build more effective institutions to deal with business failures, absorb losses, and manage risks and uncertainty. In particular, China needs improved bankruptcy procedures, multilevel capital markets, an effective social-security system, reliable public housing, and a progressive tax regime that aims to reduce inequality. At the same time, to counter market abuses, China should introduce more robust competition laws, anti-corruption mechanisms, and stronger environmental regulations.
The digital economy is naturally pro-market, pro-productivity, and pro-globalization. Yet, without effective management, it can generate significant economic imbalances that foster political and social instability. This is all the more true at a time of large-scale disruptions, owing to rapid technological progress, demographic shifts, and climate change.
The only way to harness the digital economy's potential while avoiding downside risks is to build fair and inclusive social institutions that protect property rights and ensure efficient markets. In other words, it all comes down to delineating clearly, appropriately, and effectively the roles of the state and the market.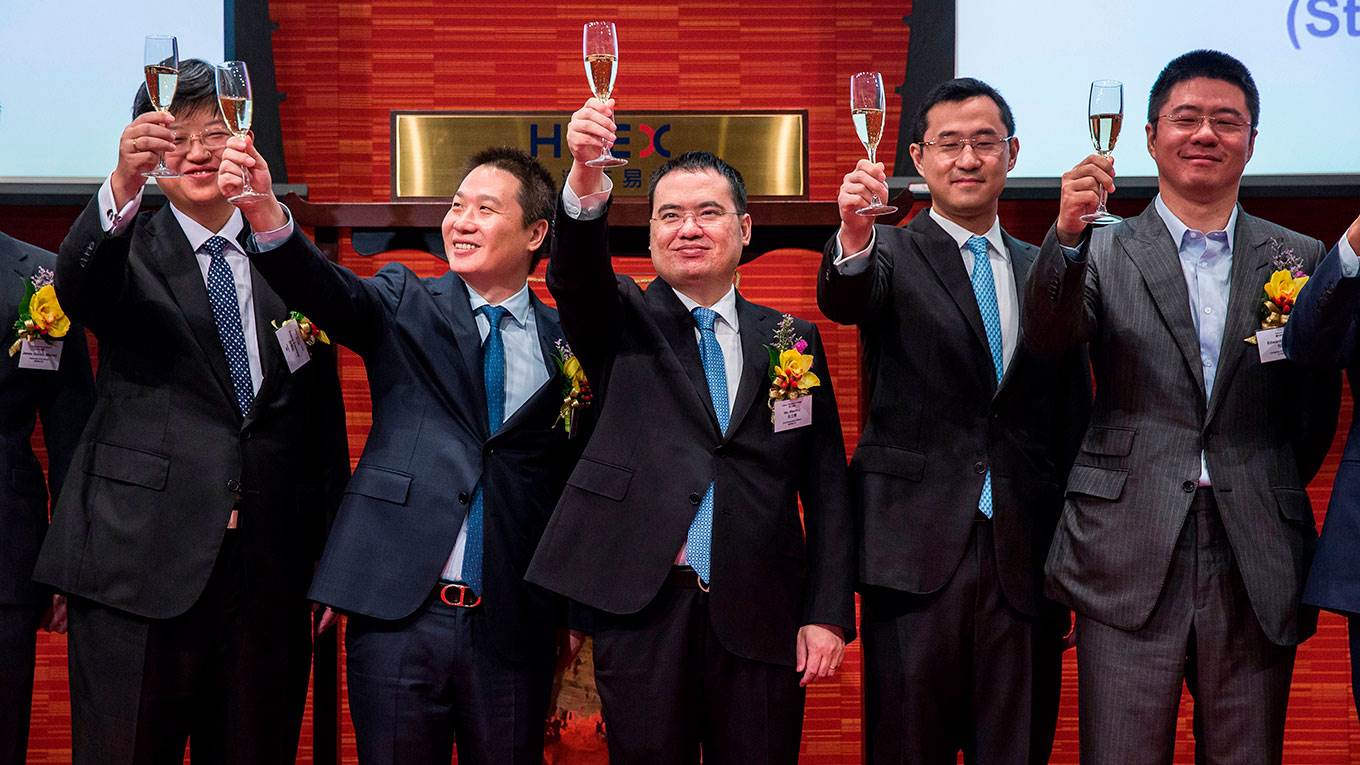 Will China Out-Innovate the West?
For decades, Western governments have offered protections for incumbent firms at the expense of new market entrants, and of productivity growth generally. With China quickly realizing the value of fair and free competition, the West urgently needs to change course, or risk being left behind.
NEW YORK – From the early nineteenth century to the early twentieth century, Western countries attributed their economic growth to the discoveries of "scientists and navigators." A country needed only the "zeal" to develop "obvious" commercial applications, and build the facilities to meet demand for new products.
Until recently, the Chinese believed the same thing. But now, Chinese businesspeople and entrepreneurs are increasingly showing not only the entrepreneurial drive to adapt to new opportunities, but also the desire and capacity to innovate for themselves, rather than simply copying what's already out there.
Indeed, more and more Chinese companies are realizing that they must innovate in order to get – and stay – ahead in the global economy. Several companies – notably Alibaba, Baidu, and Tencent – made breakthroughs, by offering digital-age infrastructure that facilitates innovative activity. And industrial firms have recently moved into robots and artificial intelligence.
For its part, China's government is evidently supportive of Chinese businesses developing a capacity to produce indigenous innovations. It no doubt recognizes that such innovations are all the more valuable when innovation remains weak in the West, where growth in total factor productivity (TFP) has continued its long slowdown.
In recent years, China's government has introduced initiatives aimed at increasing both entrepreneurship and innovation. It has shortened dramatically the process for forming a new company. It has built a vast number of schools, where Chinese children learn more about the world they will face. And it recently facilitated the entry of foreign experts to work on new projects in the business sector.
The authorities have also recognized the importance of allowing more competition in the economy. Individuals should be freed up to start new companies, and existing companies should be freed up to enter new industries. Competition solves a lot of problems – a point that is increasingly lost on the West.
At the World Economic Forum's annual meeting in Davos, Switzerland, in January, Chinese officials discussed basic reforms that the government introduced two years ago to increase competition. Under the new policy, excess capacity now signals that supply should be allowed to contract and prompt redundant firms to exit the market. Of course, excess demand signals that supply should be allowed to increase, leading to the entry of new firms.
The key insight is that when existing enterprises are protected from new market entrants bearing new ideas, the result will be less innovation and less "adaptation" to a changing world, to use Friedrich Hayek'sterm.
Another argument can be made. In any modern economy, virtually every industry operates in the face of a largely unknowable future. The more companies an industry has thinking about a problem, the more likely a solution is to be found. A company that has been kept out of an industry might know something that all the companies in the industry do not. Or some unique experience may have furnished an individual with "personal knowledge" that is impossible to transmit to others who have not had the same experience. Whatever the case, society benefits – through lower prices, more jobs, better products and services, and so forth – when outsiders with something to add are free to do so.
All of this was known to the great theorists of the 1920s and 1930s: Hayek, Frank Knight, and John Maynard Keynes. And now it is known to the Chinese, who understand that a country benefits when companies – each with its own thinking and knowledge – are free to compete.
The West seems to have forgotten this. Since the 1930s, most Western governments have seen it as their duty to protect established enterprises from competition, even when it comes from new firms offering new adaptations or innovations. These protections, which come in myriad forms, have almost certainly discouraged many entrepreneurs from coming forward with new and better ideas.
History is rife with evidence of the value of competition. In post-war Britain, into the 1970s, industries were controlled by exclusive clubs within the Confederation of British Industry, which barred new entrants. By the time Margaret Thatcher became prime minister in 1979, TFP had stagnated. But Thatcher put a stop to the Confederation's anti-competitive practices, and Britain's TFP was growing again by the mid-1980s.
We are now seeing something similar in China. By 2016, China's TFP growth rate had been slowing for a number of years. But since the reforms that year, it has been increasing.
The West must address its great TFP slowdown, which has lasted since the late 1960s. Ending protection of incumbents from new entrants possessing ideas for new adaptions and innovations is a good place to start.