The Danger of a Post-German Europe
Whatever government eventually emerges in Germany following the collapse of the talks to form a new coalition probably won't be in a strong position to advance much-needed institutional reform of the European Union. The danger is that the EU will remaining in a holding pattern – an outcome that the bloc can ill afford.
MADRID – Over the last two centuries, the "German question" – how to contain a Germany whose dominance was buttressed by its commanding size, high productive capacity, and geographic position at the heart of Europe – has occasioned much worry and not a little warfare. Today, with the collapse of negotiations to form a new government coalition, the question has been turned on its head. European leaders worry that Germany is becoming incapable of assuming enough leadership to guide and champion Europe in a globalized world.
Since World War II, the solution to the original German question has been to ensconce the country in European institutions. From the Treaty of Rome, which established the European Economic Community, to the Maastricht Treaty, which created the European Union and the eurozone, Germany served as half of the critical Franco-German axis that lay at the core of the European project.
By the early 2000s, Germany had overcome the challenges of reunification, and was in a position to assert even more influence on Europe. Yet France was not so certain about further integration, reflected in its 2005 vote against the proposed European constitution. With that, the era of German ascendancy began.
It was Germany that pushed the EU's "fifth enlargement" – the simultaneous accession of ten Central and East European countries, which occupied Europe from 2004 to 2008. But it was the global financial crisis that really solidified Germany's position as Europe's leader. The European Council led the response, and German Chancellor Angela Merkel was clearly the one calling the shots.
In the ensuing years, as Germany became increasingly dominant, French leadership continued to fade. Other influential powers in Europe have also retreated from the continent: not only did the United Kingdom vote to leave the EU altogether; the United States, which had long underpinned the Pax Americana that was so crucial to Europe, also turned its attention away from the region. The unambiguous result was to shift Europe's center of gravity firmly to Berlin.
Meanwhile, crises have proliferated, with Germany leading the responses to all of them. Beyond the financial crisis, Europe has faced a severe migration crisis and a security crisis, rooted in Russian revanchism. But Merkel's leadership has not always been celebrated, particularly in the context of the migration crisis. On the contrary, it has fueled frustration in economically challenged southern Europe, in the geographically vulnerable Eastern Europe, and in Germany itself.
The latter trend, in particular, has been complicating Germany's role in Europe. For the last 18 months or so, Germany's leadership has become increasingly inward-looking, largely owing to the federal election in September. As a result, fundamental questions about the EU's future – concerning the Brexit negotiations, migration policy, defense cooperation, the creation of a banking union, and, perhaps most important, reform of European institutions – were largely put on hold.
The idea was that once Merkel had secured her fourth mandate, she could finally roll up her sleeves and push through the institutional reforms that the EU so badly needs. But, two months after the election, Europe is still waiting.
While Merkel did secure a fourth mandate, it was not nearly as strong as expected. So her Christian Democratic Union and its sister party, the Bavarian Christian Social Union, were forced into protracted coalition talks with the pro-business Free Democrats and the Greens – each of which brings a different agenda and vision of Europe to the table.
Even in the best-case scenario, the presumptive coalition seemed poised to maintain the narrow, play-it-safe approach that has prevailed for almost two years. But things are worse than that: the coalition talks have collapsed, priming Germany and Europe for an extended period of uncertainty. In the absence of a true emergency that will galvanize German action, the EU faces the very real prospect of remaining in a holding pattern – an outcome that the struggling bloc can ill afford.
To be sure, Emmanuel Macron's surprise election as France's president has rained hope that a revived Franco-German axis could infuse the listless European project with much-needed élan. But, while Macron is saying all the right things and has vision, France cannot advance a bold vision for Europe on its own, especially as it also pursues vital domestic reforms. Germany remains the European partner sine qua non.
The EU is nothing without Germany. That is why Europe cannot afford simply to wait around, hoping that Germany will suddenly decide to resume leadership. Instead, it must tackle the German question head-on, just as it did after WWII, by working actively to re-anchor the country in the European project.
Yet, in the meantime, the EU must make even more fundamental changes. By the time a new German government is in place, the EU will be preparing for the June 2019 European parliamentary elections and the selection of a new European Commission. This will kick the can even further down the road. Unless the EU changes its approach, it will be doomed simply to hold its breath from one election to the next. A perpetual campaign is no way to build a better future.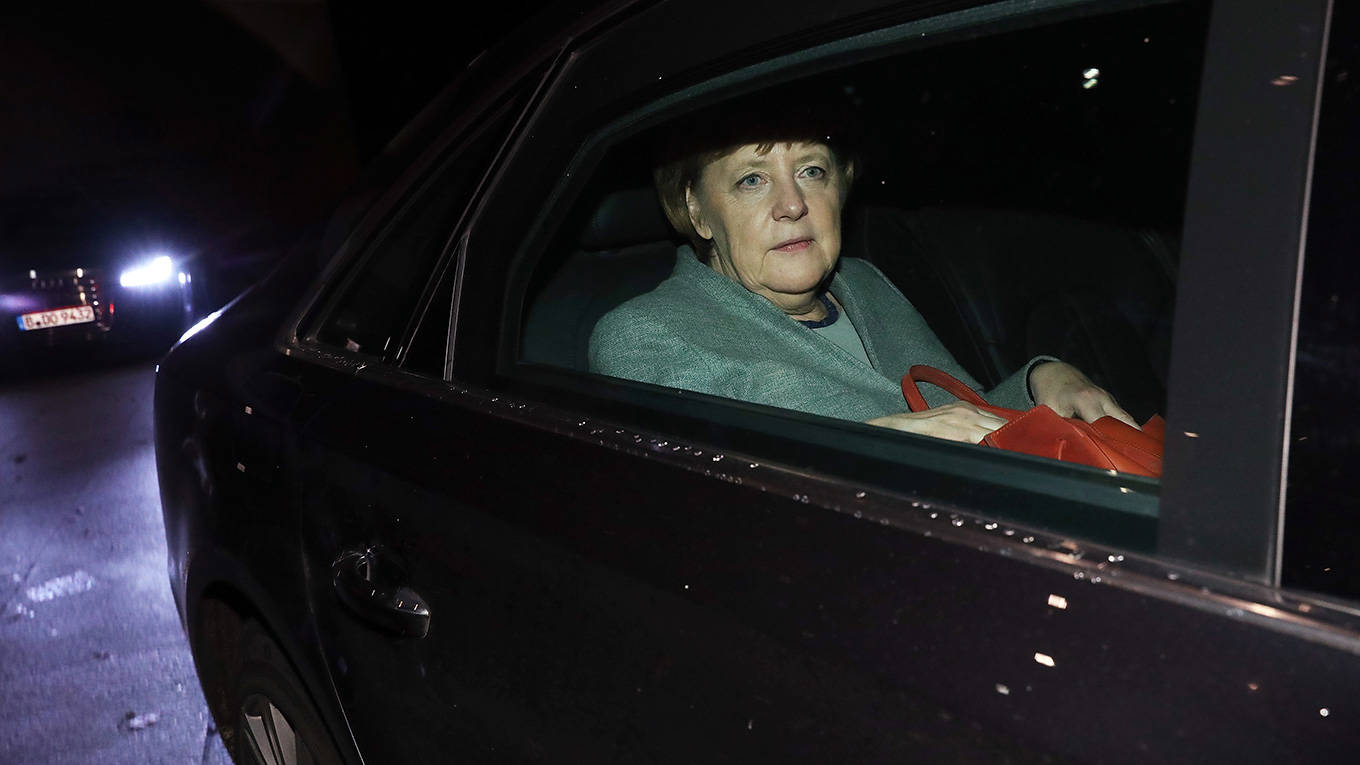 Germany's Götterdämmerung
With the withdrawal of the Free Democrats from coalition talks, Chancellor Angela Merkel could be forced to form a minority government. That would not necessarily be a bad thing; in fact, a Merkel who can be called to account by the Bundestag may be the best alternative Germany has.
MUNICH – Germany is experiencing a political watershed. It is not just that the exit of the Free Democrats (FDP) from coalition talks has cast doubt on whether Chancellor Angela Merkel of the Christian Democratic Union (CDU) will remain in power. The FDP's departure from negotiations with the CDU, its Bavarian sister party the Christian Social Union (CSU), and the Greens marks the end of a willingness to forge stable coalition governments that has defined German politics since the last days of Konrad Adenauer's postwar chancellorship.
Of course, without the FDP's participation, Merkel could pursue a coalition government with the Social Democrats (SPD). But the decimated SPD says that it is determined to remain in opposition, in order to recover from its crushing defeat at the polls. Any other possible coalition is out of the question, because neither the far left nor the far-right Alternative für Deutschland (AfD) are seen as acceptable partners.
A minority government under Merkel, however, is conceivable. Given that President Frank-Walter Steinmeier has expressed his distaste for calling a new election, such a scenario could become likely if Merkel does not resign on her own. And even if there is a new election, the outcome would not be much different, unless SPD leader Martin Schulz steps down.
A minority government might be formed by the CDU and the CSU without the formal participation of other parties. A minority coalition that included the Greens would force the CSU to compromise on migration issues and climate policy, which would be unnecessary otherwise, given the inability of the SPD, Die Linke (The Left), and the Greens to block legislation. And Merkel herself will try to avoid a minority coalition with the FDP, in order to avoid becoming dependent on it. The FDP, for its part, would like to participate in such a government for exactly that reason. It would then be able to contain Merkel's red-green affinity.
A minority government, whatever its composition, would not necessarily be a bad thing. With the government seeking partners to enact legislation on an ad hoc basis, the Bundestag would finally become the site of genuine public debate once again. For too long, coalition partners have negotiated government decisions behind closed doors, with the Bundestag either rubber-stamping or vetoing the results.
Those who stand to gain the most from such a strengthening of parliament will be the small parties that otherwise have little chance of asserting their influence. Above all, the AfD, Germany's version of the French National Front, which emerged from nothing as Germany's third-largest party in the September election, will benefit from open debate. So far, the media have largely focused on discrediting the party. But a more proactive Bundestag would inevitably become a showcase for the AfD's arguments and rhetoric.
At the same time, a minority federal government's foreign policy would undoubtedly be weakened, and Merkel would find it difficult to play an active part in European politics. This would also mean, however, that Germany's European partners would struggle to force compromise upon the German government. This dynamic will be particularly important for France, given President Emmanuel Macron's goal of consolidating the eurozone by providing it with more attributes of statehood, and his desire to push ahead with a two-speed Europe comprising a eurozone and a large non-euro fringe consisting of northern and eastern EU countries.
A German minority government would have to hold lengthy debates with all of the Bundestag's parliamentary groups on every major decision before it could assent to Macron's proposals – or any other, for that matter. Effective opposition at home means that the government would no longer be able to acquiesce in the dead of night to various rescue operations for Germany's EU partners.
That's what happened in May 2010, when Merkel's government was forced by the French triumvirate of European Central Bank President Jean-Claude Trichet, IMF Managing Director Dominique Strauss-Kahn, and French President Nicolas Sarkozy to violate the Maastricht Treaty by establishing a rescue fund for Greece's foreign creditors, primarily French banks. Germany was also forced to compromise in 2012, when Merkel was pushed into agreeing to a banking union and the ECB's "outright monetary transactions" program, which effectively turned European government bonds into Eurobonds.
Likewise, kneejerk decisions by Merkel – such as her move to phase out nuclear power within a few months of the Fukushima accident in Japan, or to allow refugees to enter Germany from safe third countries – will now be impossible. That is welcome, because too often politicians, driven by the momentum of their own thoughts, make decisions that have serious adverse consequences in the long term.
With the nuclear phase-out, for example, Germany can now honor its commitments to combat climate change only by damaging, and perhaps losing, part of its industrial base. By admitting 1.5 million migrants in just two years, Germany has also placed a massive burden on its welfare state, inadvertently encouraged the Brexiteers, and rallied all of Eastern Europe against it.
It is too early to tell how the political uncertainty now confronting Germany and Europe will be resolved. But a Merkel who can be called to account by the Bundestag may be the best alternative Germany has.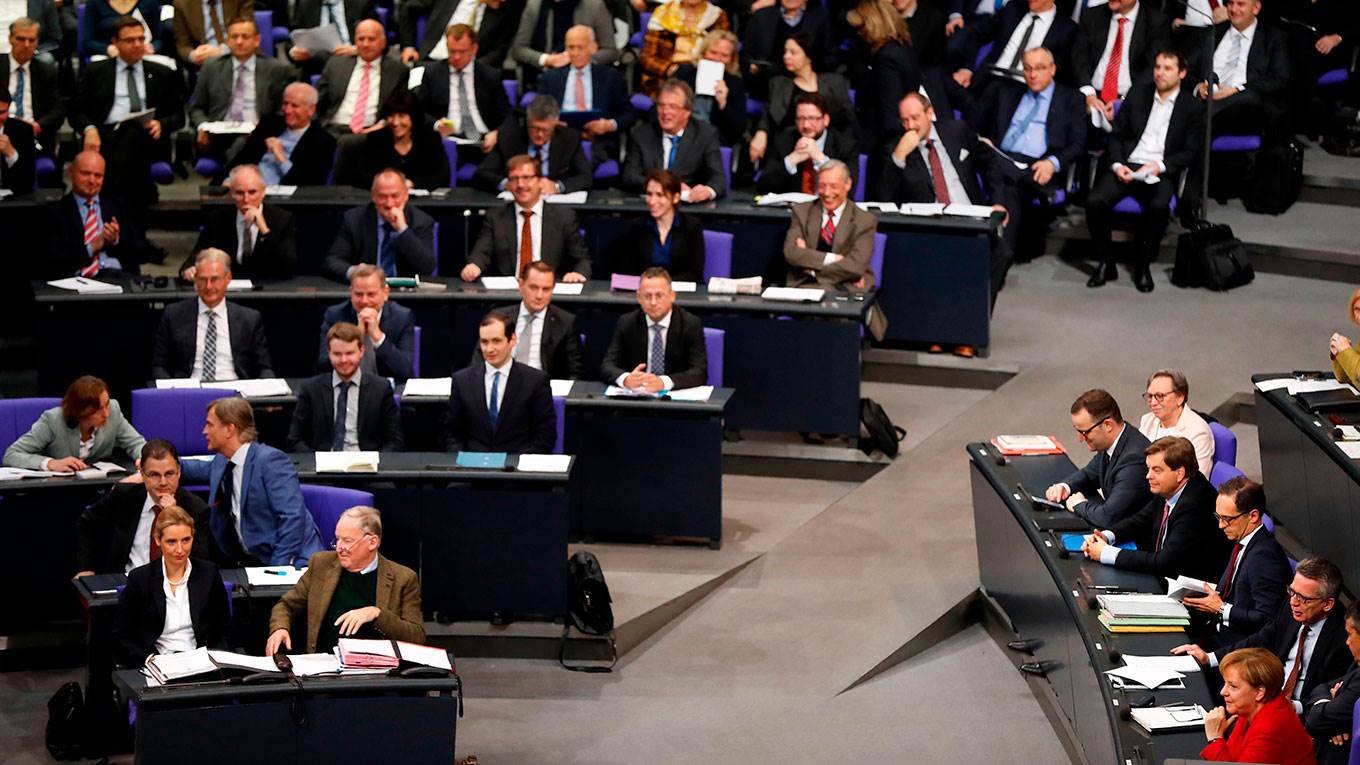 A New Grand Coalition for Germany – and Europe
With America AWOL and China ascendant, this is a critical time for Germany and the European Union to provide the world with vision, stability, and global leadership. And that imperative extends to Germany's Christian Democrats and Social Democrats.
NEW YORK – Friends of Germany and Europe around the world have been breathing a sigh of relief at the newfound willingness of Germany's Christian Democrats and Social Democrats (SPD) to discuss reprising their grand coalition government. The world needs a strong and forward-looking Germany in a dynamic European Union. A new grand coalition working alongside French President Emmanuel Macron's government would make that possible.
The SPD's initial decision to go into opposition after its poor election result in September may have been sincere, and even strategically sound. But it is not timely. Diplomacy almost everywhere is fractured.
The United States is reckoning with a psychologically unstable president, a plutocratic cabinet, and a Republican congressional majority. Europe is in the throes of multiple economic, social, political, and institutional crises. China, by contrast, is dynamic and outward-looking – providing good reason for the EU to assume vigorous leadership and engage in constructive partnerships with China on key initiatives (such as sustainable infrastructure across Eurasia).
In short, this is a critical time for Germany and Europe to provide vision, stability, and global leadership. And that imperative extends to Chancellor Angela Merkel's Christian Democratic Union (CDU), its Bavarian sister party, the Christian Social Union (CSU), and the SPD.
But the CDU/CSU and the SPD need to do more than merely extend the previous government, which was too parochial in outlook and temperament. The world and Europe need an outward-looking Germany that offers more institutional and financial innovation, so that Europe can be a true counterpart to the US and China on global affairs. I say this as someone who believes firmly in Europe's commitment and pioneering statecraft when it comes to sustainable development, the core requirement of our time.
Economic growth that is socially inclusive and environmentally sustainable is a very European idea, one that has now been embraced globally in the United Nations' 2030 Agenda and its 17 Sustainable Development Goals, as well as in the 2015 Paris climate agreement. Europe's experience with social democracy and Christian democracy made this global vision possible. But now that its agenda has been adopted worldwide, Europe's leadership in fulfilling it has become essential.
A grand coalition government in Germany must help put Europe in a position to lead. French President Emmanuel Macron has offered some important ideas: a European finance minister; Eurobonds to finance a new European investment program; more emphasis on innovation; a financial transactions tax to fund increased aid to Africa, where Europe has a strategic interest in long-term development; and tax harmonization more generally, before the US triggers a global race to the bottom on taxing corporations and the rich.
Contrary to the Germans who oppose such ideas, a European finance minister and Eurobonds would not and should not lead to fiscal profligacy, but rather to a revival of investment-led green growth in Europe. China has proposed the Belt and Road Initiative to build green infrastructure linking Southeast Asia and Central Asia with Europe. This is the time for Europe to offer the same bold vision, creating a partnership with China to renovate Eurasia's infrastructure for a low-carbon future.
If Europe plays its cards right, Europe's (and China's) scientific and technical excellence would flourish under such a vision. If not, we will all be driving Chinese electric vehicles charged by Chinese photovoltaic cells in the future, while Germany's automotive industry will become a historical footnote.
A European finance minister would, moreover, finally end Europe's self-inflicted agony in the aftermath of the 2008 financial crisis. As difficult as it is to believe, Greece's crisis continues to this day, at Great Depression scale, ten years after the onset of the crisis.
This is because Europe has been unable, and Germany unwilling, to clean up the financial mess (including Greece's unpayable debts) in a fair and forward-looking manner (akin to the 1953 London Agreement on German External Debts, as Germany's friends have repeatedly reminded it). If Germany won't help to lead on this issue, Europe as a whole will face a prolonged crisis with severe social, economic, and political repercussions.
In three weeks, Macron will convene world leaders in Paris on the second anniversary of the climate accord. France should certainly take a bow here, but so should Germany. During Germany's G20 Presidency, Merkel kept 19 of the 20members of the G20 firmly committed to the Paris agreement, despite US President Donald Trump's disgraceful attempt to wreck it.
Yes, the corruption of US politics (especially campaign funding by the oil and gas industry) threatened the global consensus on climate change. But Germany stood firm. The new coalition should also ensure that the country's Energiewende ("energy transition") delivers on the 2020 targets set by previous governments. These achievable and important commitments should not be a bargaining chip in coalition talks.
A CDU/CSU-SPD alliance, working with France and the rest of Europe, could and should do much more on climate change. Most important, Europe needs a comprehensive energy plan to decarbonize fully by 2050. This will require a zero-carbon smart power grid that extends across the continent and taps into the wind and solar power not only of southern Europe but also of North Africa and the eastern Mediterranean. Once again, Eurobonds, a green partnership with China, and unity within Europe could make all the difference.
Such an alliance would also enable a new foreign policy for Europe, one that promotes peace and sustainable development, underpinned by new security arrangements that do not depend so heavily on the US. Europe, a magnet for hundreds of millions of would-be economic migrants, could, should, and I believe would regain control of its borders, allowing it to strengthen and enforce necessary limits on migration.
The political terms of a new grand coalition government, it would seem, are clear. The SPD should hold out for ministerial leadership on economic and financial policy, while the CDU/CSU holds the chancellorship. That would be a true coalition, not one that could bury the SPD politically or deny it the means to push for a truly green, inclusive, EU-wide, sustainable development agenda.
With Merkel and SPD leader Martin Schulz in the lead, the German government would be in excellent, responsible, and experienced hands. Germany's friends and admirers, and all supporters of global sustainable development, are hoping for this breakthrough.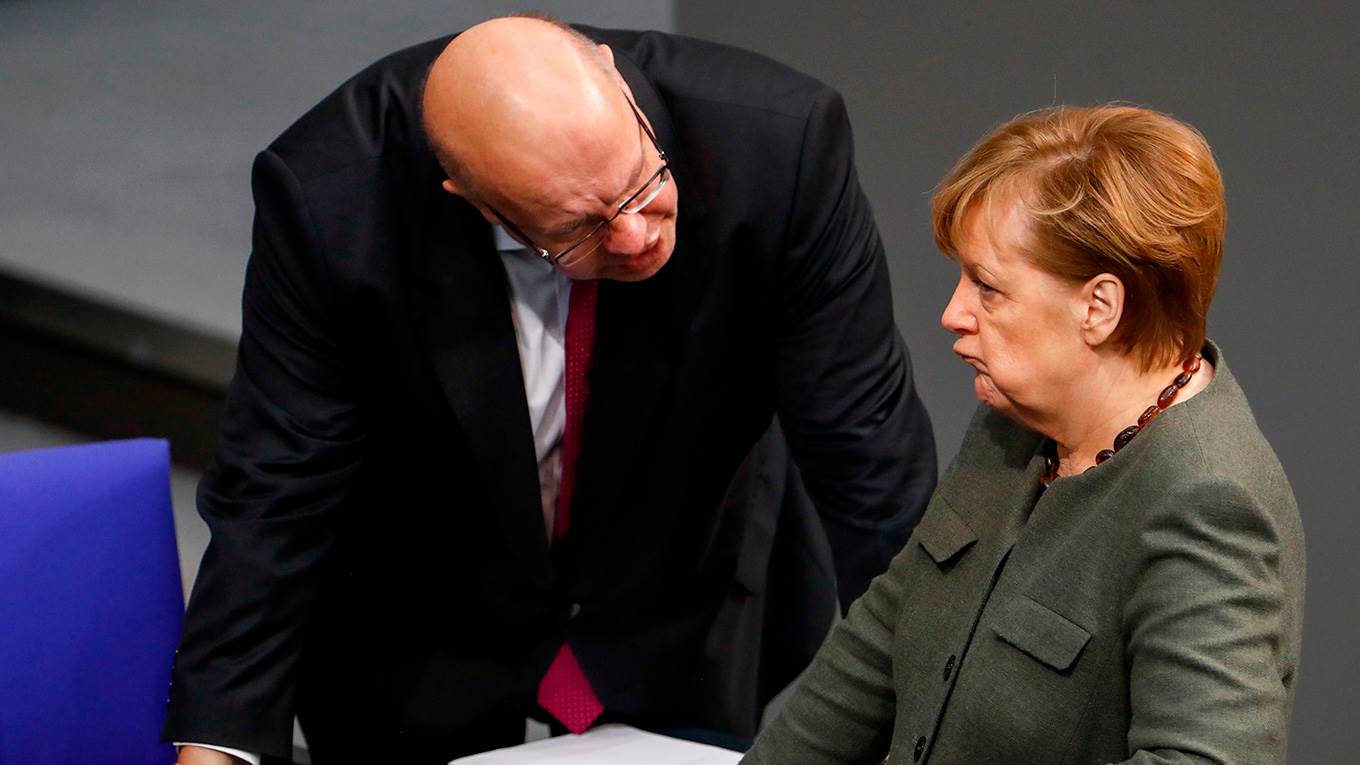 Germany's Bland Grand Coalition
In pursuit of another "grand coalition" government, Germany's Social Democrats and Christian Democrats have published a provisional agreement outlining their proposed agenda. But the program party leaders have devised seems to have been inspired by a wish not to offend rather than a desire to confront the country's challenges.
MUNICH – Germany's Social Democrats (SPD), the Christian Democratic Union, and the CDU's Bavarian sister party, the Christian Social Union (CSU), have agreed to pursue another "grand coalition" government, and have published a 28-page agreement outlining their proposed policy agenda.
The agreement comes months after an election in which the SPD and CDU/CSU advanced rather different economic-policy views. Whereas the SPD has focused on the need for more redistribution and public spending, the CDU/CSU has promised "tax cuts for all" and a more restrictive refugee policy. The question now is whether a coalition comprising such ideologically divergent forces can truly prepare Germany for the challenges that await it.
In the months and years ahead, German policymakers will need to manage the transition into the digital era, in order to preserve the country's competitiveness. They must also stabilize the welfare state at a time of rapid population aging. And they must develop a rational migration policy. On top of this full domestic agenda, many are looking to Germany to keep the European Union together.
As many commentators have pointed out, Germany's new government will benefit from a budget surplus, because the booming economy, coupled with peculiarities of the German tax code, has boosted government revenues over the last four years. Even by pursuing the balanced-budget policy described in its provisional coalition agreement, the government will have room either for more spending or tax cuts amounting to €46 billion ($56 billion) – around 0.3% of GDP – over four years.
According to the coalition agreement, €36 billion of the surplus will be allocated to various outlays such as transfers to families, higher agricultural and regional subsidies, housing-construction incentives, roads and related infrastructure, universities and school buildings, and even the military.
That leaves just €10 billion for tax cuts, which will take the form of reductions in the solidarity surcharge (Solidaritätszuschlag), a special income tax that was introduced in 1991 to finance German reunification. The grand coalition envisions abolishing this tax for everyone except the top 10% of earners, who generate more than half of the revenue from it.
But when one considers the effects of "bracket creep," the outlook for taxpayers worsens. Unlike most other developed countries, Germany's tax system lacks an automatic adjustment mechanism to prevent inflation from pushing households into higher tax brackets. And while discretionary adjustments do take place, they hardly provide full compensation to countless households that end up paying more tax than they should.
In fact, at the current rate of bracket creep, Germany's tax revenues will increase by roughly €50 billion over the next four years. Halving the solidarity surcharge no earlier than 2021 will come nowhere close to offsetting that.
All told, nobody is particularly enthusiastic about the coalition agreement, including the SPD. Despite the coalition agreement's emphasis on spending, the SPD fears that participating in another grand coalition will further damage its public standing, and drive more of its voters into the arms of the radical left or the far-right Alternative für Deutschland (AfD).
For others, the problem is not politics, but the agenda itself: for all of its specific provisions, it achieves very little. When spread over four years, an additional €2 billion spent on defense, €600 million on universities, and €4 billion on housing will make little difference.
And while the coalition's plan also promises higher contributions to the EU budget and more spending on the mothers' pension and low-income households, it does not specify how those increases will be reconciled with a balanced budget.
More fundamentally, the agenda lacks ambition and direction. It neither provides significant relief to the middle class through tax cuts, nor allocates adequate investment for research, infrastructure, or education. And it makes no mention of corporate taxation, even though rate cuts in the United States, and planned cuts in France and the United Kingdom, will inevitably lure investment and jobs away from Germany.
A truly bold policy agenda would require the new government to focus on specific priorities and accept that not everyone can get what they want. Rather than tweaking the margins in a futile attempt to please everyone, the government would set its sights on deeper structural reforms, to lay the foundation for future growth and stability.
For example, Germany spends billions of euros every year on green-energy subsidies. But as the provisional coalition agreement acknowledges, Germany will likely fall short of its target for reducing carbon dioxide emissions by 2020, suggesting that these subsidies have not worked. Fundamental reforms in this area could make Germany's climate policies both cheaper and more effective. But doing that would require the government to abandon its ideological position and challenge powerful interest groups.
Nevertheless, the coalition agreement does include some promising ideas. For example, it proposes a program to attract skilled workers, and to align Germany's immigration policies with its economic interests. And although the new government should attach conditions to Germany's larger EU budget contribution, in order to prevent wasteful spending, its clear commitment to the EU should be welcomed.
There is still time for the coalition partners to revise their program. Surely, they should want to do more than use the current economic upswing to provide piddling handouts to various constituencies (except those paying the most in taxes, of course). Now is the time to start preparing Germany for its future challenges.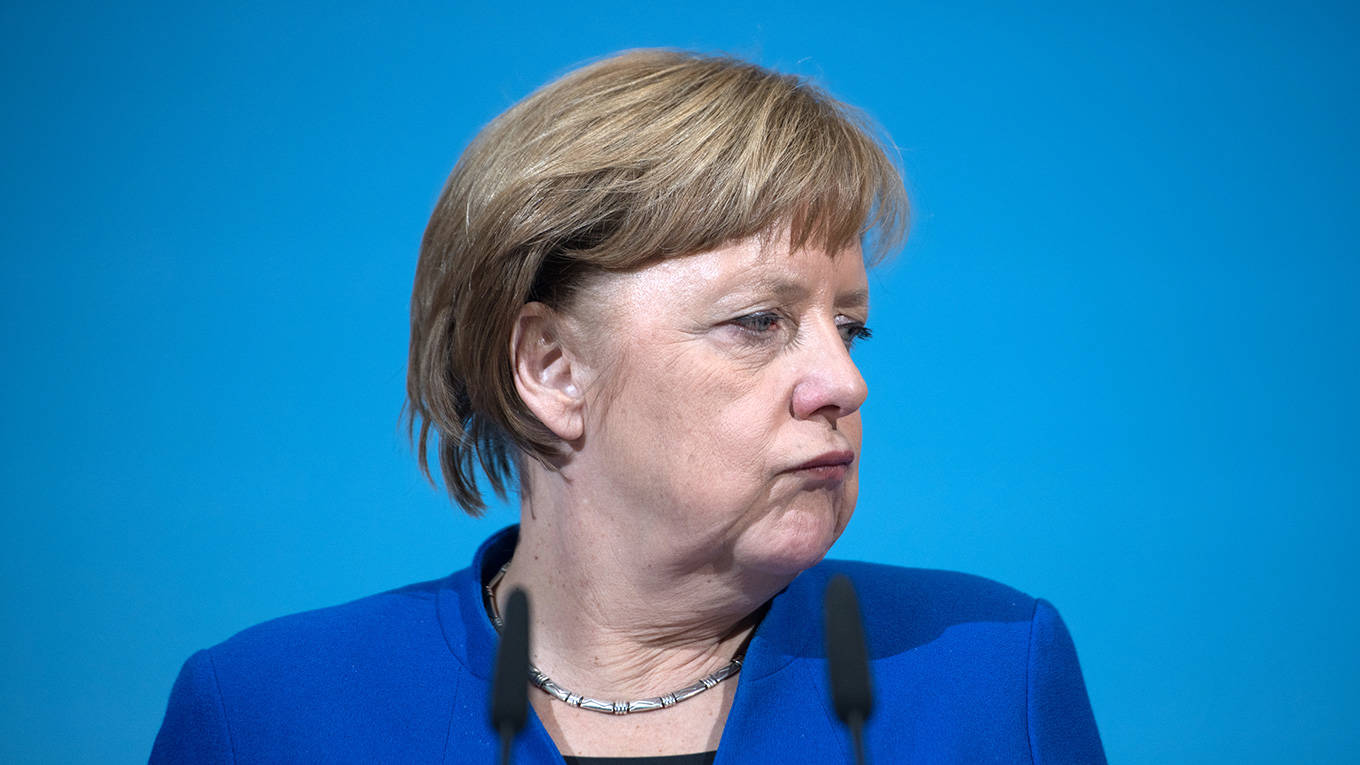 Is Germany Catching Trump's Tax Disease?
The fiscal policies proposed by Germany's emerging grand coalition government look very American. Like the US Republicans' recent tax legislation, they are likely to bring limited short-term benefits to a few and huge long-term costs to many more.
BERLIN – After months of negotiations, another grand coalition government – comprising Chancellor Angela Merkel's Christian Democratic Union (CDU) and a grudging Social Democratic Party (SPD) – is taking shape in Germany. But the new government seems likely to miss the opportunity afforded by Germany's strong economic and financial situation to pursue much-needed reforms.
In fact, the fiscal policies that Germany's emerging government is discussing bear a remarkable resemblance to those of US President Donald Trump, whose tax plan, most economists agree, will bring limited short-term benefits to a few, but huge long-term costs to many more. Indeed, the incipient German government is discussing cutting taxes for corporations and the rich, while raising spending on public consumption, especially public pensions.
In the United States, Trump has convinced many of his lower-income supporters that his tax plan will benefit them, not just his wealthy cohorts. A similar feat has been accomplished in Germany, with some powerful lobby groups persuading middle-class voters that they will benefit from a tax cut.
These groups claim, for example, that raising the income threshold for the top marginal tax rate will help middle-income voters, even though the top marginal tax rate is now levied on just 7% of German employees. Similarly, the plan to abolish the tax surcharge on higher incomes (Solidaritätszuschlag), introduced after reunification in the early 1990s, would benefit almost exclusively the top 30% of earners.
This is all the more problematic because the top 30% of earners in Germany are already subject to a lower tax rate than 20 years ago, even though their wealth has increased. The bottom 70% largely pay much more in direct and indirect taxes, despite often having lower incomes.
The arguments for cutting corporate taxes are similarly flawed. Like Trump, German politicians and lobby groups claim that domestic firms need a tax cut in order to stay competitive internationally. Yet Germany's export companies are undeniably very competitive, and have largely managed to increase their global market share since the 1990s. Moreover, corporate profits have reached record highs in recent years, and while corporate taxes in Germany remain relatively high compared to other countries, they were reduced significantly in the 2000s.
Beyond having only limited economic benefits, the proposed tax cuts in Germany – like Trump's in the US – represent a huge strain on public finances in the long run. While Germany's public sector currently boasts a surplus of about 1.3% of GDP, that is largely the result of good luck, not good policy: without low interest rates and a strong labor market, the federal budget would be in deficit.
Yet demographic shifts mean that contingent liabilities for public pensions and health care in Germany will rise sharply over the next decades. Covering these costs will require taxes to be increased substantially and/or for spending to be reduced – precisely the opposite of what the CDU/SPD government is promising.
This does not mean that Germany's government should not contemplate any tax reductions or spending increases. But, in order to ensure that such changes have the maximum positive impact, without hurting younger generations, they must be designed fundamentally differently.
Arguably, Germany's biggest economic weakness today is low private investment. With the German corporate sector having run up massive profits for more than a decade, the resources are certainly available. Yet overregulation, heavy bureaucratic burdens, policy uncertainty, poor digital and transport infrastructure, and, in some industries, a lack of skilled workers, are currently impeding investment by companies in new and existing capacity.
The government need not address all obstacles to investment and innovation at once. At the very least, it should create tax incentives for research and development, as well as for equity investments. It should also design provisions to support small and medium-size enterprises, while fighting tax evasion among big firms.
Moreover, Germany's government should use its fiscal space to invest in education, in particular in pre-schools and primary schools. And it should invest in developing an internationally competitive digital infrastructure and a social security system that ensures labor-force participation and lowers long-term unemployment.
In many ways, Germany's economy is thriving. But that is no reason for the government to waste its sizable fiscal surplus on economically useless tax cuts and spending increases. On the contrary, the surplus creates an important opportunity to tackle the long-run challenges that Germany faces – an opportunity that Merkel's next government must not waste.