Are Oil Prices Heading for Another Spike?
The decline in the dollar's exchange rate seems to have gathered momentum, in part because the person who has his signature on US currency, Treasury Secretary Steve Mnuchin, seems unperturbed by its weakness. If it continues, will energy costs spiral upward?
CAMBRIDGE – The price at the pump for premium gasoline topped $3 per gallon in much of the United States over the past few weeks, which is surprising to consumers but not to analysts of the world's oil markets. From its local low two years ago, the price of oil has more than doubled. As with any market, where you stand on this price increase depends on where you sit.
Higher oil prices buttress the fortunes of producers abroad and at home. The International Monetary Fund upgraded the GDP growth outlook of all six of the top ten oil producers that were shown separately in its 2018 forecast update, and the projected growth of world trade volumes was raised half a percentage point this year and next. Increased oil revenues improve the fiscal positions of most producing economies, and some have taken advantage of global investors' hardier appetite to issue sovereign debt.
In the US, the five states with the largest gains in oil production this decade recorded employment growth of 2.75% in 2017, double the national average. Meanwhile, the number of oil rigs nationwide increased by roughly 50%.
At the same time, a doubling of energy costs takes a significant bite out of US households' budgets, with energy costs directly accounting for about 6.5% of consumer spending. Even more problematic, this is a regressive tax, disproportionately draining lower-income households' discretionary spending power. Last year, energy represented 8.7% of spending by the bottom 20% of households, compared to 4.9% for the top quintile. Moreover, the bottom group lacks net assets to tide them over bad outcomes.
This tax effect partly underlies the robust association between spikes in world oil prices and US economic downturns documented by James Hamilton of the University of California San Diego. Hamilton's sobering results show that, over the long sweep of history, every recession but one was preceded by an increase in oil prices, and every oil market disruption but one was followed by a recession.
But that does not mean that we should hunker down and await a downturn. As already noted, the oil price rise has been associated with an uptick in growth, and, whereas the events Hamilton examined related more to supply disruptions, the story of the past two years represents a combination of supply and demand forces.
Most important, over the course of this energy-price run-up, the dollar's exchange rate depreciated by about 10% on a trade-weighted basis. With oil priced in dollars on a world market, this has had a material effect on the incentives of market participants on both blades of the supply-demand scissors.
A weaker dollar increases the purchasing power of US trading partners (the so-called Dornbusch effect, named for the late MIT economist Rudi Dornbusch), some of which spills over to increased demand for energy. Non-US oil producers sell a good denominated in dollars but consume a basket of dollar and non-dollar items. For them, a weaker US dollar lowers the price of exports relative to imports, and so they restrict supply. The scissors close with more demand and less supply, implying a higher dollar price of oil.
The decline in the dollar's exchange rate seems to have gathered momentum, in part because the person who has his signature on US currency, Treasury Secretary Steve Mnuchin, seems unperturbed by its weakness. If it continues, could the result be a spike in energy costs? Our tentative answer is no, for three reasons.
First, the dollar has depreciated against most currencies, but less so against those of important emerging-market partners, such as China.
Second, some of the increase in oil prices is apparently due to supply restraint by the members of the Organization of the Petroleum Exporting Countries and their friends of convenience (particularly Russia). Not accidently, oil prices started their ascent with the production curtailment by "OPEC+" at the end of 2016, and now seem high compared to other industrial commodities.
Further dollar depreciation eroding supply and enhancing demand might just change that. Saudi Arabia dearly wants a stable, balanced market for petroleum in advance of the sale of a 5% stake in Saudi Aramco, the national oil company. For a healthy market consistent with longer-run capital investment, an oil price that is too high can be as challenging as one that is too low. In such circumstances, officials in OPEC+ may well jump on the chance to expand supply while maintaining prices in their current channel.
Third, when it comes to supply, do not look exclusively abroad. The increase in US production, thanks to technological advances in shale oil production, has been breathtaking.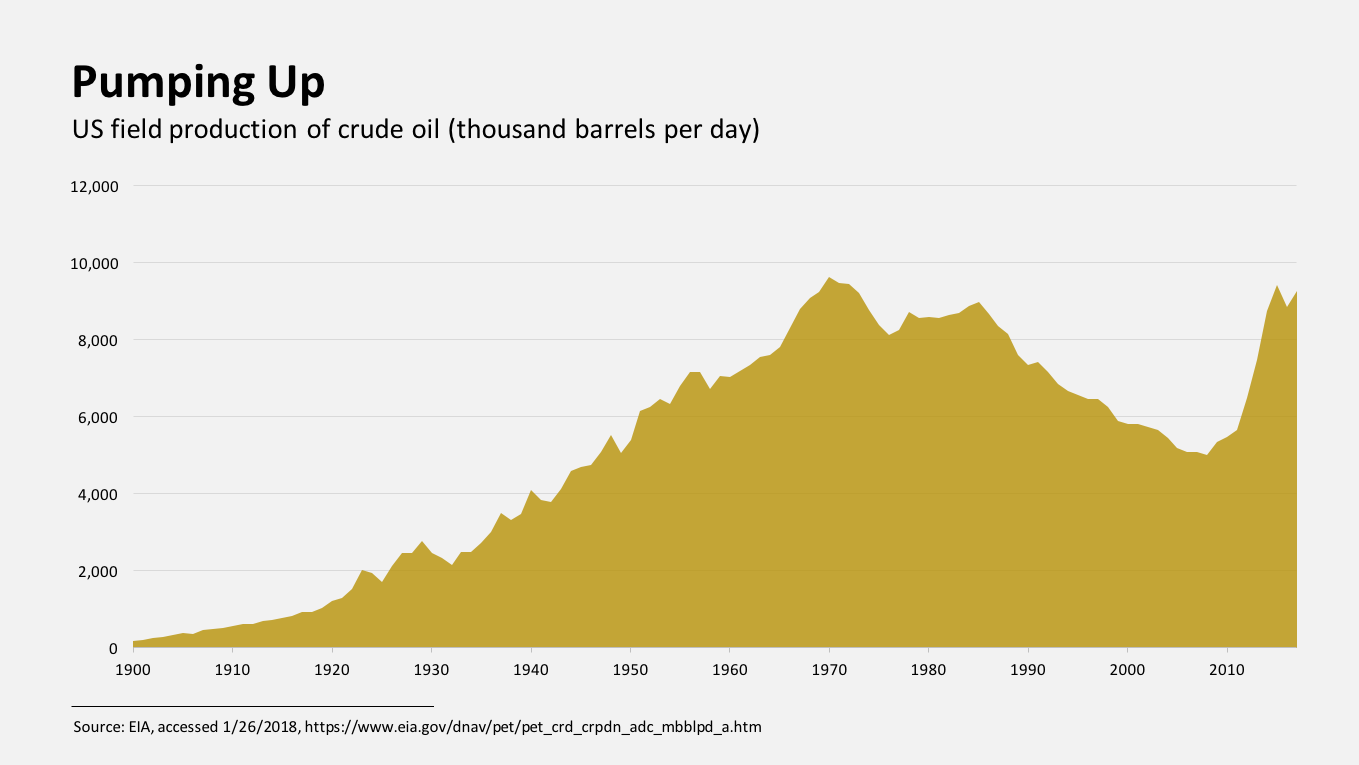 The US is on track to pump more oil this year than at any time in its history. Nonetheless, domestic producers have been moderate thus far in ramping up supply, reportedly owing to their equity owners' desire for more profit and less capital spending. But production technology advances, and higher prices beckon.

On balance, it is likely that the economy-wide effects of the energy shock, though unpleasant, will not derail growth. We are tentative, however, because commodity markets are volatile. In recent work with Christoph Trebesch of the Kiel Institute, we counted more than twice as many boom-bust cycles in commodity prices than in capital flows since 1820. The global economy looks to be riding a roller coaster.
The views expressed here are the authors' own.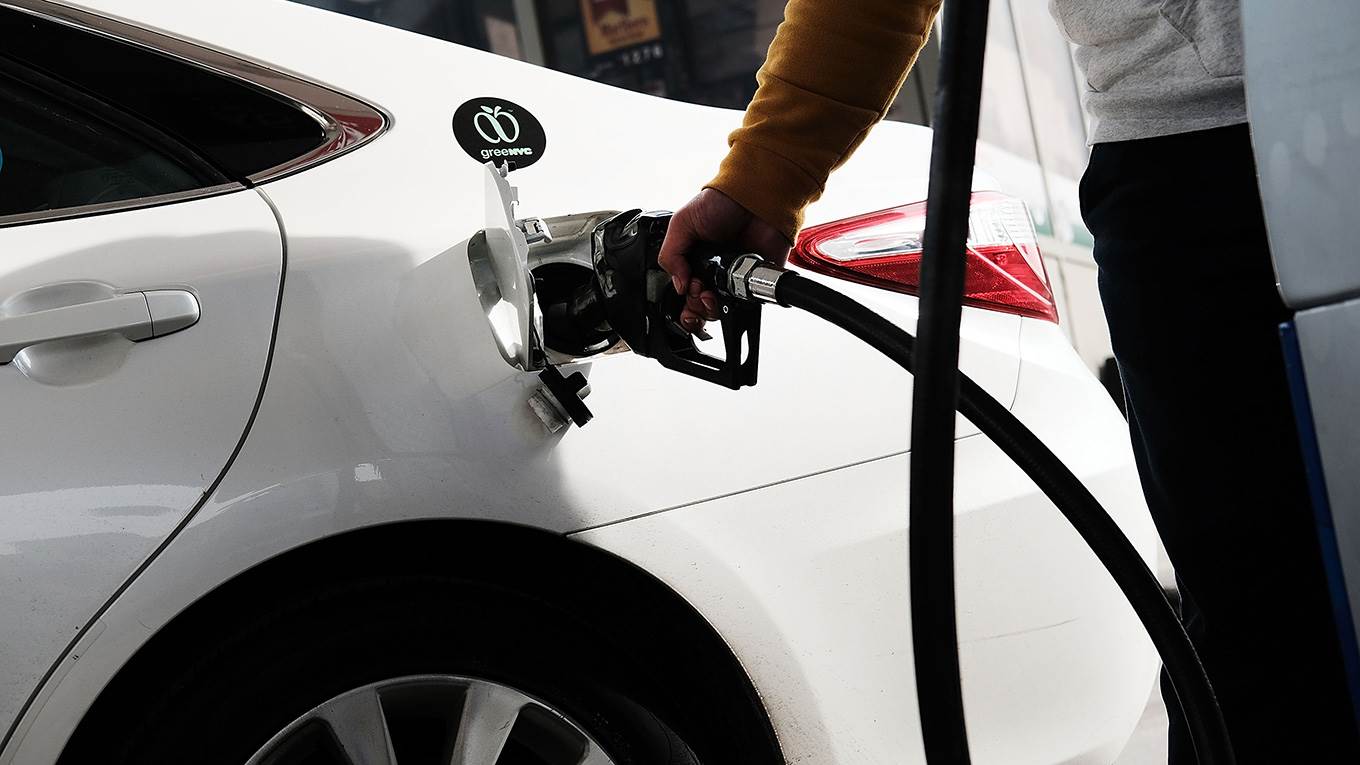 Oil's Uncertain Comeback
Unless there is a notable geopolitical shock, traditional oil producers should treat the recent oil-price gains as a temporary windfall, not a permanent state of affairs. To prolong the price recovery as long as possible, they should reinforce their collective production discipline.
CALGARY – As global economic growth picks up practically everywhere, oil producers are becoming increasingly hopeful that the recent impressive price recovery will continue. But, if those hopes are to be fulfilled, not only will producers have to control what they can (by maintaining production discipline); what lies beyond their control (output from shale and the value of the dollar) will also have to work in their favor.
Just over three years ago, oil (WTI) was trading above $100 per barrel. But, by early 2016, prices had plummeted to around $30 per barrel, owing to a combination of sluggish demand, alternative supply (particularly shale oil and gas from the United States), and a new OPEC production paradigm under which the cartel, led by Saudi Arabia, withdrew from acting as a "swing producer."
In the wake of the resulting collapse of export receipts and budget revenues, OPEC adopted a new approach, based on a modernized production agreement with two key features: greater flexibility for countries facing especially complex internal conditions (such as Libya) and the inclusion of non-OPEC producers, particularly Russia. Together, OPEC and non-OPEC countries established a floor from which oil prices could bounce. With the pickup in global growth and the emergence of geopolitical uncertainties (which could constrain output in some oil-producing countries), oil prices have rebounded to above $60 per barrel.
The current global growth phase is particularly good for the price of oil (and other commodities), because it is synchronized, real, and, increasingly, self-reinforcing. It is being powered by simultaneous recovery in the systemically important economies of Europe, Japan, the US, and the emerging world. And it is based on durable gains in economic activity, rather than just financial engineering.
Given these features, today's global growth spurt is starting to generate a virtuous cycle among consumption, investment, and trade. And that dynamic could pick up even more momentum, especially if the recent pro-growth measures in the US and the endogenous healing in Europe are buttressed by structural reforms, more balanced demand management, and improved international policy coordination.
In fact, the downside risks for oil prices have shifted from the demand side to the supply side. Higher oil prices tend to erode production discipline in OPEC, particularly by members (such as Nigeria and Venezuela) that have historically rushed to secure higher revenues to mitigate difficult budgetary conditions, at the expense of their peers (such as Saudi Arabia and the United Arab Emirates). This tendency makes coordination with non-OPEC producers more difficult. Add to that the increased production from alternative sources (most consequentially, shale) that higher prices encouraged, and the beneficial demand effects are offset, if not overwhelmed.
Yet, with some minor modifications to the current agreement, OPEC members should be able to maintain their collective production discipline, assuming the will is there. They may find it harder to continue to rein in non-OPEC countries. But, with thoughtful negotiations that incorporate insights from game theory, this, too, is possible.
When it comes to the factors over which oil producers have less control, the outlook is less hopeful. The depreciation of the US dollar – which fell 10%, in trade-weighted terms, in 2017 – has helped to drive up oil prices, but it is likely to be halted and then partly reversed. Avoiding that outcome would require Europe and Japan to continue to outperform market expectations, both overall and, more important, relative to the US. Moreover, the European Central Bank and the Bank of Japan would need to tighten monetary policy – including accelerating the taper of their large-scale asset purchases – faster than markets expect.
Finally, there is the challenge posed by increased shale production. And the fact is that there is little the traditional oil producers can do to counter shale producers' likely response to higher prices.
Given this, oil producers would be well advised to treat recent oil-price gains as a temporary windfall, not a permanent state of affairs or even – unless there is a notable geopolitical shock – a trend that is likely to intensify in the year ahead. This means that producers should resist the temptation to use their higher revenues for new recurrent spending. And they should act quickly to reinforce their collective discipline to minimize the risk of a free-for-all that negates the hard-earned gains of recent years.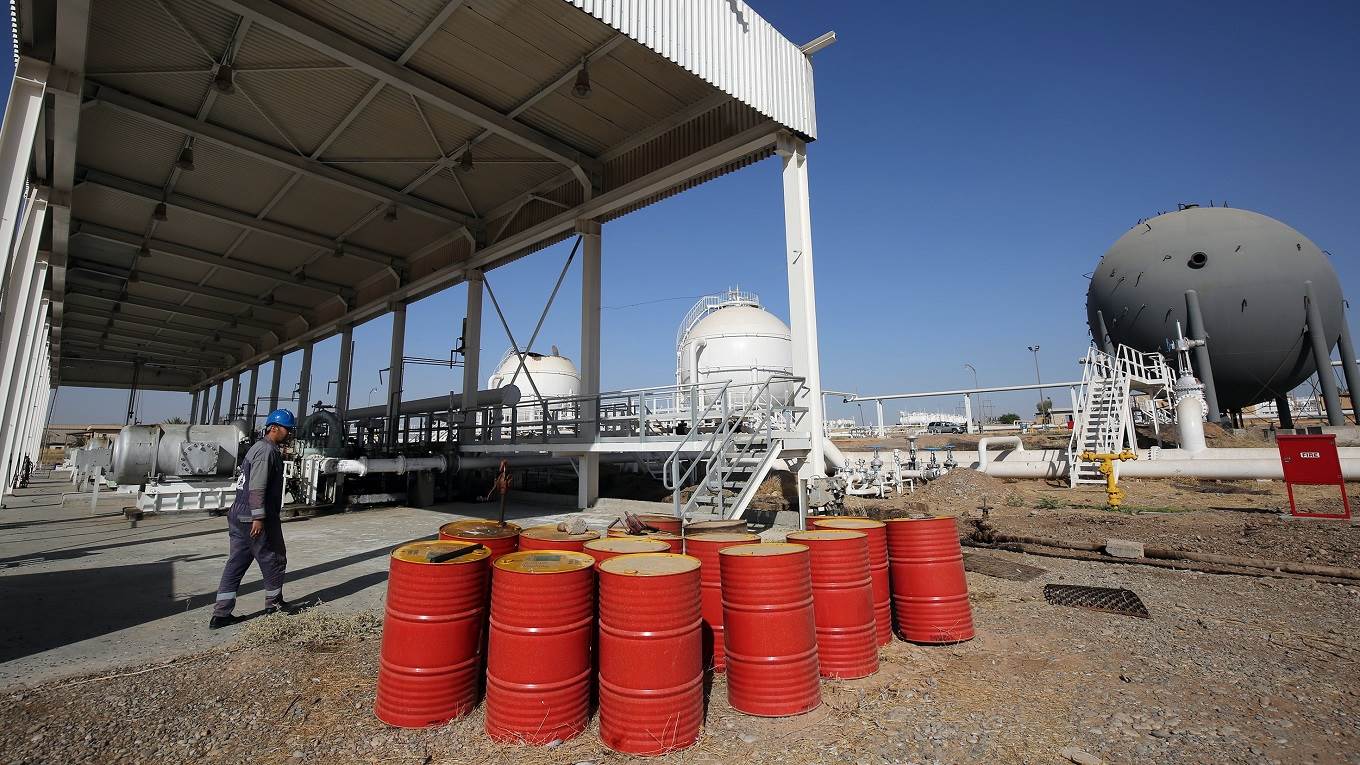 The Abnormality of Oil
At the 2017 Abu Dhabi Petroleum Exhibition and Conference, the consensus among industry executives was that oil prices will still be around $60 per barrel in November 2018. But there is evidence to suggest that the uptick in global growth and developments in Saudi Arabia will push the price as high as $80 in the meantime.
LONDON – Writing about oil prices is always risky. In a January 2015, I suggested that oil prices would not continue to fall, and even predicted that they would "finish the year higher than they were when it began." I was wrong then; but I might not be wrong for much longer.
I recently spoke at the massive Abu Dhabi Petroleum Exhibition and Conference (ADIPEC), which is a kind of Davos for oil-market participants. While there, I caught the tail end of a discussion among senior oil executives who all agreed that at this time next year, crude oil will still be around $60 per barrel, as it is today.
I was about to be interviewed by the CNBC reporter Steve Sedgwick, to whom I said, "That would be a first. Oil prices hardly moving in a year?" Needless to say, Sedgwick began the interview by telling the audience what I had said, and quizzed me on why I disagreed with the others.
Before I get to my explanation, let me state the usual caveats. Forecasting oil prices is inevitably a fraught endeavor; in fact, it makes forecasting currency markets look easy. When I completed a doctorate on oil markets in the late 1970s and early 1980s, I had already concluded that trying to guess oil prices is a waste of time and energy. Later, when I was at Goldman Sachs, I was often amused to see commodity analysts in my research group struggling to cope with the usual chaos of oil-price developments.
While interviewing me, Sedgwick raised an interesting point: Given that the volatility of many other asset prices has declined sharply in recent years, it might just be a matter of time before oil and other commodity prices do the same. To be sure, that could very well happen. In principle, he is right.
But I would argue that the decline in volatility in currency, bond, and equity markets largely reflects low inflation in many parts of the world, and the lack of significant monetary-policy adjustments by major central banks in recent years. I'm not sure that these factors apply to oil in the same way, especially at a time when energy markets are on the cusp of big changes in supply and demand.
On the demand side, market commentators are finally waking up to something that has been pretty clear for most of 2017: the world economy has gained momentum, and is now probably growing at a rate of 4% or higher. With the exception of India and the United Kingdom, eight of the ten largest economies are expanding at the same time. And even as many countries try to wean themselves off oil, that transition will not happen overnight. Accordingly, oil markets are adjusting to stronger demand.
On the supply side, the world's most important marginal supplier of oil, Saudi Arabia, has suddenly drawn a lot of wary eyes. The Saudi government has been implementing radical changes, both domestically and in its foreign policy, and its reasons for doing so are not entirely clear. Not surprisingly, market participants suddenly want to add a premium to the price of oil.
In my two speeches at ADIPEC, I shared a slide with trend lines for the Brent crude oil spot price and the five-year forward price. I have long defaulted to watching the five-year forward price for lack of a more fundamentals-based approach to thinking about the equilibrium price of oil. As I explained in January 2015, the Brent crude oil spot price is less subject to speculative fluctuations, and is thus a purer approximation of underlying commercial supply and demand factors.
The chart I prepared – which was made before the latest oil-price acceleration in early November – shows the five-year forward oil price picking up after a period of some stability. With the spot price having now moved above the five-year forward price, one could conclude that a trend change is underway. For my part, I'm unsure; but I wouldn't be surprised if it happened.
Let us return to Sedgwick's question. While oil prices could be around $60 per barrel in November 2018, my guess is that they will have risen to around $80 per barrel in the meantime.
Sedgwick also asked me how oil companies might be able to make their investment and operational decision-making less beholden to cyclical factors. Is it possible for oil companies to temper their excitement during periods of rising prices, and not to fall into a malaise when prices are low for lengthy periods?
It's a tough question. My answer is that oil companies need to complete the commodity-analysis quest that I started but never finished. They must come up with a credible method for estimating the underlying equilibrium price of oil. Then, as soon as the oil price exceeds two standard deviations of that equilibrium, they should start to ignore the fashionable advice of colleagues, analysts, and industry insiders.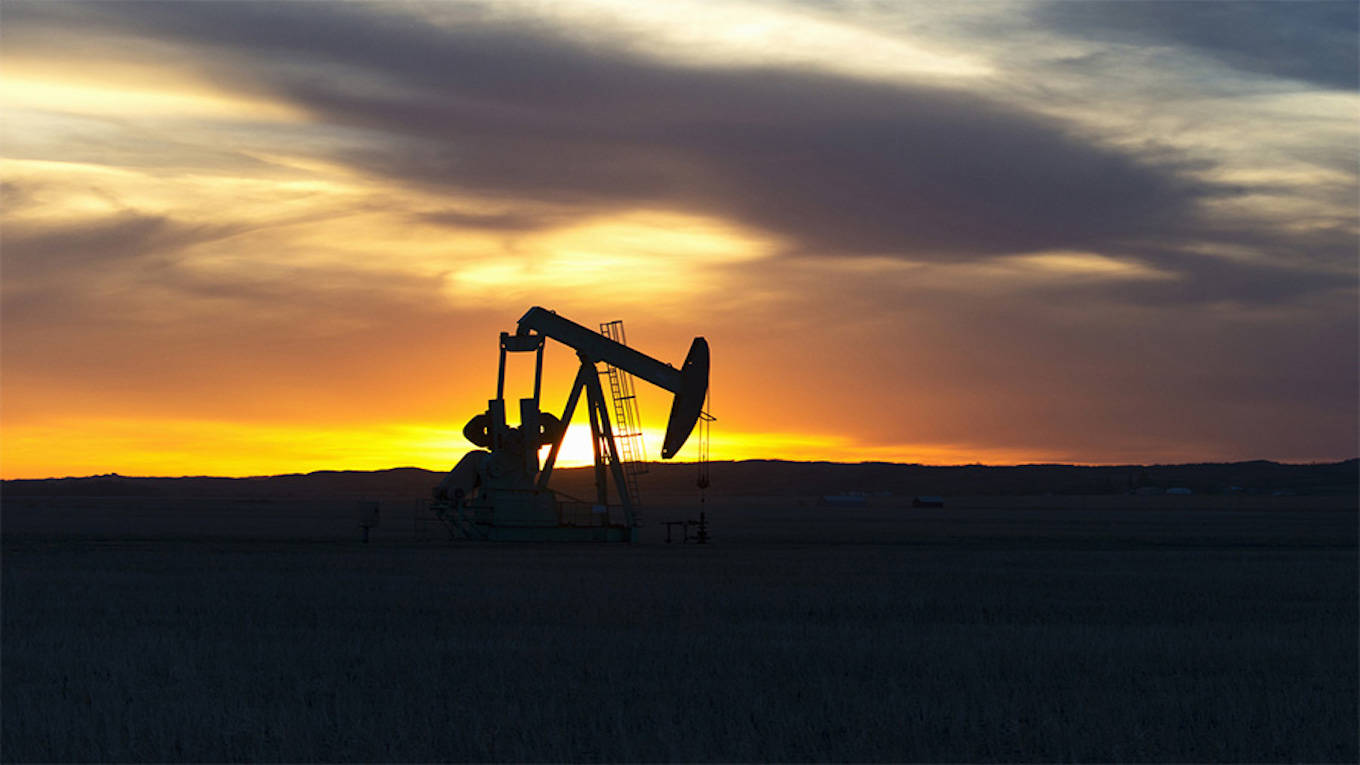 The Limits of Oil's Rebound
Since last August, when it became clear that the lifting of sanctions on Iran would unleash a massive increase in global oil supplies, $50 has proved to be a ceiling for the trading range of a barrel. But now that this level has been exceeded, will it again become a floor?
LONDON – For the first time since last October, the price of a barrel of oil has broken through $50. So it seems a good time to update the analysis I presented in January 2015.
Back then, I argued that $50 or thereabouts would turn out to be a long-term ceiling for the oil price. At the time, with crude prices still above $60, almost everyone believed that $50 would be the rock-bottom floor. After all, futures markets predicted prices of $75 or higher; the Saudi and Russian governments needed $100 to balance their budgets; and any price much below $50 was considered unsustainable, because it would put the US shale-oil industry out of business.
As it happened, the price of Brent crude did fluctuate between $50 and $70 in the first half of last year, before plunging decisively below $50 in early August, when it became obvious that the lifting of sanctions against Iran would unleash a massive increase in global supply. Since then, $50 has indeed proved to be a ceiling for the oil price. But now that this level has been exceeded, will it again become a floor?
That seems to be what many investors are expecting. Hedge funds and other "non-commercial" speculators have increased their long positions to an all-time high of 555,000 of the main oil contracts traded on the New York futures market, compared to the previous record of 548,000 contracts, set just before the oil price peaked at $120 in June 2014. The return of speculative enthusiasm is usually a reliable sign that the next big price move will probably be down. More important, the fundamental arguments are more compelling than ever that $50 or thereabouts will continue to be a price ceiling, rather than a floor.
The case begins, as it did in January 2015, by observing that the oil market is no longer controlled by the monopoly power of OPEC (or the Saudi government and OPEC). Because of new sources of supply, advances in energy technology, and environmental constraints, oil is now operating under a regime of competitive pricing, like other commodities do.
This is what happened for two decades from 1985 to 2004, and, as the chart below shows, trading in the spot market during the past 18 months has been consistent with this idea. So has trading in the futures market: oil for delivery in 2020 has fallen to $56, from $75 a year ago.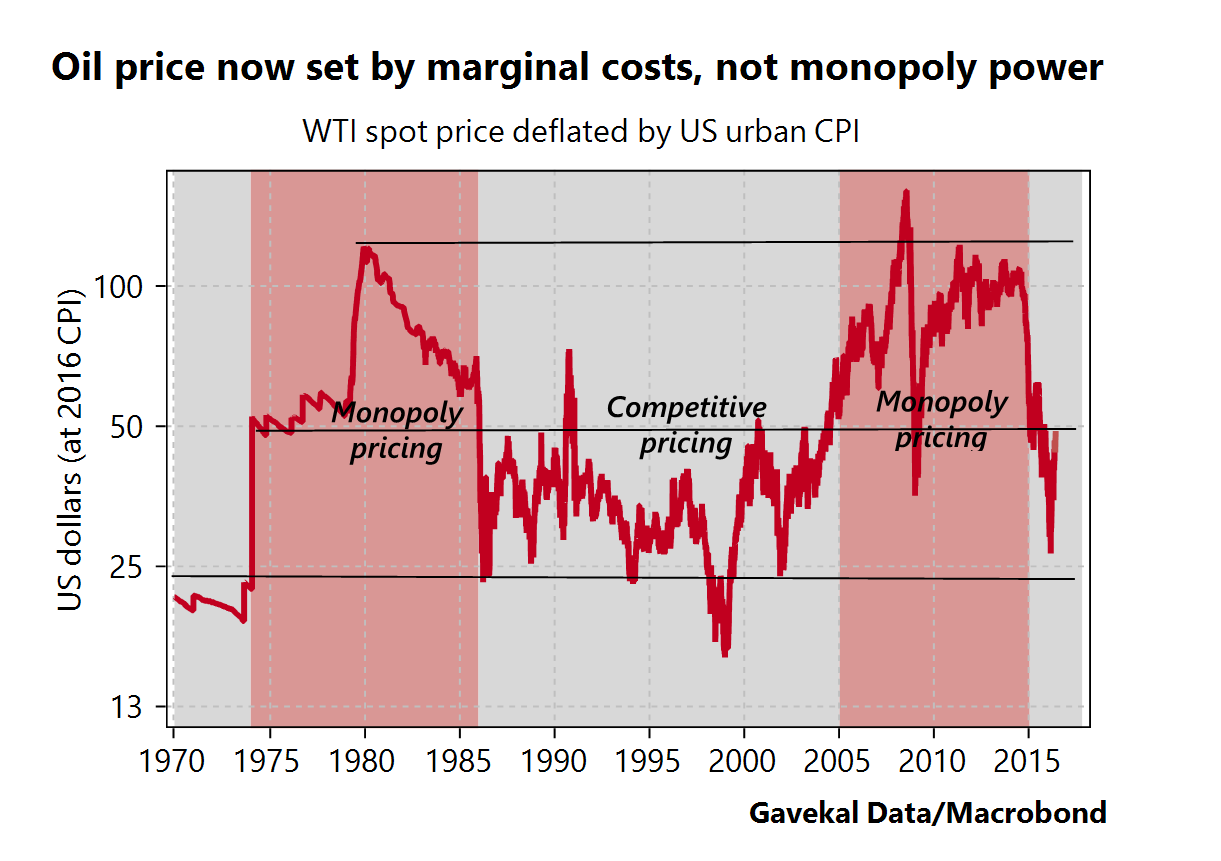 If this competitive regime continues, the price of oil will no longer be determined by the needs and desires of oil-producing governments. Saudi Arabia or Russia may want, or even "need," an oil price of $70 or $80 to balance their budgets. But oil producers' need for a certain price does not mean that they can achieve it, any more than iron-ore or copper producers can achieve whatever price they "need" to keep paying the dividends their shareholders expect or want.
Similarly, the fact that many debt-burdened shale producers will go bankrupt if the oil price stays below $50 is no reason to expect a rebound. These companies will simply lose their oil properties to banks or competitors with stronger finances. The new owners will then start to pump oil again from the same acreage, provided prices are above the marginal cost of production, which will now exclude any interest payments on loans that are written off.
A clear illustration of the "regime change" that has taken place in the oil market is the current rebound in prices to around the $50 level (the likely ceiling of the new trading range). The steepest part of this increase occurred after April 17, when OPEC failed to agree on a new price target and persuade the Saudi, Russian, and Iranian governments to coordinate the output cuts that would be required to achieve any such target.
Now that all of the main oil producers are unequivocally committed to maximizing production, regardless of the impact prices, oil will continue to trade just like any other commodity (for example, iron ore) that is in oversupply in a competitive market. Prices will be determined as described in any standard economics textbook: by the marginal costs of the last supplier whose production is needed to meet global demand.
When oil demand is fairly strong, as it is now and tends to be in early summer, the price will be set by the marginal production costs in US shale basins and Canadian tar sands. When demand is weak, as it often is in autumn and winter, the market-clearing price will be set by marginal producers of cheap but less accessible oil in Asia and Africa, such as Kazakhstan, eastern Siberia, and Nigeria.
From now on, the costs faced by these marginal producers will set the top and bottom of oil's trading range. Low-cost producers in Saudi Arabia, Iraq, Iran, and Russia will continue to pump as much as their physical infrastructure can transport as long as the price is higher than $25 or so. The price needed to elicit enough production from US shale and Canadian tar sands to meet strong demand may be $50, $55, or even $60, but it is unlikely to be much higher than that.
Unpredictable shifts in supply and demand will, of course, cause fluctuations within this trading range, which past experience suggests could be quite large. In the 20-year period of competitive pricing from 1985 to 2004, the oil price frequently doubled or halved in the course of a few months. So the near-doubling of oil prices since mid-January's $28 low is not surprising. But now that the $50 ceiling is being tested, we can expect the next major move in the trading range to be downward.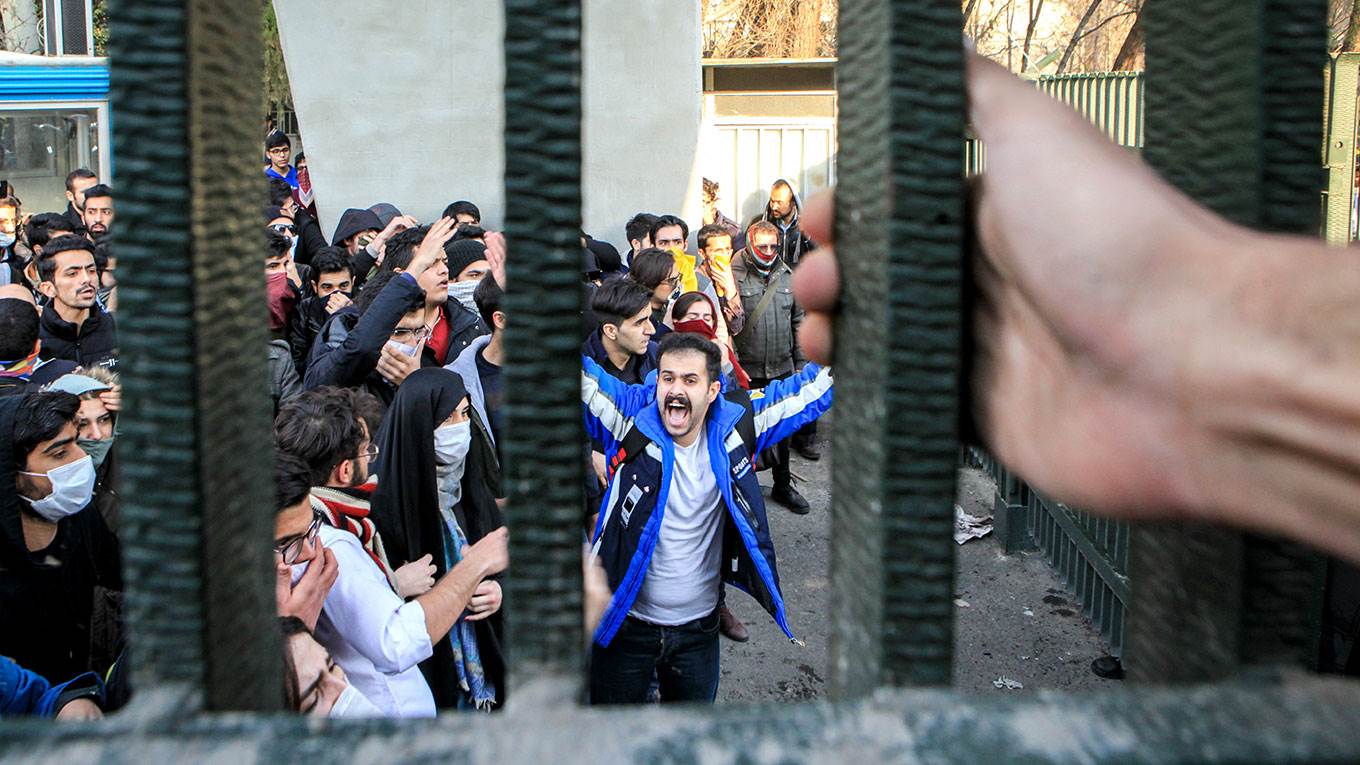 What's Driving Iran's Protests?
Iran's protests, fueled by the rising cost of living and widening economic and social disparities, have quickly morphed into a repudiation of the regime itself. While much of the anger has been directed at the conservative clerical establishment, reformists have as much at stake as their hardline rivals.
LONDON – The rapid spread of civil unrest in Iranian towns and cities that began in late December has taken nearly everyone – President Hassan Rouhani's reform-minded government, many citizens, and observers – by surprise. Starting in Mashhad, a large religious city in the country's northeast and a stronghold of Rouhani's conservative foes, the protests engulfed a number of smaller towns with a speed and ferocity that few could have predicted.
The protests, fueled by the rising cost of living and widening economic and social disparities, quickly morphed into a repudiation of the regime itself. While much of the anger has been directed at the clerical establishment led by Iran's Supreme Leader, Ayatollah Ali Khamenei, reformists have as much at stake as their hardline rivals.
Iranian reformists are not accustomed to being targets of popular frustration, as they are now. In the country's presidential elections, political reformers have repeatedly channeled popular discontent into promises of a more hopeful future. That historic role is at odds with reformers' current responsibility to restore law and order to Iran's urban areas.
Rouhani was elected to a second term barely seven months ago, securing an outright majority of 57% of the vote amid high turnout. Recent events seem to suggest that many young Iranians doubt if Rouhani can deliver greater prosperity and a more moderate version of Islamist rule than that offered by his hardline rivals.
Perhaps the biggest risk posed by the wave of unrest concerns Rouhani's planned economic reforms. The protests erupted despite two years of modest improvement in the Iranian economy. Though squeezed by low world oil prices and anemic inflows of foreign investment, economic indicators have been moving in the right direction since January 2016, when, in the wake of the 2015 deal limiting Iran's nuclear program, many international sanctions were lifted.
According to the International Monetary Fund, Iran's GDP is growing at an annual rate of just over 4%, with encouraging indications that in the post-sanction era, growth is broadening to the non-oil sectors. Last year, growth reached 12.5%, mainly owing to a rebound in oil output and exports. While inflation remains high, at around 10%, this represents a strong improvement from the heights scaled when sanctions were in place.
There is, of course, no linear relationship between economic indicators and public sentiment. While conventional wisdom attributes political turmoil and instability to economic hardship, reality is rarely so neat. In the Middle East, for example, both Iran's 1979 Islamic Revolution and the Arab Spring uprisings of 2011 were preceded by unprecedented oil-price booms, implying greater prosperity in the region.
Still, the improvements to Iran's economy following the 2015 nuclear deal have fallen well short of expectations. The biggest disappointment seems to be that growth has failed to make a dent in Iran's staggering levels of unemployment. The total unemployment rate stands at nearly 13%, while youth unemployment – officially measured at 29%, but likely closer to 40% – is among the highest in the world.
Today, this grievance sits at the heart of popular frustration, particularly among disaffected urban youth, who helped ignite the latest round of unrest. Unemployment is highest among those with university education, particularly women. While more young Iranian women now enter Iran's universities compared to their male counterparts, Iran's rate of female labor-force participation was a paltry 15% last year, down from 20% a decade ago.
Job creation will remain a principal challenge for Rouhani's government. Because some 840,000 people are expected to enter the labor market next year alone, simply stabilizing unemployment in the short term will be a tall order. With more than 40% of the population between the ages of 15 and 34, adding enough jobs in the longer term will be no easier.
Viewed in this context, the recent protests have weakened Iran's reformers by eroding their monopoly on hope and driving a wedge between the government's neoliberal policies, intended to address Iran's economic problems, and its goal of deepening popular support. And Iran's reformers also risk losing political ground to their hardline rivals, who can be expected to adopt an iron-fisted approach to security, at the expense of Rouhani's gradual loosening of restrictions.
There is, however, a silver lining for reformers. While many Iranians yearn for economic empowerment, many more fear a possible slide into anarchy and chaos. Unlike during the protests of 2009, and mindful of the generally disappointing outcome of the Arab Spring uprisings, Iran's middle class has so far exercised caution, observing the demonstrations apprehensively and from a distance.
Paradoxically, it is that fear factor – rather than the hope for change among disaffected Iranians – that may yet rescue Rouhani's agenda.