Misdiagnosing Kim Jong-un
If US President Donald Trump and his advisers continue to assume that traditional deterrence does not apply to North Korea, they are likely to lose the latest geopolitical chess match. History shows that those who mistake their political or military adversaries for lunatics are usually disastrously wrong.
MILAN – Throughout history, political observers have found decision-makers who are deemed "crazy" the most difficult to assess. In fact, the problem is rarely one of psychopathology. Usually, the label merely indicates behavior that is different from what conventional analysts were expecting.
This was surely true of the twelfth-century Syrian religious leader Rashid al-Din Sinan. During the Third Crusade, the supposedly mad "Old Man of the Mountain," as he was known, succeeded in disrupting a Crusader advance on Jerusalem by directing his followers to carry out targeted assassinations. After carrying out their orders, the assassins often stayed put and awaited capture in full view of the local populace, to ensure that their leader received proper credit for the act.
At the time, such actions were incomprehensible to the Western mind. Westerners took to calling the Old Man's followers hashashin, or users of hashish, because they regarded intoxication as the only possible explanation for such "senseless" disregard for one's own physical wellbeing. But the hashashin were not drug users on the whole. And, more to the point, they were successful: their eventual assassination of Conrad of Montferrat led directly to the political collapse of the Crusader coalition and the defeat of Richard the Lionheart of England. As Polonius says of Hamlet, there was method to the Old Man's madness.
Today, the problem of analyzing supposedly lunatic leaders has reappeared with the North Korean nuclear crisis. Whether North Korean dictator Kim Jong-un is mad is not merely an academic question; it is the heart of the matter.
US President Donald Trump's administration has stated unequivocally that it will not tolerate a North Korean capability to threaten the mainland United States with nuclear weapons. According to Trump's national security adviser, H.R. McMaster, the administration's position reflects its belief that Kim is crazy, and that "classical deterrence theory" thus does not apply.
During the Cold War, US President Dwight Eisenhower reasoned that even if Stalin (and later Mao) was homicidal, he was also rational, and did not wish to perish in a US counter-strike. The logic of "mutually assured destruction" that underlay nuclear deterrence worked.
If, however, the leader of a nuclear-armed state is a lunatic who is indifferent to his physical safety and that of those around him, the entire deterrence strategy falls apart. If Kim is insane, the only option is to take him out before his suicidal regime can kill millions of people.
But is Kim truly crazy, or does he simply have a worldview that discomfits Western analysts? His dramatic overture to hold a summit with Trump by May hardly seems to fit the "madman" narrative. In fact, it looks like the act of someone who knows exactly what he is doing.
Consider three strategic considerations that Kim could be weighing. First, his regime might be planning to offer concessions that it has no intention of fulfilling. After all, an earlier nuclear deal that the US brokered with his father, Kim Jong-il, was derailed by duplicity. In 2002, the US discovered that the regime was secretly enriching weapons-grade uranium in direct violation of its earlier pledge.
In fact, North Korea has demonstrated time and again that it doesn't play by the rules. It enters into negotiations to extract concessions such as food aid, and then returns to its objectionable activities, thus starting the entire Sisyphean cycle again. There is no reason to think that this time will be different. But the regime's deviousness should not be mistaken for irrationality or madness. Simply by expressing his openness to talks, Kim has already won some of the political legitimacy he craves.
Second, rather than being a lunatic, Kim seems mindful of recent history. Whereas Saddam Hussein in Iraq and Muammar el-Qaddafi in Libya paid the ultimate price for giving up their nuclear programs, Kim has advanced his regime's nuclear capabilities and is now publicly treated as a near-equal by the most powerful man on the planet. The Kim regime has always sought such vindication above everything else.
A third and final consideration is that North Korea is playing for time. Though it has agreed to halt nuclear and missile tests in the run-up to the summit, it could be using the intervening months to develop related technologies. For example, it still needs to perfect an atmospheric re-entry mechanism to make its intercontinental ballistic missiles capable of striking the US mainland reliably and accurately. Moreover, as long as the summit is in play, North Korea need not fear a US military strike. That is a perfectly rational and sensible prize for Kim to pursue.
All told, North Korea's "opening" will most likely amount to much less than meets the eye. But one can still glean valuable strategic insights from Kim's diplomatic gambit. North Korean thinking reflects cunning, to be sure; but it also betrays the regime's will to survive, and its desire to master the current situation. This suggests that Kim is not "crazy" after all, and that conventional deterrence will still work, as it has since 1945.
That is good news for everyone, but particularly for the Trump administration, given that it will almost certainly fail to secure any meaningful concessions from North Korea in the upcoming talks.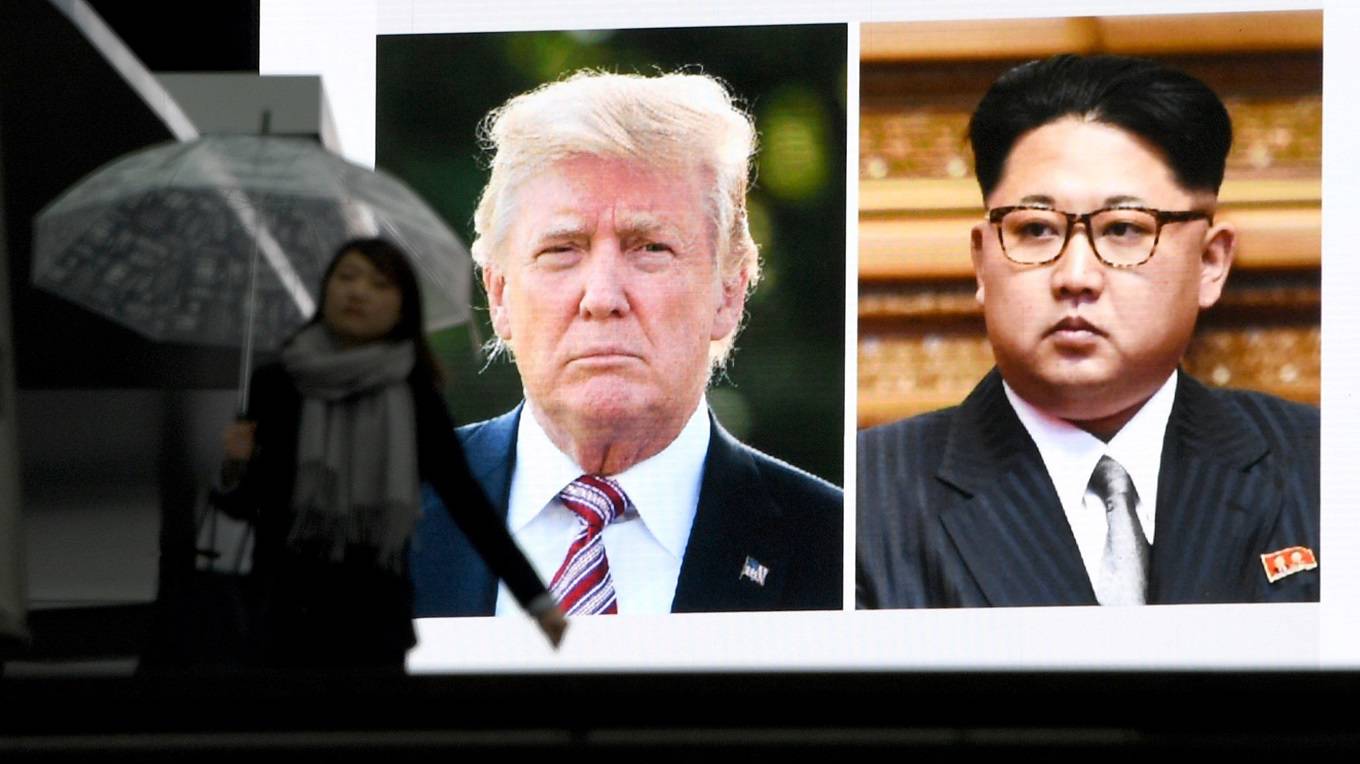 Could the Trump-Kim Summit Succeed?
The Kim-Trump summit is an opportunity that will be difficult to seize and easy to squander. For example, if Trump decertifies the Iran nuclear deal on May 12, ahead of the summit, the move would almost certainly call into question America's good faith and ability to honor negotiated international agreements.
CANBERRA – Last year, North Korea's Kim Jong-un and US President Donald Trump were hurling kindergarten insults at each other – "Rocket Man is on a suicide mission," said Trump of Kim; "mentally deranged US dotard," Kim retorted – while threatening to reduce East Asia to a post-atomic wasteland. Now, in a stunning and dramatic development, the two are to meet by May. Kim reportedly is willing to denuclearize and eager to talk directly to Trump, who has agreed.
But optimism about this turn of events must be tempered with cautious realism. North Korea is the nuclear problem from hell. Neither South Korea nor the United States can control the narrative; definitions of success or failure are highly relative; and Trump must enter the talks with no exit strategy. The six decades since the Korean War ended in 1953 – with a ceasefire but no peace agreement – have hardened an increasingly dangerous stalemate. Although neither side is likely to launch a premeditated nuclear attack, the risk of war from miscommunication, misperception, or miscalculation is real.
All key announcements so far have come from Seoul, not Pyongyang or Washington. President Moon Jae-in, a son of refugees from North Korea, was elected on the promise of a two-track approach to the North: sanctions and diplomacy. This led to the Olympic initiative whereby Kim's sister, Kim Yo-jong, attended the Winter Games in Pyeongchang, and the two countries competed as one team. Afterwards, Moon's national security adviser, Chung Eui-yong, and intelligence chief Suh Hoon traveled to Pyongyang and Washington, where, standing on the White House lawn with Cho Yoon-je, South Korea's ambassador to the US – but with no US officials present – they announced the summit.
North Korea conducted the first of six nuclear tests in 2006. The regime's nuclear program has many components, and discussions could founder on what is to be proscribed, permitted, and reversed, and in exchange for what concessions by the US. Will the deal require freezing North Korea's capability at current levels, or complete, verifiable, and irreversible denuclearization? The answer will depend on North Korea's motives in getting the bomb and agreeing to talk.
For the Kim regime, the main lesson from the fates of Slobodan Milošević, Saddam Hussein, and Muammar el-Qaddafi was that only nuclear weapons can neutralize US efforts at regime change. But the US never attacked North Korea in the decades after 1953, when it clearly did not have the bomb. Conversely, the North's growing nuclear capability provoked the US into quietly preparing for war while hoping to avert one. Sanctions are an ineffective tool to force North Korea's compliance with the UN's demand that it give up nuclear weapons, and it could prove dangerous to conclude that their pain brought Kim to the talks.
Similarly, the threat of US military strikes did little to concentrate Kim's mind: even Western analysts do not find that threat credible. The US lacks the ability to identify, locate, and destroy all three categories of nuclear targets: warheads, bomb production infrastructure, and delivery vehicles. North Korea also has formidable conventional military capabilities, and estimates of human casualties could total as many as 25 million, depending on the types of weapons used, the geographical theater of the conflict, and the countries sucked into it.
In February, Moon said: "The United States needs to lower its bar for dialogue and the North, too, must show its willingness to denuclearize" as critical first steps. The summit became possible because the US acceded to that counsel, turning its demand for denuclearization, which had previously been a precondition for talks, into a goal of negotiations.
But Kim will not trust unilateral US guarantees. Therefore, any deal would require the support of China and Russia, economic and energy assistance from Japan and others, and endorsement by the UN Security Council. China and Russia have welcomed news of the direct talks, but Japan is uneasy.
All parties will explore six elements of a deal that North Korea is seeking: a peace treaty to replace the 1953 armistice, comprehensive sanctions relief, an end to US-South Korea military exercises, diplomatic recognition, acceptance of North Korean space activities, and nuclear energy assistance.
The North must halt all nuclear and missile tests until the summit, and sanctions will remain in place. But will the US and South Korea suspend military exercises? To North Korea, complete denuclearization means the withdrawal of US extended nuclear deterrence from the peninsula.
The Kim-Trump summit is an opportunity that will be difficult to seize and easy to squander. For example, if Trump decertifies the Iran nuclear deal on May 12, ahead of the summit, the move would almost certainly call into question America's good faith and ability to honor negotiated international agreements.
Moreover, there is the general matter of Trump's ignorance, lack of foreign-policy experience, and the many unfilled posts in the US State Department. There is still no US ambassador in Seoul, and Joseph Yun, US Special Representative for North Korea Policy, retired this month. Without extensive diplomatic groundwork, the wily Kim could outsmart Trump. Participation in the Winter Olympics and willingness to sit down with Trump have already given the North a propaganda boost, and a summit with the US president will confer legitimacy on Kim.
Yet Trump has proven to be pragmatic, not ideological. His transactional approach could prove the key. Whether genuine or tactical, Moon has constantly praised Trump's tough stance of maximum pressure as helpful to gaining Kim's interest in a possible diplomatic solution.
Moreover, Trump carries no historical baggage, and his decisiveness, even if rooted in impulsiveness, could provide the necessary breakthrough to overcome decades of accumulated inertia. Trump's ability to reverse himself and deny having done so could be equally advantageous. If a good deal is on the table, nothing the US has done, or that Trump has said in the past, will stop him from seizing the moment. On such slender threads of hope hang nuclear peace.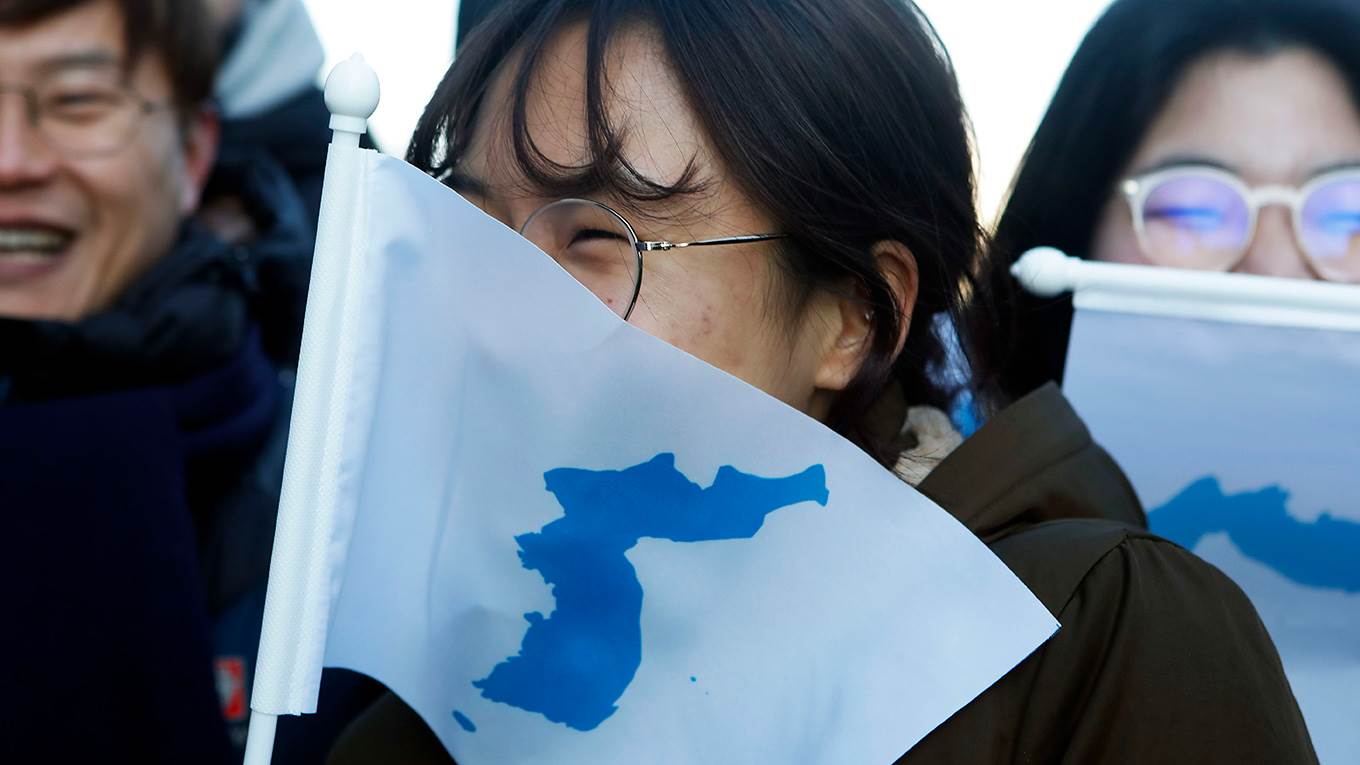 From PyeongChang to Peace?
Since coming to power in 2011, North Korean leader Kim Jong-un has been committed to two parallel goals: a robust nuclear weapons program and economic development. With the first goal ostensibly achieved, Kim is now attempting to chart a path toward the second, by launching a charm offensive toward the South.
SEOUL – After some two years of rising tensions on the Korean Peninsula, the reprieve, however brief, that the upcoming Winter Olympics in the South Korean city of PyeongChang promises to bring is more than welcome. But, with some military experts estimating that the probability of war now surpasses 50%, complacency is not an option.
After years of accelerated missile development, which culminated in successful tests of intercontinental ballistic missiles and, allegedly, a hydrogen bomb last year, North Korea's nuclear program has become an imminent threat not only to its neighbors, but also to the United States. The response of US President Donald Trump's administration – which has included unprecedented saber-rattling on Twitter – has escalated tensions further.
Yet, on January 1, North Korean leader Kim Jong-un called for better relations with the South, before agreeing to participate in the Olympics. What accounts for Kim's sudden extension of an olive branch to South Korea?
Since coming to power in 2011, Kim has been committed to a policy called the "Byungjin line," which emphasizes parallel goals: economic development and a robust nuclear weapons program. With one of those goals now ostensibly achieved, Kim has shifted his focus to securing new economic opportunities for North Korea's sanction-battered economy. For example, the sanctions imposed in September 2017 on textiles, coal, and other exports are said to have reduced North Korean exports by 90%. According to South Korea's central bank, North Korea's economy grew by 3.9% in 2016, but may have contracted in 2017.
Kim now seems to have decided that his best hope for boosting North Korea's economy, without reversing progress on its nuclear program, is to weaken the international coalition enforcing the sanctions. His campaign begins with South Korea, where he is attempting to use ethnic nationalism to drive a wedge between that country and its US ally and potentially even to convince it to abandon the alliance altogether. In the longer term, Kim appears to hope that he can convince the international community that it can co-exist with a nuclear North Korea, much as Pakistan did.
But South Korea is unlikely to be fooled so easily. Since his inauguration last May, President Moon Jae-in has known that he needed to find a way to mitigate the existential threat of nuclear war. So he decided to treat the Winter Olympics as an opportunity not only to defuse tensions on the Korean Peninsula, but also to spur momentum for dialogue on denuclearization.
While the possibility that South Koreans may be drawn into North Korea's honey trap cannot be ruled out, most Koreans, including young people, have had their fill of the North's provocations, and are highly unlikely to be seduced by Kim's charm offensive. Moon himself made it clear last month that no improvement in the South's relationship with North Korea will be possible without denuclearization. Indeed, his efforts to open a dialogue with the North seem to be driven by cool diplomatic realism, not naïve idealism.
As for the US, its take on the intra-Korea dialogue reflects a mixture of skepticism and expectation. Trump has expressed support for the effort, but Americans remain concerned about any potential strain on their country's alliance with South Korea.
More dangerous, some US policymakers continue to entertain the possibility of delivering a "bloody nose" strike to the North – a decision that could cost hundreds of thousands of lives. After all, there is no guarantee that North Korea would be able to discern whether it really is a one-time strike, or a declaration of war. And even if the North could read the Trump administration's intentions, there is no telling how it would respond.
To help prevent this outcome, and with Kim refusing to discuss denuclearization with his "brethren" in the South (at whom he claims his missiles are not aimed), Moon now must figure out how to build up the intra-Korea dialogue to enable talks between North Korea and the US. To this end, a quiet meeting between the second-highest officials of the two countries – US Vice President Mike Pence and President of the Presidium of the Supreme People's Assembly of North Korea Kim Yong-nam, both of whom are expected to come to Pyeongchang – might be possible.
But, ultimately, it is Trump who needs to seize the opportunity to initiate talks. The fact is that, despite their importance, sanctions alone cannot bring about the outcome desired by the US or its allies. Talks are needed, if only to try to find out the North's true intentions: is its nuclear program a defensive or offensive project? For that, the Trump administration will need to move beyond the "maximum pressure" promised by its stated North Korea policy, and get started on the "engagement" that it also acknowledges will be indispensable to forging a solution.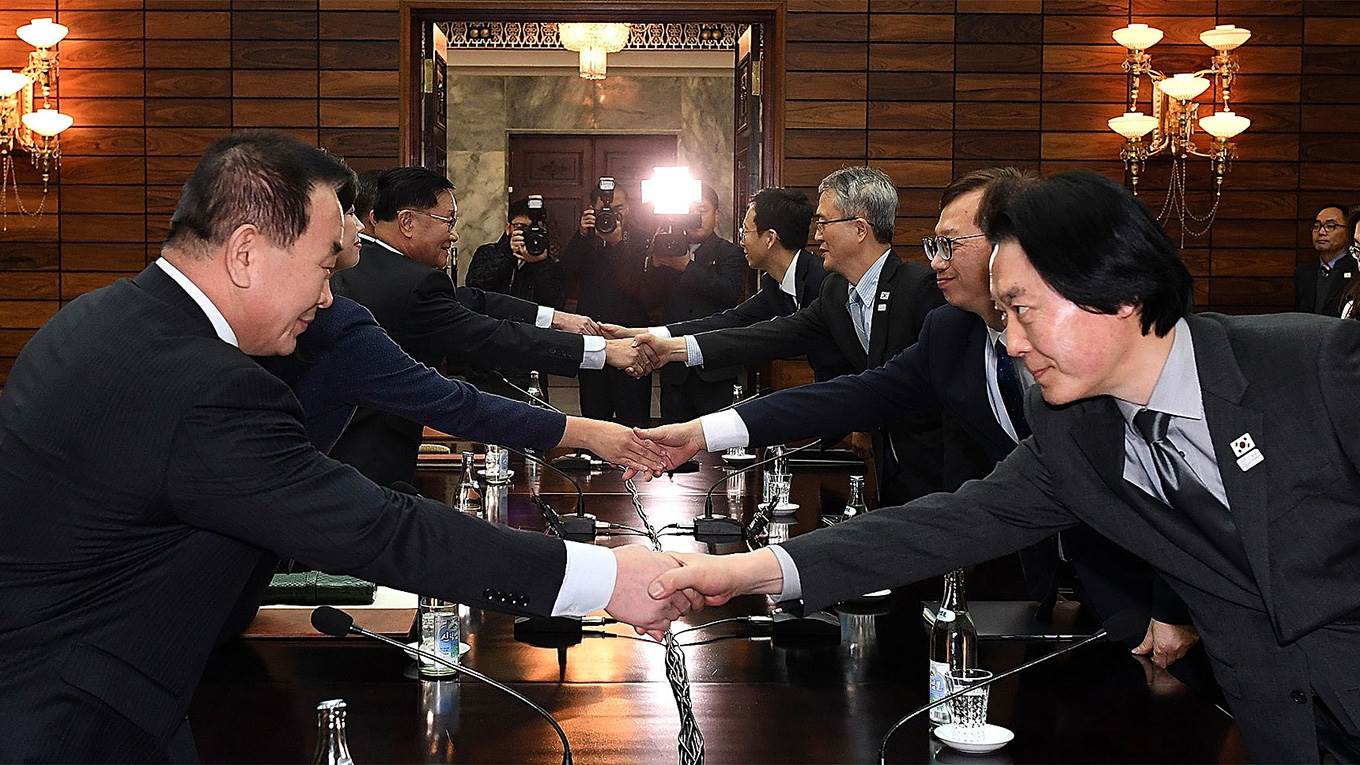 Moon Jae-in's Olympic Realpolitik
After a year in which many countries questioned whether it would even be safe to send a delegation to the Winter Olympics in PyeongChang, South Korean President Moon Jae-in has served his country well. He has both neutralized the threat of North Korean disruption to the Games and kept a thin-skinned US president firmly on his side.
SEOUL – South Korean President Moon Jae-in has made a good start to the New Year. Not only did he broker an agreement to bring North Korea to the Winter Olympic Games in PyeongChang; he also convinced US President Donald Trump that doing so was in fact Trump's idea.
With his Olympic coup, Moon has both managed the North Korean threat to the Games and avoided any backlash from the United States. Still, the agreement that North and South Korea reached in the border village of Panmunjom earlier this month is unlikely to lead to renewed nuclear-disarmament talks.
Rather, once the Games are over, the North will likely use the current diplomatic opening to probe in other areas unrelated to its nuclear program, which, in turn, will raise a set of trying and familiar issues for the US-South Korea relationship.
After all, North Korean leader Kim Jong-un certainly wasn't motivated by a genuine New Year's resolution when he called for better relations with South Korea on January 1. On the contrary, his gambit was in keeping with the North's longstanding policy of trying to weaken the US-South Korean alliance.
In reaching out to the South, Kim wants to demonstrate that the North can live peacefully with its neighbors, even as it maintains a nuclear arsenal. More broadly, Kim is seeking to normalize the North's status as a wannabe, self-identified nuclear power in the eyes of the world.
Achieving these goals, Kim hopes, will drive a wedge between the US and South Korea. He knows that Trump's approval ratings in South Korea are far lower than his already-abysmal ratings in the US, so he is exploiting that fact to facilitate his nuclear-normalization objective. And, of course, the North is always looking for opportunities to win relief from sanctions.
Moon, for his part, has handled Kim's "peace offensive" well. North Korea's Olympians and cheerleaders will undoubtedly be greeted enthusiastically when they arrive by train in the South, and the crowd will roar its approval when athletes from the two countries march into the stadium under the same banner.
To be sure, the North Koreans will think they were invited to participate in the Games not in spite of their nuclear program, but because of it. From their perspective, South Korea seems to have developed a newfound respect – or fear – of what the North is becoming. And participation in the Olympics suggests that international isolation is a temporary fact of life, a toll on the road to fully recognized nuclear status. They might think that, soon enough, other countries will be lining up to offer the North a seat at the diplomatic table.
But Moon has made it clear that his government will not be seduced by the Olympic spirit. If North Korea's leaders expect participation in the Games to lead to recognition of their country's nuclear status, they will be waiting a long time. The South's goal is to host a successful Olympic Games, after a year in which many countries questioned whether it was safe to send a delegation at all. Once the Games are over, the North will be facing a long winter of opprobrium and isolation.
That means the North would be wrong to assume that the South will beg it to reopen the Kaesong Industrial Complex, one of the most ambitious North-South cooperative efforts of the 2003-2009 détente era. Moon has shown no interest in such gestures. He understands that unilateral concessions will not improve South Korea's position vis-à-vis the other regional and global powers reacting to North Korean behavior.
Like the Saudis and others before him, Moon knows that the way to Trump's heart is through his ego. But he also must manage the broader front of countries that are participating in historically strong sanctions against an abhorrent state. In that respect, Moon's first big test will come immediately after the Olympics, when the South Korea-US Combined Forces Command will decide on its plans for future military exercises.
North Korea, of course, will object to such exercises, as it always does. But so, too, might China and Russia, which will accuse the US of reversing the Olympic thaw. Even so, a military alliance without exercises is like an orchestra without instruments. Moon most likely understands this, just as he realizes that the importance of his country's relationship with the US, despite its headaches and complexities, dwarfs that of any of its other partnerships around the world.
At the end of the day, a progressive South Korean government such as Moon's always must demonstrate to the public that it can manage and safeguard the US relationship. So far, Moon has done that.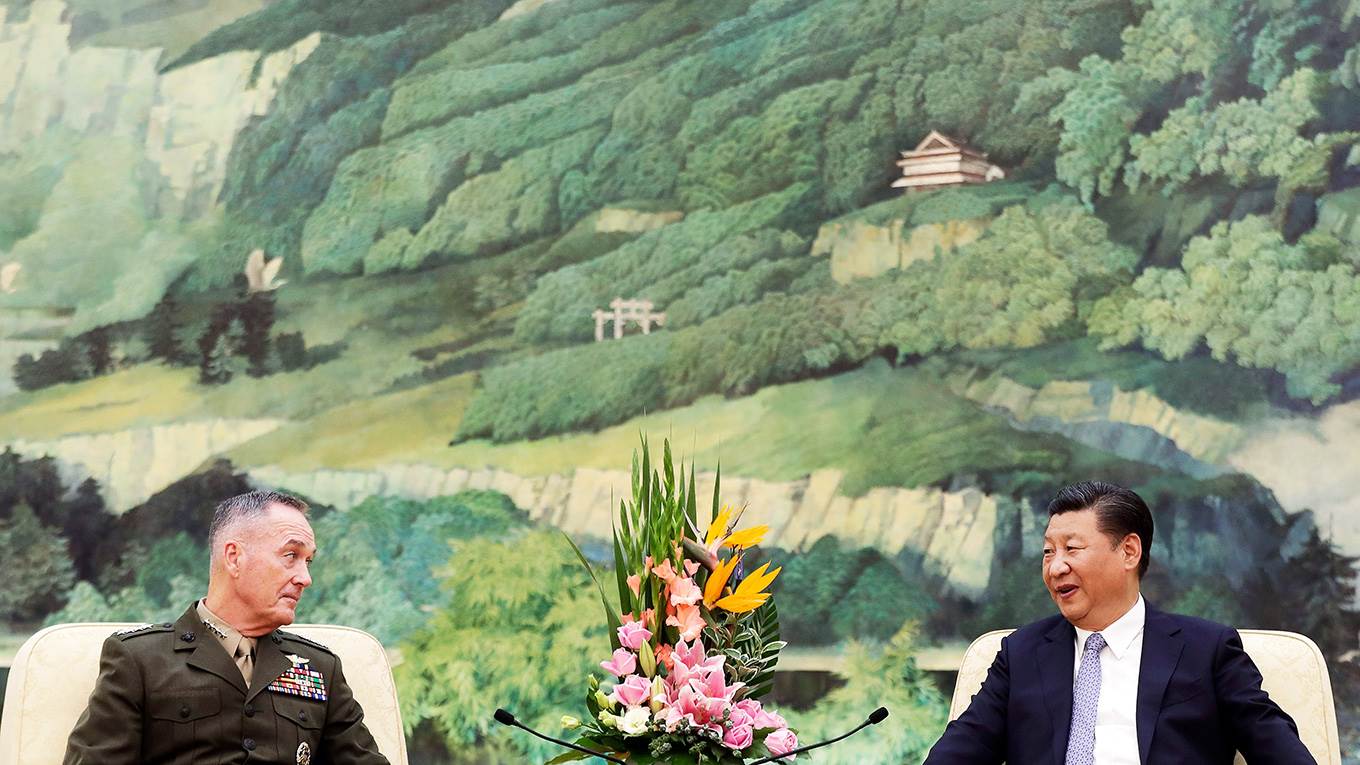 Can Trump Deal with North Korea and China?
For years, Americans have misunderstood the nuclear threat from North Korea, and overestimated the importance of bilateral trade deficits with China. Now, these two issues are intersecting, and yet Donald Trump is threatening to erect new trade barriers against China just when he needs its help to rein in the Kim regime.
CAMBRIDGE – For years, Americans have misunderstood the nuclear threat from North Korea, misjudging how to address it. They have also misunderstood the bilateral trade deficits with China, overestimating their importance. Today, as President Donald Trump threatens new trade barriers against China, on which the United States must depend to help rein in an increasingly dangerous North Korea, these two issues have become closely connected. Yet US officials seem no closer to figuring them out.
The stakes obviously are much higher regarding North Korea, with US-South Korean joint military exercises this week aggravating already-high tensions. If the US and North Korea do get into a military confrontation, there is a real risk that nuclear weapons will be used. Even a conventional war would likely be catastrophic.
Trade is relevant to the North Korean nuclear challenge, because strict economic sanctions by China – potentially including a halt in oil supplies – are probably the world's best bet for stopping the North's nuclear program (in exchange for certain security guarantees from the US). Trump may well understand this. But he apparently believes that he can use US trade with China as a bargaining chip to secure its help in dealing with North Korea. This is the wrong approach.
Trump's approach to governance – characterized by an unprecedented lack of interest in rules, principles, alliances, and institutions – is sometimes described as transactional. Justifications of that approach typically focus on Trump's business background, which supposedly makes him the dealmaker the US needs. In fact, Trump's behavior reflects a lack of regard for some of the most elementary requirements for successful negotiation.
A skillful negotiator knows that one must look at the game from the other player's viewpoint, in order to determine which outcomes they may view as favorable, and find common ground. Moreover, concluding a deal requires credibility with respect to both inducements and punishments.
Trump's attempts at bargaining with China reflect a failure on both fronts. From China's perspective, a nuclear-armed North Korea is undesirable, but still less problematic than the potential breakdown of order in the country, which could produce an influx of refugees into China and bring American troops closer to China's border. Against this background, erratic US trade threats are not the way to convince China to apply pressure on its troublesome ally.
Instead, the US, along with South Korea, should promise that, if Chinese-backed sanctions did cause the North Korean regime to collapse, China would not be confronted either by US troops north of the 38th parallel or by a unified, nuclear-armed Korean Peninsula. In the shorter term, the US and South Korea should offer to pause the deployment of America's Terminal High Altitude Area Defense (THAAD) system in South Korea, if China adopts and enforces additional sanctions on the North.
But credibility on the part of the US president is needed to make this – or any – strategy work. Unfortunately, Trump's statements – whether about the past, the present, or the future – are often out of touch with reality. On the North Korean nuclear issue alone, he has shown a remarkable lack of consistency, credibility, and follow-through.
In January, Trump tweeted that North Korea's development of a nuclear weapon capable of reaching parts of the US "won't happen!" By July, the North was testing an intercontinental ballistic missile capable of reaching the US, and it is believed that the country already possesses the capability to produce a miniaturized, ICBM-ready nuclear payload.
Earlier this month, when Trump said that any North Korean threat "will be met with fire and fury like the world has never seen," North Korean leader Kim Jong-un responded by threatening to attack Guam. Instead of delivering fire and fury, Trump reiterated that if Kim "utters one threat in a form of an overt threat … he will truly regret it. And he will regret it fast." These statements clearly are neither credible nor accurate.
Trump has displayed similar caprice and lack of follow-through with respect to China. In December, then-President-elect Trump challenged the "One China" policy that his predecessors, Democrats and Republicans alike, had respected. He either didn't know that China is more willing to go to war over Taiwan than the US is, or was displaying his characteristic shortsightedness. In any case, on February 9, he had to reverse his position, losing face just a couple of weeks after his inauguration and setting a bad precedent for future deal-making with the strategically savvy Chinese.
Likewise, Trump backed down on his oft-repeated promise that he would name China a currency manipulator as soon as he took office. It was a foolish threat all along – not least because, if Chinese authorities had stopped intervening in the foreign-exchange market in 2015-2016, the result would have been a weaker renminbi, not a stronger one.
By now, Chinese President Xi Jinping, like most world leaders, has learned to discount Trump's warnings. Trump's statements suggesting a lack of loyalty to America's allies – he took months to affirm his support for Article 5 of the North Atlantic Treaty, NATO's bedrock collective-defense clause – have left even close US partners hesitant to make deals with his administration.
The White House is still pursuing aggressive trade-policy measures against China, only some of which have any merit. (While the effort to enforce intellectual property rights has some basis in reality, the attempt to block steel imports using a national-security exemption is farcical.) But these initiatives will not do much, if anything, for America's trade balance, real income growth, or employment. And they certainly won't convince China to help mitigate the North Korean nuclear threat.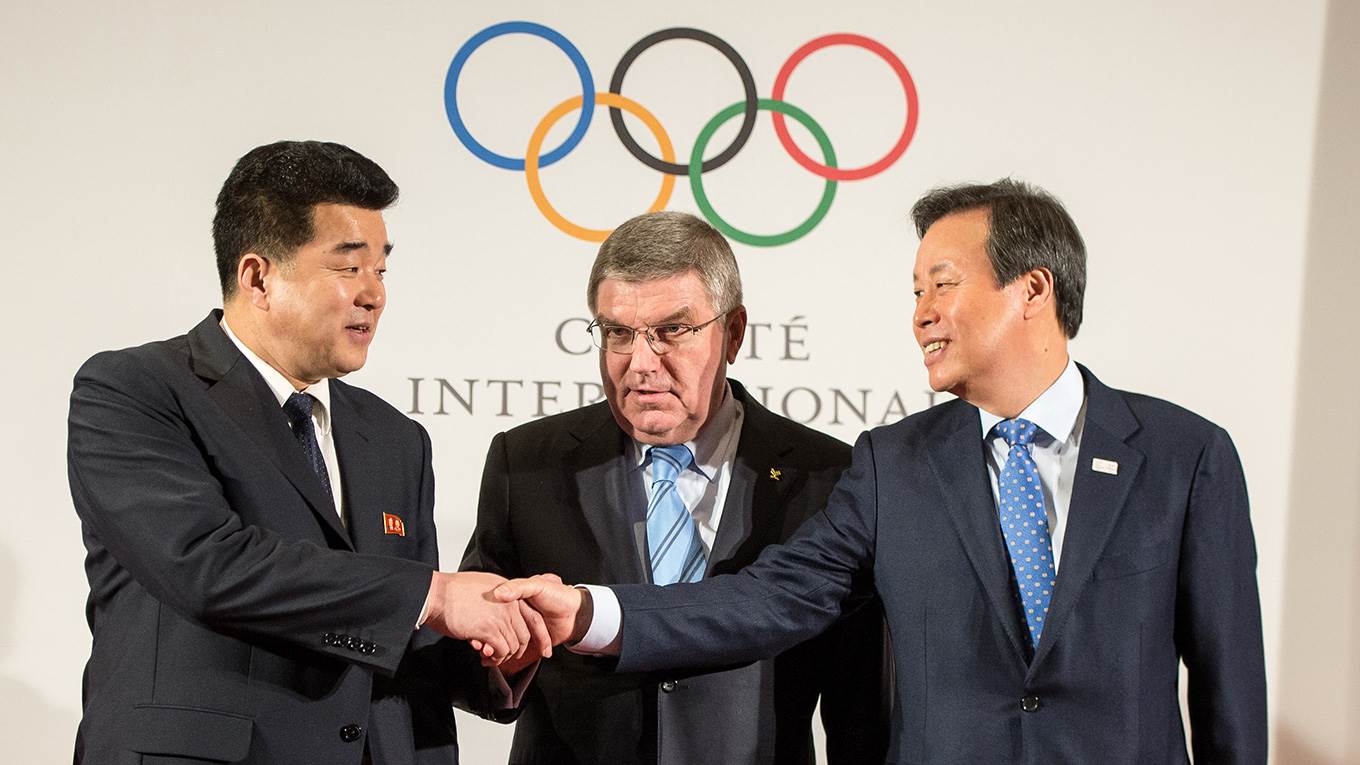 A Winter Thaw on the Korean Peninsula
Throughout the history of the modern Olympic Games, the event has served as a platform for nationalism, but also for advancing peace and human dignity in the spirit of friendly competition. When the Games begin next month on the tumultuous Korean Peninsula, one hopes the legacy of peacemaking and rapprochement prevails.
MADRID – Pierre de Coubertin, the founder of the modern Olympic Games, famously said, "The most important thing is not to win, but to take part." Now that North Korea has agreed to participate in the upcoming Winter Olympics in the South Korean city of Pyeongchang, that phrase has taken on new meaning.
Throughout the history of the modern Olympic Games, separating politics from sports has been impossible. Perhaps it is not even desirable. After all, one of the Games' primary objectives is to put sports at the service of peace and human dignity.
More broadly, sports have long played a politically constructive role on the world stage. At the 1971 World Table Tennis Championships in Japan, an American player hitched a ride on the Chinese team's bus, inaugurating what became known as "ping-pong diplomacy." Soon after, at the height of the Cultural Revolution no less, Mao Zedong invited the US table tennis team to China, paving the way for US President Richard Nixon's historic visit there in 1972.
At the 1991 World Table Tennis Championships, again hosted by Japan, North and South Korea formed a joint team, and beat the odds to win a gold medal in the women's competition. The camaraderie developed by the players helped them defeat the Chinese team in the final. For a brief moment, jubilant Koreans forgot their divisions.
In fact, South Korea may even owe its modern democracy, at least in part, to the Olympic Games. In 1987, with the 1988 Seoul Summer Olympics quickly approaching, South Koreans succeeded in pushing then-President Chun Doo-hwan's military regime to hold a democratic election. This was a striking turn of events, given that Chun had conceived the Olympic bid as an opportunity to improve his dictatorship's domestic and foreign image. Without the approaching Games, and the international pressure that they brought, South Korea's democratic transition might not have taken place, at least not as peacefully or rapidly as it did.
But the 1988 Seoul Games also had a dark side. North Korea, unable to reach an agreement with the South about how to share the event, ended up boycotting it altogether. And in 1987, the same year the Chun dictatorship collapsed, a Korean Air flight was downed, most likely by the North Korean regime, in an effort to disrupt the approaching election and discourage other countries from participating in the Games.
In the end, the 1988 Games deepened the divide between the two Koreas, and the brief moment of shared triumph in 1991 would not be enough to reverse the trend. The South went on to open itself to the world, and the North hardened its isolationism – a process that intensified after the dissolution of the Soviet Union – and pursued the path of nuclear proliferation.
Of course, North Korea's decision to stage a boycott in 1988 was hardly unprecedented. Historically, many countries have boycotted the Games, or even used them as a platform to promote values contrary to the Olympic spirit. That was certainly the case when Adolf Hitler's regime hosted the 1936 Summer Olympics in Berlin.
In 1945, George Orwell looked back at the 1936 Games and observed that, "serious sport … is war minus the shooting." The Games, he noted, are "bound up with the rise of nationalism – that is, with the lunatic modern habit of identifying oneself with large power units and seeing everything in terms of competitive prestige."
Orwell wasn't far off. At the 2008 Summer Olympics in Beijing, for example, the connection between sports and nationalism was on display. The Games were an organizational success, complete with brilliant new architecture. The fact that China ended up winning more gold medals than any other country undoubtedly heightened national pride. And the protests against China's treatment of Tibet during Olympic torch relays around the world fueled Chinese nationalism. Today, national pride is still a key focus for the political leader who supervised the Beijing Games: then-vice president and now-president of China, Xi Jinping.
Similarly, the 2014 Winter Olympics in Sochi helped to breathe life into Russian President Vladimir Putin's then-ailing regime. Three days before the closing ceremony, Putin launched his military intervention into Crimea.
Now the Games are returning to the turbulent Korean Peninsula, where the two Koreas remain formally at war 65 years after agreeing to an armistice. Before the North's recent decision to participate in the PyeongChang Games, many were understandably worried about a repeat of 1988, or that North Korean leader Kim Jong-un would use the occasion to put on one of his military shows of force. That is, after all, what happened at the 2002 World Cup, co-hosted by South Korea and Japan. Toward the end of the tournament, which was marked by an extraordinary performance by the South Korean national team, North Korea started a naval battle with the South.
Fortunately, South Korean President Moon Jae-in's thoughtful, conciliatory attitude, which Kim seemed to reciprocate in his New Year's address, has created a slight thaw. The South's efforts to ease tensions by postponing joint military exercises with the United States, like the North's decision to participate in the Games, should be welcomed. And, indeed, since then, there has been a steady stream of good news: the two countries will march together at the opening ceremony, and will even form a combined women's hockey team.
To be sure, one must always question the Kim regime's motives. In the past, the North's friendly gestures have not led to meaningful concessions or progress toward peace. Given that the two Koreas marched together in three Olympic Games since 2000, prudence is advisable. But we should resist the urge to succumb to fatalism, and instead remain supportive of North Korea's overtures.
The North Korean nuclear threat cannot be managed without negotiations. To that end, the PyeongChang Games, coming just 30 years after the Seoul Games, may represent the best chance in years to get the process started. Let us hope that the North Korean athletes' journey from Pyongyang to PyeongChang bears diplomatic fruit, and that "the Peace Games," as Moon calls them, will be remembered more for the North's presence than for the final medal count.